How To Create a Merch by Amazon Landing Page With All Your Products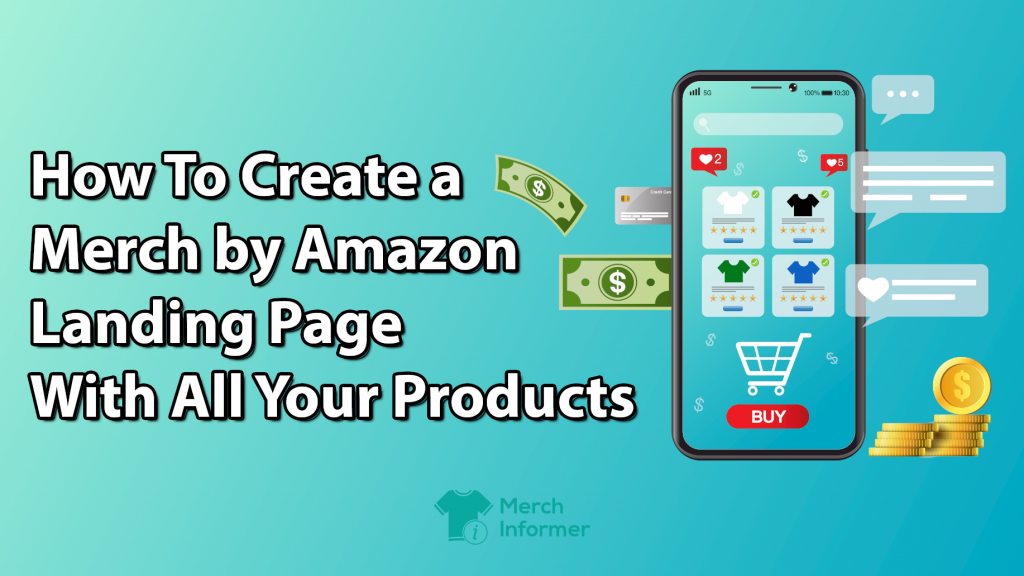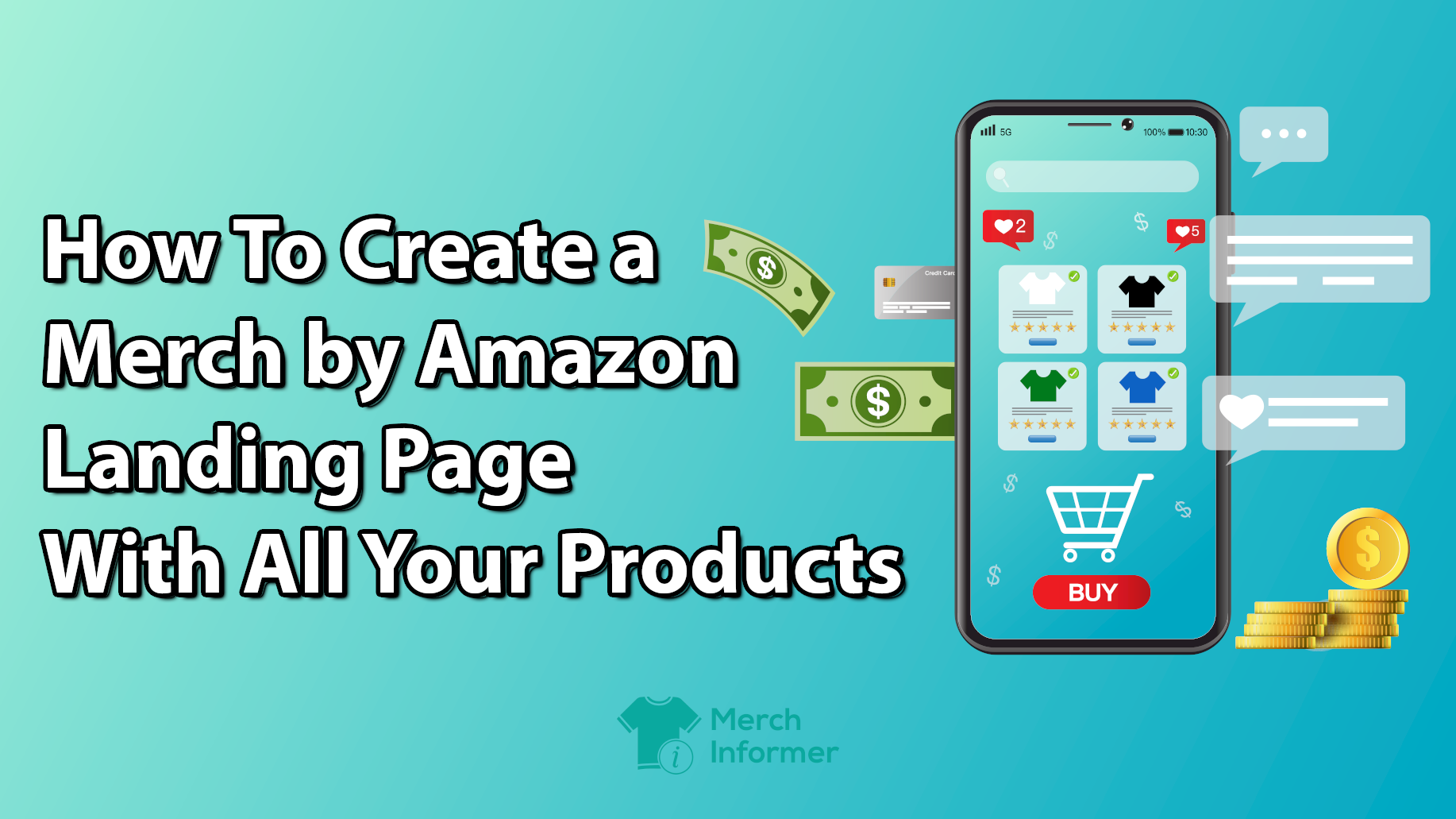 As the holidays approach and with Q4 already kicking off, most Merchers have started creating their AMS campaigns and running ads. Running ads before a certain event or holiday can help you gain BSR which will lead to an increase in organic sales.
In this article, we are going through a step-by-step process of setting up a landing page for your brand and running ads to it.
Creating Your AMS Store
Head to https://advertising.amazon.com/, and on the left side menu click on Stores.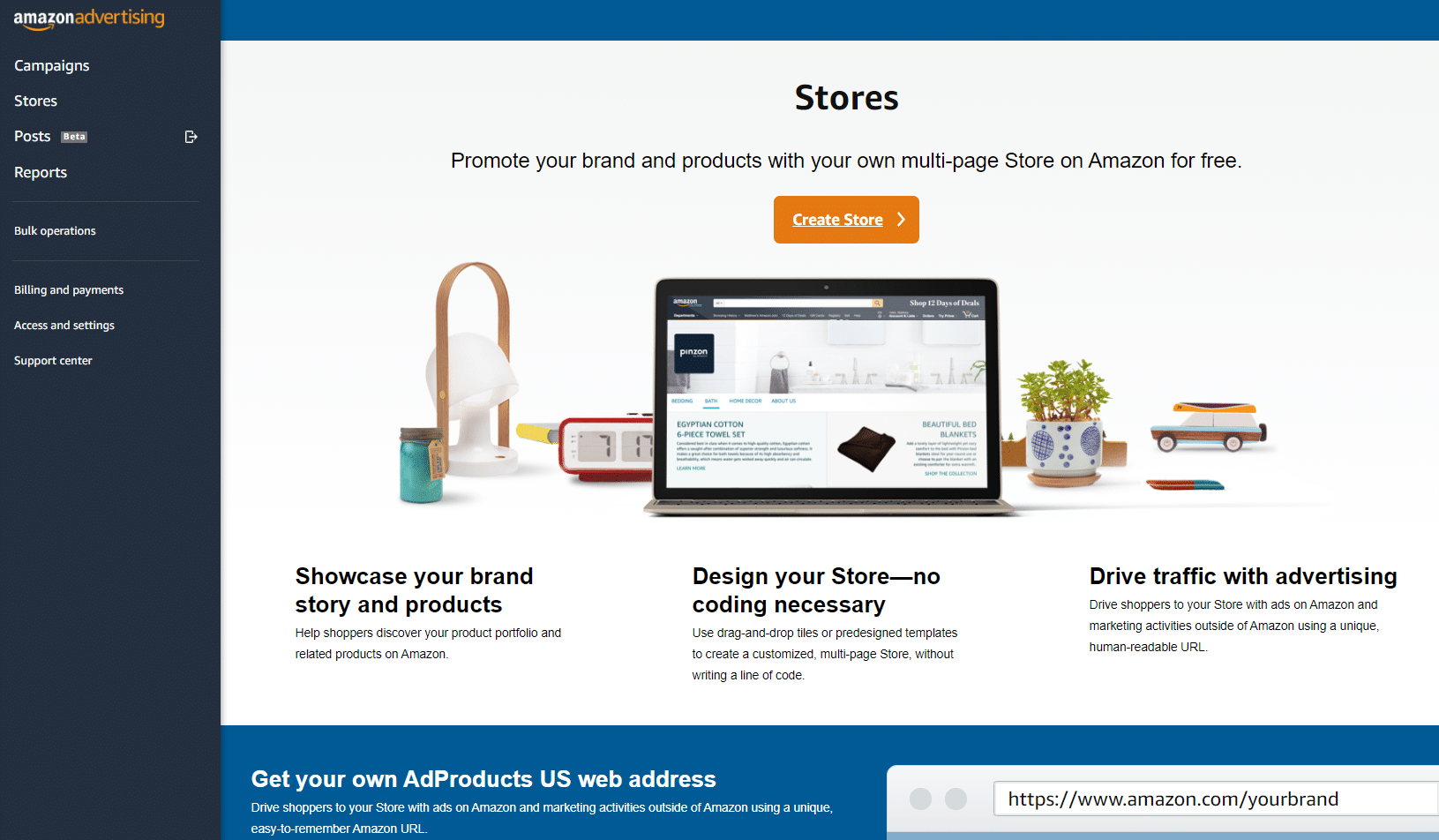 Clicking on Create Store will take you to the next step, where you have to fill out your store's information and select a layout. The page meta description is what will end up displaying in Google when someone searches your brand and this Amazon page is ranked. Just enter a sentence or two about your brand and what it represents.

Then you get to start with a template. For this example, we went ahead and picked the first option which is a Marquee. You can pick whichever template you like best!
After you have those two things selected, simply click on the create page button at the bottom of the screen.
You then will want to fill out the sections of the template that you selected.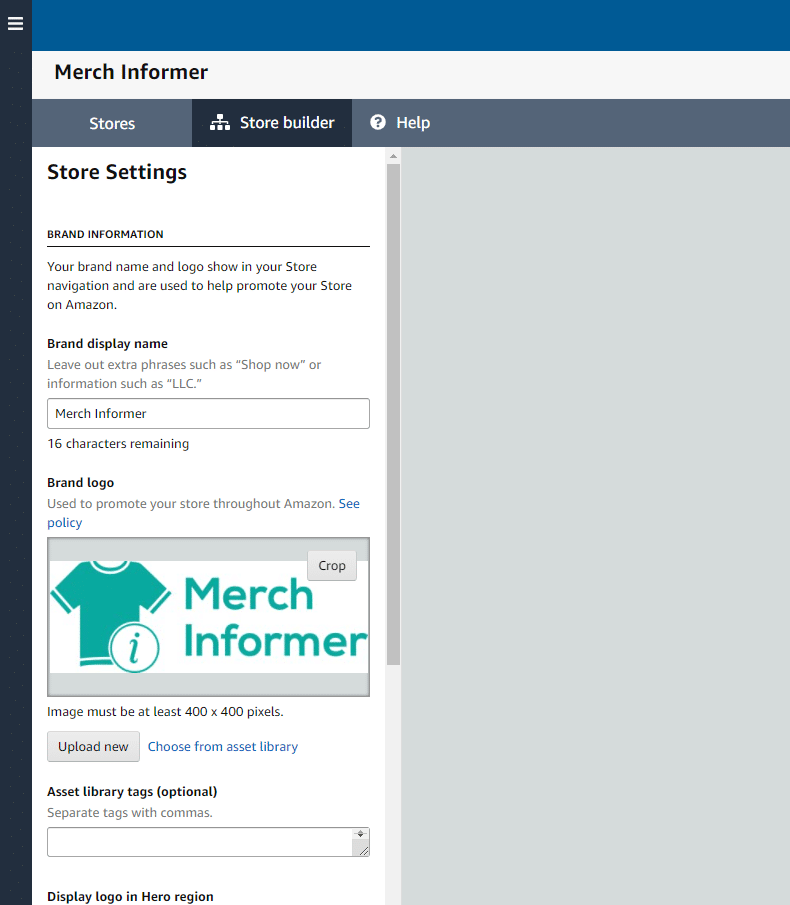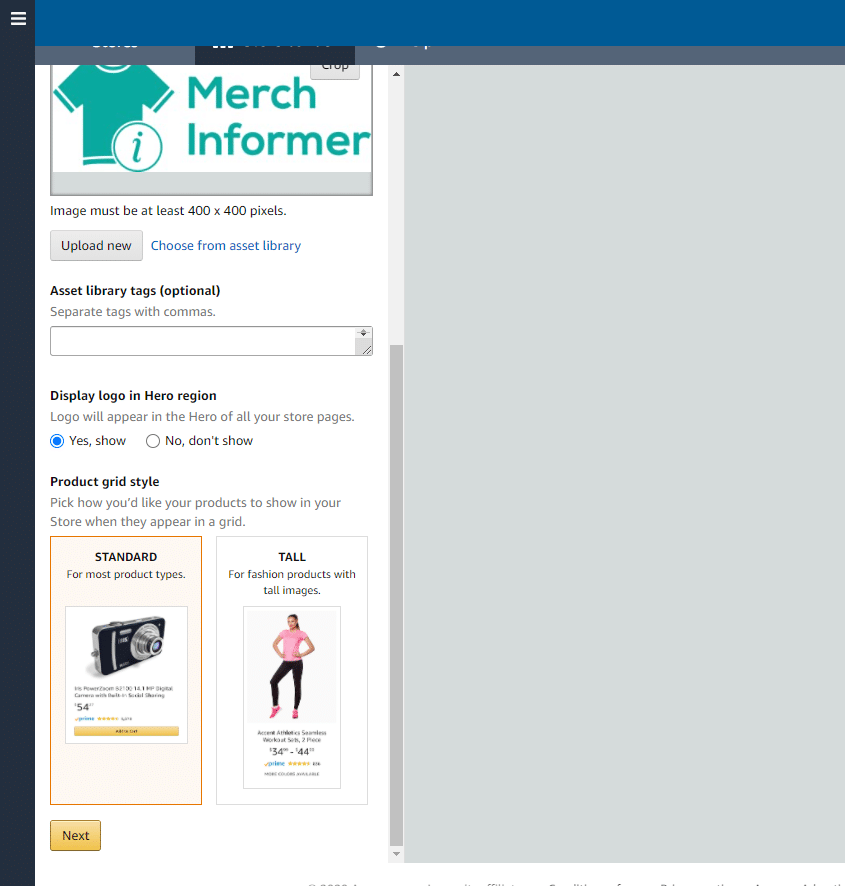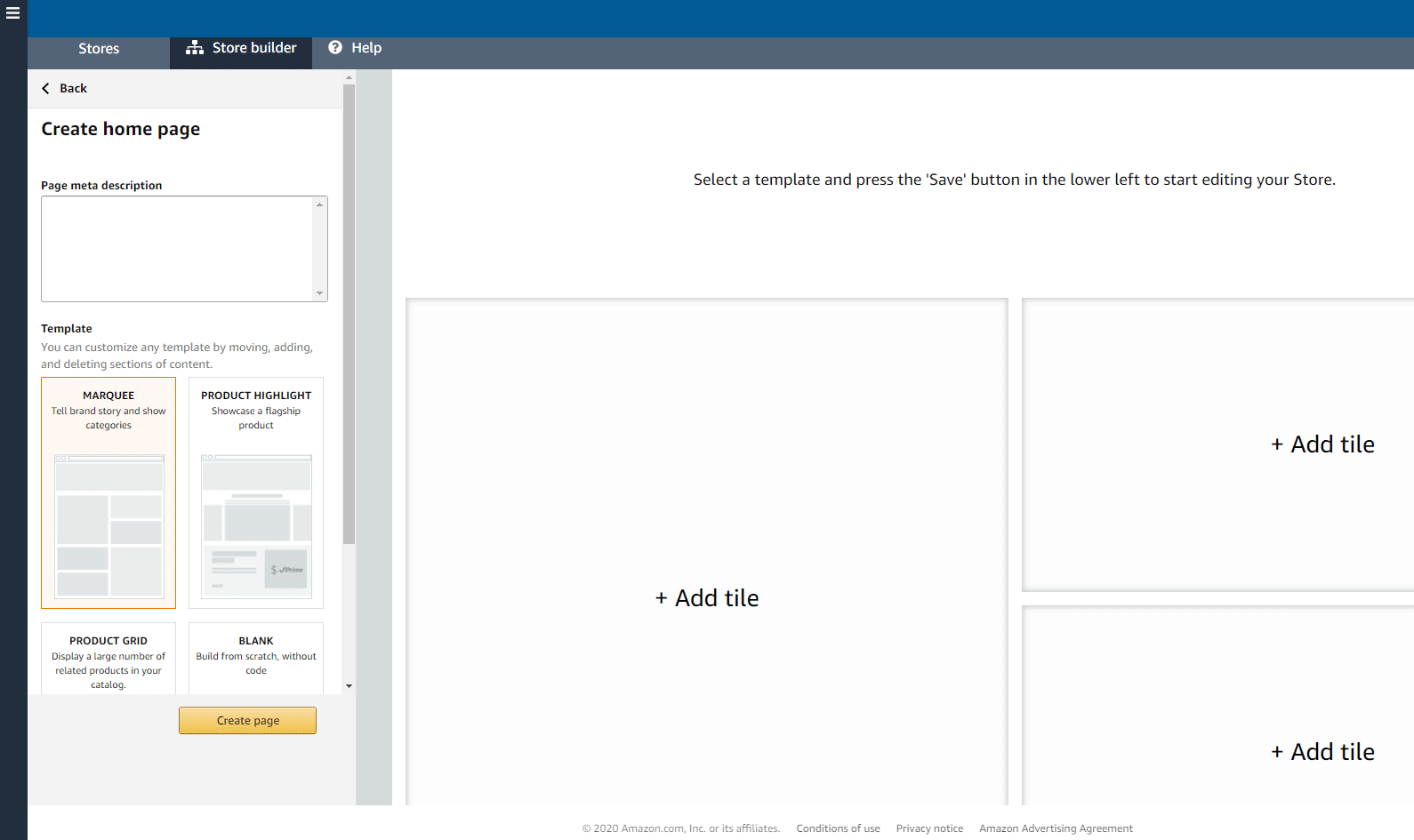 After you have finished setting up the details for your store, it's time to start adding products. You can add products via ASIN or by searching for them. For this example we will throw in some random Merch products but for YOUR store, make sure these are designs that you have created and launched.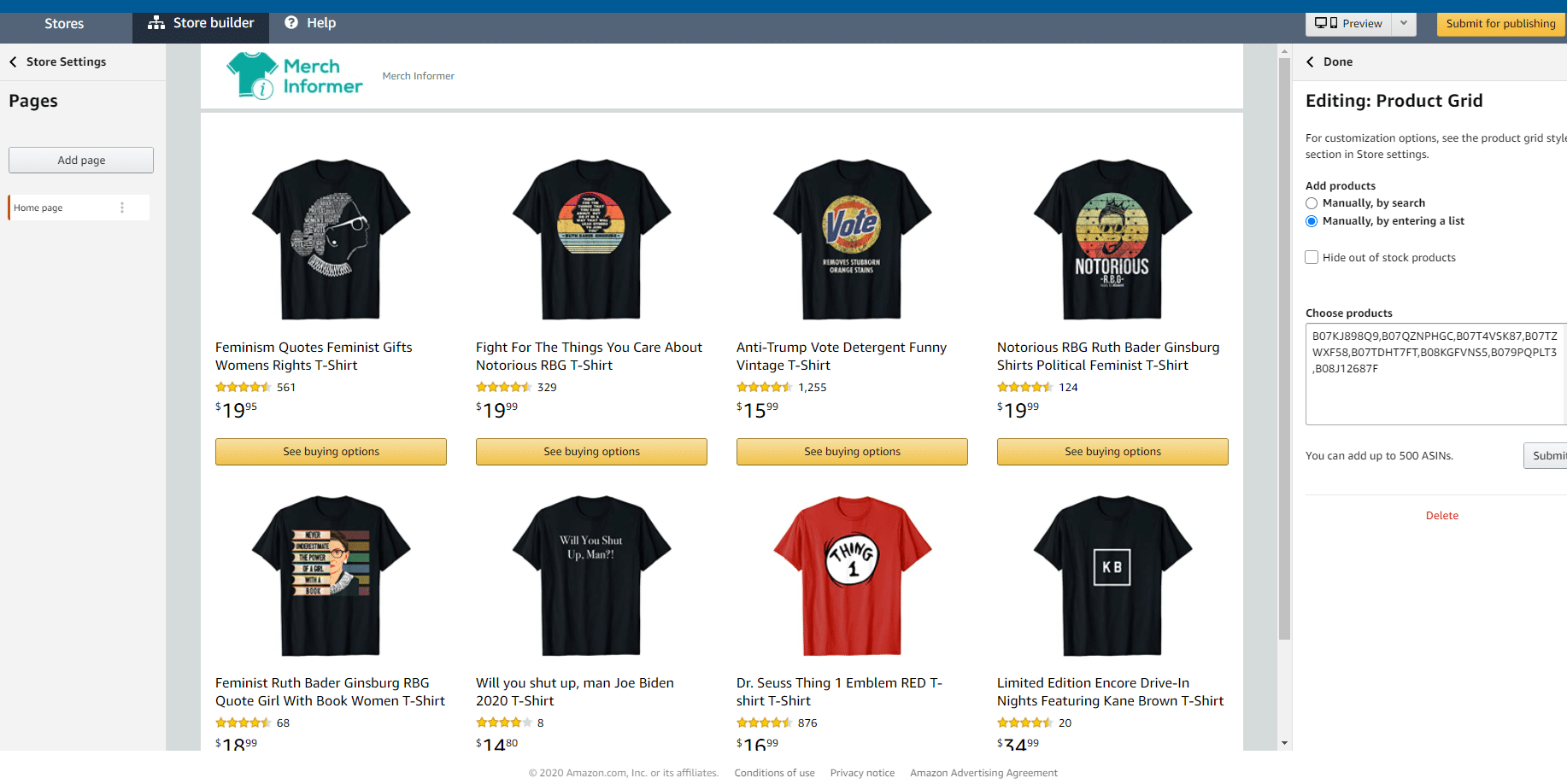 Another thing you need for your store is a banner image for the header. You will want to make sure that this banner is 3000X600 pixels in size.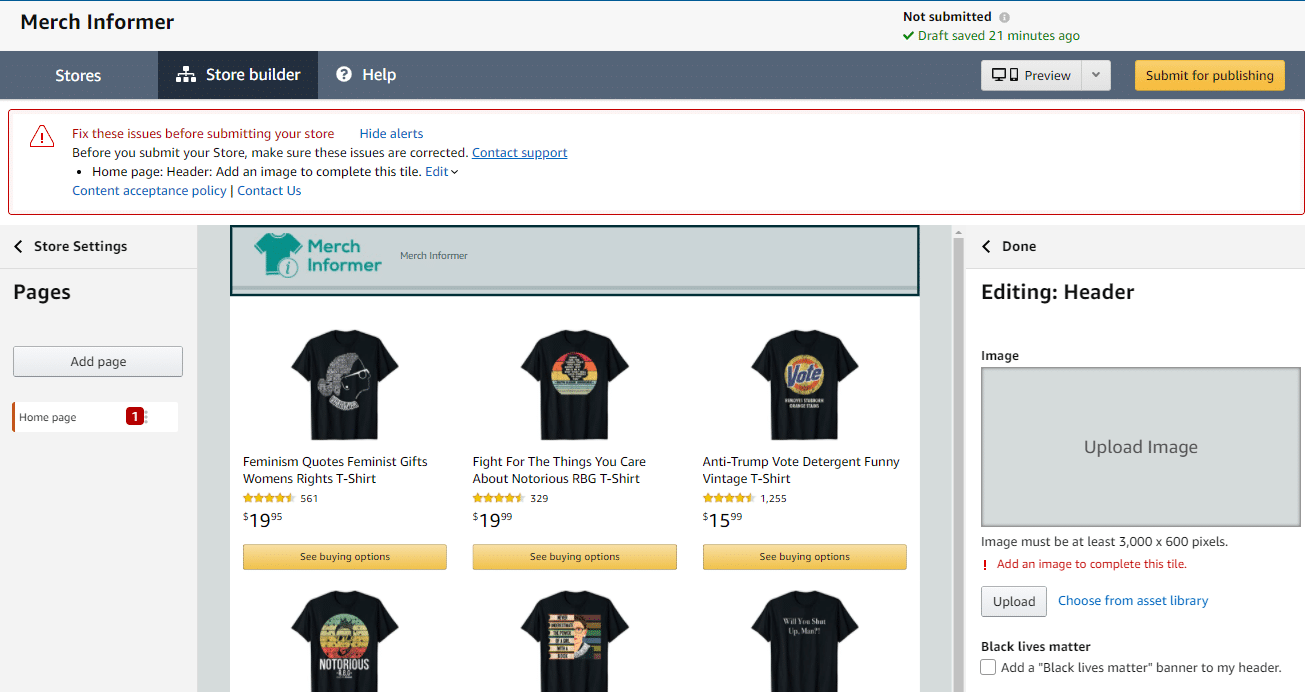 This is how your landing page will look after you've uploaded the banner image: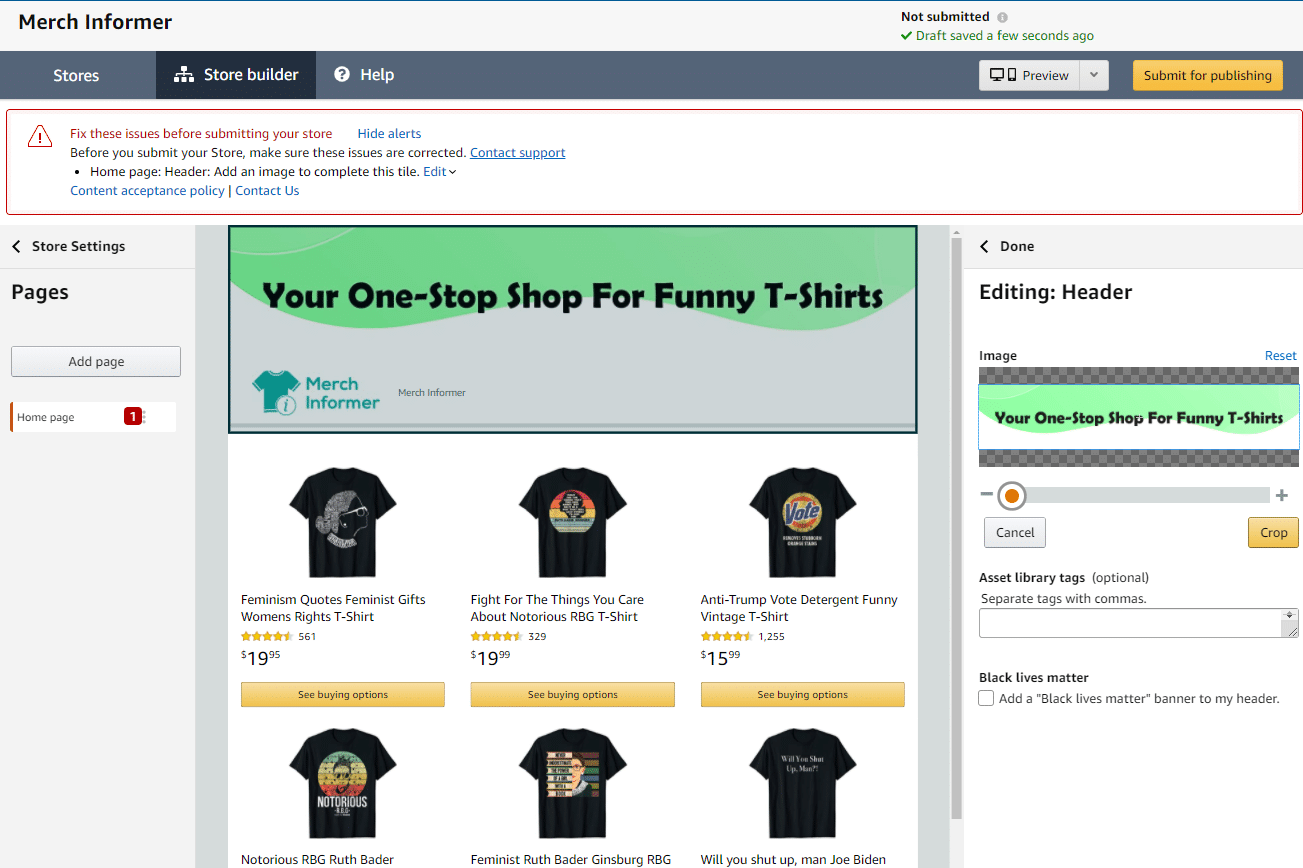 Now it's time to submit your store for publishing. The review process can take up to 24 hours.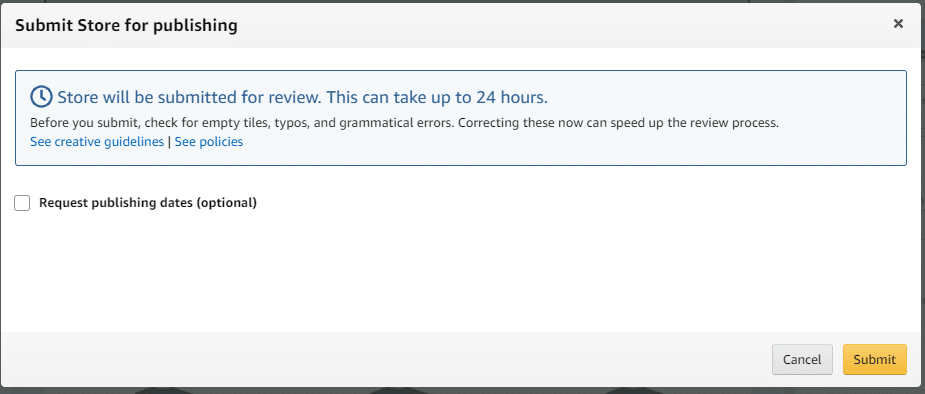 After your store is approved, you will receive an email which includes the link to your store: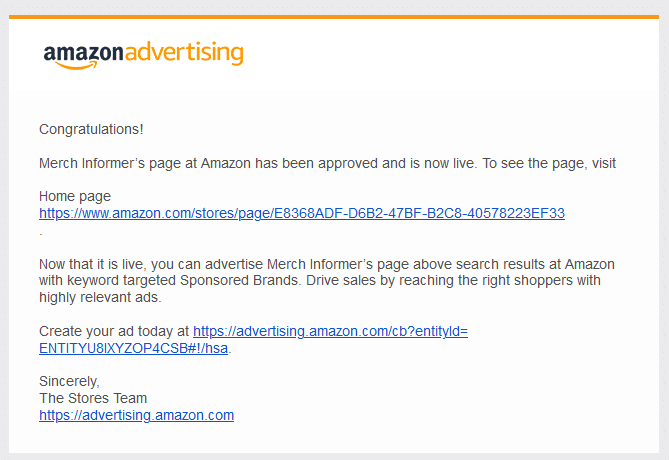 Creating an ad campaign for your store page
After you're done setting up the page for your store, you can go ahead and launch an advertising campaign to drive traffic to it through Amazon ads.
Give your campaign a name, a start date (and end date if you wish) and set up a daily budget. You can choose between three different ad formats:
Product collection
Store spotlight
Video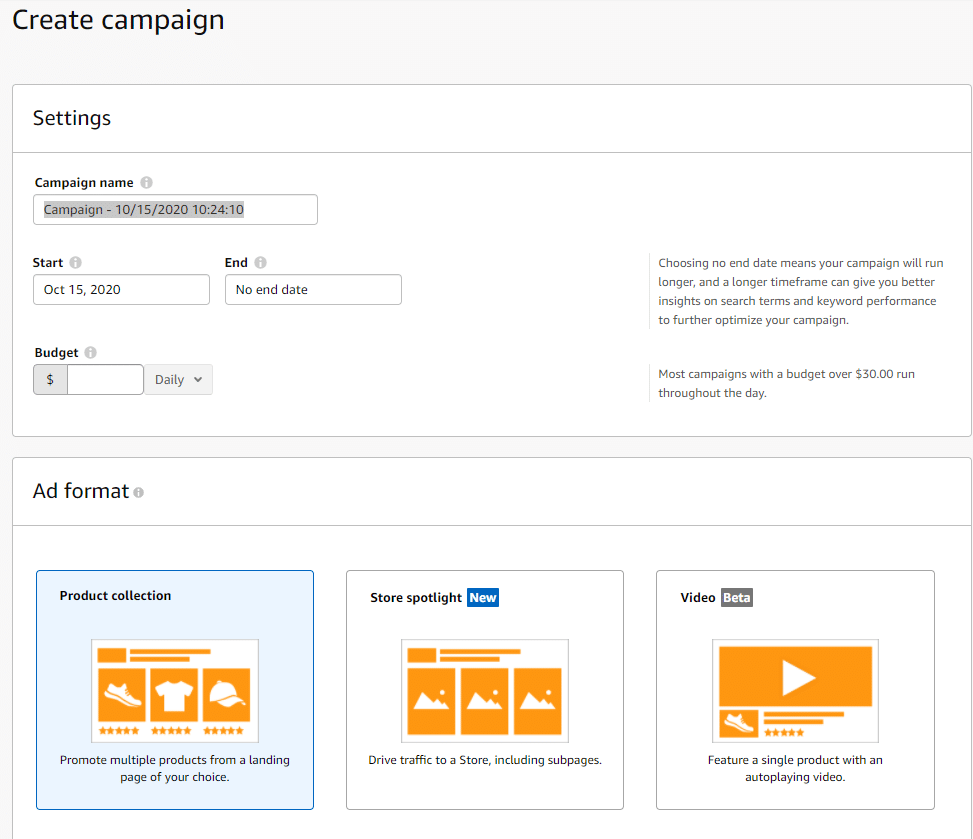 In the landing page section, you can choose which page you want to drive traffic to. Since your store can have multiple pages, make sure to set the homepage as the landing page for your ads.
Fill in all the required details and you'll get a preview of how your ad will look. Using the dropdown menu in the preview section, you can check how your ad will look on different devices.
Next up is targeting for your campaign, where you can choose if you want to go after keywords or products. We usually set up our ads by targeting keywords. Amazon will suggest you a ton of keywords based on the products you have added to your store page and show you all the suggested bids based on which you can decide if you want to target the given keywords without any change, or adjust bidding based on your own budget.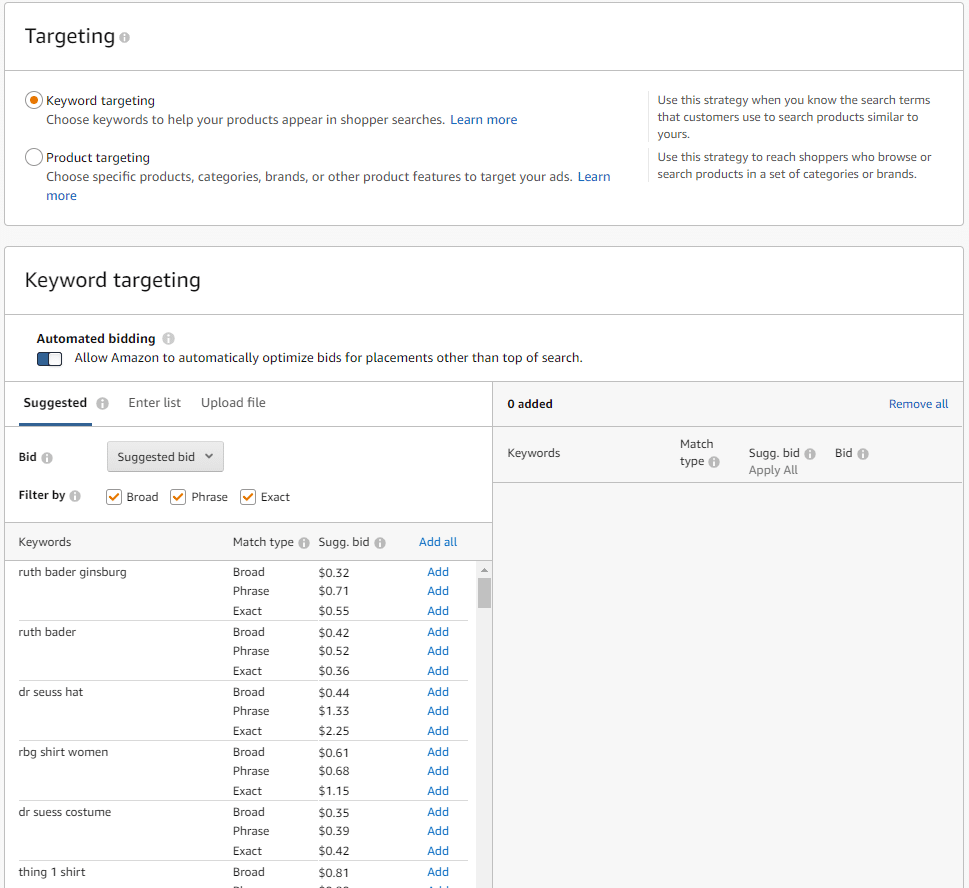 Reporting
After you have your store campaign running for a few days, you will start seeing insights on how many visits your store had and how well they are converting. Based on the data you get, you can decide to improve your campaign by adding new keywords or removing the poor performers.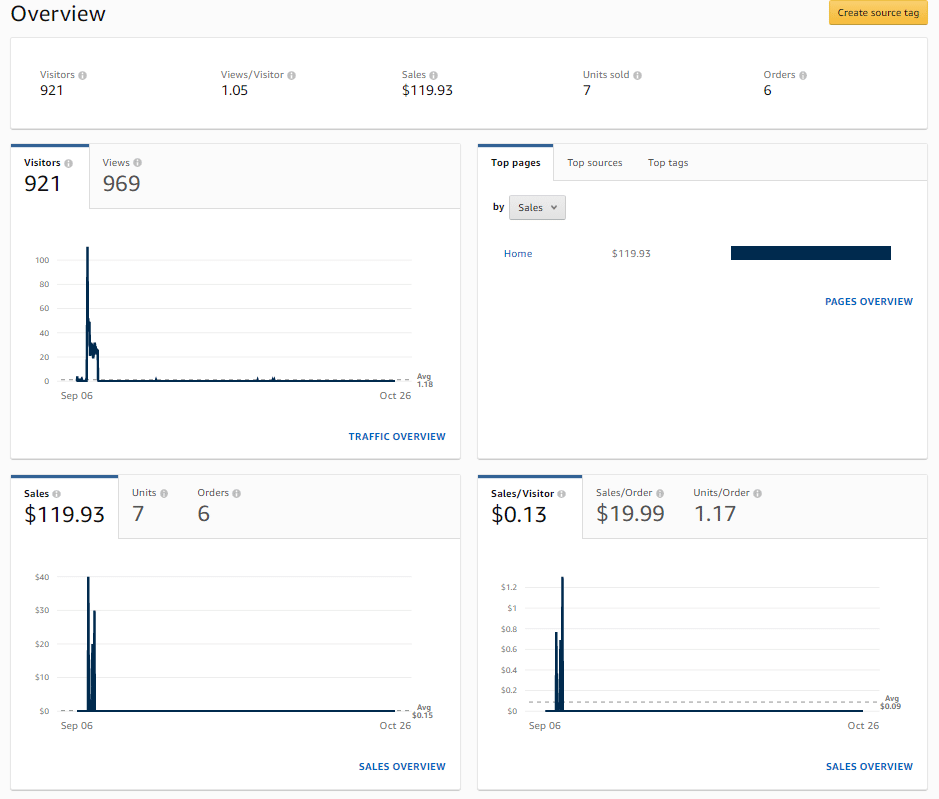 Wrapping It Up
That about wraps up the process of creating your own store on Amazon. This can be used for so many things, but running traffic, funneling that traffic, and building an actual presence on Amazon is going to be a powerful tool moving forward.
If you have any other questions, make sure to drop them in the comments below!
Good luck