How to prepare for the Christmas holiday season as a seller on Amazon Merch on Demand?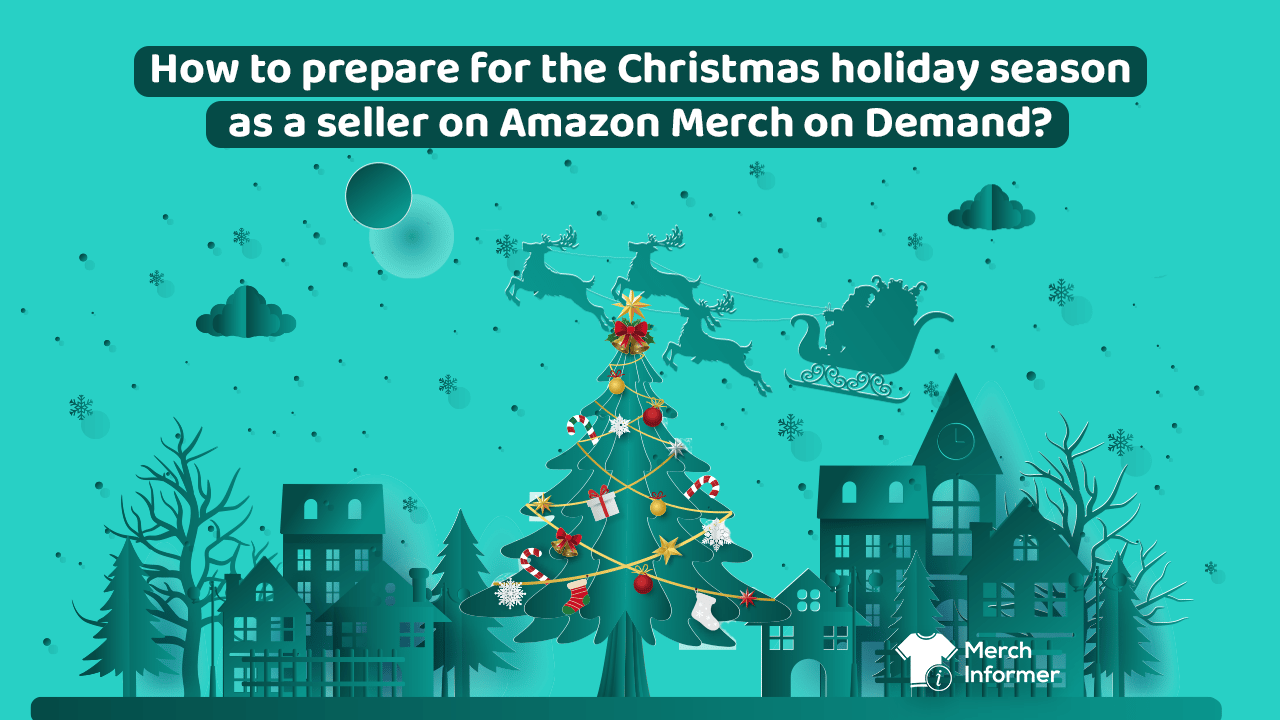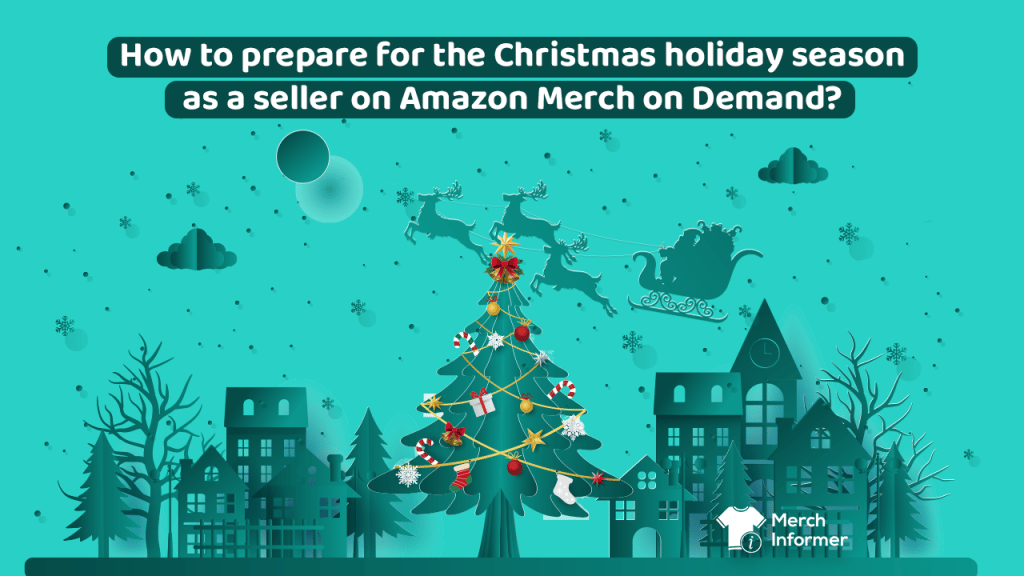 As we're getting ready to say goodbye to 2022, we're a step closer to one of the most exciting holidays of all. Christmas time is knocking on the door and for Amazon Merch on Demand sellers, this means money-making opportunities.
Shoppers are eager to find the perfect merch gifts for friends and family. And in a time when consumers are prepared to spend, you definitely want to be the one to offer the best products.
In the following sections, we'll walk you through everything that your competitors are doing to increase earnings around the festive season. We also offer practical tips on how you can turn Christmas into the most profitable time of the year.
How top-performing sellers are maximizing sales around the holiday season
If you're about to experience your first Christmas as an Amazon Merch on Demand seller, chances are that you're feeling a bit confused. Considering all of the competition, how can you make your listings stand out?
Here are some of the things that top-performing merch creators do to boost sales around this special time of year.

Christmas t-shirt designs
You actually don't have to sell Christmas t-shirts to generate sales around the holiday. But it certainly helps.
We did some digging into the topic using Merch Informer. We discovered that on the 1st of December in 2022, the number one trending keyword that shoppers used for product browsing on Amazon was "Christmas". This is a clear signal that users are actively looking for Xmas-related merch.
This can also be seen when exploring the bestsellers at the moment, using Merch Informer's Cloud tool. We weren't surprised to see that one of the recurring themes was Christmas. We uncovered the following design approaches that stand out among the profitable sellers.
Colors
Christmas merch designs have one thing in common – they utilize the typical holiday colors. This enables the seller to quickly grab the attention of buyers and position the product in the holiday niche. It only takes a glance to realize that the t-shirt is created in line with the festive spirit and makes the perfect Christmas gift.
The typical Christmas colors include white, red, and green. In most cases, the background color is black, creating room for an attractive contrast between the design and the base nuances.
Fonts
Our research into the top-selling Christmas t-shirt designs revealed that the majority of sellers used images only. At the same time, there are also designs that merge imagery and text. In this case, the choice of font is critical. It also contributes to the positioning of the product in the niche and must be strategically selected.
Depending on the theme, fonts can be either serif – for a more dreamy and magical feel, or sans serif – for neutral or comical messages.
Imagery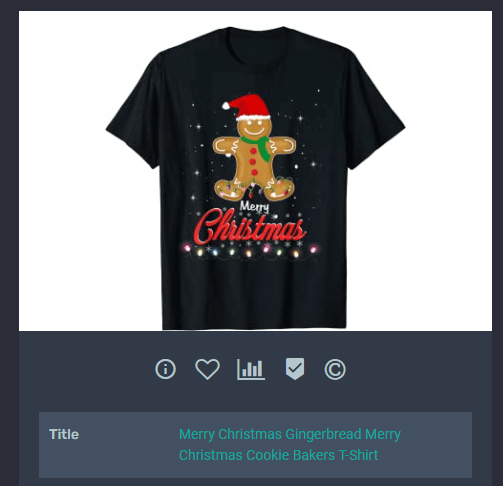 Last but not least, we analyzed the imagery used across t-shirt designs. We identified these components as the most common:
Christmas trees
Candy canes
Reindeer
Presents
Ribbons
Christmas lights
Snowmen
Santa
Santa hats
Christmas decorations
Grinch
Similarly to fonts and colors, imagery immediately informs the listing viewer about the theme of the design and its target audience. Images are therefore a crucial factor for grabbing attention and outperforming your competitors.
Keyword optimization
Flourishing sellers focus on more than just design to increase sales around Christmas. They also update listings for Christmas-related words and phrases.
For those of you who are new to selling on Amazon Merch on Demand, keyword optimization is a vital SEO factor. It determines how visible and discoverable your merch is to your target audience.
Our exploration into the chart-toppers around Christmas only proved our initial theory. Sellers are actively using diverse niche-specific words and phrases in listing titles and descriptions. Some of the most popular keywords include "Christmas", "Christmas t-shirt", "holiday", "festive", "Christmas gift", "merry", "xmas", "santa", and others.
All of these keywords have high search volumes, showing that a lot of Amazon buyers are using them to discover products on the platform. By enriching listings with such words and phrases, they enjoy higher traffic and higher conversions.
Amazon Advertising
Another common approach taken by the best is using Amazon Advertising.
Let's be honest. Amazon is an incredibly competitive environment for sellers all year long. The situation becomes even more intense around Christmas when everyone is hoping to end the year with satisfactory earnings.
One of the quickest ways to stay ahead of the pack is to exploit Amazon's paid advertising options. A number of sellers are already doing this, especially around the festive season. How do we know? By browsing for products on the marketplace.
We came across multiple Christmas t-shirts that have a "Sponsored" text box next to them. This suggests that the seller has paid Amazon to display their listing with a higher priority over others for specific keywords. The result? More interest from shoppers and ultimately – a rise in sales volumes.
What about deals and discounts?
A lot of merch sellers may assume that Christmas is a time of deals and discounts. However, our research refutes this notion.
The majority of bestseller listings that we examined maintain the same prices. If there are any price fluctuations, they don't appear to be related to the festive season. At the same time, we did notice some sellers increasing the prices as the holiday approaches. This could be related to the high demand for Christmas gifts. In addition, during this time of year, consumers are prepared to spend more for their loved ones, meaning that the price is not the key factor for purchase decision-making.
Consequently, sellers are in the position to ask for a higher price without compromising sales volumes.
Spreading the word
Last but not least, successful Amazon Merch on Demand sellers in the Christmas niche know how to promote their listings. And this doesn't always take place on Amazon.
There are a wide array of external marketing channels that can help you reach more users and grow your popularity before the end of the year. Some of them include Facebook, Instagram, TikTok, personal blogs, Google ads, and more.
Diving into the Christmas bestsellers on Amazon Merch on Demand
So far so good. We've introduced some of the tactics leading to fruitful results. But how do things look in real life?
Let's find out.
We used Merch Informer to identify the number one bestseller in the t-shirt category on the 4th of December. Notice that we haven't narrowed our search by using specific keywords. It turns out that the top-performing listing is from the Christmas niche and has the title "This Is My It's Too Hot For Ugly Christmas Sweaters Shirt T-Shirt". The product sells for $19.95 and generates around 900 sales per month, with a BSR of 2,277.
The t-shirt design is a mix of text and imagery. It consists of the saying "This is my it's too hot for ugly Christmas sweaters shirt" and images including Christmas trees, presents, Christmas decorations, candy canes, reindeer, and snowflakes.
The listing title is optimized for words like "Christmas", while the product description further strengthens its organic rankings. The description section is enriched with keywords like "Christmas party", "Christmas outfit", "Christmas patterns", "Christmas spirit", and more.
A look into the historical data of the listing uncovered that the price has been rather consistent over the months. There are no vivid drops or rises as the holiday approaches.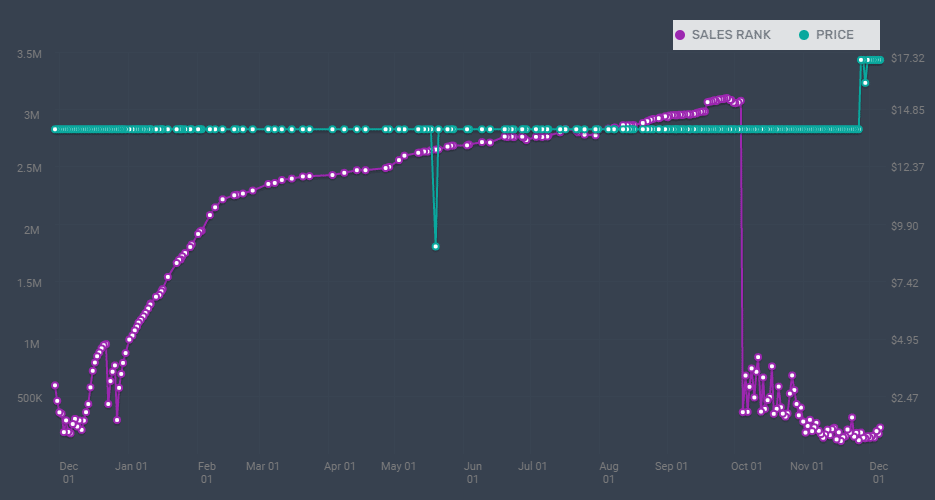 When it comes to pricing, however, we'd like to analyze a different example. The "Christmas Lilo & Stitch Christmas Lights Portrait T-Shirt" is another top performer, with a BSR of 11,383 and around 245 sales per month at the price of $22.99.
Here, we identified a price rise on November 30 from $5.99 to $16.98. However, we must note that the price of $5.99 wasn't the original one. The seller had reduced the price from the initial $14.99 on November 23. Despite the growth in value, the BSR kept dropping, even when the listing was more expensive.
This proves our theory that Christmas shopping doesn't necessarily depend on price as the main factor.
How to prepare for record t-shirt sales?
Are you ready to take advantage of all of these techniques and transform your Amazon Merch on Demand performance this Christmas?
Here are our top tips for scoring more sales during the festive month:
Create attractive Christmas designs – your merch customers do judge your product by its cover (in this case – its design). Make it stand out by using Christmas-related colors, fonts, and imagery. An eye-grabbing design can make a real difference.
Add keywords to your listing titles – select a primary keyword that you must rank for to reach your objectives and position it in your title. Remember, titles are to be kept short and simple to make them easy to understand for the client.
Optimize your product description with more words and phrases – select secondary keywords and add them to your product descriptions. We highly recommend opting for words that receive a high search volume but have a low competitive rate. This makes them easier to rank for.
Increase your royalties with a higher price – that's right, you can receive higher royalties by slightly increasing your price before the holidays. However, make sure to research the market first. The key is to maintain your competitive edge. If you notice that other sellers are offering deals and discounts, perhaps it's best to adapt and offer similarly attractive prices.
Promote your merch off Amazon – take advantage of your social media profiles, blogs, personal websites, or other external marketing channels to increase traffic to your Amazon Christmas listings.
As an extra pro tip, we'd like to advise you to start early. Some users start their Christmas shopping as early as three months before the holiday. Although this may be a bit too extreme, we recommend preparing your strategy for the event a month before the big "C" day. This way, you'll have enough time to get the ball rolling and notice the jumps in your sales.
Don't forget that you can truly change your success rate on Amazon with the right insights and informed decisions. With a tool like Merch Informer by your side, you're geared with everything necessary to aim for triumph.