How To Use Merch Analytics To Run A Successful Merch By Amazon Business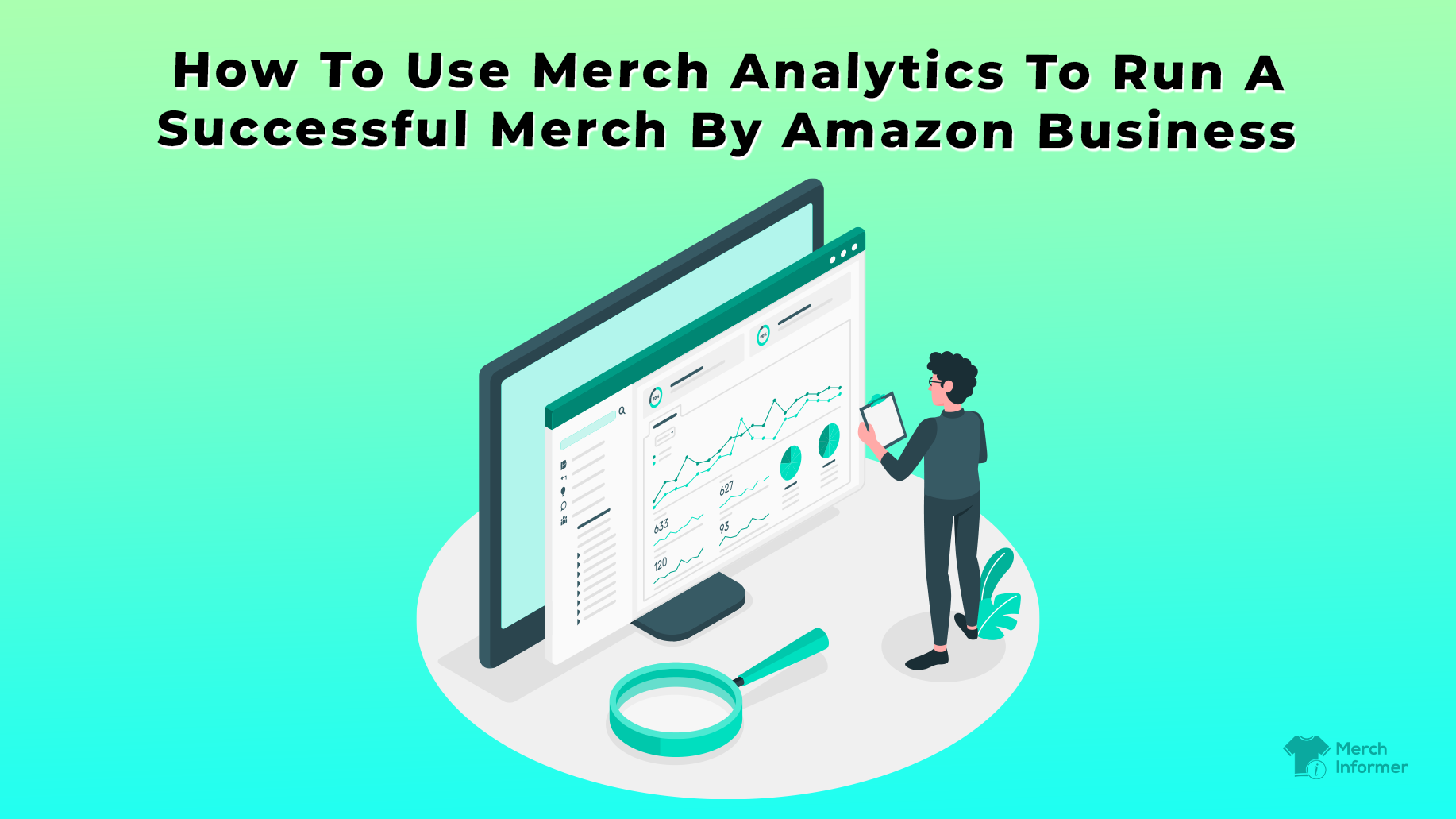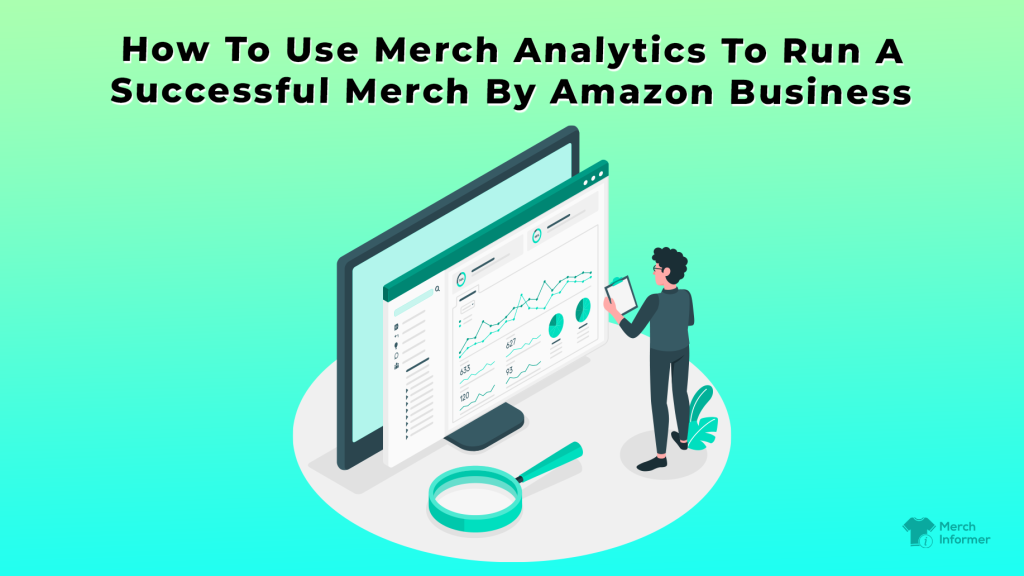 The Merch Analytics tool was among the first core features introduced to Merch Informer some four years ago. Since then, it has helped thousands of Merch by Amazon Sellers.
How? By enabling users to analyze their merchant data, and as a result, make much more efficient decisions.
If you're someone who is interested in tracking your performance through real, actionable insights, then Merch Analytics is for you.
Let's now go into the specifics.


What Makes Analytics Important?
It may seem obvious, but data analytics are important for a couple of reasons. The first being that it helps optimize a business' performance. Since you're running a passive income t-shirt business, you want your business' execution strategy to be great.
Why? This will impact the bottom line and the dollars you get in your bank account.
We know that the t-shirt trade is not a charitable activity. It's meant to bring you income. And this is why you want your efforts to be rewarded. But you can't make decisions blindly.
You need specific tools to help you analyze your sales data so that you can make much more informed decisions and carry out more effective approaches. This is where Merch Analytics in Merch Informer comes in.
The Merch Analytics Functionalities
Merch Analytics is a great way to track your products' performance. This is because it gives you access to a whole lot of data that you would otherwise only be able to sift through manually. No more with Merch Analytics. This tool can help you track the number of products sold, canceled, returned, and your royalties over time.
So, how does it work?
Firstly, you need to go to your Merch by Amazon account and download the different CSV reports for your t-shirt business. Remember that you can only download 90 days worth of information at a time (or around five files), so it's crucial to get as much data as possible.

Next, upload your file by visiting Merch Informer -> Tools -> Merch Analytics. Once you're there, upload your files and hit "Analyze data".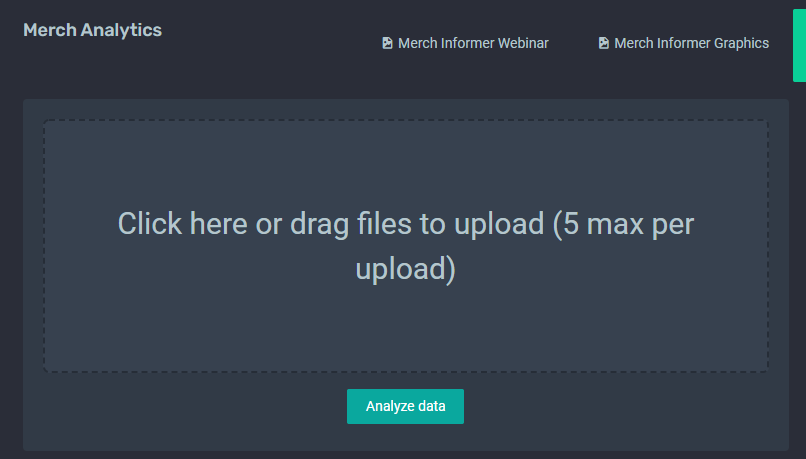 You're now ready to map your sales over time.
What the Merch Analytics tool enables you to do is track all your sales efforts and see in which areas you are doing well and those you could improve upon.
For example, in graph form, you'll be able to see (over a period you choose) all your sales and where you're killing it versus where you need to put in more effort.
Let's see some screenshots from one of our designs who got started with Merch less than 6 months ago:

This is exemplified through the drop-down menu on the tool which enables you to see: products sold, canceled, returned, and unique designs.
Once you've done this, you will be able to easily visualize which types of merch is bringing in the most sales. And you can also determine which merch for a particular gender is doing better.
One instance of this is if you notice more male t-shirts (e.g. 78%) selling as opposed to male pullover hoodies (4%). If these t-shirts are doing better, then it might be time to rethink your strategy and consider opting for t-shirts all the way.
Alternatively, you can see if you're selling more male t-shirts (88%) as opposed to more female t-shirts (12%) or those that are unisex or targeted at the youth. If this is the case, you'll want to change direction and focus on what's bringing you more royalties.
A Practical Example
When you download your Merch by Amazon CSV file, it will simply give you a bunch of information that, in all honesty, you won't be able to make much sense out of.
Here's where Merch Informer's Merch Analytics tool comes in.
Using a CSV file from our designers account on a Merch by Amazon account, we input the file into the software, choose the US as the marketplace, and select "All" as the time period. (we only pulled a single report with 1 month of data)
Here's what we found.
A bird's eye view of the analytics of all the information that was input shows us that 609 products were sold in total. Of these, 11 were canceled and 25 returned. Overall, not a bad percentage rate of cancellations (1.8%) and returns (4.1%). However, doing everything you can to avoid returns by offering higher quality products should come to mind as a strategy worth following.
We now move on to the royalties. Firstly, this can be painstaking to calculate for each item with 609 items in the mix, let alone add them all up. Yes, there are online calculators, but do you really want to be doing this for every single one of the thousands of items you're selling? We thought not.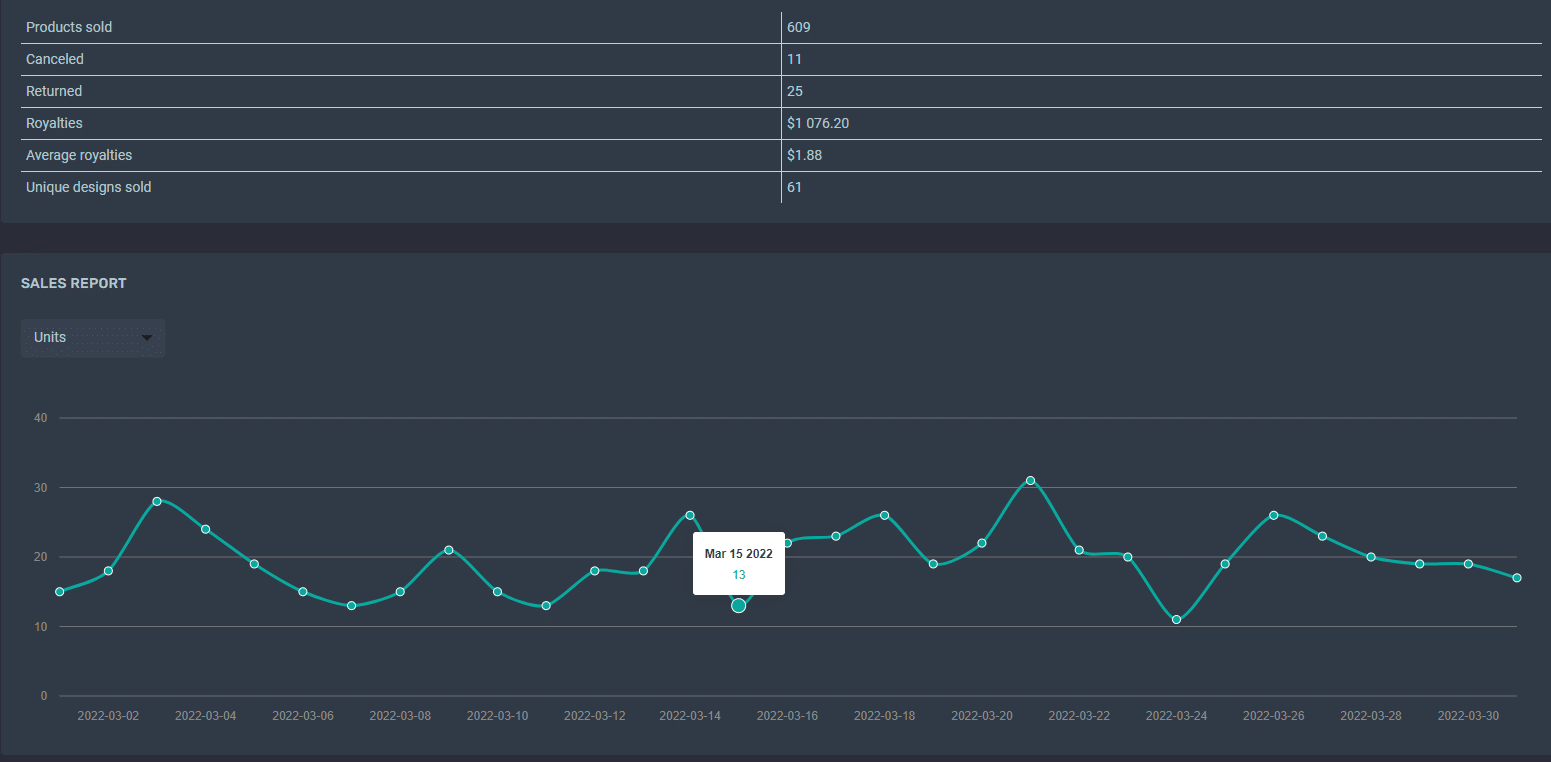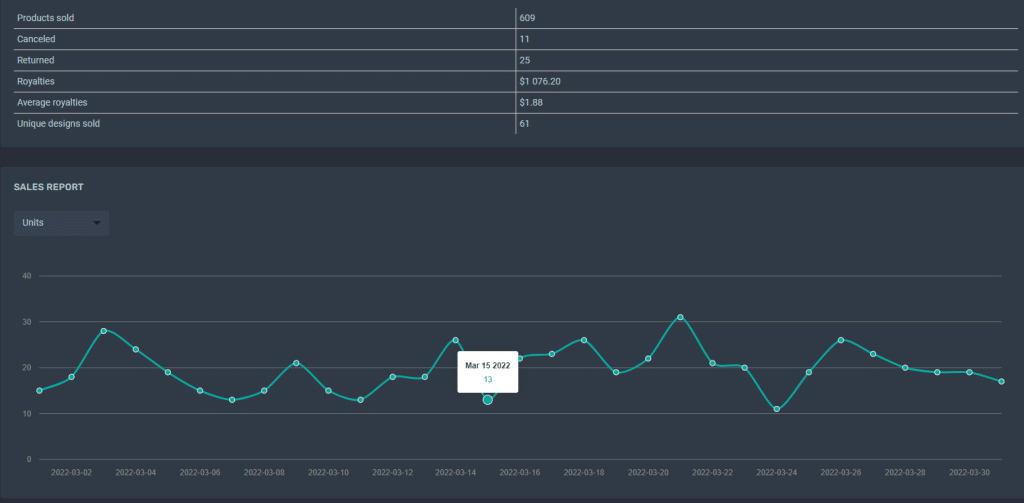 This is why the software does it automatically for you by summing up all royalties earned. In this case, the Seller's royalties (our designer) reached $1,076.20. As a total, the Seller would earn around $1.88 per item. While this may not seem like much, it does indicate that with a wide portfolio of offerings, you can make a passive income on Merch by Amazon. After all, wouldn't it be nice to have an extra $1,000 per month for work that requires little effort?
As for the unique designs sold, there are 61 items from the total of 609.
Next up, we get to the "what is selling?" aspect. A total of 609 items is a significant figure. This Seller has certainly put effort into their designs, painstakingly working on each one to get in front of an audience. But have these efforts been fruitful? The Merch Analytics tool shows us that 86% of the items sold were t-shirts, 4% were premium t-shirts, 7% were pullover hoodies, and 1% was a tank top.


Furthermore, when breaking up the sales figures across genders, we can quickly see that 65% of sales were made for items for men, 7% unisex, 21% women, and 4% youth. This should immediately tell us that this Seller's strategy going forward ought to be on men and women's t-shirts, with a greater focus on men. It is evident that the male t-shirts and their unique designs are bringing in the most royalties and this is where greater efforts should be made.


Building An Effective POD Strategy On Amazon With Merch Informer
If we continue the example above and link it back to building an effective print-on-demand (POD) strategy on Amazon, you'll start noticing a few things.
By streamlining your operations and seeing what works for your passive income business, you'll be able to make much smarter decisions. All this while eliminating the hard work that comes with the manual processing of data because it just takes an upload and a click to get the results.
Ultimately, this can have serious impacts on your financial success.
By combining several Merch Informer tools and functionalities, you can and will have a much more streamlined process. This means you'll be much better able to optimize your keywords and prices, get into the right niches, and write more compelling titles and descriptions.
But that's not all. You'll also be able to create better designs with a few clicks, and ultimately list your products in seconds as opposed to handling the manual labor of doing so one by one.
All this for only $9.99 per month. A seriously worthwhile and practically negligible investment in your business for the amount of tools and functionalities you get with Merch Informer.