Make A Full Time Income With Merch by Amazon – Running The Numbers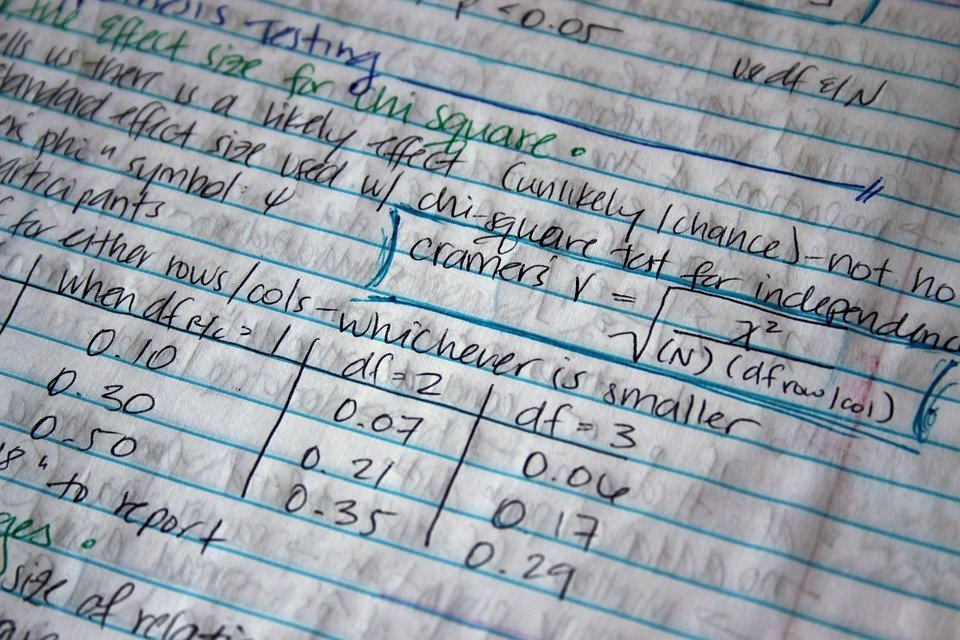 Is it really possible to make a full time income with Merch by Amazon? There are people out there that are absolute skeptics and will never understand the pull and amount of traffic that Amazon has. Instead of talking to this subset group of people, I think the best course of action is just to break down the best way to think about hitting your goals. It does not matter if you only want to make an extra 1k a month in order to pay your mortgage or your car payment as a little side gig, or attempt to go full time and pull down 6 figures a year!
Amazon Traffic
What most people like to rely on when they start Merch is organic traffic. Why?



This might have something to do with it!
Amazon.com gets about 2.4 BILLION visitors each and every month. Pretty insane right? When you break it down though, that is just one piece of a large pie. Think about it for a minute. Merch by Amazon is currently mainly US only. There are so many other local Amazons out there. What happens when you can get your shirts on Amazon UK, Amazon Australia, Amazon Japan, Amazon Germany? What happens when Merch by Amazon is more than just 2 shirts but a wide variety of products such as hoodies, mugs, tank tops, phone cases? The sky is the limit!
Make 1k A Month With Merch by Amazon
1k a month is probably a very good goal for the person that is just hopping into the entire world of making money online. This is enough for a side hustle to pay off things such as a car payment, a mortgage, or just to build up some savings in case anything might come up.
This level is 100% achievable and extremely EASY to hit if you work at it. Remember, you need to be working on your business or it will not grow. Let me stress again that you cannot have 10 designs on Amazon and expect to retire. You need to be filling slots and optimizing listings. From my experience and with talking to many other sellers, most of them hit this mark and above at around the 500 tier. That being said, if you hit some trends or have some really hot evergreen designs, this can be hit in the 100 tier or even at the the lower tiers.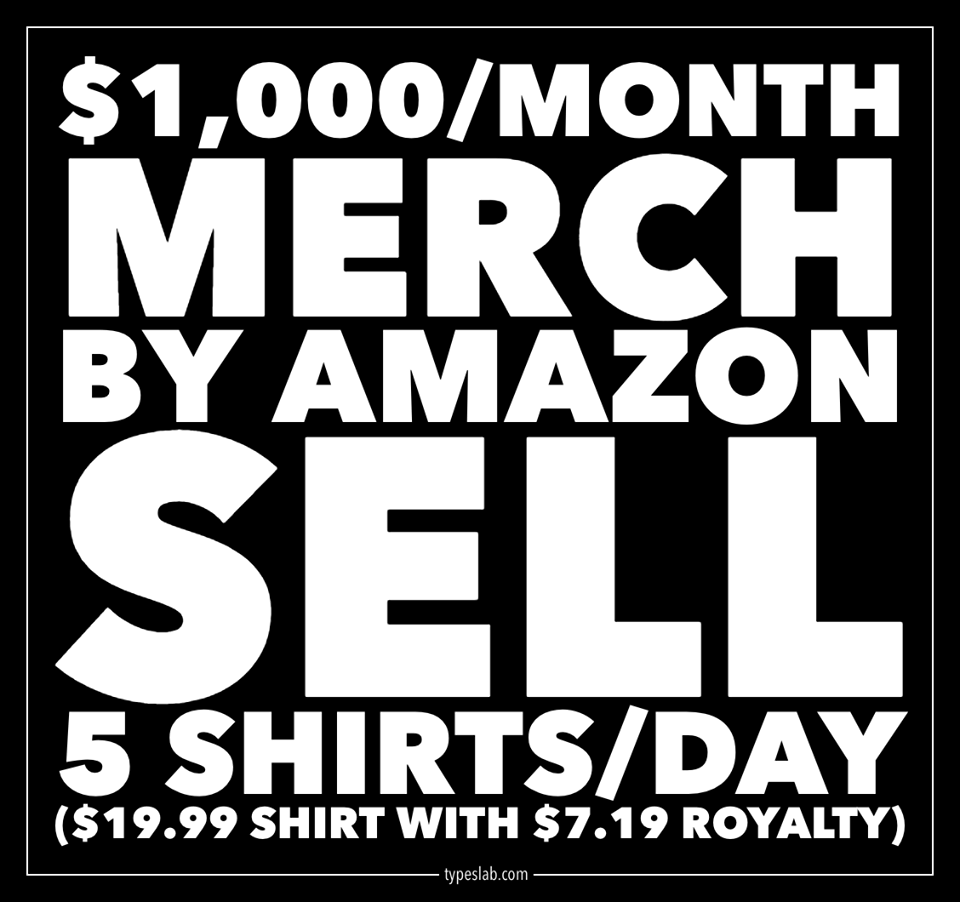 To make 1k a month, all you have to do is sell 5 shirts a day!
5 simple shirts a day! That is all. These can be text based, graphic based, a mix of the two. They can be trending, they can be evergreen, or they can be seasonal. If you have 100 shirts online, you should be able to hit this if you follow the 80/20 rule.
I say all the time that I like to look in the range of 100k-300k BSR. That is because in this range of BSR, these niches are consistent sellers. 5 shirts that stay in this range for you will enable you to hit your goal of 1k a month.
This is a business and if you treat it like one, there is absolutely no reason you should not be able to hit this mark fairly quickly. Just make sure you are doing your research properly instead of guessing and optimizing your listings based on what is ALREADY selling. The work has pretty much been done for you. All that is left is to take action and execute!
1k a month broken down
5 Shirts/Day at $19.99
1 Shirt Sale Every 4.8 Hours
1 Shirt Sale Every 288 Minutes
Do you really think it is not possible to hit those type of numbers when you have over 2 BILLION people on the site you are selling on (Amazon.com)?
Making 6 Figures A Year With Merch by Amazon
While 1k a month is certainly a good starting point for almost everyone, the sky really is the limit. 1k can be life changing for someone that is strapped for cash or an incredible earning for someone from a 3rd world country. The thing is though, Amazon does not discriminate. It does not matter where you live, or what your life situation is. You can make as much money as you want as long as you figure out the system.
What would you do with an extra $100,000 a year?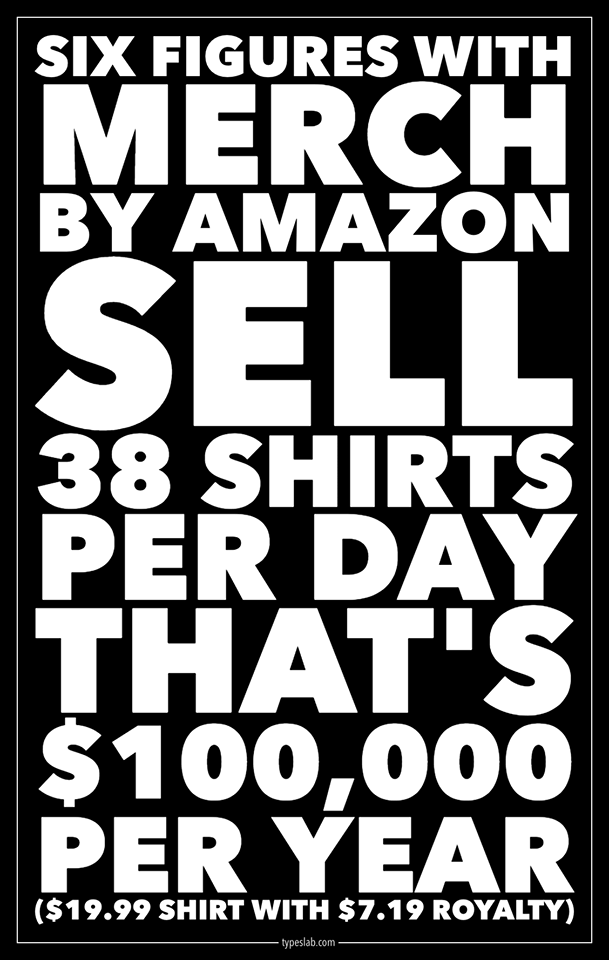 This is the point where people start talking like they could never earn that much selling shirts online. "That is not the norm!" people cry. "I will never get to that level" other people say.
Why?
No seriously, why can't you make 6 figures a year selling shirts on Amazon?
I am willing to bet that if you really sit down and think on that question, all you will come up with are excuses on why you can't get what you want.
If you do not know how to design, fine, outsource it!
If you do not know how to to research, fine, learn it!
If you do not know how to include keywords in your listings, fine, look at listings that DO and figure it out!
It really just comes down to those 3 things. Once you have the system figured out, it is ALL about filling your slots and upping the number of designs you have on Amazon. The more designs you have, the more chance you have at grabbing some of those 2 billion eyeballs for your listings.

$100,000 a year broken down
38 Shirts/Day at $19.99
1 Shirt Sale Every 38 Minutes
Sounds a little more daunting when you think about selling a shirt every 38 minutes, but when you have 2 billion potential customers, it really is not that bad.
2 billion is a big number you cannot really comprehend.
2,000,000,000. That is 2 thousand million, or nine zeros. All you need to do is grab 285 of those a week.
If you are part of any of the Merch groups out there, you will see people selling 285 a DAY and we have people saying it is impossible to hit that a week. You can do it, keep your head down and work!
Wrapping It Up
You can really make as much as you want with the Merch by Amazon program when you really nail down your numbers and figure out how the system works and how you can put yourself in. Learn to outsource, learn how to research, learn how to use keywords, and then scale!
The next time someone whines about not being able to hit a goal, or that XXX,XXX is not possible with Merch, ignore them and move on. There will always be naysayers, but they do not fill your bank account or pay your bills.