Merch by Amazon Success: Interview with Michael Essek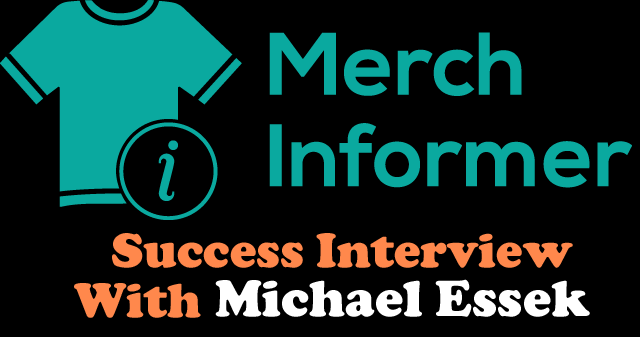 In the spirit of doing an interview series with some of the most prominent Merch by Amazon users out there, it would not be complete without including Michael Essek. Funny enough, I knew and spoke with Michael on Reddit before I even knew his real name. Since the very beginning he has been involved with the community giving out excellent advice to everyone who asked for it.
He represents the other side of the spectrum when it comes to the Merch by Amazon business. Most of us are not graphic designers and rely on simply designs and outsourcing to build our business. Michael is a graphic designer and has built his empire by doing exactly what he preaches. I will let him take it from here!
---
Tell us a little about who you are and a general ballpark of how much per month you are doing with Print on Demand?
I'm Michael Essek, full-time T-shirt designer and seller from the UK. I've doing this for over 4 years now, though only in the past year full-time. I've been writing a blog about my T-Shirt income for the past year or so, and written 2 books on the topic.
As regards to my monthly income, depends how you break it down.
My print-on-demand royalty income (eg. total from Merch By Amazon, Redbubble, Teepublic etc.) is around $12k per month right now, and growing an extra $1k or so a month. 

I also sell directly to customers through various outlets (eg. Etsy, Amazon, my own Shopify store etc.) and that brings in maybe another couple of thousand dollars per month. That isn't royalty income so is less passive than the other income – but it relies on print-on-demand partners to fulfil the orders.
How long have you been a member of the Merch by Amazon Platform?
Since October 2015, which I think is exactly when it started. So I got in early.
How did you first find out about the platform and what were your initial thoughts?
I think I saw someone post about it on reddit.
My first reaction was: what's the catch?
It was pretty much the perfect scenario for me. I had a few hundred designs ready to go, and I pretty much doubled my t-shirt royalty income immediately.
I could see the power of it straight away – I had some viral related shirts that sold like hot cakes in the first weeks, so it was really exciting.
What was your "AHA!" moment when you realized the potential from selling Merch online?
I think the first time I found a print-on-demand t-shirt fulfilment company (or t-shirt dropshipper – someone who would print and ship the shirts for you) – I knew this was a great opportunity and was just what I'd been looking for.
I didn't have any interest in printing or packaging shirts, and whilst sites like zazzle and others had been around for ages – the ability to have another company do the hard work whilst I maintained that direct connection with the customer – that was crucial.
What it effectively means is that any artist or designer can start a brand from their bedroom, maintain full control, set their own prices and build a business without ever touching a shirt.
Just to be clear – I'm not talking here about Merch By Amazon or Redbubble – those are royalty based sites. I'm talking about a fulfillment company (printful, printaura, teelaunch etc.) who do the printing 'white-label' for you. That was the really big moment for me.
Did you have to wait for approval? Any tips for those submitting applications today?
Don't sit around twiddling your thumbs.
The market is busy and getting busier – so if you can't make sales from organic traffic on a site like Redbubble (which is completely open with no wait for approval) – then it's probably going to be really hard to make decent money on Merch By Amazon too.
So my advice is to get designs up on those other similar sites first and foremost. That is a good way to get experience of how the whole thing works and what to expect.
But even more powerful than that – I would invest time doing something that will give you more control over your income in the future.
So instead of relying on Merch By Amazon and organic search alone – look into advertising and sponsored listings, or into setting up your own-brand store and driving traffic from Facebook ads, Instagram or other channels like that.
You should always be looking for ways to build your own audience – a direct connection with your potential customers – while you take advantage of organic and 'low hanging fruit' channels like Merch By Amazon.
Finally think long-term – where is all this going for you? What else can you do with all those designs you are creating? How else can you deploy them to make money? Is this really the right vehicle for you and the best use of your talents and time?
What tier are you at and how many designs do you currently have live?
Between me and immediate family we have a few Merch By Amazon Accounts – the biggest one is 8000 and another at 1000 I think.
I would say I have around 2000 designs total across Merch – growing by about 100 or so a month.
Do you outsource your design work or do you do it yourself?
I outsource most of it since the start of this year, but I'm still very much involved in the design process.
I regularly fire up photoshop to do touch-ups, edits and tweaks.
This is because for most of my designs I plan to use them across multiple platforms and for various different purposes – so I want to maintain a certain style across the board.
Any Tips on the process?
Don't be cheap, and offer your designers a long term relationship with the guarantee of on-going work.
Don't expect good designers to fall into your lap. You have to go out looking for them. I recommend Dribbble, Behance and 99designs as good places to go fishing. But you could just as easily find people on twitter or tumblr or reddit.
As for process – get the concept clear in your head and down on paper as clearly as you can. Garbage in, garbage out. A designer is not a miracle worker, and the more references and insights you can give them into what you are looking for the better the end result is going to be.
Do you do any outside marketing at all or are you strictly focused on the organic traffic from on page optimization?
I do outside marketing, but none of that drives my royalty-based income. So those royalties are driven almost exclusively by organic traffic.
The marketing I do dabble in is sponsored posts on Instagram, and some Facebook Ads. But I am by no means an expert at this.
Do you do any Amazon PPC (Pay Per Click)?
no
Do you do any Facebook advertising?
I have done, and plan to get back into it soon. I would recommend having Pixel data to help Facebook find the right audience for you – and commit a decent amount of cash (ie. not less than $50 a day) to truly get an idea of whether something is going to work or not.
Do you prefer free or paid traffic?
As said – most of my income comes from 'free' traffic. But I would prefer more if it came from paid traffic.
With free you need to be constantly chasing and creating new stuff – at least until you reach a point where you have thousands of designs that are making a decent, reliable and relatively passive income.
When you control the marketing and sales through paid traffic, you are able to stop chasing your tail, and can focus a lot more and quality rather than just quantity.
When it comes to your experience what is the most important factor in getting your shirt ranked in Amazon?
Honestly right now I don't really pay much attention to 'rankings' anymore.
But last year I was doing daily battle for top spot on a number of trending topics, so I do have some thoughts.
First – of course you need to get all your keywords and key phrases in your title and descriptions. That's Merch 101.
Second – price is obviously a big factor in the rankings. So I would recommend having a few price points (meaning have a few design variations) – if you want to actually dominate a results page.
Finally, and perhaps most importantly – quality tends to rise to the top. So creating the best and most appropriate design for any given topic is going to be much more effective at getting sales – and hence rankings. Good designs also tend to mean good reviews – and once you get a few of those thinks rolling over you can relax and watch the royalties trickle in.
Do you Use Any Tools For Your Research Process? If so, what aspects do you like best?
I don't really have a research process. I have more of an 'ideas' process – I try to come up with as many ideas as possible. Ideas that I think are funny or would sell.
Of course I'll hop on certain trends and stuff, but for the most part I'm trying to predict trends and come up with original ideas, rather than find stuff that is already selling – as I figure that is a less productive use of my time.
So I don't really use any tools – if I'm short on ideas then I take a look around social media (twitter, reddit, Instagram) to see what is happening in the world and occasionally looking at what is selling on platforms that do well for me – Redbubble, Teepublic and similar.
When it comes to your keywords, how are you approaching them?
Nothing especially magical – I just try to get the most important and relevant terms in the title, and repeated in the descriptions and bullet points.
For sites like Redbubble and Teepublic I make use of the tags section.
I think people tend to over-think keywords. The keywords should be pretty obvious if your design and concept is clear from the get-go.
What about your pricing? Do you experiment with your prices or are you listing all your designs at the industry standard of $19.99?
I had most of my designs at $25 for the first year of Merch.
This year I've started to come down to $20 in most cases, simply because of the competition. I'm still not sure I'm doing the right thing 🙂
It's a battle between getting the maximum possible royalty for your original work, versus being undercut and constantly having to check the market for a thousand odd designs – which is obviously impossible.
So I think you just have to pick a rough price point and stick with it. You win some, you lose some, but that is the nature of this business.
Have you expanded into other platforms or are you taking advantage of any of the integrations to list on Amazon (Shopify/Printful/Printaura/Teespring)?
I am only dabbling with listing on Amazon directly (with seller central) – so my major other platforms are Redbubble, Teepublic, DesignbyHumans and a few other sites like this.
I do have some success with sites like Teefury – shirt-a-day competition based sites. If your work is of a high enough quality then I recommend checking those out.
(I have a blog post about such sites on my site here: Where Can You Sell T-Shirts Online? The Ultimate Guide To The Different Types Of Shirt Sites
How do you ensure your designs remain safe from any possible infringement?
It's impossible.
There's no fool-proof way to protect your stuff all the time. That's just the nature of the internet and this business model in particular.
If something comes to my attention I'll report it, but I don't go out searching for infringers, at least not anymore. I try to focus on tasks that are most productive.
I think if the thought of your work being ripped off and sold without your permission upsets you, then you should maybe look at getting out of the designer/art world – because it's simply going to happen to everyone sooner or later – especially if you make something that is popular.
If there is one thing to avoid when learning the MBA business, what would you say that is?
Avoid thinking that Merch By Amazon is a self-contained ecosystem – that it's the be-all and end-all of this business model.
Print-On-Demand is nothing new, and besides all the other sites that work in the same way (but don't provide the same level of organic traffic) – there are really so many other ways you can make money from creating original art online.
Making royalty-based income from your art online is great – but having your own brand store is probably a lot more stable, secure and has a lot of long-term upsides that you don't get with royalty-based stuff.
So think outside of the MBA box – and use MBA to support your other platforms and other endeavours. It is a fantastic system and I think there is a lot of growth yet to come from Amazon – but I'm also very concerned that a lot of people could be over-invested in Merch and putting all their eggs in one basket.
What is the end goal for your MBA business?
Great question – I don't know! I hope Amazon will continue to expand the program and add new products etc – and I'll be able to keep making an income from my designs for years to come.
I think the real end goal for me is to have some stand-alone brands that are under my control and produce income alongside my royalty sources. But it all goes hand-in-hand – one contributes towards the other and they all grow together.
Any plans for all the money you have made from Merch?
Ha – I'm not sure where most of it has gone to be honest! :O
I'm trying to invest it in things that will grow my monthly income bit by bit – new designers, new designs, new sources of income.
I'm not really a big spender at all. I like buying things that help me to make more money – so I just got a stand-up desk and a new laptop – practical stuff like that.
If there is one piece of advice you would give to someone who is starting to use Merch by Amazon for the first time and wants to get ahead, what would it be?
Pretty much what I said above – don't put all your eggs in one basket.
It can be hard to find and carve out your niche in a busy market like this – so I would focus on finding out what your advantage is and go all-in on that.
It could be a specific niche or sub-niche, or it might be a way of driving traffic. Whatever it is – there is probably something that you can do better than 80% of other MBA sellers.
Find that, focus on it, become the best at it. Quality rises to the top. Don't get distracted – stick to that one thing and hit it hard.
Also you need patience and persistence, like anything in life. Iterate, improve, but don't expect overnight success.
Oh and hang around the people who are doing well and are willing to share stuff – in the Merch By Amazon Facebook Group – and people like Neil (!), Chris Green and others. It's rare to find people who are willing to open up and share what they know – so take advantage of that when you can.
---
If you would like to check out Michael you should head over to his blog MichaelEssek.com or check out his books "How To Sell More Shirts!" and "Grow Your Own T-Shirt Business" at MichaelEssek.com/products.