Merch by Amazon Success: Interview with Lanelle Barber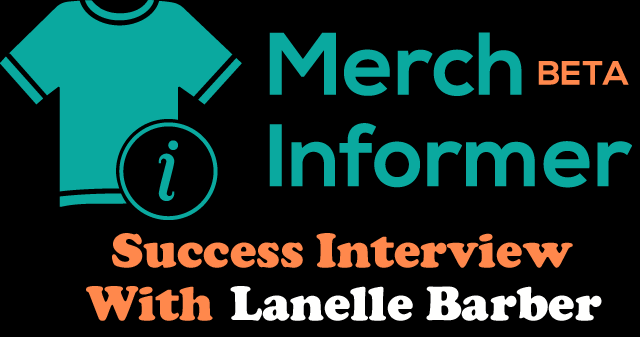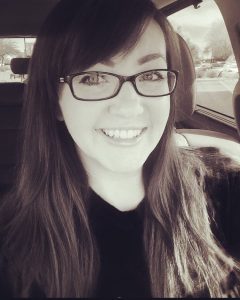 Merch by Amazon is a growing opportunity that pretty much anyone can succeed at. You have to be willing to put in the work and learn the craft as this is a lot different from almost everything you might have done before. I sure had to learn a few new things when I jumped in!
Here at Merch Informer, we have tried to share all our trials, tips and tricks, as well as personal experiences that have done into building our Merch businesses. Sometimes these connect with people while other times, other people do a better job at explaining a concept. In an effort to help you move forward in your Merch business, we decided to put together a bit of an interview series with some of the most successful Merch by Amazon (and other POD) sellers that we know!
We had the opportunity to sit down with Lanelle Barber and pick her brain about how she runs her Merch business and how she got to where she is today. If someone can find the time to scale their business to where Lanelle currently is while raising a family, I am absolutely positive you all can too!
Tell us a little about who you are and a general ballpark of how much per month you are making with Print on Demand?
My name is Lanelle Barber, I'm 33, live in sunny Arizona, and am happily married with 4 awesome kids. I've worked online in various industries for several years now, and have decided that being a mom and getting to run my business from home is the best. I love the flexibility, independence, and the many other opportunities it affords me. Selling on POD platforms and merch specifically has been such a great blessing in my life. Building up a portfolio of unique quality designs that can I can collect royalties from and sell passively for years is an amazing thing. Now I make between 4-5 figures depending on the month, every month from selling my designs.
How long have you been a member of the Merch by Amazon platform?
I applied the day after they closed it down to everyone in November. Kicked myself for that one, thought I had time. The lesson learned was, when a new platform opens, apply right away even if you aren't sure what it's all about. Don't assume it will always be free, easy, and available. I was accepted at the end of January 2016.
How did you first find out about the platform and what were your initial thoughts?
I first became aware of Merch by Amazon in the beginning November of 2015. I was in the middle of a busy 4th quarter managing my private label products for my FBA (Fulfilled by Amazon) business. I was having great success, so when Merch by Amazon occasionally came up in conversation in my groups and masterminds, I was curious, but not overly so because I was so focused elsewhere.
A few weeks later I began hearing more about the explosive growth of the program, so I decided to take a closer look. I joined a facebook group full of members who were involved, and started pouring through the discussions and quickly became excited about the possibilities. I planned to sign up the very next day, but as luck would have it, that next morning Merch decided to shut down free access to the program and became invite only due to the demand being higher than their current capacity. That was a bummer, but I signed up and waited for my invite.
What was your "AHA!" moment when you realized the potential from selling Merch online?
Within my first week of being accepted, I designed a simple text based shirt based on a hot political niche at the time, uploaded it, and it sold 7 times that same day, I realized the potential of this was huge and it was time to buckle down and learn everything I could. I dove into research, and learned how to design simple shirts on my own, how to research niches, and had developed a strategy for sales.

Did you have to wait for approval? Any tips for those submitting applications today?
It took about 2 months for me to get approved. Currently it can take much longer and the merch team is looking for quality applicants that will add to the integrity and high caliber of the program as it grows rapidly.
What tier are you at and how many designs do you currently have live?
I am currently at the 6000 tier, and am getting closer to 2000 live.
Do you outsource your design work or do you do it yourself?
When I started, I did them myself. I think this is a smart thing to do if you have the time and drive to learn. It will help you understand design software and the basics of what makes good design so that when you do eventually outsource, you will be able to explain to your designer exactly what you want. Now I outsource almost all of my designs, which helps me to free up my time to scale up.
Where are you outsourcing and at what price? Any Tips on the process?
I prefer Upwork.com but there are other freelancer sites. There are some great designers in the merch Facebook groups also, and many of the members can vouch for the quality of their work. It's important to get recommendations, and give them test projects. You want someone who you can trust not to copy other designs or steal graphics they don't have the rights to online. Find someone who speaks English well, is professional and communicates in a timely manner, will work with you on revisions, will adhere to deadlines, and doesn't need to be handheld every step of the way. The better they understand what type of style you want and/or is popular the easier it will be. As far as price, I prefer to negotiate an hourly rate and then specify how many designs I expect per hour. The amount of designs per hour depends on complexity.
Do you do any outside marketing at all or are you strictly focused on the organic traffic from on page optimization?
So far I have almost entirely depended on organic sales. There is nothing better than free traffic and free sales. I do plan to expand to outside advertising soon.
Have you done any Amazon PPC (Pay per click)?
I use Amazon ppc for my private label products, but have not utilized it for merch yet.
When it comes to your experience what is the most important factor in getting your Merch ranked in Amazon?
If we are talking about organic sales, as long as you put up unique quality designs that are geared toward your target audience, and the niche has demand, then the keywords you use in your listing are the most important factor because that's how people will actually find your shirts. Even if you have the best design in the world, if no eyeballs see it then it doesn't matter. The most important thing to get yourself ranked is to get sales, and that first sale is crucial. Then your shirt is "on the map" or in other words, it shows up earlier in the search results so that more eyes can see it, and it can result in more sales.
Do you use any tools for your research process? If so, what aspects do you like best?
I use Merch Informer for almost every step of the process, it makes researching competition, researching niches, looking at what design styles are popular, and looking over listings and how I can improve my own fast and easy. I also use Merch Tools (chrome extension) for quick edits, and analyzing my sales and stats, and I love the "cha ching" feature that lets me know when I have a new sale when I am working on my desktop.
When it comes to your keywords, how are you approaching them?
The Amazon algorithm pulls keywords and search terms from the title, and bullets/features area the most, so it's important to make good use of those areas. Do not stuff, use descriptive sentences that makes sense and are actually relevant and describe your design so that when someone types any combination of those words into Amazon, your shirt is likely to show up. Also think outside the box and use adjectives, synonyms, and descriptive terms that others might not think of, but that potential customers might type in the search box. Use thesaurus.com if you need help with ideas. Then you have an advantage over the rest by being only one of a few competing designs in the results area, and your shirt is more likely to get seen and bought. And always be very careful to check each phrase, partial phrase, and even individual words for live trademarks.
What about your pricing? Do you experiment with your prices or are you listing all your designs at the industry standard of $19.99?
Depending on the complexity of the design, the niche, and the competition I will price anywhere between $16-$20.
Have you expanded into other platforms or are you taking advantage of any of the integrations to list on Amazon (Shopify/Printful/Printaura/Teespring)?
I am currently in the process of expanding to both Shopify and putting my shirts up on Amazon through seller central and fulfilling as a third part merchant.
How do you ensure your designs remain safe from any possible infringement?
I comb through upsto.gov with a fine-tooth comb searching for trademarks for every word, phrase, and partial phrase every time I am working on a new listing. It is the most time consuming part of the process because there are words and phrases that seem completely innocent, but that actually cannot be used. Not just in your design, but anywhere in your listing. Including the brand, title, bullets, or description. This is crucial because you can get rejections, or if the TM owner complains you will get your listing removed and receive a violation notice. If too many of these occur, you are at risk for account suspension or termination. It's very important to take intellectual property rights seriously.
If there is one thing to avoid when learning the MBA business, what would you say that is?
Don't be complacent and make decisions based on what you see other creators "getting away with" on Amazon or elsewhere. Too many people use the excuse "I see tons of other shirts that do this, that must mean it's ok." Take the time to go through all the terms of service and FAQ section in the merch dashboard resources section so that you know exactly what they expect. Inform yourself, don't just rely on others, who may be the blind leading the blind.
What is the end goal for your MBA business?
I plan to keep growing it until I have a solid portfolio of unique, quality designs that sell consistently and bring value to the marketplace. I plan to consolidate into a more cohesive brand, one that will be more recognizable and that I am proud of.
Any plans for all the money you have made from Merch?
I plan to pay off debt, save, reinvest, help my family and hopefully bless the lives of others who could really use it. And maybe a bit of travel in there as well, or service trips. J Traveling is a passion of mine, and I am at my happiest when I get to experience new places and immerse myself in a brand new culture, meet new and interesting people, and hopefully make someone's life better while I am at it.
If there is one piece of advice you would give to someone who is starting to use Merch by Amazon for the first time and wants to get ahead, what would it be?
Treat your account like gold. Play it safe. This is a great opportunity if you are patient in the lower tiers. Your design slots will increase and income will grow as you prove that your designs sell, and as you learn how to create quality work that will add value to the marketplace and to your buyers. It can take time to learn the 3 main keys to merch sales. 1. Niche research 2. Unique and original designs created for your target audience (don't design based on what YOU like, design based on what your target audience would buy) and 3. Keywording and your listing skills. Keep learning, keep pushing, it will pay off.