The Deadline Is Approaching – Merch Checker Review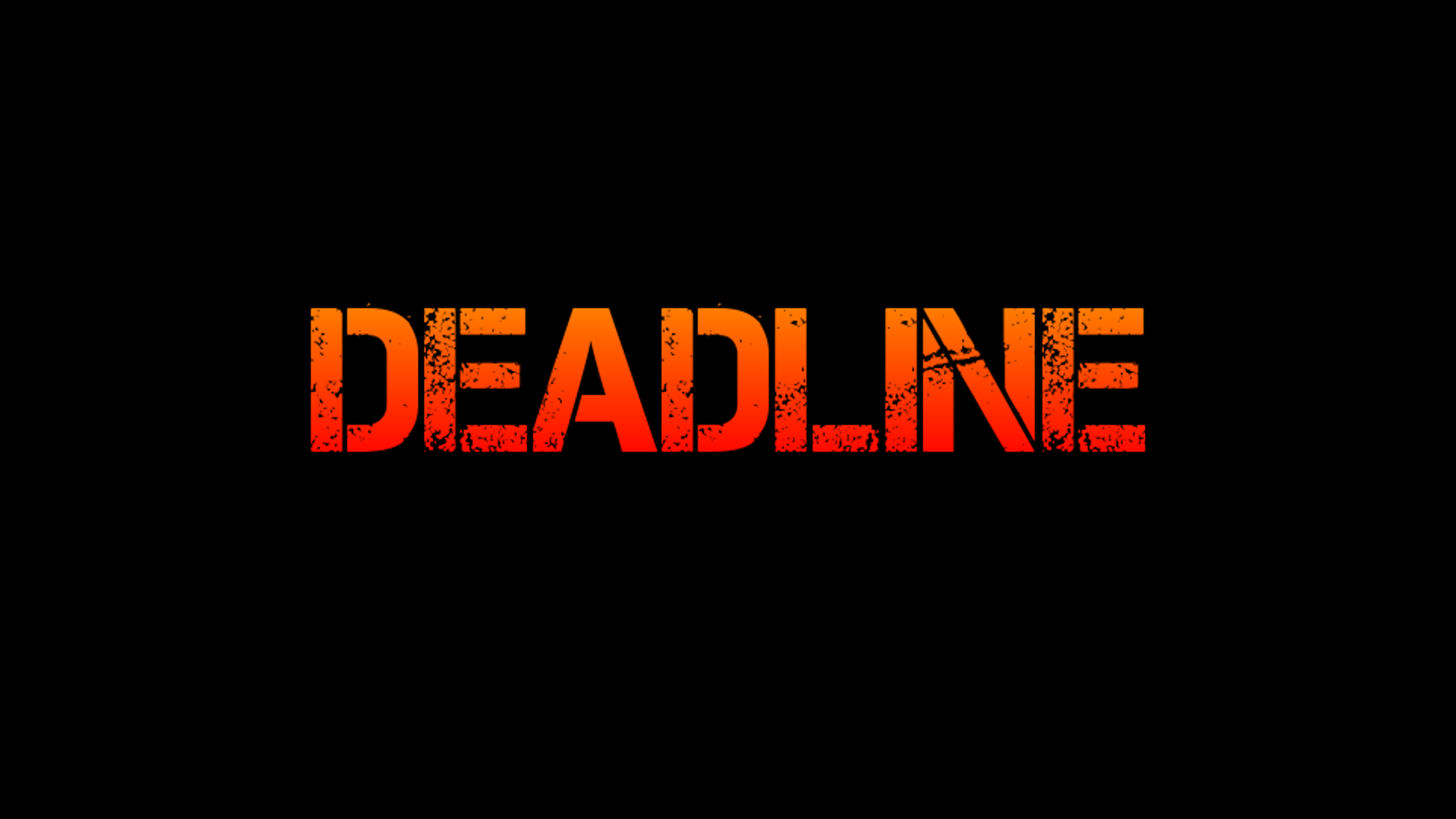 This post is also available in:
German
The time has come to finally address the elephant in the room, or something I have been meaning to address here on the Merch Informer blog!
Shipping and fulfillment (and sizing)!
A few months ago, we all got this update in our dashboards: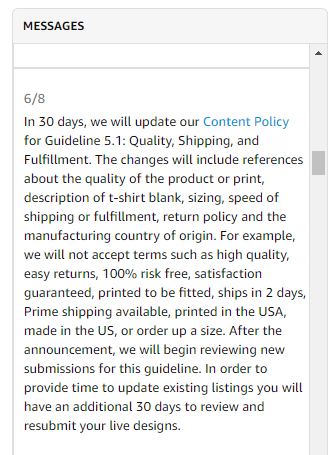 Then we got an update to this update: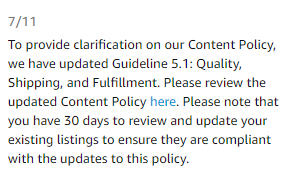 This is the not the first time that the Content Policy has changed and it certainly will not be the last.
That being said, the biggest issue I see here is that
We have 30 days to fix all of our listings and
That 30 days is about to come to a close.
If you read the first update on 6/8, it mentions that they are no longer going to accept references to print and specifically says we are not allowed to put in "printed to be fitted".
If you are like me, this is going to cause a BIG PROBLEM! Seeing as every listing I have ever put up on Merch by Amazon had this saying in the bullet points, I had a LOT of editing to do. It actually took me about 3 weeks to go through everything and trust me, that was NOT a fun process.
This is why we partnered up to create a simple chrome extension that is going to save you time, headache and frustration during this entire process. It will also help you stay compliant with the Merch by Amazon Terms of Service with the 30 day deadline soon approaching.
Introducing Merch Checker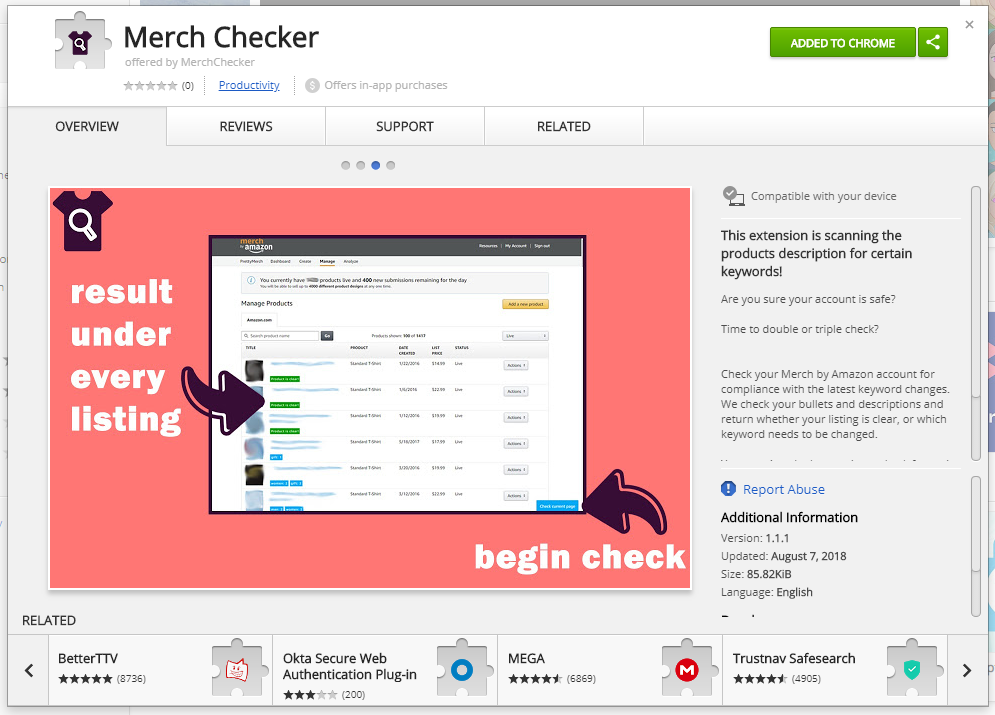 This little extension is worth EVERY. SINGLE. PENNY. It is going to save you (or in the case of me) weeks worth of time and headache for $7.
It will make sure you are not going to miss any bullet points that say anything that might get you in trouble. Here are all the keywords it automatically checks for currently.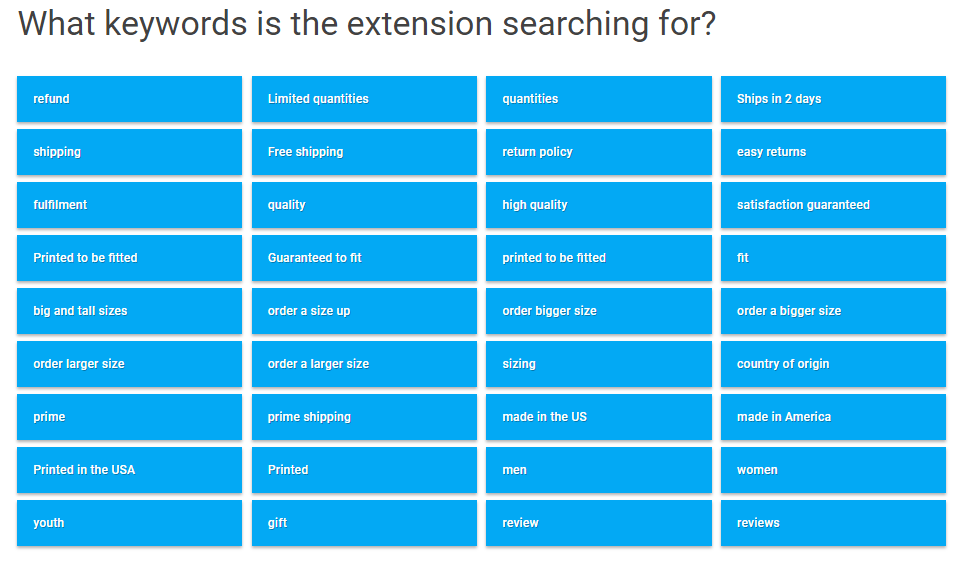 Here is how it works!
Step 1: Install the Extension
The first step is to download and install the extension.
Click Here To Install The Merch Checker Extension.
Step 2: Grab A License Key
The second step is to simply grab a license key. You can do this on the gumroad page.
Step 3: Insert License Key
When you have your key from Gumroad, click on the Merch Checker icon in the upper right corner of Chrome: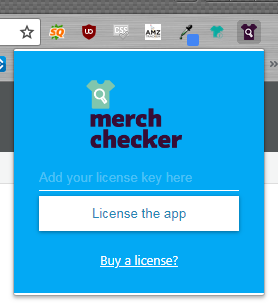 Enter your new license key on the line and click on the white button to license the app.
Step 4: Log in to Merch by Amazon
On this step, you will want to go to your Merch by Amazon dashboard, and click on the "Manage tab".
Make sure to filter the manage tab by "live"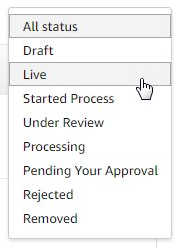 Then scroll to the bottom of the page and make sure that it is displaying 100 products at a time: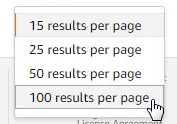 Step 5: Start Your Search
Now that you are on the manage tab and you are displaying 100 live shirts at a time, click on the Merch Checker icon in the top right of your Chrome browser. This will bring up the extension and let you enter different keywords. As you can see in this example, I put in "official" as a keyword for it to check. You can keep adding to this list if there is anything else you want to check.
Remember, it will automatically check for the keywords listed above in the blue box.
Once you are ready, click on the "Start Checking" white box.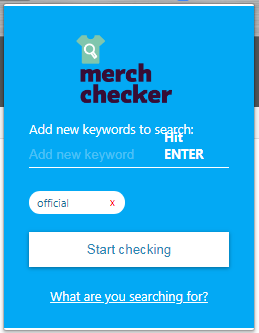 Once you click that box, you may notice that nothing on the screen changes.
This is because you need to now go to the lower right hand corner, and click on the new box that has popped up:

Click on that button, and watch the magic happen.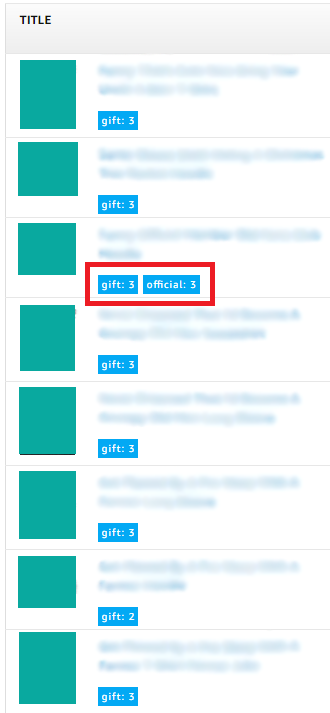 Below each shirt it will show you any of the trigger words that the extension automatically searches for as WELL AS the words/phrases that you enter into the extension from the beginning.
NOTE: Gift will be removed from the list soon.
As you can see, this picked up the words "official" in one of my shirts, and lets me know what product the words are in. This way I can easily go through all my listings, and edit the ones that I need to instead of opening tens of thousands of tabs and reading all the bullets myself!
Wrapping It Up
When it comes down to it, this is probably going to be the most productive $7 you will spend in this business. I went and edited all my listings one at a time and it took me many many hours because I had to actually read through all my bullets and descriptions. This will do that for you!
If you have any questions or comments, make sure to drop them below!