Not Into T-Shirts? Here's The Other POD Merch You Can Sell On Amazon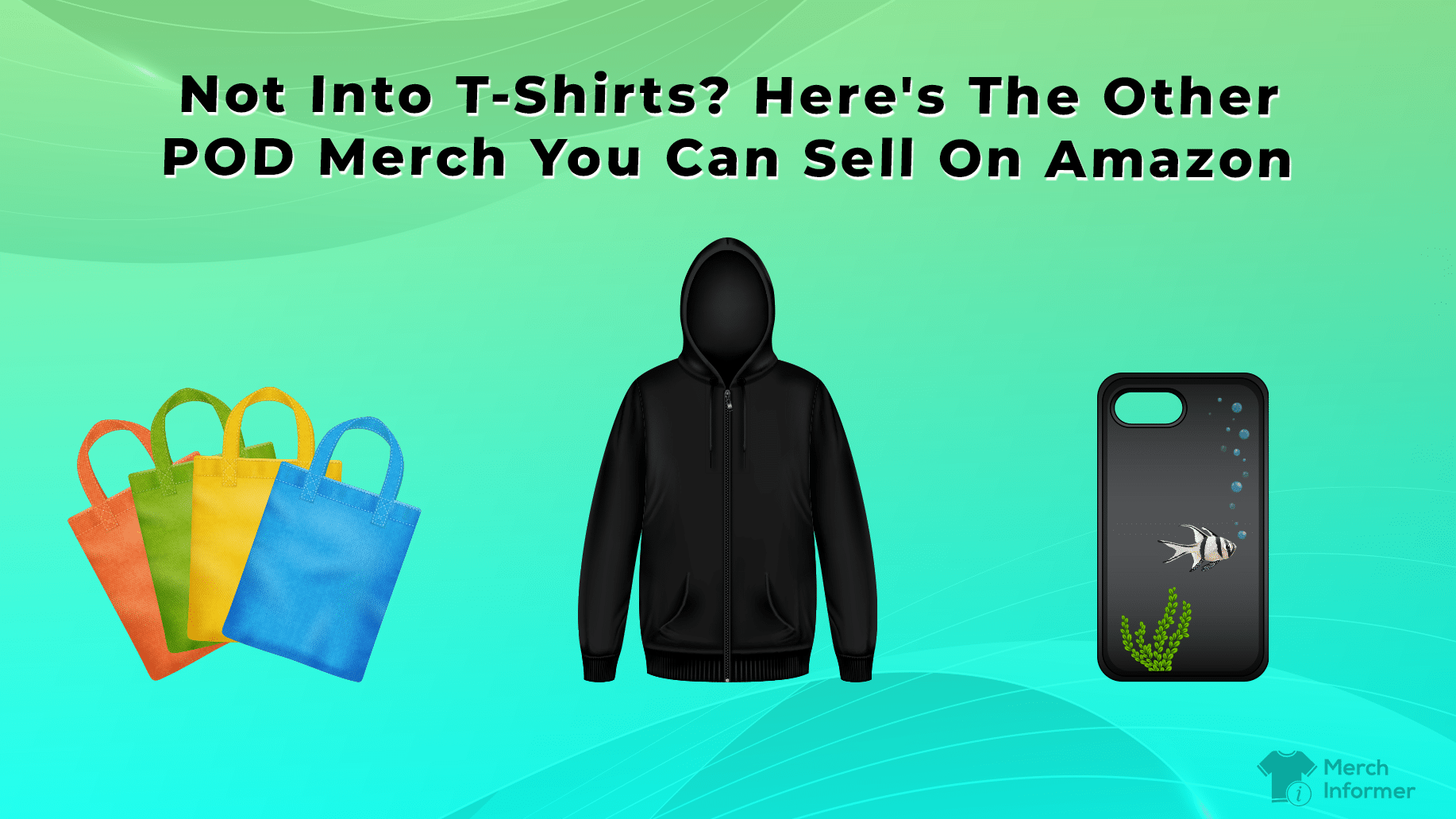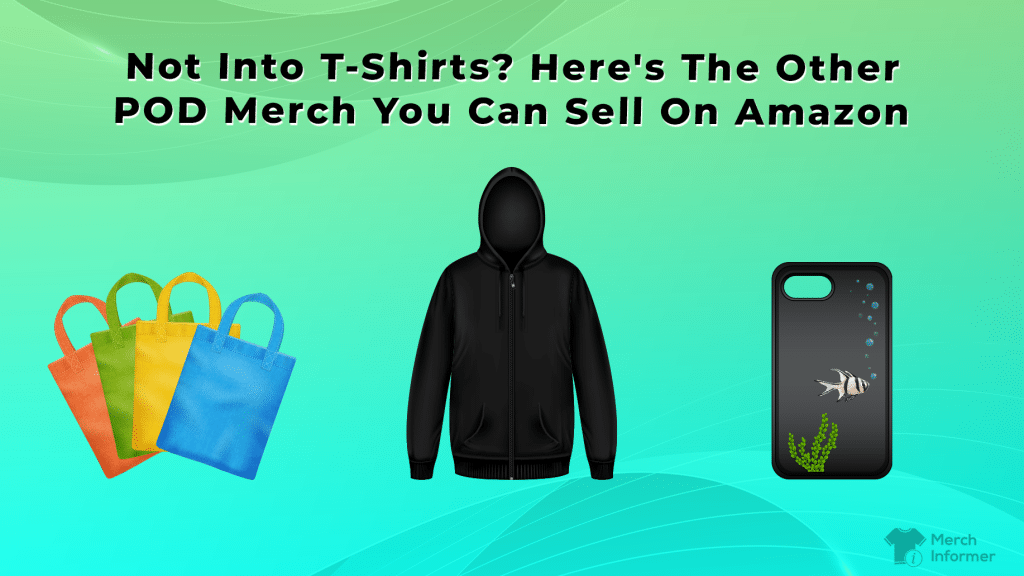 Some folks believe t-shirts are the only viable choice for a Merch by Amazon gig.
We beg to differ.
There are countless other types of merch you can sell through Amazon's print-on-demand (POD) service and still make a killing out of it. It's a matter of digging deep and niching down to figure out where the opportunities for profit lie.
Sure, the t-shirt segment volume is expected to reach nearly 8 million pieces by 2026 with a volume growth of 11.9% in 2022, but that doesn't mean that's all you have to focus on. In fact, with all the diversity of the apparel category, it's quite possible to find the type that you're most comfortable selling and just get to it.
What Kind Of Merch Is Sold On Amazon?



Amazon's Merch program in the past was limited to t-shirts only. Fair enough. It's highly likely – in fact, we're willing to bet – that everyone reading this has a t-shirt in their closet. After all, they're some of the most versatile items of clothing, suitable for practically every occasion. Add an interesting design element and every t-shirt can become a work of art.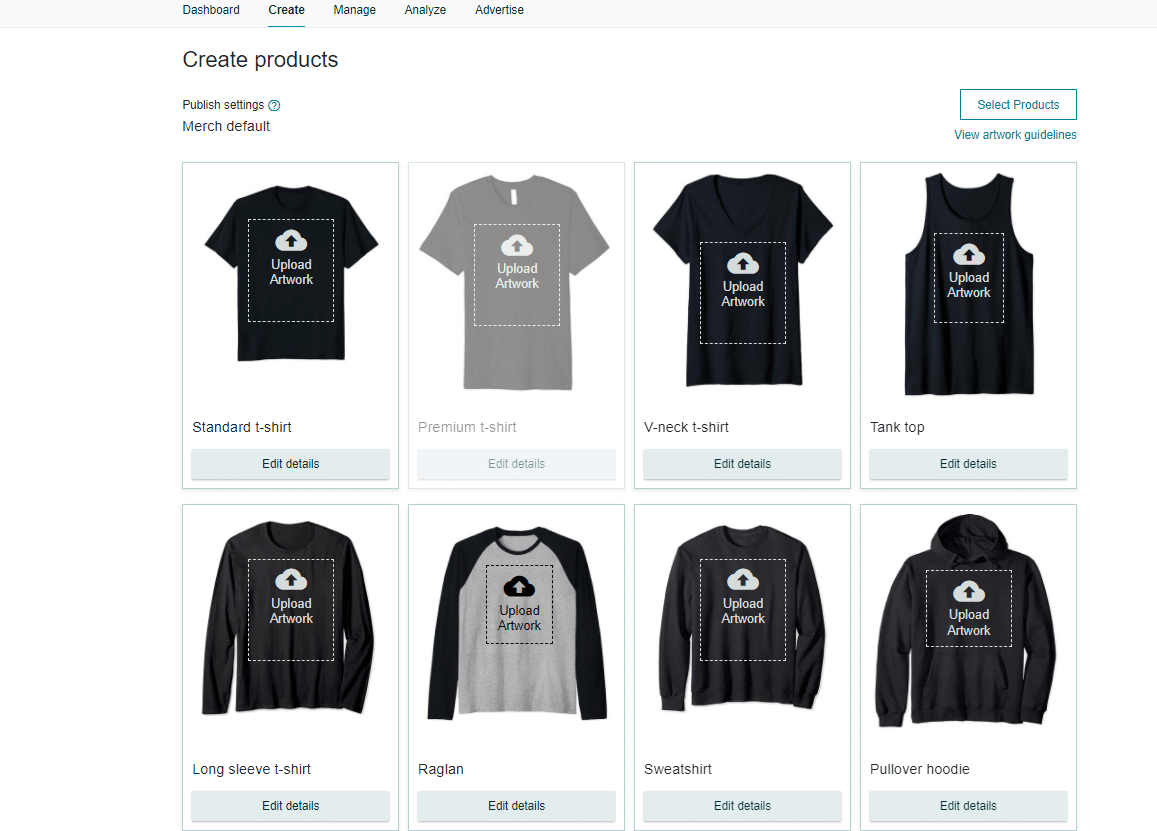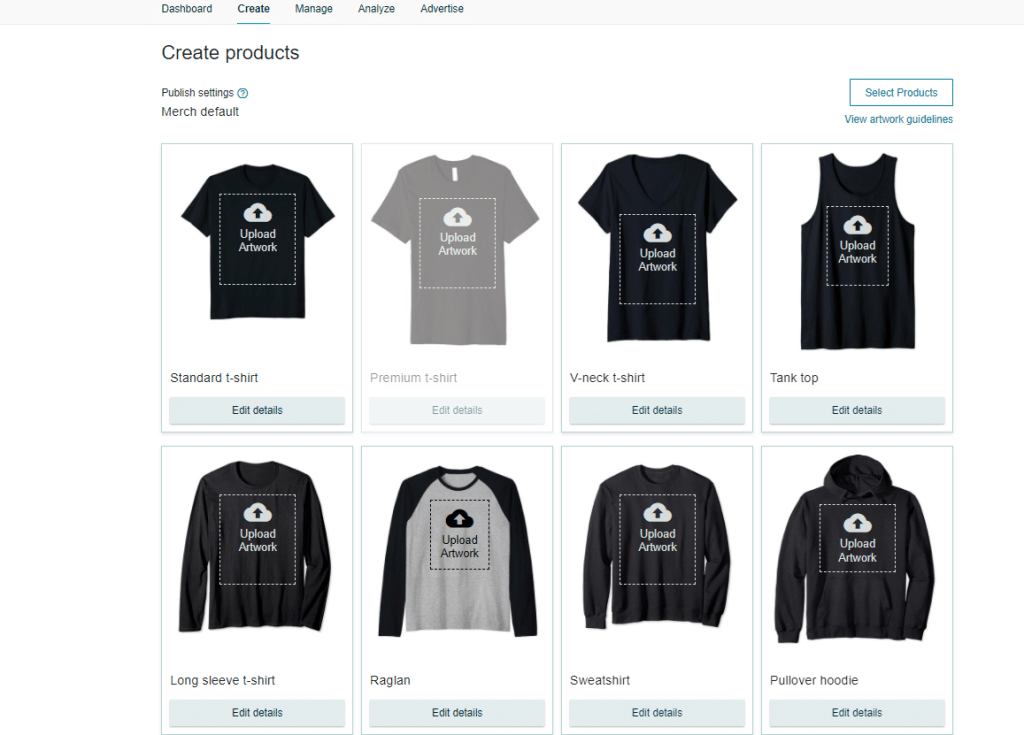 However, Amazon quickly saw the potential of adding other types of apparel to its line of clothing and expanded that offering. This means that you can now go from t-shirts to standard and premium tees, long sleeve shirts, sweatshirts, and even hoodies. Basically, a whole range of items to put your designs on and start making sales. The expansion of the range of clothing meant an expansion of the range of sales opportunities for many Sellers out there. Therefore, a Seller can go beyond the humble t-shirt and broaden out into a wider range of offerings.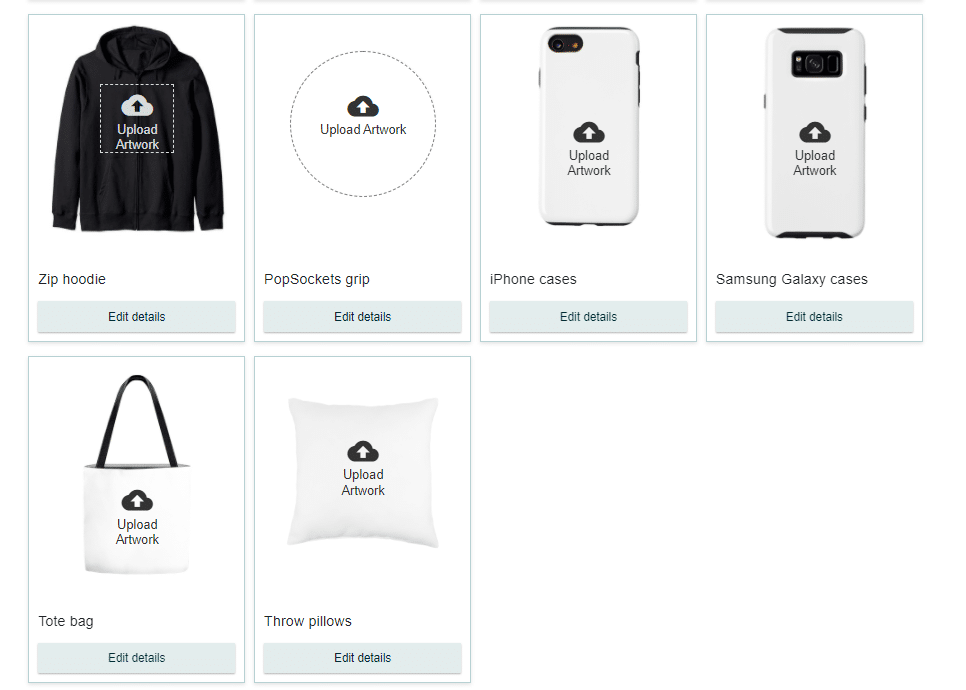 What Kind Of POD Merch Is Sold On Amazon?
So, what kind of POD merch is sold on Amazon today? There are three main categories. These are apparel, phone accessories, and others.
Let's start with apparel. Here, the category extends to standard t-shirts, premium t-shirts, v-neck t-shirts, tank tops, long sleeve t-shirts, raglan shirts, pullover sweatshirts, pullover hoodies, as well as zip hoodies. Quite a range.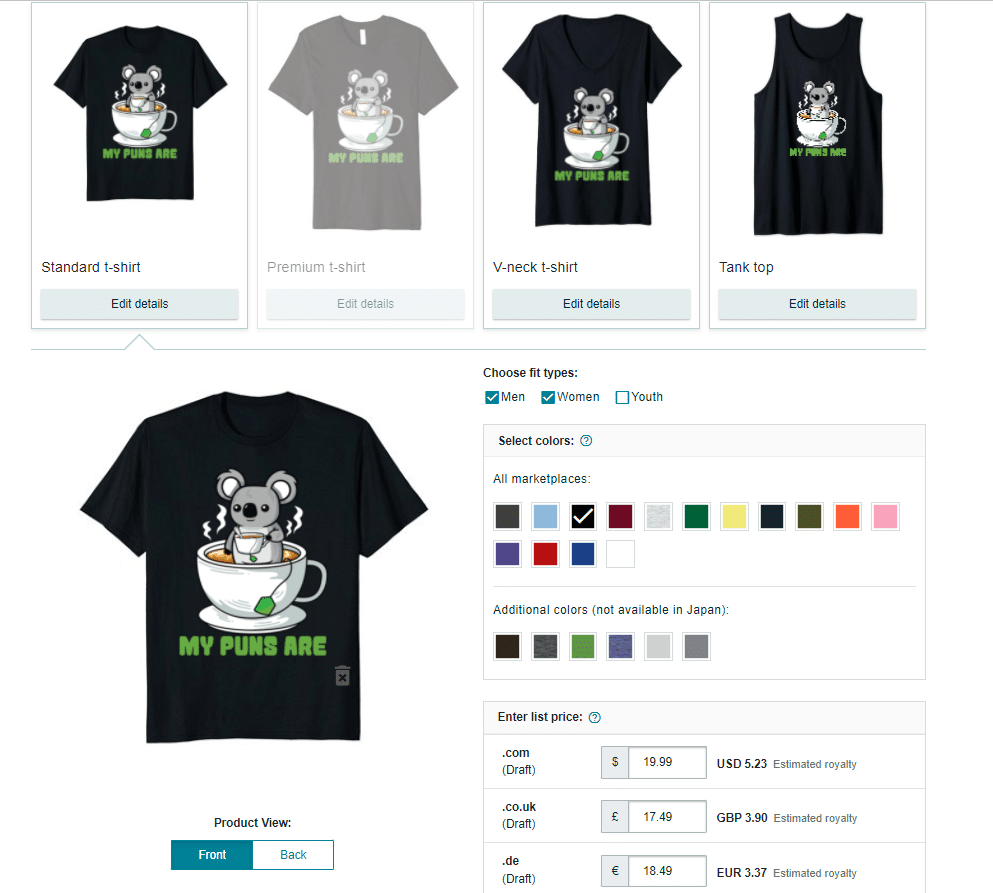 Next up are the phone accessories, which come in the form of pop socket grips. Amazon has split up this category into cases for iPhone and cases for Samsung Galaxy. Yes, the most popular phone types in the world. For iPhones, the categories expand to SE/7/8, 7 Plus/8 Plus, XR, X/XS, XS Max, 11, 11 Pro, 11 Pro Max, 12 Mini, 12/12 Pro, 12 Pro Max. Meanwhile, for Samsung Galaxy, the range expands to S8, S8+, S9, S9+, S10, S10+, S10e, S20, S20+, S20 Ultra. These give you an ever wider spectrum of opportunities to cater to a growing demand for phone accessories, helping you reach more customers with the opportunity to really get into a particular niche and sell, sell, sell.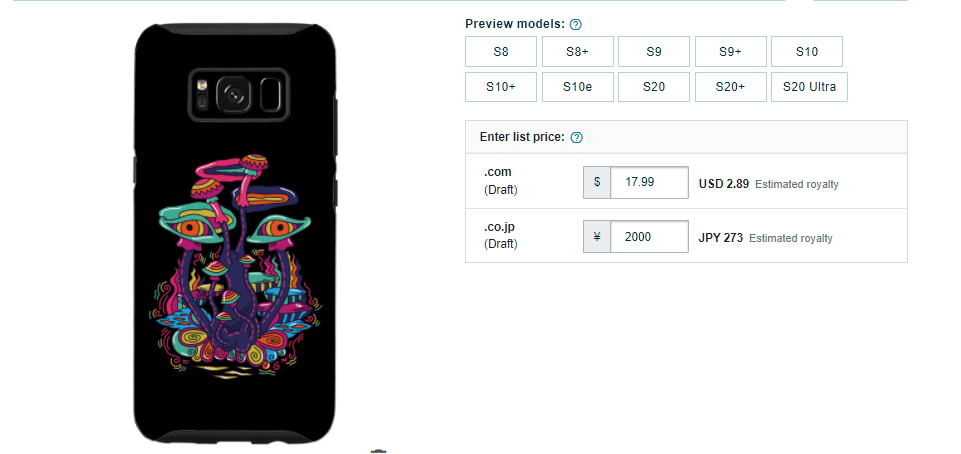 Finally, there's the "other" category. So, what does this include? Basically, under this category, Sellers will be able to sell designs that go on tote bags as well as throw pillows with the following dimensions: 16"x16" or 18"x18". The bigger the amount of differentiation, the more opportunities there are to sell more items.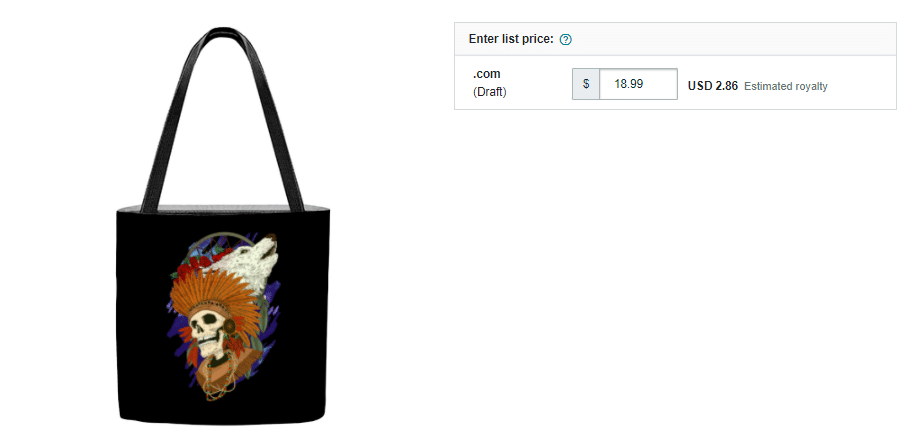 Can Merch Informer Help Sellers With Other Types Of POD Merch The Way It Helps With POD T-Shirts?
As you already know, Merch Informer is probably one of the best business intelligence tools that's specifically aimed at helping Sellers optimize their listings on Merch by Amazon.
Yes, it will definitely help your t-shirt offering, but there's a whole lot more to it. In fact, Merch Informer enables you to go beyond the t-shirt and place attractive and appealing designs on long-sleeve shirts, sweatshirts, hoodies, pop-sockets, and v-necks.
This means the range of opportunities is much broader than mere t-shirts. You just have to walk through and make the most of it.
How Is POD Merch Different From POD T-Shirts?
At this stage, you might be asking: are there different rules or specifics to selling and listing merch on Amazon other than t-shirts? Well, the answer is that "it depends" on the type of item you wish to sell.
First off, you want to make sure that – when you're dealing with the apparel category of Amazon – you follow these guidelines: use a PNG format with transparency, use the sRGB color space, and upload files that are less than 25 MB.
According to Amazon, the artwork dimensions you should try to stick to are the following:
4500px by 5400px: t-shirts, sweatshirts, long sleeve t-shirts and the back of pullover hoodies
4500px by 4050px: front of pullover hoodies and zip hoodies
485px by 485px: Pop-Socket grips
1800px by 3200px: iPhone and Samsung phone cases
2925px by 2925px: tote bags and throw pillows
Remember that the artwork dimensions are crucial for a high-quality design. Anything off the given scale is likely to yield pixelated images on your apparel, popsockets, tote bags, or throw pillow designs, which means poor quality and dissatisfied customers at the end of the day. Not to mention negative or poor reviews.
This is the last thing any Seller wants to deal with as their reputation is ultimately what keeps sales going. What's more is that Amazon prizes quality products and images over anything below that and you might get penalized if your artwork is subpar.
Wrapping up
The world of apparel is getting broader and wider and with this, Amazon has decided to offer consumers a broader range of choice when it comes to the items of customized clothing they can purchase from the platform.
As a Seller, this presents an excellent opportunity for you to build your reputation with high quality designs that are spread over a wider range of clothing types to help you reach more customers and make more sales. Remember that when you're preparing your designs – whether for a tote bag or a v-neck – you need to ensure you stick to Amazon's artwork dimensions for highest quality results. The better the quality of your designs the higher the chances of selling more items.
And of course, don't miss out on the Merch Informer platform to help you do just that. You'll not only be able to upload your designs with a few clicks, but you'll also get a better overall idea of how and what your competition is doing well so that you can replicate their success.
Here's to selling more and better on Amazon!