POD Merch For Weddings: What Events To Target, Who To Market To, And How To Strategize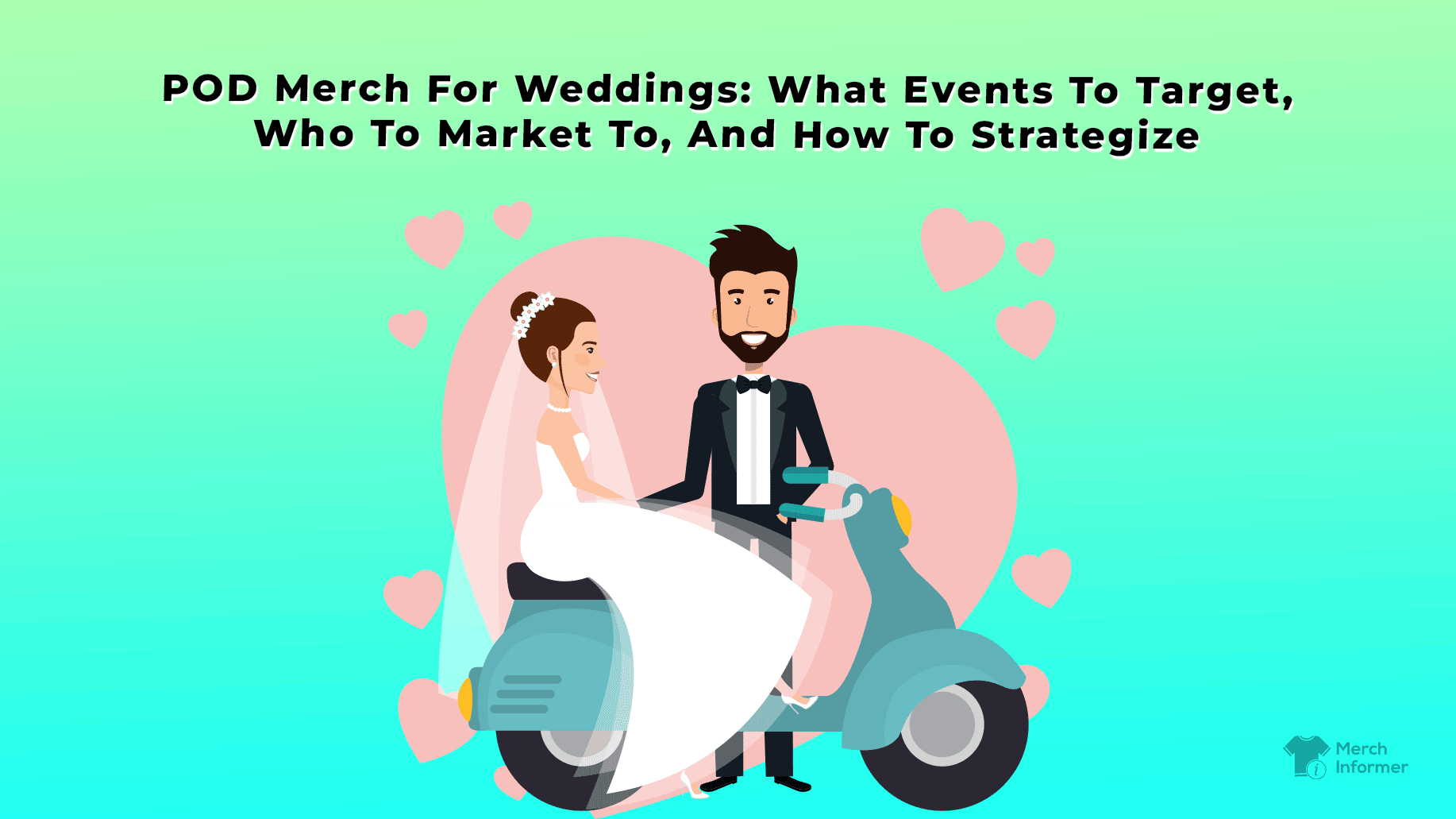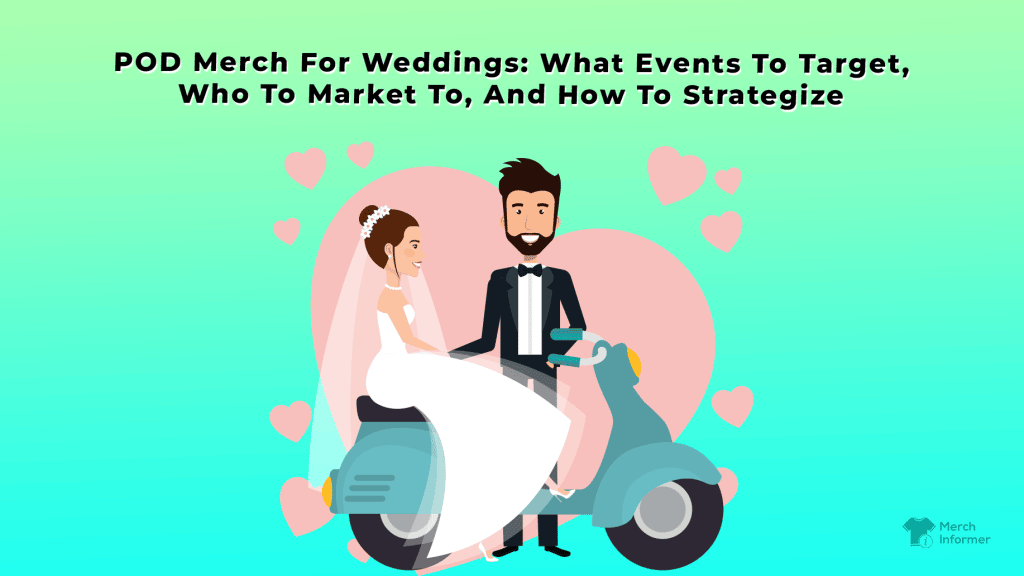 If you thought that the wedding niche has fallen under Amazon's radar, you can think again. With 228,327 Amazon monthly searches for the keyword "weddings" and 211,662 for "wedding", there's certainly a high demand for wedding-related products on the marketplace.
But since we know that no one's exactly purchasing a wedding gown on Amazon, it's important to look at what sort of merch, designs, and design ideas are coming to the fore. We used Merch Informer's tools and functionalities to give you the low-down.
Take a look.
What is wedding merch intended for?
Wedding merch on Amazon Merch on Demand is quite broad. Most of the products are related to t-shirts and these t-shirts are further segmented into various sub-niches. Here's the breakdown of what we found.
T-shirts for bachelor parties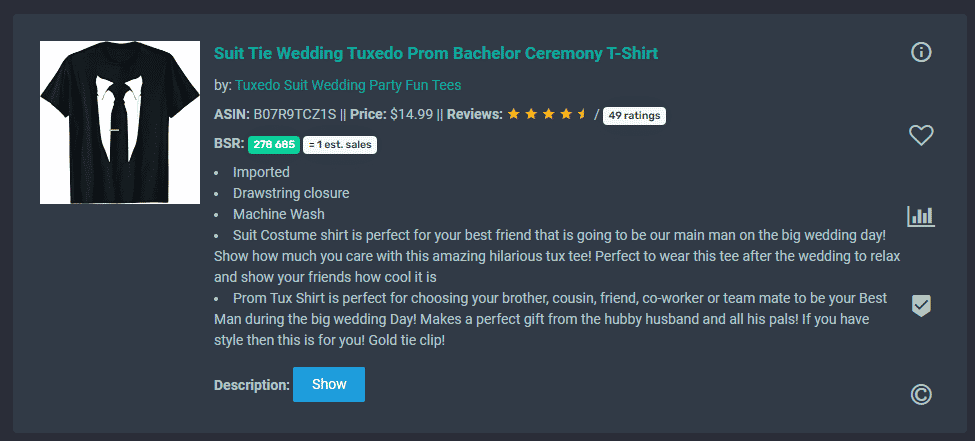 Since Amazon primarily caters to men in terms of t-shirts, best men arise as the frontrunners in this category. T-shirts for best men and bachelor parties are the order of the day. And they not only come with interesting designs, they also make sales.
For example, "Suit Tie Wedding Tuxedo Prom Bachelor Ceremony T-Shirt" has a low estimated best-sellers rank (BSR) and is priced at $14.99. The target audience for this cleverly designed t-shirt, which features a suit and tie with a golden tie clip on the back of a black t-shirt background, is evidently young men who are about to have some fun at a bachelor party. It has both a fun and serious undertone at the same time. The product is unique, the listing well optimized, and the price reasonable.
T-shirts for mothers of the bride

As instrumental figures in any bride's life, mothers of the bride also come out as key players on the wedding scene. With t-shirts catering to these individuals, designs are quite simple but evidently cater to women.
This is because despite the black or solid color backgrounds, the text of the shirt is often quite simple mentioning "Mother of the Bride" only. These text-only t-shirts are quite effective in getting their message across and don't require further, more detailed or intricate designs to do so. The text is typically written in cursive format and it is centered in the middle of the shirt while using quite large text that takes up most of the entire front of the t-shirt.
"Mother Of The Bride Wedding Mom T-Shirt T-Shirt" is one such example. It has a BSR of 262,842, and goes for $14.99. The description indicates that this t-shirt is suitable for all the events and parties related to the special day. This makes it a highly targeted and well optimized product.
T-shirts for wedding anniversaries

There are numerous t-shirt products celebrating wedding anniversaries. From wedding anniversaries as early as five years to those that mark decades of marriage. As such, this niche targets a very broad range of individuals.
Some t-shirts in this category are more specific. For example, one says "Best. Wife. Since. 1972" on the front. Others are much broader with titles such as "We are Golden Together. 50 Years".
Interesting to note is that these t-shirts don't really have a high BSR. However, their number of sales is relatively low. This could be a hint that listing proliferation should be the way to go. That is – to create as many products as possible, targeting as many wedding and marriage occasions as you can think of.
How is marketing conducted in the wedding merch niche?
Studying the strategies of some of the best-selling merchants on Amazon Merch on Demand, it's clear that sellers are not really relying on either paid or organic channels to promote their products.
None of the top listings have provided social media handles to their stores in their description, nor have they made use of paid ads to get in front of an audience faster. This indicates that these sellers are primarily relying on their organic listings optimization to get more visibility.
We touch on some of these strategies in the section below.
Before we move on, however, it must be said that we recommend at least some level of commitment to marketing, mostly via social media. Channels like Instagram, Tik-Tok, and Pinterest are suitable for this niche, and so is Facebook, albeit to a lesser degree due to the demographic profile.
Paid channels can work wonders, too, but since that route involves some kind of financial investment, that decision is ultimately up to the individual seller.
What are some of the specifics in terms of listings optimization?
As mentioned above, Amazon gets monthly searches in the region upwards of 200,000 for "wedding" and "weddings" related queries.
However, this keyword can be really broad and hard to target. This is why keyword usage, targeting and concreteness in the title and description needs to be optimized.
We have identified the following related keywords used among the top listings:
Bride
Groom
Bachelor
Bachelorette
Wife
Husband
Anniversary
Now, these can also be somewhat broad, but they will definitely narrow down your listing, resulting in better visibility.
If you're looking to niche down even further, we suggest taking the list above and looking for related keywords again using Merch Informer's Keyword Finder tool. Once there, type in each of the 7 keywords, examine the results, and click on the "Details" button next to the entries with the highest Amazon search volume. This will reveal even more keywords, but also tell you which ones are trademarked and what the competition is.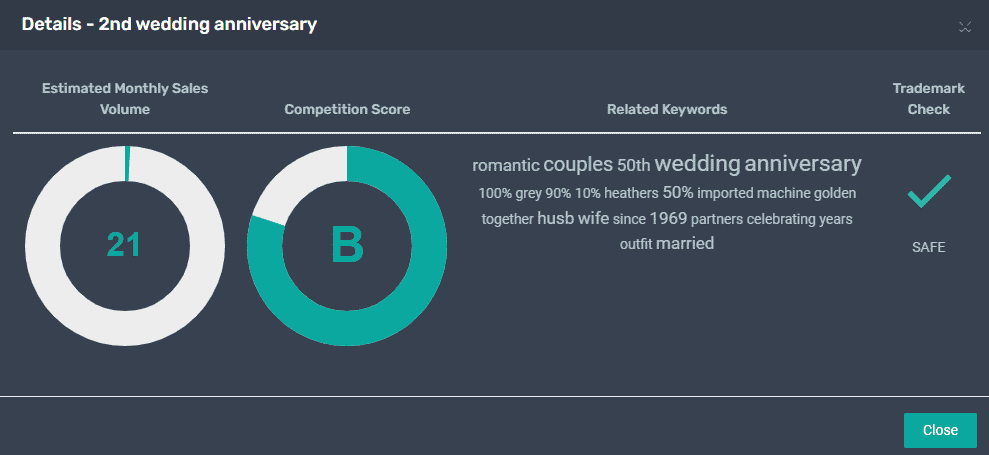 Our tip-list for sellers in this niche
When it comes to things you can do to optimize your listings on Amazon Merch on Demand, it's crucial to start with your title. Depending on the shirt type and design, you need to consider including the text on the shirt (if any) in your title, all while supplementing and peppering it with other keywords that will help it stand out and be found in search queries.
Apart from the title, you should also consider adding a couple of paragraphs to your features and description. This can include information about who the item is best suited for, which occasion it is ideal for, what colors it's available in, what customer service you offer, and more. The reason for this is that customers' only way of finding out more about any product on Amazon is through the description. It therefore needs to be as detailed as possible as you maximize the character count usage.
When it comes to pricing, wedding-related t-shirts and apparel typically fall under the $20.00 mark. You need to consider pricing in this region, around the average, to ensure you don't alienate customers with a price that's too low or too high. You also need to be sure that the price you're asking for your merch can actually result in quality royalties based on the number of sales.
As a side note, with Merch Informer, it's possible to not only look for the average price related to a keyword for a given category of merch, but also to juxtapose the BSR and the price alongside each other. The purpose of this when looking at other sellers' strategies is to see what works for them and how you can emulate it.
Finally, we come to the designs themselves. You've got quite a lot of choice here. You can, for example, create a text-only shirt, a design-only shirt, or a shirt that combines both text and design. Whichever option you go for, one strategy to follow is to take a look at competing sellers and their designs and see if you can come up with something better. The dominant background color in the wedding merch niche is black, while gold is reserved for special decades-long marriage anniversaries. Swapping black and white as background and text colors is a viable strategy when it comes to design.
In conclusion
Amazon Merch on Demand caters to wedding-related apparel. The search volume for these items is huge, and while there are some sellers making a killing, others are not.
Possible reasons for the latter could be a combination of factors including improper optimization of one's title and description, inaccurate pricing strategies, or designs for which there's very little demand.
By following our tips-list for sellers and utilizing the modules and tools of Merch Informer, you can take your merch side-gig to the next level with just a few clicks of a button.