T-Shirts And Sports: How To Enter The Lucrative Sports Niche On Merch By Amazon Foul-Free?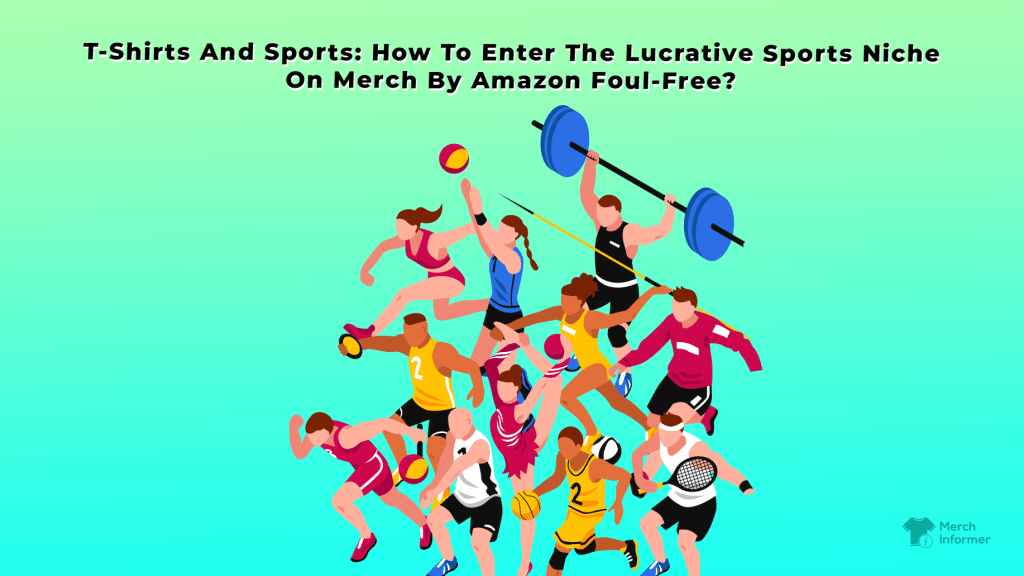 Niches can be a gold mine for Merch by Amazon Sellers who sell print-on-demand t-shirts. Creating designs that are popular for the mass public is great, but niching down gives you the opportunity to outfox the competition, attract specific buyer groups, and create loyal customers.
There are a ton of available niches to choose from, including humor, politics, hobbies, lifestyle, and others. One particular niche that is considered an all-time favorite for consumers around the world is the sporting niche. Sports are a big part of our lives, even if we don't fully realize it. Most people participate in sports at one point or another, and even if they don't, they most likely watch sports or have favorite teams and players they support.
But how popular are sports on Merch by Amazon and is this a niche that you should be interested in as a Seller?
How Trendy Are Sports On Merch By Amazon?
If we told you that sports is the most popular niche on Amazon, we would be lying. It is certainly on the list of popular niches that buyers are interested in, but there are others, like humor and politics, that undeniably outweigh it. How do we know this?
We used Merch Informer's Merch Hunter tool to look at the best Sellers from different niches. We ran a search using the keyword 'sports' to get started and see what the average best Seller rank is and get some ideas on popular keywords in the niche.

What we discovered was that the top-performing products that use the keyword 'sports' have an average BSR of 80,128.
As a comparison, the same search for the keyword 'politics' showed us that best-sellers from the niche have an average BSR of 9,664, while top-sellers using the keyword 'movie' have an average BSR of 1,519.
What does this data tell us?
Well, the lower the BSR, the more sales the products have generated. In other words, the sports niche falls last from our examples above in terms of generated sales among the best-sellers. However, it's still higher up the ladder than a lot of other niches with higher BSRs. In other words, the sports niche does provide a level of money-making potential and is certainly something that you don't want to turn a blind eye to.
Is It Easy To Enter The Sports Niche As A Seller?
So, say you've decided to add some diversity to your existing Seller portfolio, and you've decided that the sports niche is something you want to explore. How easy will it be to make your designs discoverable and purchased by buyers? Is the sporting niche competitive or is there a low-hanging fruit that you can grab right off the metaphorical money tree?
By using the Merch Hunter tool, we were able to establish the most popular sports on Merch by Amazon. How? We looked at which ones were most often used for Seller listings.
Some of the most popular sports were baseball, basketball, volleyball, football, soccer, softball, and hockey. To understand how competitive they were, we did keyword research using the Keyword Research tool.
We examined the search volume of each and how competitive the keyword is.


Here's what we discovered:
Sports – 182,601 – low competition
Baseball – 57,546 – low competition
Basketball – 25,424 – high competition
Volleyball – 256,520 – high competition
Football – 19,414 – medium competition
Soccer – 38,822 – low competition
Softball – 58,541 – low competition
Hockey – 38,819 – low competition
You can see that, overall, the sports niche gets searched, a LOT. The keyword 'sports' receives a decent search volume every month and there are not that many Sellers exploiting its potential, especially when you consider niching each one of these down.
The same applies to baseball, soccer, softball, and hockey. On the other hand, basketball, volleyball, and football will probably be a bit harder to tap into as there are more Sellers competing for these keywords.
The bottom line is that the sports niche is not very competitive if you are willing to niche down, yet a significant number of Amazon buyers show an interest in it. For you, as a Seller, this means that there are money-making opportunities in this field.
Sports Niche Peculiarities You Should Know About
Now you know that the sports niche is popular on Merch by Amazon and that you can easily enter the space as a Seller. However, in order to increase your chances of success, it's vital to create your designs and optimize your listings strategically.
One way to do this is to analyze what your competitors are already doing. This will allow you to spot the trends, detect any gaps, and potentially outperform other Sellers.
We explored the top-sellers in the niche to uncover some of the commonly seen characteristics.
Here are some of the merch peculiarities that stand apart in the sports niche.
Designs
The majority of sports-oriented t-shirt designs use text combined with imagery. Of course, this doesn't mean that you should only create these types of t-shirt designs but it does signal that the words and image combo works well in the niche.
Black background colors dominate among best-sellers, while the choice of text color is mostly white or red.
Themes
Choosing to sell merch designs in the sports niche on Merch by Amazon won't be enough to guarantee high sales volumes. You'll also need to factor in specific themes. As you can probably guess, themes in the sports niche are usually centered around particular sports teams, like the Dallas Cowboys, the Nashville soccer team, Tennessee's baseball team, and others.
You do NOT want to do this! This is an easy way to get suspended from Amazon.
Instead, you want to figure out a way to mash together the sports niche, with another niche (like moms who have kids in baseball), which is well within the Merch Terms of Service.
You can use Merch Informer to get inspiration for popular themes and adapt your findings to your designs.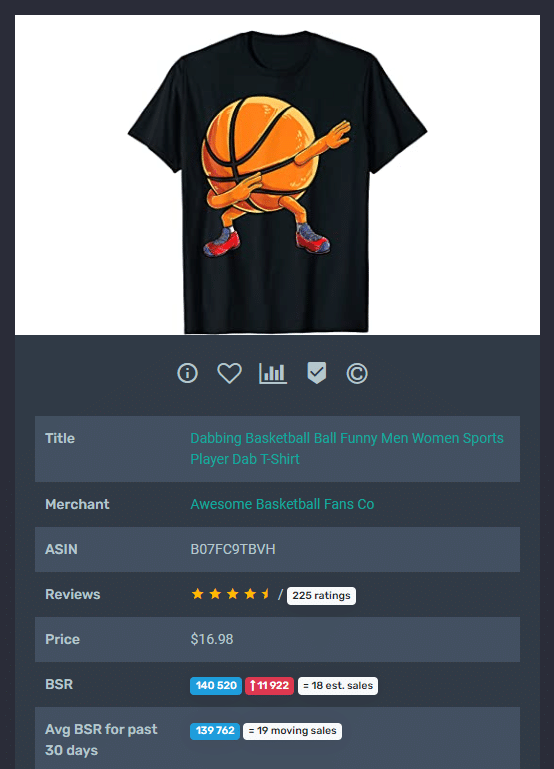 Keywords
We already noted some of the most popular keywords in terms of sports types earlier in one of our examples. However, there are other sport-specific keywords that are often used by Sellers to optimize their listings and make their sports merch designs easily discoverable by buyers.
Some of these keywords include 'fan', 'pride', 'player', 'hometown', 'coach', 'games', and others.
Although these may be useful for some Sellers, this does not mean that they're a must-have in your listing. It simply shows that you can improve your product descriptions and titles even more and make them visible to a wider audience by adding similar keywords with high search volumes and popularity on the platform.
Trademarks
One important aspect of the sports niche on Merch by Amazon is related to trademarks. In order to sell designs, products, or services using distinctive words, phrases, logos, symbols or slogans, you must have permission from the owner of the trademark. You can use Merch Informer's Trademarks tool to stay informed on whether a specific word or phrase has been issued to someone as a trademark and whether it's safe to use.
Is The Sports Niche A Good Choice For New Sellers?
So, what if you're a new Seller on Merch by Amazon and you don't have much experience? Would the sporting niche be a good niche to start your merch business?
Yes, it would.
How do we know? Because we carefully analyzed the competition using Merch Informer and found out that the niche is still underserved. There are a myriad of low-hanging keywords that receive a lot of search volume, yet have low competition. This means that the space is easy to conquer, as long as you perform your research and you enter the niche with a strategy in mind.
Another point we looked at to determine whether the sports niche is a lucrative opportunity for new Sellers is price. The best Sellers from the space have an average selling price of $17.93, with a lowest price of $13.07 and a highest price of $22.99. Even if you start at the lower end of the pricing ladder and sell your designs for around $13, you'll still be able to generate a satisfactory profit given that sales continue coming in.
Gaining Opportunities
Sports is one of those niches that will never run out of popularity. Sports games are strongly rooted in our mentality as humans, because of their competitive nature.
When it comes to merch, it's safe to say that sports-related designs will sell like hotcakes around certain games or important events for the sports type niche you are going for. However, they can also generate consistent sales all year round as they make the perfect birthday gift, a great purchase for any fan, and somewhat of a necessity for those who actually participate in sports.
What this means for Sellers is that you can rely on both seasonal sales as well as year-round sales.
In A Nutshell
If you feel that it's time to add something new to your Seller profile or you're a newbie Seller looking for a profitable and opportunity-rich niche to tap into, sports are without a doubt worth considering.
As an unsaturated space with significant interest from Amazon buyers, creating merch designs in the sports niche can certainly generate substantial profits and can help you grow your merch business.