Text-only, Imagery, Or Both: What Is The Best-Performing Design Choice For POD T-Shirts On Amazon?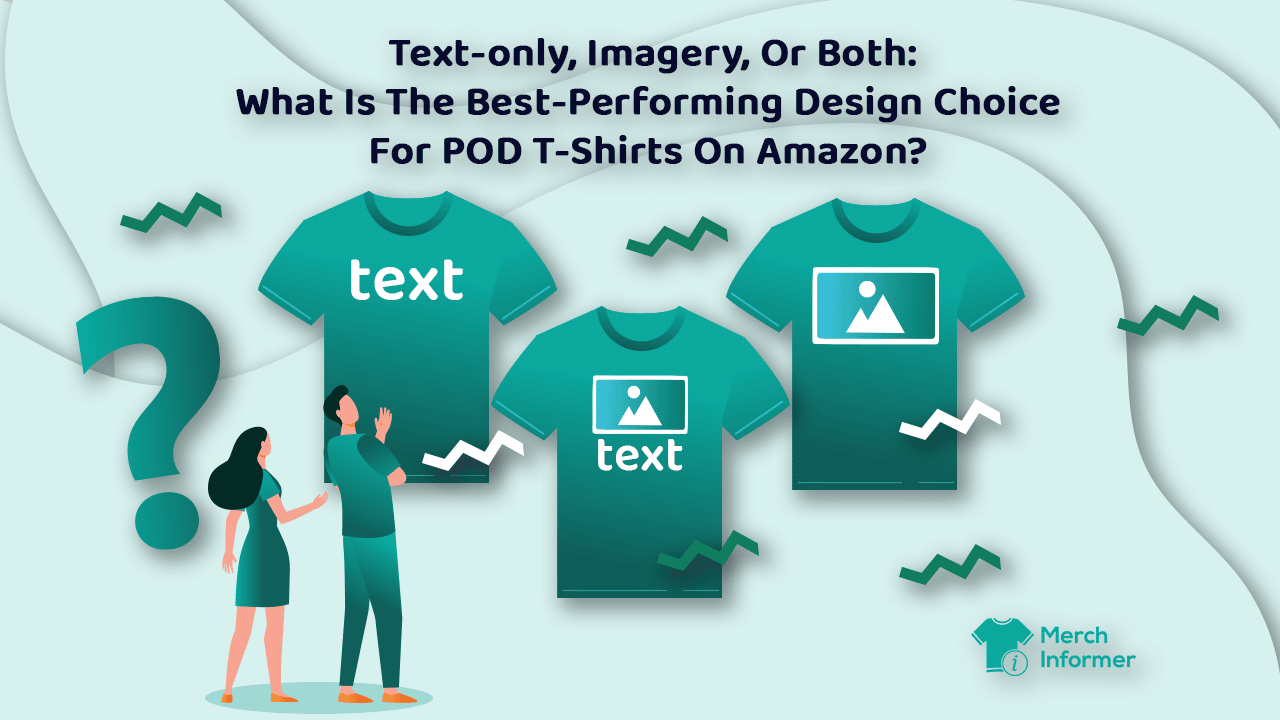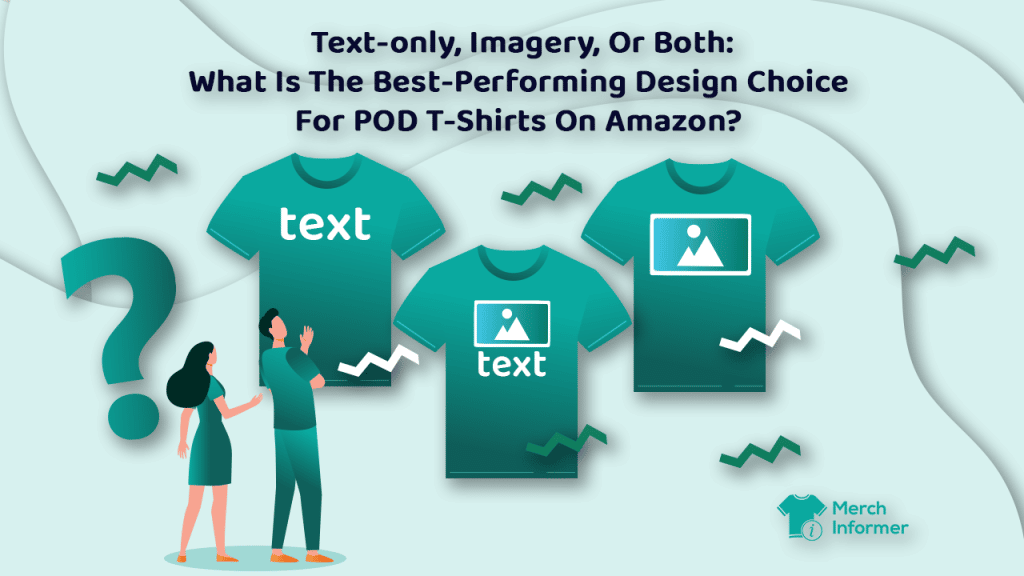 When it comes to selling merch on Amazon, one of the most important elements shaping your success is design. But there are so many different options to choose from. You can create text- and imagery-only designs, or a combination of both. So which one is the most profitable option? What are other sellers doing on Amazon Merch on Demand?
A quick browse through the best-selling t-shirts on Merch Informer reveals that image and text combo designs dominate in listings. But will they bring you the highest returns?
Let's find out.
Bestselling text-only t-shirts
To answer this question, we had to perform extensive research on top-performing t-shirts on Amazon using various Merch Informer tools. First, we isolated the best-selling test-only t-shirts using Merch Hunter. It's important to note that we did this using keywords like "text" and "text-only" in the search customization options. However, not all designs that appeared included only text. Why? Because not all text-based designs included the word "text" in the listing. At the same time, the word is often used in designs that mix text and imagery together.
To get a more accurate idea of the profitability and popularity of text-only t-shirts, we went through some manual browsing and researched the top performers. Out of 100 bestsellers, the first design that included only text was number 35. The listing "Admit It Life Would Be Boring Without Me Funny Saying T-Shirt" presents three lines of text. The first line is bolded and underlined to catch attention. The second part is dedicated to the following two lines, which act as a description of the first line. The t-shirt is part of a popular niche of funny messages, targeted at a wide audience. With a BSR of 20,984, the t-shirt receives around 140 monthly sales at a price of $18.98.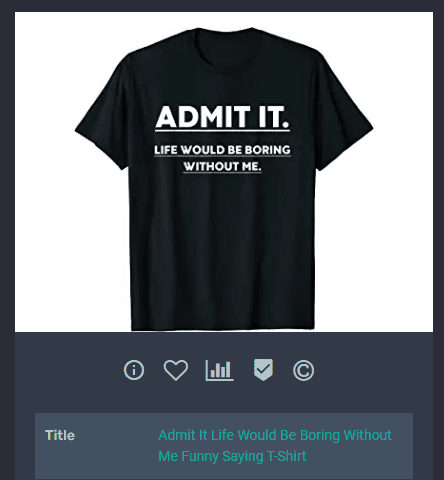 The next bestseller from all print-on-demand t-shirts on Amazon that contains only text is the "Class of 2035 grow with me shirt T-Shirt". The listing is priced at $16.98 and has a BSR of 27,005, which translates into roughly 95 sales per month. The product is specifically targeted at people graduating in 2035 or symbolizes the role that PE, sport and physical activity play in young people's education and development. Overall, the design is appropriate for a much more narrow audience.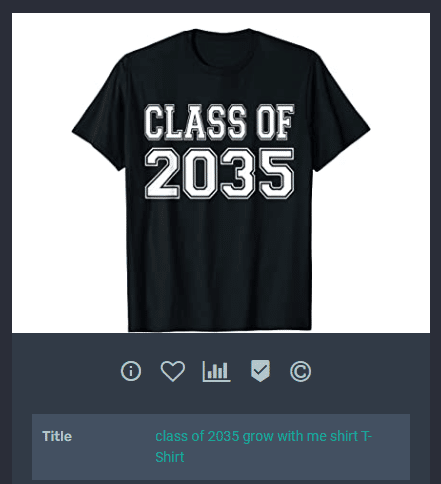 Both designs that we used as examples share common features. They both use black background colors and white text color.
Imagery-only bestsellers
Next up, we explored the imagery-only t-shirt among the highest-selling listings on Amazon. We discover that from the 100 best-performing products, the first one that includes only an image is the 13th. This indicates that imagery-only t-shirts perform much better than text-only images.
The chart-topper listing from imagery-only t-shirts on Amazon is the "Mickey And Friends Minnie Mouse Leopard Bow Portrait T-Shirt". As the title suggests, it presents a Minnie head in color against a white background. Merch Informer uncovered that the listing has a BSR of 12,931 and scores around 230 sales per month. At a price of $19.98, this is certainly a money-making opportunity.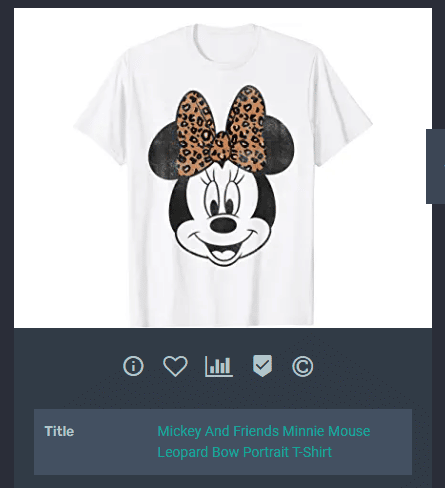 Another outperforming imagery-only listing is the "Classic Leopard Tongue T-Shirt". The design sells for $24.99 and has a BSR of 24,273, generating around 108 monthly sales. Instantly, we can see that the prices of these listings are higher than text-only t-shirt prices. With lower BSRs, it also becomes clear that they're likely to sell better.
Text-and-imagery t-shirts chart toppers
Lastly, it's time to dissect the intricacies of the most popular design option on Amazon Merch on Demand – text-and-imagery. The majority of t-shirt listings that appear among bestsellers on Merch Informer are a combination of images and text. This suggests that Amazon shoppers are predominantly interested in eye-grabbing visual representations, but also clever messages to go along with that.
For example, the number one top-selling t-shirt listing on Amazon Merch on Demand is one themed around an incredibly popular TV series. The design represents the logo of a school club, which takes center stage in the story line, and contains text with its title. The background color is black, while the text is white. The club logo contains red, yellow, and white colors, which create a nice contrast with the background color.
The listing sells for $22.99, has a BSR of 1,711 and lands around 1,170 sales per month. Instantly, we can perceive this listing as a money-making machine, generating tremendous interest and scoring incredible sales volumes. Although its design characteristics matter, its success is also related to the theme it's centered around and the popularity of the TV series.
Interestingly, the second bestseller that appears on Merch Informer is exactly the same as the first. The only difference is the choice of background color. However, this leads to dramatic changes in performance. When created with a white background color instead of black, the listing has a BSR of 2,319 and receives around 900 estimated monthly sales. This is much less than the previous example.
We also noticed that the listing isn't optimized for the main keyword used in the first listing, which is the name of the TV series. This could also lead to fewer sales.
The most profitable design choice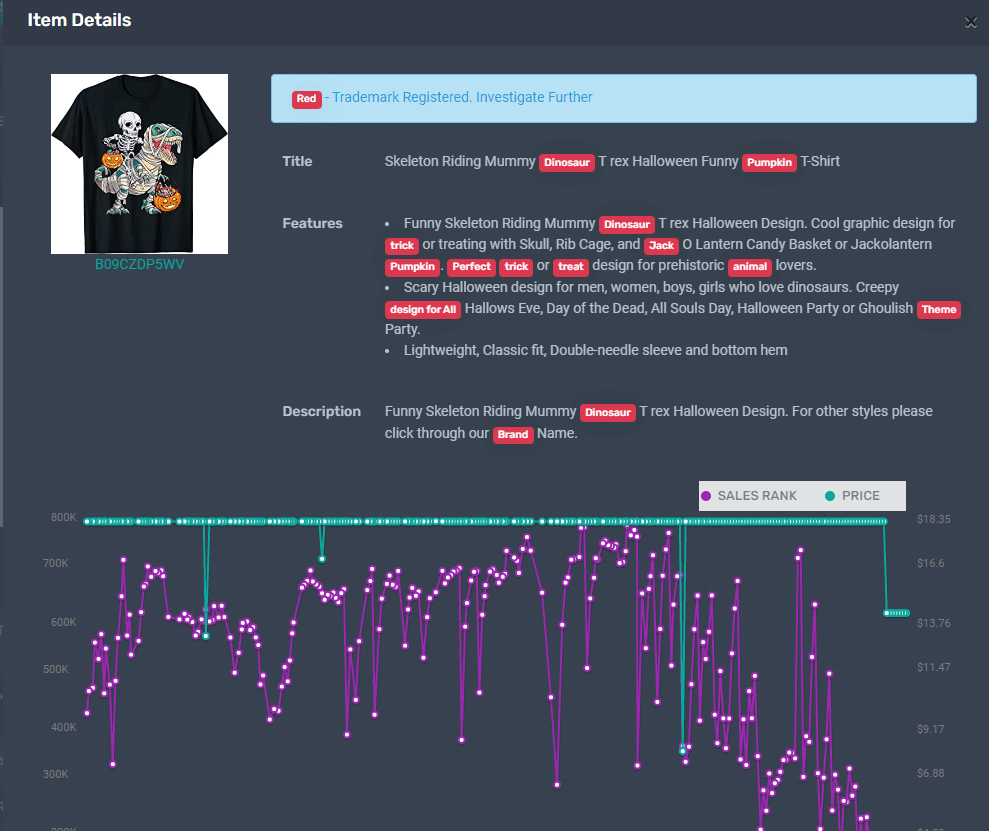 From our research, we can conclude that the most profitable design choice for you as a seller is a combo of imagery and text. Not only are such listings usually priced higher than text-only or imagery-only t-shirts, but they also score a lot more sales. How do we know this? By examining the bestsellers.
The majority of listings that appear in the list of best-performing designs include both components. Combining a higher interest with a higher price ultimately leads to one thing – higher profits.
Creating a seller strategy around your choice of design
So, let's say you decide to create some listings using both images and text. How can you make sure that you're enjoying the highest possible sales volumes? By adapting your seller strategy around your design.
Here are a few tips that will help you form the perfect balance between design and strategy:
Use design-related keywords in your titles and descriptions – imagine that certain users are specifically looking for text-and-imagery t-shirt designs. The only way they can discover your listing is if it's optimized with the right keywords. Include appropriate keywords in your titles and descriptions to help your designs rank higher.
Create designs with a black or white background color – if you browse through some of the top-performing t-shirt designs, you'll instantly notice one thing. The majority of them either have a white or black background color. Why? Because it's ideal for creating a contrast with both images and text. Experiment with this setup to figure out which one works better for your niche or theme.
Set a reasonable price for your design – our research revealed that text-only, imagery-only, and text-and-imagery t-shirt designs are priced differently. Of course, the niche that you're selling in will also dictate pricing. Research your competitors and try to set a price that is close to the market average. This will help you gain a competitive edge and appear more attractive to Amazon shoppers.
Create designs where images are larger than text – from analyzing the bestsellers in t-shirt design we saw that in most cases, the images are the dominating element. Text usually supports the imagery, meaning that it's smaller and secondary. Images should always be large and attention-grabbing.
In a nutshell
Your choice of design is one of the factors that will indicate your performance as a seller on Amazon Merch on Demand. Knowing how profitable and popular different design options are on the platform will help you create winning designs that will lead to worthwhile results.
Raise the game for your listings and enhance them with the golden touch of a brilliant design.