How To Use Upwork To Outsource And Scale Your Merch Business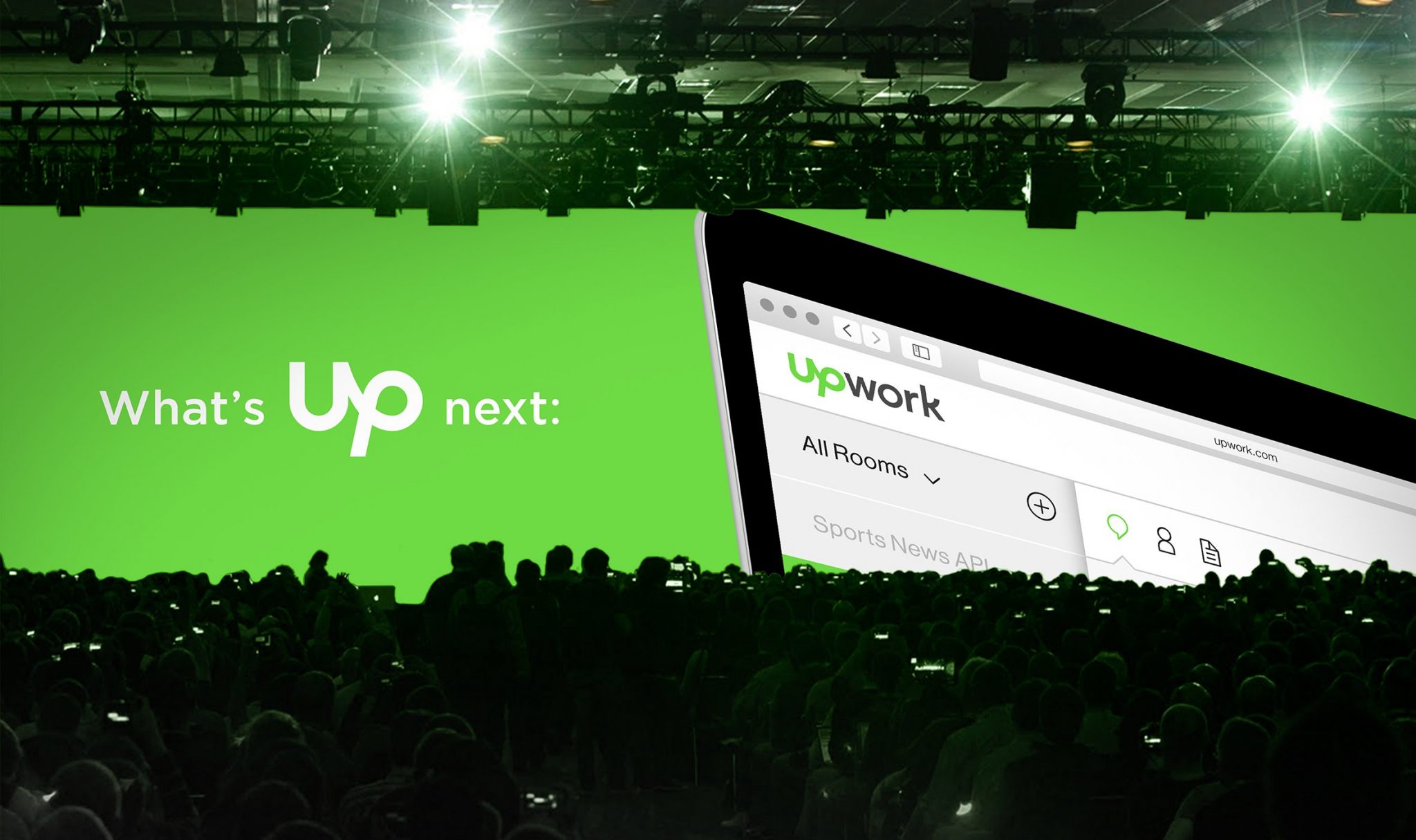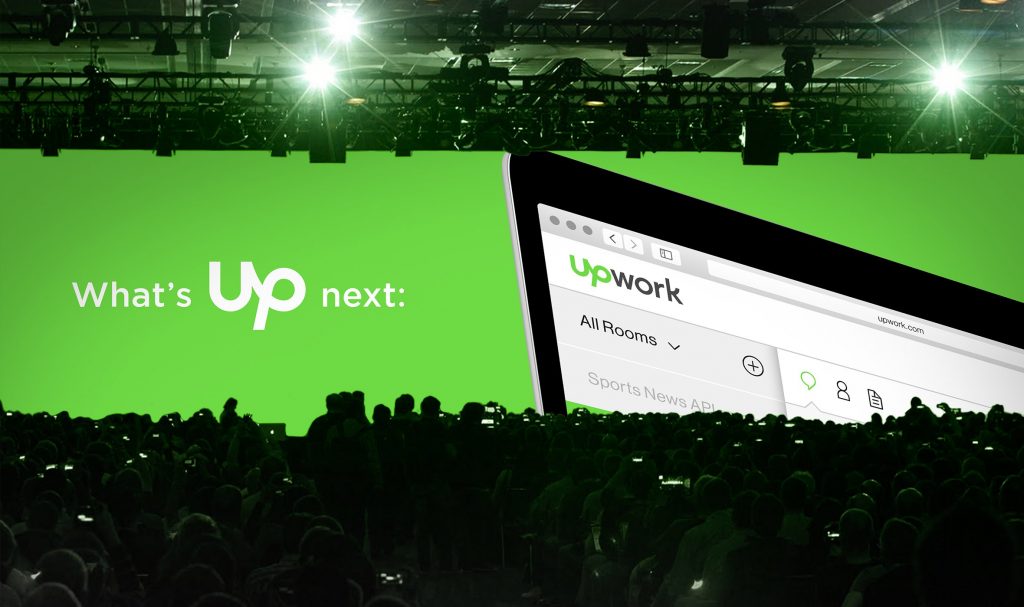 When you first get accepted to Merch by Amazon, it is one of the best feelings ever! You have 10 slots available with 2 uploads per day. The possibilities seem endless (and they are!). What we recommend is always to dive in head first. Get a good feel for the research process (3 day free trial of Merch Informer), understand how BSR correlates with sales, and then figure your way around a set of design tools. It could be Photoshop, it could be GIMP, or something simple like make-merch. No matter what you decide to use, just get to know how to design yourself.
Designing the first few designs yourself is crucial to your success on Merch by Amazon. Without learning how to design yourself (at least the most simplistic designs such as text), you are going to be limiting yourself. How will you know what elements work well? How will you know what kind of designs are actually selling? How will you know how to tell someone else to design for you, if you have no idea of the basics yourself?
I always tell people they need to at least have a basic understanding of something before they can outsource it to someone else and be successful doing so. This has proven true in past businesses as well as Merch by Amazon.
So you design some shirts, and they start selling! You get tiered up to 25, then 100, then 500. Life is going great, you start making more money, and everything is falling into place. This is exactly how it went for me when I first started MBA. In fact, I designed the first 100+ shirts myself. These were simple designs that I learned how to create via Photoshop and Youtube. Once the concept was "proven" that it worked, and that I had an understanding of how keywords and designs worked together on Amazon, it is time to scale up.
When you have hundreds of unused slots and only 24 hours in the day, sometimes you simply cannot keep up. Lots of people have other obligations than sitting on the computer all day creating designs such as family and a social life. When it comes to that point, it is time to outsource!

There are lots of places to outsource. You could outsource them to a design agency, you could outsource them to one of the design "clubs" you have seen on Facebook, or you could hire someone directly. I personally prefer to hire someone directly. It is more work up front, but if you are in the MBA game for the long run, I personally believe it is the best thing to do for the growth of your business.
I have been hiring people online to do various tasks for me in the affiliate marketing space for years now. Time and time again, I come back to Upwork.com. I am able to find cheap but high quality and reliable labor with a little bit of leg work.



This is how it works. You post a job ad, people apply for it, and then you pick the best candidate. They basically have to compete to work for you which makes it really interesting. Using this method I am able to get pretty much as many designs as I want for $4 each.
So let's get into exactly how to set up a campaign from beginning to end.
Step 1: Sign up for Upwork
The first thing you will need to do if you want to outsource your designs is to sign up for an actual freelancing website. In this case, we are going to use Upwork since I have personally had a great experience using them in the past.
Head over to this link: https://www.upwork.com/
Near the top you should see this bar near the top:




Click on the "become a freelancer" button. Now I know you do not want to be freelancing, but hiring people. Once you click on that button, you are taken to a new page that is going to be explaining how freelancing works.
Scroll down a bit and click on "If you're hiring". Then you will be able to click the green button that says get started.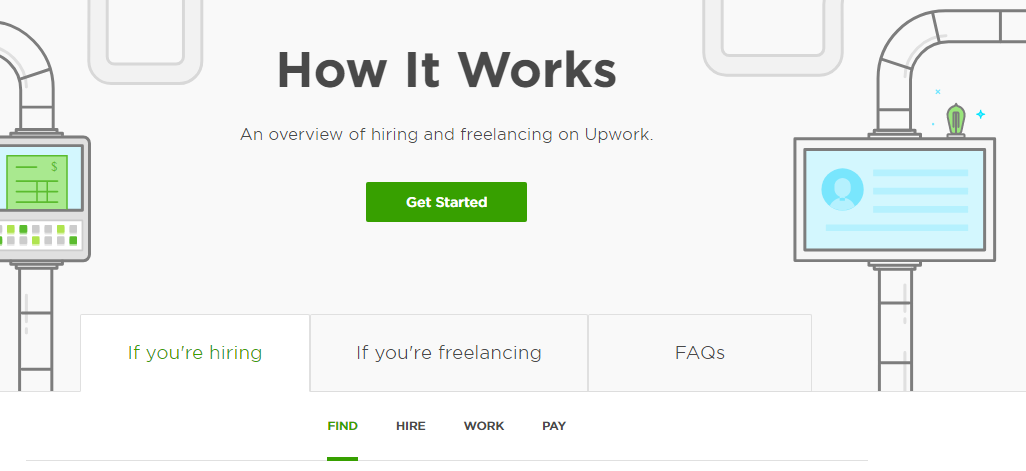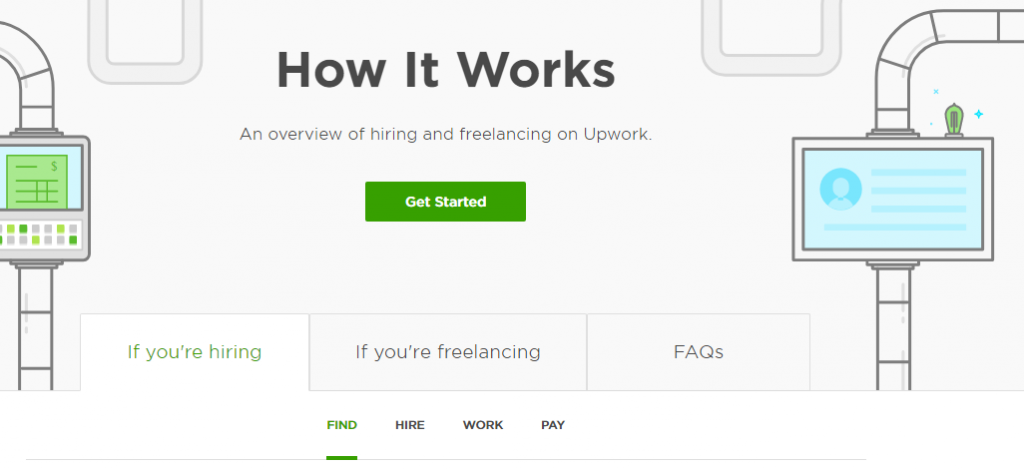 Go through the steps of entering your name, your email address, and get all signed up. This shouldn't take more than a few quick minutes.
Once you get into the dashboard you are presented with this page: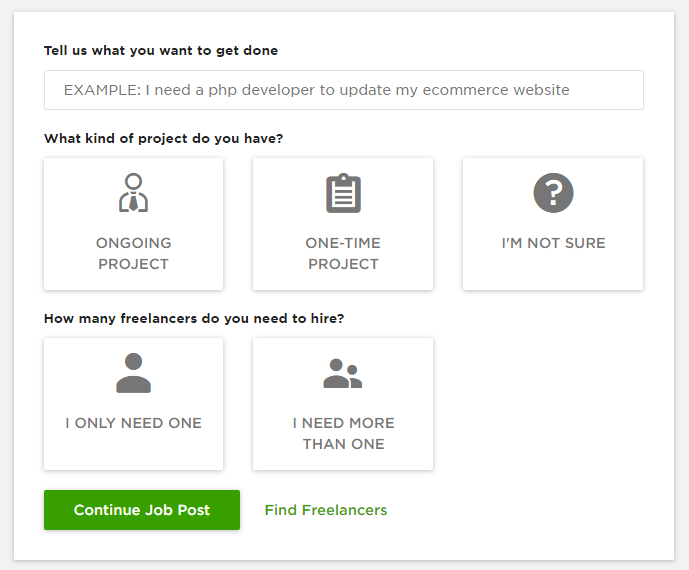 Now, before you click on anything on this page to get started posting your job, there is just one more step you will want to complete. You need to verify your email address.
Verify your email by clicking on the link that they sent you, and then set up a few security questions for your account. You will then be prompted to enter in a billing method.



Now, there are two different types of fees. You can choose to pay the 2.75% processing fee on all your payments, or you can pay a steady $25 a month. The $25 a month is really only for people spending a LOT of money on Upwork, so the 2.75% is just a fine option right now.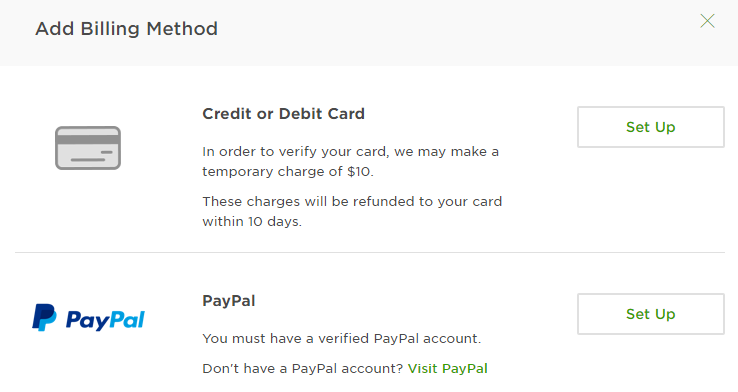 You can pick from credit cards or paypal. I always use paypal in my day to day transactions anyways so I just hooked it up and it is ready to go!
Step 2: Post A Job
If you head back to the homepage, you will probably be presented with a page that looks similar to this (might look a bit different since I have had an account forever). What you want to click on is "post job" so we can get our job ad out there into the world of potential freelancers.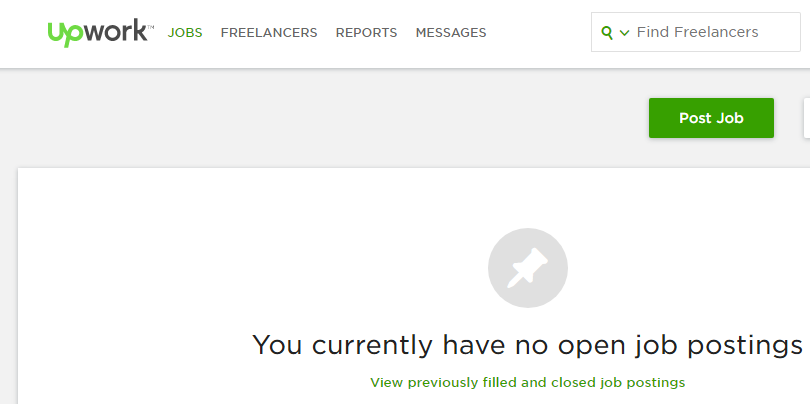 There are multiple pieces of posting a job so let's dive into what I like to pick for the best results for each one of these.
Category and Subcategory
Under the category menu, you want to find "Design & Creative" since we are looking for an artist. A lot of people pick graphic design as the sub category, but I always like to pick illustration. For some reason the talent level seems to jump between the two of these. You will need to test it for yourself, but for the time being, I would suggest you pick Illustration as the sub category.
Name Your Job Posting
This is the easy part! Tell them exactly what you need. This will make sure that when freelancers are browsing your designs, they are not wasting their time applying for a job they are not willing to do at your price.
Example Title: "T-Shirt Designer Needed For $4 Per Design"
This is actually exactly what I titled my job posting and it seems to work very well. You are up front on what you need and people who will be happy at that price (or any price you put).
Now, even though you are hiring for cheap and the quality if going to be pretty decent, there will be some people who might harass you over the price. There are hundreds of thousands of people on Upwork, so just ignore them.
I once got this gem on the SAME job posting that I am describing right now.




Jokes on her though. I ignored the posting and over a year later I still have the same designer at $4 per design on my payroll.
Describe The Work To Be Done
This is the details section of your job posting so you want to be very clear here. Tell them exactly what you are looking for, and how the entire process will work. This is an example of what I might say.
Hello!

I am in need of 100 t-shirt designs over the time period of 1 month.

Your task will be simple. I will send you a list of ideas for t-shirts that I would like created and I would like you to be artistic and creative to recreate the idea in your own style. For example, I may send you a link or image and I would like your unique spin on the idea to create a more visually appealing design.

I am willing to leave a lot of 5 star reviews so that you will be able to land jobs easier in the future if you stick with our deadlines. I would like to hire for a long term position. Once you have completed the first batch of 100 designs, 4-5 per day, then we could continue the work if everything looks good.

I will require links to any artwork used to make sure that the artwork used in the designs is available to use for commercial use.

I look forward to doing business with you!
Feel free to change up this script any way you would like. It works really well for a number of reasons though.
The first reason is that they see that you need a lot more than 1 shirt created. In this example, I say I am looking for 100 shirt designs over 1 month. People value long term work because it means they can be earning money instead of wasting their time applying for more jobs they may never get.
Second, it works well because you are telling them you will leave many 5 star reviews if they can stick to your deadline. For someone brand new to Upwork it is generally hard for them to get jobs if they do not have any reviews. Being new and wanting those reviews, they are willing to give their absolute best work to you to get those reviews so you can use this to your advantage.
Third, you are being straight up with them letting them know that they need to put their own unique spin on it and allowing them to be creative. I tend to not hand hold as much with my designers because I like them to use their own style in the work. This seems to have done very well for us. You are also letting them know exactly what you want by telling them that you will require links to any artwork used to check for commercial use licenses. They will not be surprised if you ask about that down the line.
Note: Even though you are saying you need 100 shirts in the job ad, you might not actually need that many. That is just fine. We are going to test out multiple people first with just sending them a design or two to do, not 100 at a time. So no worries there.
What type of project do you have?
I always pick ongoing project here. This shows that you want someone that will stick with you and work with you as your Merch account grows. Even if you do not have continuous work, it is great to be able to go back to the same person you are familiar with and get a new set of designs any time you would like.
How many freelancers do you need to hire for this job?
I always pick the "I need to hire more than one freelancer" here even if I really only need a single person. This is because potential hires will look at the ad and know that since you are hiring more than 1 person, they are not going to compete for a single slot. This encourages more people to apply!
Do you only want freelancers within your country to see and submit proposals to this job?
I always pick the freelancers in any location can apply. The goal here is to get quality work at a cheap rate. If you are in the United States, people will be insulted at a $4 per design offer.
Enter skills needed (optional)
I always fill out this section. Here are the skills that I generally put down.
Adobe Illustrator
Adobe Photoshop
Graphic Design
Illustration
Print Design
T-Shirt Design
Start Date
Pick the date you are posting the job. You want designs as soon as possible right?
How would you like to pay?
Always pay a fixed price here. A few years ago, I would hire by the hour and that ended up being a massive mistake. What you think someone can get done in an hour is NEVER what they actually get done. Potential hires will try and drag out the time to increase their pay. The entire thing is a giant headache and I would suggest you pay a fixed price.
Budget
I always start the budget at around $100. Remember, you are NOT paying all of this for the first person you hire. You can change the amount when you actually hire someone. We put in a $100 budget here because it will show up that way when people are browsing jobs and we want to make sure we get exposure.
Desired Experience Level
I have found that an Intermediate level is a good place to start. You get people who are new to the platform, but also people who know what they are doing. You will need to sort through all the applicants, but this experience level has worked well in all the years I have been hiring people online.
Screening Questions
Skip down to the bottom here as nothing else needs to be changed above. You will want to add some screening questions here. These will allow you to asses the level of English and talent your potential has.
I like to be able to communicate clearly with my designer so having a decent grasp on the English language is a must. Ask questions that would need an explanation so you can see how they type. Here are some examples:
How long have you been designing and what programs do you use?
Who is the 36th president of the United States (this shows they can research and look things up if needed)
What is your favorite hobby and why?
Could we please see some examples of your work in the past?
Cover Letter
I always keep that box checked so that they can introduce themselves. This allows you to get a sense of who they are as well as the questions above.
Post Job
That is it! Once all that information is filled out, all that is left is to post the job and sit back and wait. It might take a few hours for it to start to kick in, but applicants should start pouring in. I generally get 10-30 people applying for this very job I described above every single time I post it!
Step 3: Look At Applicants And Hire Someone
You will see the applicants coming through within an hour or so of posting your ad.
This process is going to be different for everyone. Some people will interview over skype, but I take a much more simple approach.
The first thing I will do, is start going through the questions that I asked them. If they answer poorly, answer incorrectly, or their English is just not what I am looking for, I immediately pass on them. This is a crucial step. It really is not worth your time to try and communicate with someone who cannot communicate back OR did not even take the time to follow the instructions of the ad. If they cannot do something simple like look up the 36th president, do you really think they are going to take the time on your designs?
The next thing I will do is look at their examples. If you have been selling on Merch for a while, you know what kind of style seems to do well and what does not. Drawings from hand have proven not to be good sellers but more novelty typography designs seem to do great. Get rid of everyone with examples that are not what you are looking to sell.
At this point you should have a pool of a few decent designs that have good communication skills, took the time to fill out a cover letter and introduce themselves, and be able to quickly look things up. Great!
Time to test them out!
Instead of interviewing them, I will give each one of them 2 designs from Amazon. I simply give them the Merch by Amazon template, 2 links from Amazon, and ask them to completely recreate the idea in their own style and creativity.
Make it VERY clear they are not to copy any aspect of the link you send them, and that any graphics or fonts they use must have a link to show that they are available for commercial use.
You are not going to hire everyone you give a test to. You will not even use all the designs more than likely. I have had people who seemed like a great choice come back to me with the dimensions of 1000X1000 even after I told them to come back with 4500X5400. Instantly pass on those people and they do not get any more work. I have had people come back to me with images pulled from shutter stock with the watermark STILL on the images. You are paying $8 to test out an applicant and trust me, this is money well spent.
When you find someone who delivers great work, on time, and follows directions. Hire them!
Personally, I start them off in batches of 10, then slowly move up to 20-30 at a time. Once you have a good relationship with your designer, you can give them as many as you would like. I regularly hire out 100-300 designs at a time because I know I will get back exactly what I am looking for. This process of building up a relationship can take a while though, so make sure you are vetting each designer on Upwork and then slowly building it up.
Wrapping It Up
That about sums up the entire process of hiring people on Upwork. It CAN be a headache at first if you are not used to the process or how to handle people that will be working for you. I can promise that it will be well worth your time to go through the actions and learn how to do this. You will be able to get high quality designs that other people are charging $10-20 dollars for other places. Hint: A lot of the design clubs you see are doing exactly what I laid out for you above. If you are willing to go through the headache, eventually it becomes second nature!
Think of this as an investment in your merch business. When you start getting into the higher tiers, doing everything yourself just might not be possible. I have spent over $5000 on designs alone over the course of my Merch career and I can tell you that number is just going to keep going up. If you can build a solid base of designs that sell, then you can keep outsourcing and scaling up your business.
Good luck!