What Are The Top-Performing Keywords On Merch by Amazon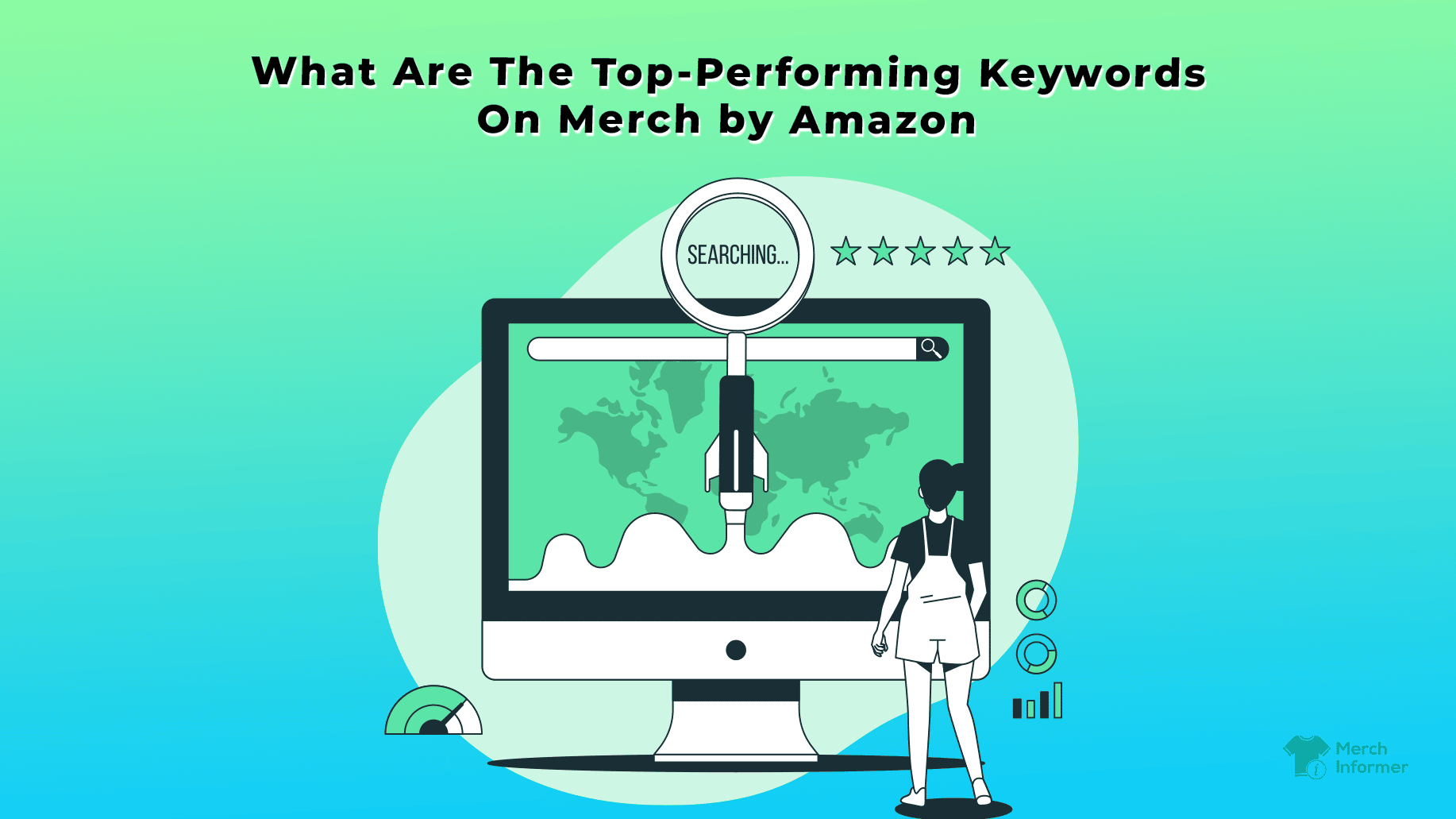 If you're looking to bathe in profits from a side hustle, selling merch designs is certainly one of your options. However, Merch by Amazon is nothing new and is already saturated with other merchants just like you.
In order to stay ahead of the pack, you'll need to plan your growth on the platform. To do so, you must create attractive products and optimize your listings with trending keywords.
How can you do that?
The starting point is always thorough research. To save you some time, we've done a bit of digging into the top keywords and niches on Merch by Amazon with the help of Merch Informer. Buckle up and let's see what we've discovered.
The Most Popular Keywords On Merch By Amazon
Before we reveal the insights, it's essential tо note two important things. First, keyword popularity can be determined by both search volume and listing dominance. We'll explore both in detail in the next section. Second, popular keywords are not a constant. They will change as a result of shifting consumer behavior, upcoming holidays or events, and other factors.

This means that to stay ahead of the game, it's key to perform your research on a continuous basis.
Most frequently used keywords in top-selling listings
In our search for top keywords on Merch by Amazon, we first analyzed the bestselling listings in different merch categories. As a Seller, you can choose to sell your designs across categories like t-shirts, hoodies, long sleeve shirts, and others. We focused on all categories to extract the keywords that were most frequently used among the top-performing listings.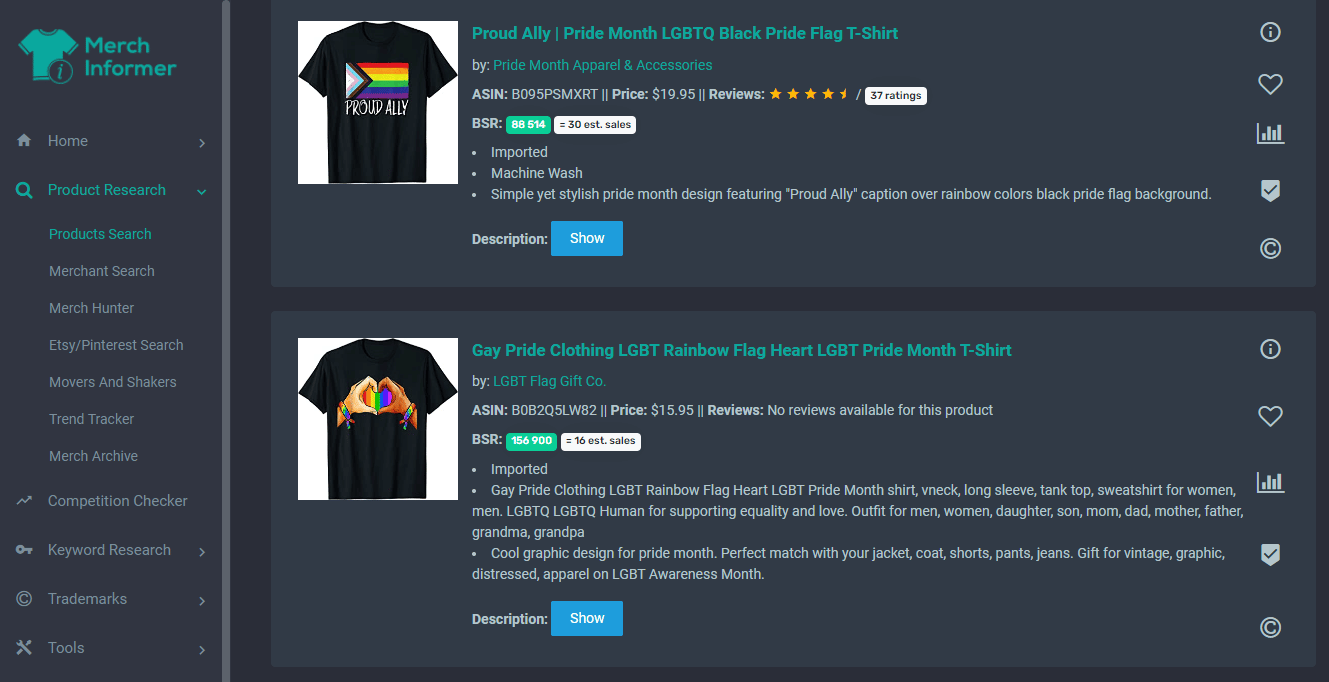 Here are our findings:
Pride – used 90 times in the top listings – monthly search volume of 7,036 – low competition
Funny – used 61 times in the top listings – monthly search volume of 27,958 – low competition
Father – used 45 times in the top listings – monthly search volume of 38,742 – low competition
Dad – no additional data
Gay – no additional data
Men – no additional data
Girls – no additional data
Women – no additional data
Flag – used 37 times in the top listings – monthly search volume of 115,032 – high competition
Rainbow – used 24 times in the the top listings – monthly search volume of 294,814 – high competition
Birthday – used 23 times in the top listings – monthly search volume of 228,201 – medium competition
Graduation – used 21 times in the top listings – monthly search volume of 76,315 – low competition
These keywords have helped the chart-topping listings to gain visibility and enjoy higher sales numbers. However, it doesn't necessarily mean that they are among the most searched for keywords.
For instance, when looking at the 100 top t-shirts on Merch by Amazon, the word "pride" is used around 90 times. However, it only has a monthly search volume of 7,036.

So what are the most searched for keywords on Merch by Amazon?
Top keywords in terms of search volume
We used Merch Informer's Keyword Research tools to unveil the most popular keywords among consumers.
Let's take a look at what they are:
Mouse – 2,624,299
Unicorns – 2,623,214
Babies – 2,621,138
Kids – 2,620,967
Beach – 2,581,690
Womens – 2,580,152
Summer – 2,579,527
Easter – 2,579,200
Mens – 2,576,991
Halloween Halloween – 2,575,700
Coffee – 2,575,238

As you can see, all of these words were searched for by more than 2 million users on a monthly basis. In other words, there is incredible potential in them and you should try to compete in at least one.
Top Niches On Merch By Amazon
Great, you now have an idea of some of the top keywords on Merch by Amazon and you can use them to optimize your listings. But before you can optimize listings, you'll need to have design ideas. One of the best ways to gain a competitive edge and create designs that sell is to rely on niches. Niches offer the ability to build a loyal customer base and compete for a smaller and less saturated market segment.
Again, we summed up our discoveries from different merch categories to list the top niches among the bestsellers. These include specific funny designs, music, animals, political or patriotic, holiday-related, seasonal, gender- and age-related, sports, special events like graduation, birthdays, or pregnancy, and education. Keep in mind that the most popular niches may vary according to merch category. For example, while funny t-shirt designs may sell like crazy, the hoodie category could be more suitable for sports-related niches.
The best way to uncover what works well is to use the insights provided by Merch Informer before designing your Seller strategy. This will help you make the right decisions and exploit the potential of niches to the maximum.
How Do The Top Keywords And Niches Relate To Each Other?
Having all of the above information won't do you any good unless you connect the dots. What do we mean by connecting the dots? In short, establishing the relations between the top keywords and top niches. By doing this, you will be able to both create designs in the best niches and optimize your listings with popular keywords. Let's look at how this would work for the keywords and niches that we've found from our research:
Holiday-related – Halloween Halloween, Easter
Seasonal – summer, beach
Gender – women, men, kids, babies,
Animals – mouse, unicorns
According to Merch Informer's data, these are the keywords and niches that perfectly match in terms of dominance and popularity. So let's say that you wanted to choose to enter another top niche like sports or holidays. What can you do to discover the top keywords from the niche specifically? Using Merch Informer's Merch Hunter tool, you can look at the top-selling listings and the keywords that they use the most.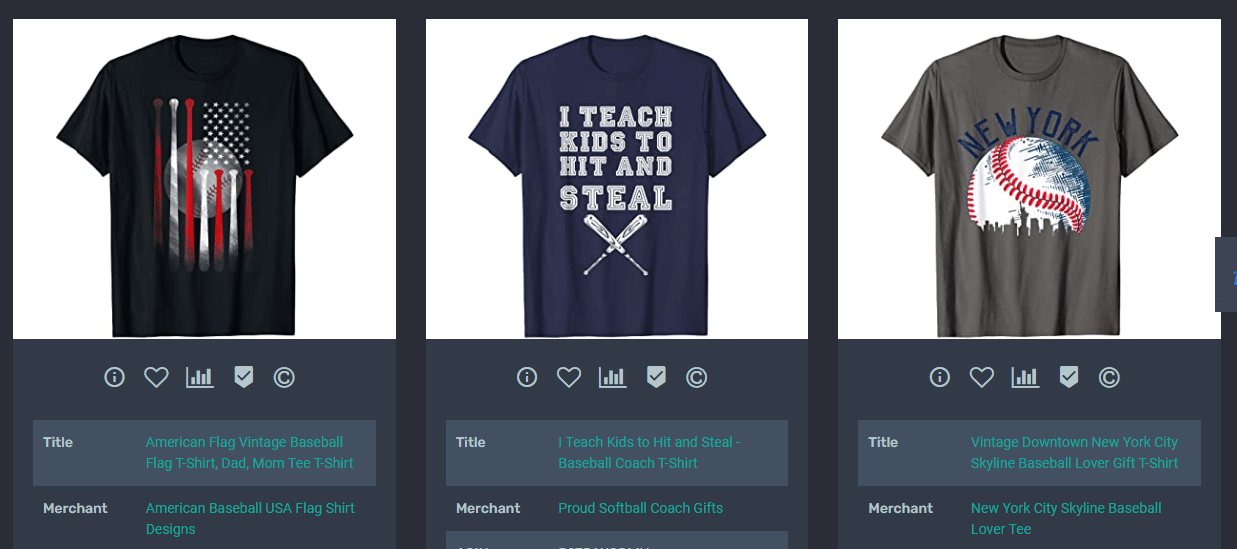 For instance, for sports, some of the top keywords include baseball (with a search volume of 57,546), football (with a search volume of 19,414), and soccer (with a search volume of 38,822). On the other hand, for holidays, the most frequently used keywords are Christmas (with a search volume of 9,642), 4th of July (with a search volume of 272,612), and Mother's (with a search volume of 49,593).
You can use this research process for any niche that you choose. This will empower you to transform the performance of your listings and achieve satisfying results.
A Deeper Look
Our research into the top keywords and niches can extend beyond the basic numbers. To boost your chances of successfully entering a new market and outperforming your competition, you'll need to consider how competitive niches and keywords are. In addition, it's useful to be aware of the sales potential of each keyword or niche.
Competition
Every keyword on Merch by Amazon comes with a level of competition. The higher the competition, the harder it will be to rank your listings for that keyword. Why? Because a lot of other Sellers are putting in the same efforts as you. Let's look at the competition levels for some of top keywords we discussed earlier:
Mouse – high
Unicorns – high
Babies – no data
Kids – no data
Beach – low
Womens – low
Summer – low
Easter – low
Mens – low
Halloween Halloween – high
Coffee – low
Luckily, the majority of the most popular keywords among consumers are not as competitive. Put otherwise, there are not as many other Sellers aggressively competing to rank for them. Keep in mind that the more niche a keyword is, the less competitive it will be. From the list, only "mouse", "unicorns", and "Halloween Halloween" are high competition keywords. The rest are expected to be easier to rank for. By ranking for a keyword with such a high search volume, you're guaranteeing a substantial amount of traffic to your listing. The most times your listing has been seen, the higher chances of landing more sales.
It's important to note that competition is bound to change over time. For instance, as the summer season approaches, it's completely natural for Sellers to start offering related merch designs. It's likely that more listings will include the words "summer" and "beach" in titles and descriptions. Hence, the competition will rise. However, during winter, there's a high chance that competition will drop as such designs are not as popular.
Sales potential
The sale potential of a niche can be determined by the average BSR of the top-selling listings. Remember that the lower the BSR is, the more sales the product makes.
Let's take the niche-related keywords from our findings and see what their average BSRs look like: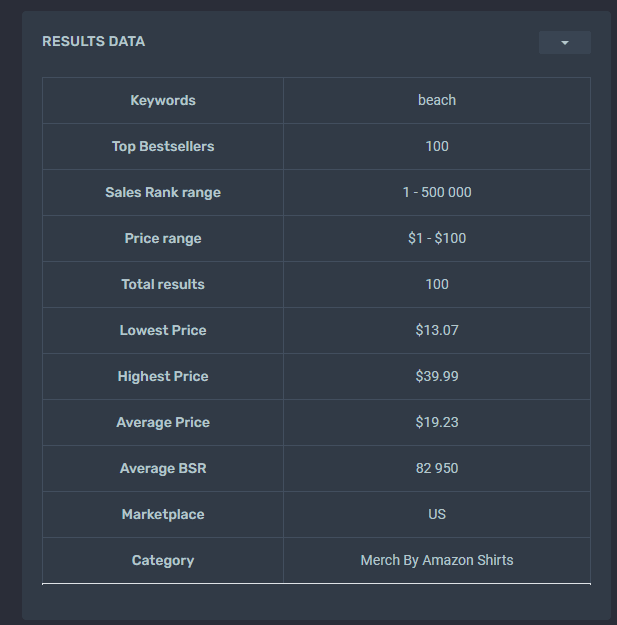 Mouse – 83,881
Unicorns – 5,645
Babies – 130,220
Kids – 159,607
Beach – 82,950
Womens – 28,880
Summer – 101,387
Easter – 15,804
Mens – 73,004
Halloween Halloween – 87,367
Coffee – 201,137
From this information, we can see that the niches with the highest sales potential are unicorns, followed by Easter, women's designs, and men's designs. In other words, focusing on these niches is likely to bring you the highest returns.
Should You Enter The Competition And How?
If you asked us for advice on whether you should enter these niches and try to rank for these keywords, we'd definitely say "yes". Considering that the majority of the top keywords are low-competition, yet highly searched for, the odds are in your favor. Here are a few tips on how to enjoy a competitive edge:
Optimize your listings – Once you've selected the niche you want to enter and you've created your designs, optimize your listing with relevant keywords, titles, descriptions, and images.
Set your pricing right – Choose a balanced pricing strategy that will help you quickly stand out from your competitors.
Use a combo of niches – Niches can be combined and used simultaneously. For example, you can create a women's t-shirt for the summer season with an image of the beach. This will help you attract customers looking for different keywords.
Be diverse in your keywords – Don't be satisfied if you've only discovered one or two niche-related keywords. Use as many as possible to increase the visibility of your listing.
In A Nutshell
Having access to information on the top niches and keywords will enable you to create new designs intelligently and make informed decisions. A well-prepared and research-based strategy will inevitably lead to more traffic, more interest in your listings, and ultimately – gold-winning opportunities and higher earnings.