What Is Merch Informer And Why It Can Catapult Your POD Merch Business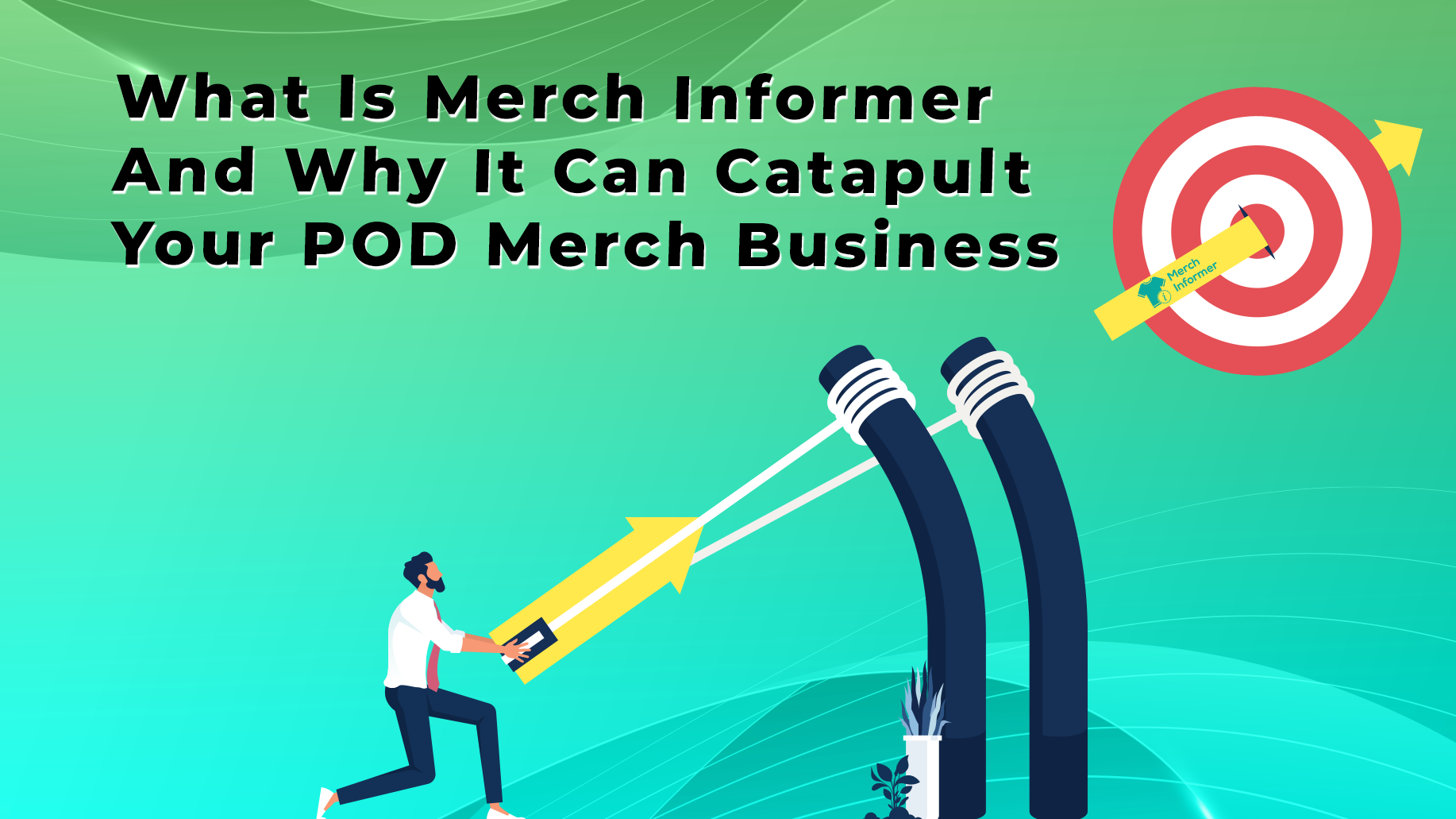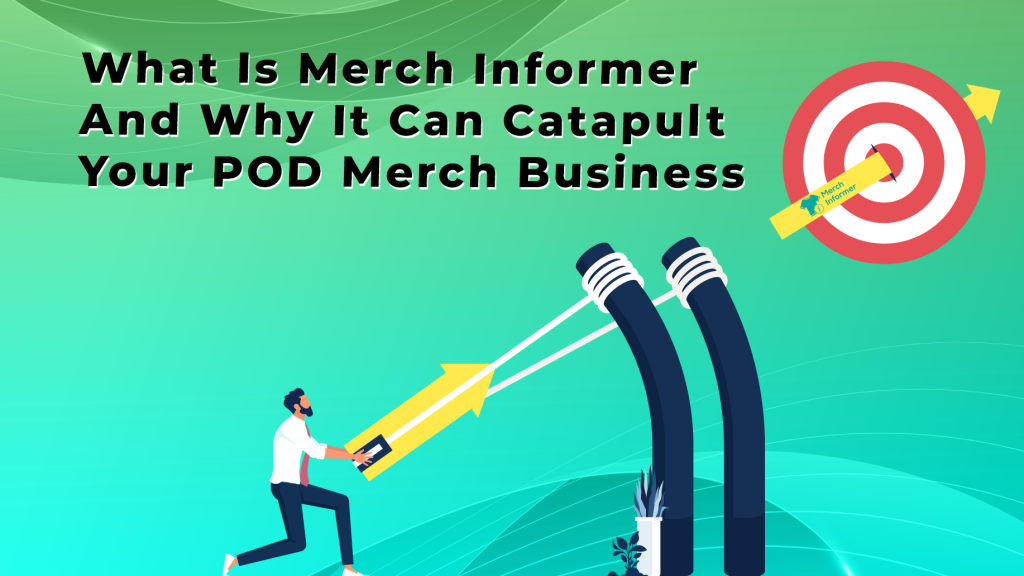 A Seller on Amazon needs to be quite savvy these days. For starters, it's essential to get your niche down to a T. Then, you've got keywords and descriptions to think about and all the research.
There's also the pricing of your product and comparing the performance of other best-selling t-shirts out there. In short, it's not an easy job. In fact, it could take days of work and research just to get the keywords right, let alone your t-shirt design.
Selling merch on Amazon requires patience and perseverance. And thinking smart is a big part of that. This is why so many Sellers are turning to Merch Informer to help them catapult their print-on-demand merch business into the realms of success. But how exactly does it work?
Here, we give you an overview of the features to make sure you make the most of it.
Let's dig in.

What Is Merch Informer?
With 12 million products tracked, 23 tools, three marketplaces and 5 years of service dedicated to helping Merch by Amazon Sellers make the most of the platform and sell successfully, Merch Informer is a business intelligence software that is an absolute must have for any business-minded individual who'd like to jump aboard the print-on-demand train.
Here's an overview of the toolset you'd be getting for just $9.99 per month.
Product Search

This tool enables Sellers to enter in a keyword, marketplace (US, UK, or Germany), and category to yield the best-selling results on Amazon. You no longer have to go page by page on Amazon to see what's in front of customers. The Product Search gives you information about what they want right at your fingertips. And you're not limited to t-shirts, either. You can choose from t-shirts, long-sleeves, pop-sockets, and more.
When you do this type of search, the platform will bring back the results data and a keyword count box. The results data provides information about the niche – both the best-sellers along with the price. It also goes into the average BSR. In other words, if the particular niche is getting customer demand and if there are active sales. Sellers will also be able to see the most used keywords that yielded sales on Amazon for the keyword. This is great to help you figure out what best-sellers are actively using to optimize their listings.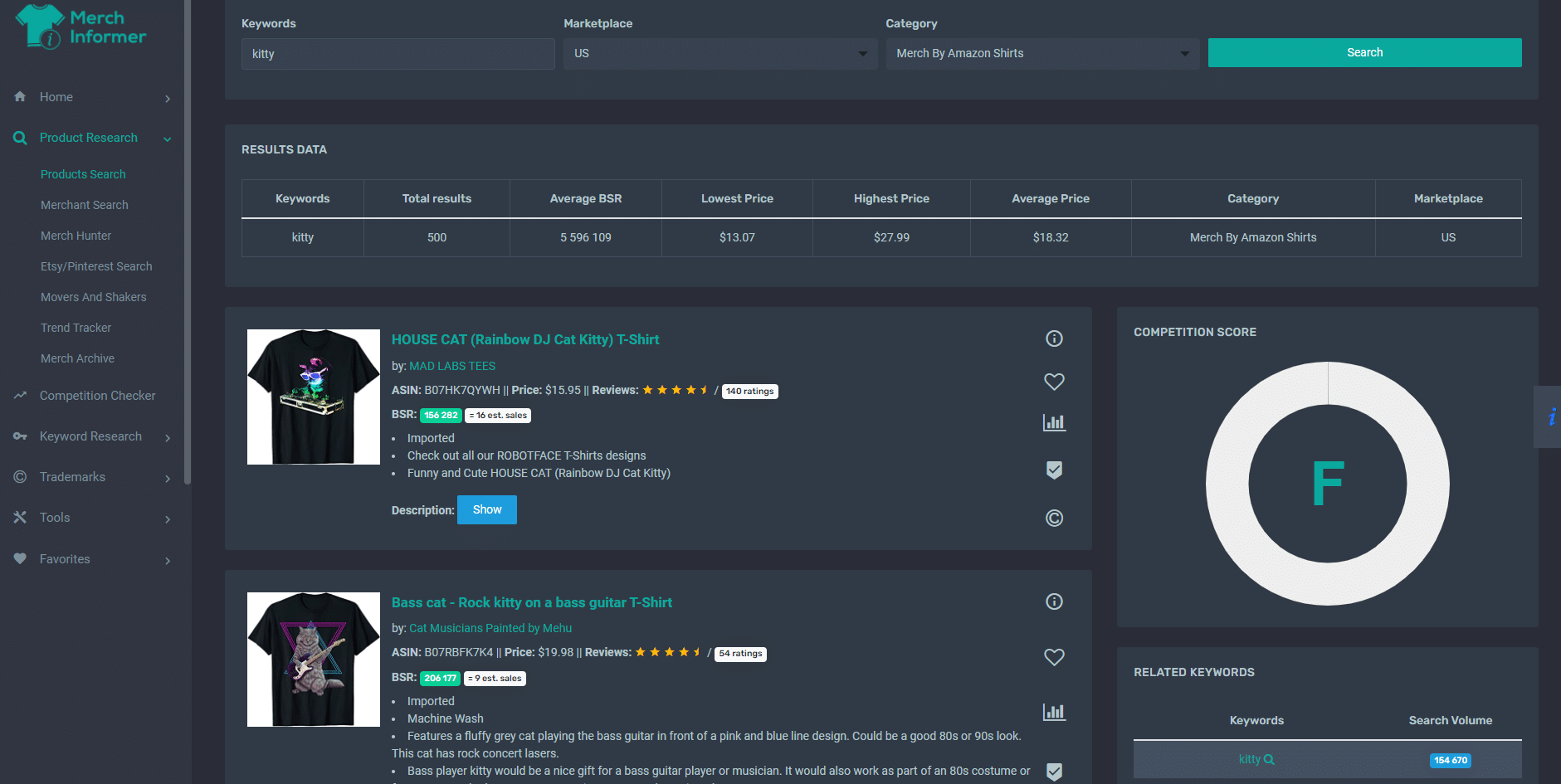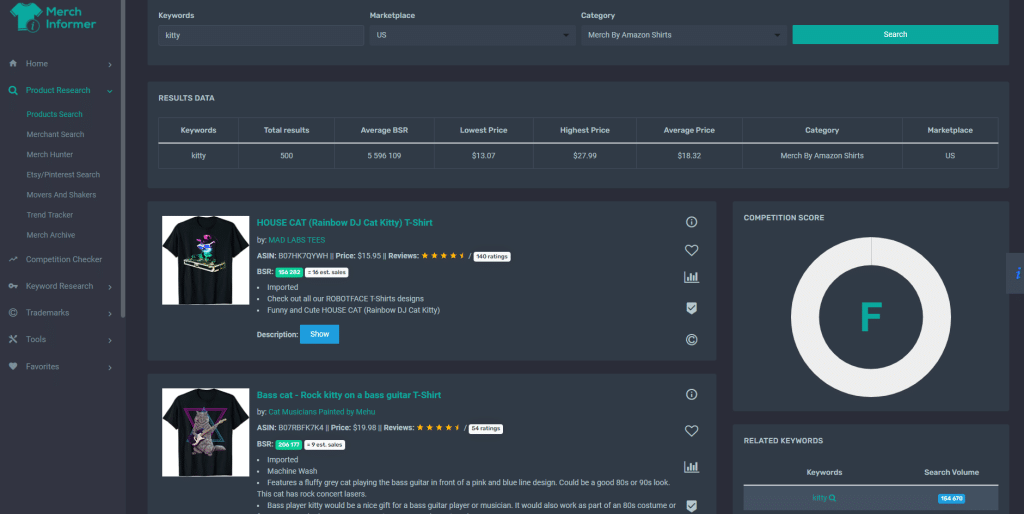 Another great aspect of this tool is that it will bring back actual best-sellers on Amazon for the keyword entered. This also includes: the brand name, ASIN's, price, BSR, estimated monthly sales, etc. Furthermore, you'll be able to see features in the descriptions. This is a great way of helping Sellers find ideas.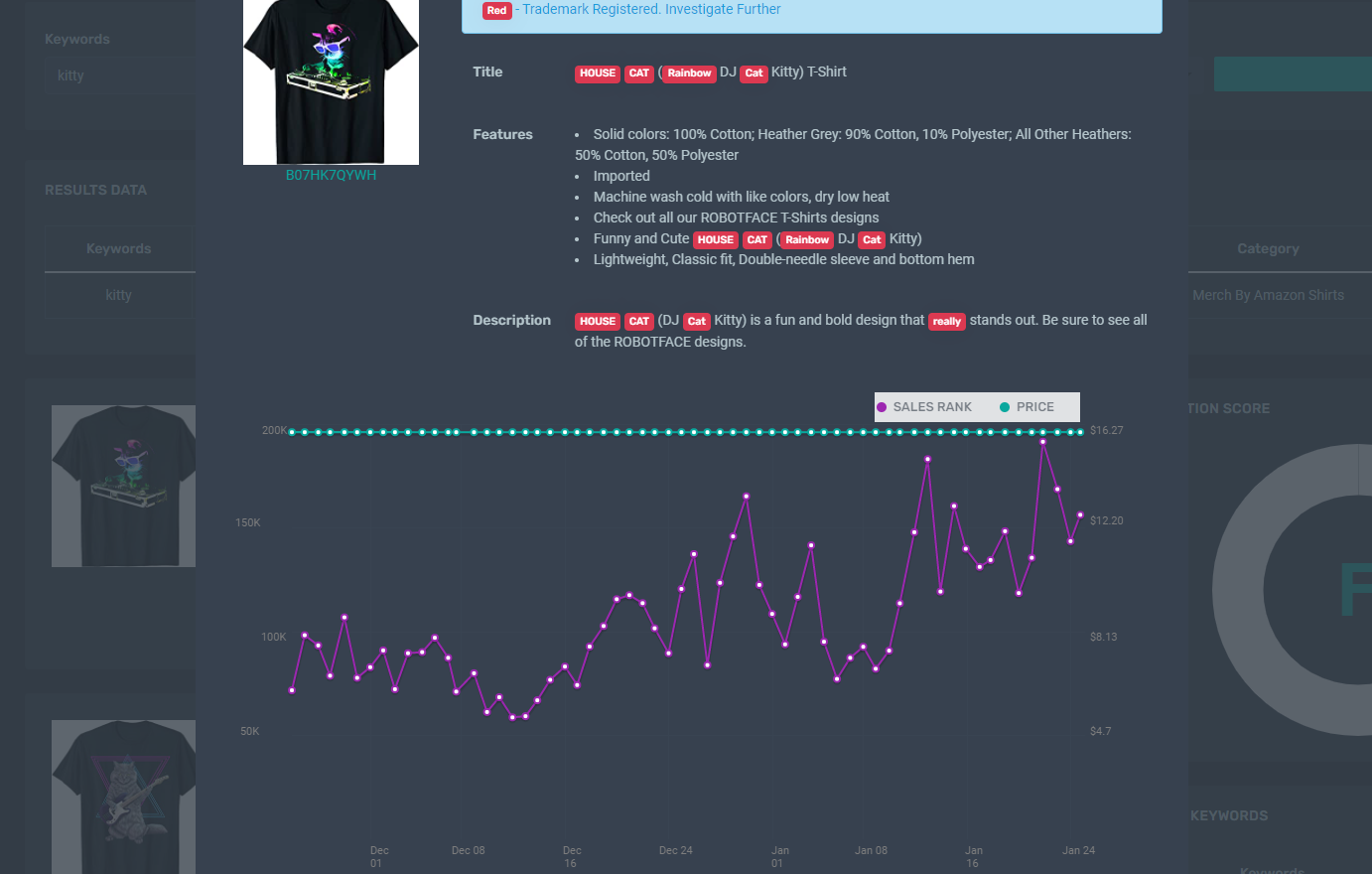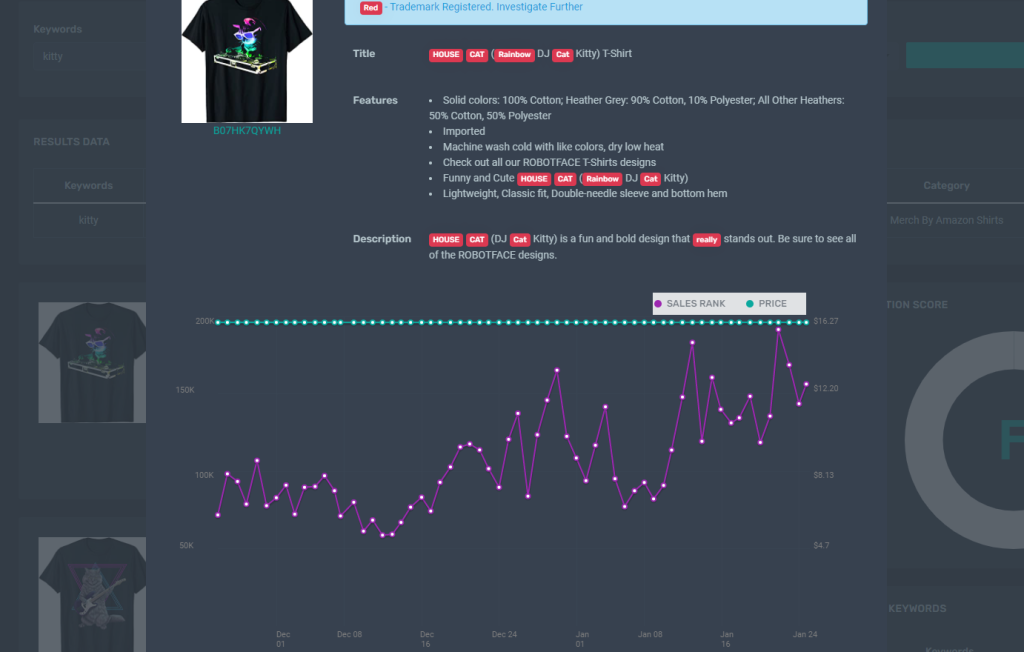 Finally, the Competition Check hones in on the title of the shirt and shows how many other items on Amazon have the exact same title. You can also do a trademark check. Ultimately, it's a great way to get a glance of the platform for a keyword to see what customers actually like and what they're buying.
Merchant Search
Think of this as a brand search. It enables Sellers to look at different big brands on Amazon that are doing well. If you've found a brand that's selling well and you want to see what their strategy and niches are, then this is it. You can narrow down your search by merchant/brand and marketplace. In some ways, it is similar to the product search in the sense that it yields results data and a keyword count. It provides information about the prices – lowest, highest, and average in addition to the all-important average BSR.
To see which keywords a brand has used to get in front of customers, you can look at the keyword count box. It will help you see what fits with your niche. You'll also be able to look at the brand's designs, add designs to favorites, do competition checks, report infringements, do trademark checks, etc.
Merch Hunter


The Merch Hunter allows you to see the best-selling designs on Merch by Amazon with a single click of a button. You can select by best-sellers, marketplace (US, UK, Germany), search by sales-rank, select by category, and there's even a keywords section to help you filter results. It helps you see everything in one place.
What you'll get once you click the "search" button is the results data and the keyword counts. Results data will reflect your search. This includes price points (lowest, highest, and average), average BSR, and more. Meanwhile, the keyword counts will be the most used keywords in the top best-sellers. Here, you'll also be able to add products to favorites, do competition and trademark checks and more.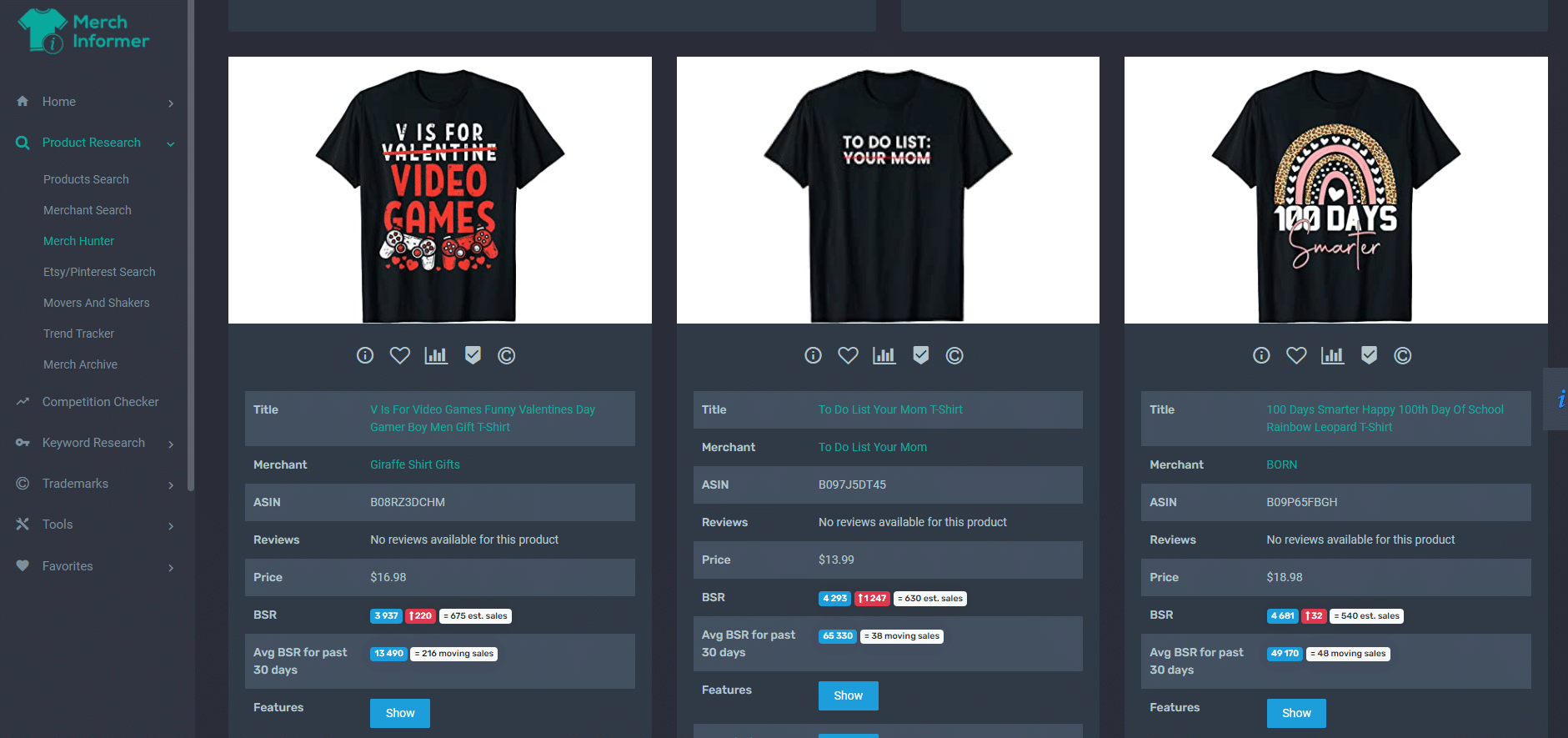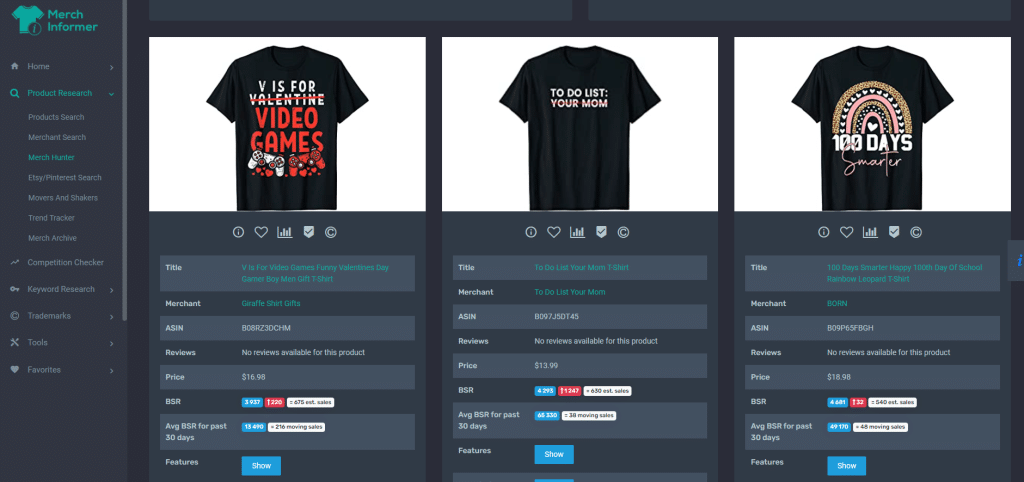 But what's more is that it will also produce a BSR, price history, the shirt you're looking at, and show you historical data about how well it's doing. This is where you can check out competitor strategies, such as whether prices have been changed. Other perks of this tool include getting access to ASIN's, product reviews, features, and descriptions.
Ultimately, Merch Hunter shows what's selling best right now in addition to monthly sales, average BSR spread out over a 30-day period, enabling you to see if the design is a consistent seller and how competitors are pricing and designing. It also features estimated monthly sales, which is based on the average BSR to paint a picture of how well a product is doing commercially. It's ideal for helping Sellers figure out where customer demand is.
Competition Checker


The Competition Checker is designed to give Sellers an idea of whether or not a keyword or a phrase is going to be competitive by providing data behind it to see if you can rank for these keywords. Essentially, it gives you context. All you need to do is simply enter in a keyword and see the results. The Competition Checker will give you information about how many products are online currently, and how many have a BSR or a sales rank. You'll also get a total score from A to F (A is an easy to rank keyword, while F is significantly more difficult) to see if Sellers can rank on Amazon. The results can be downloaded for you to consult later.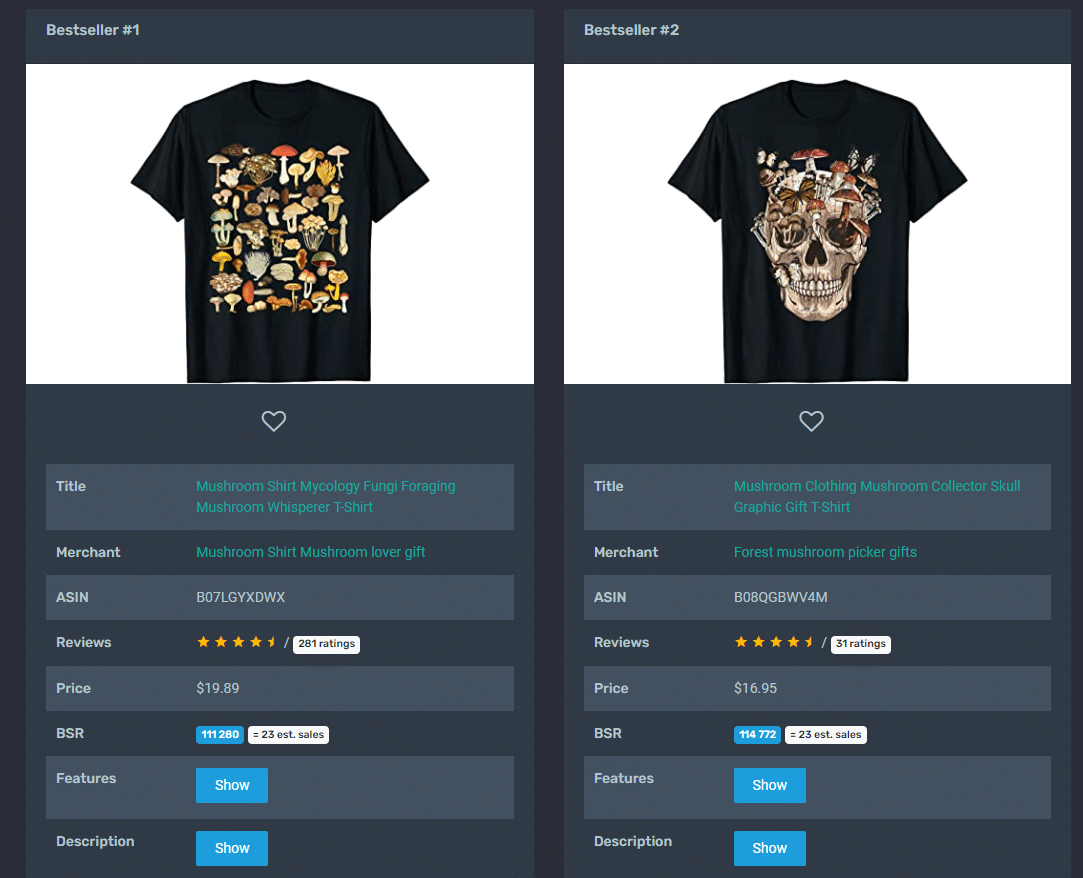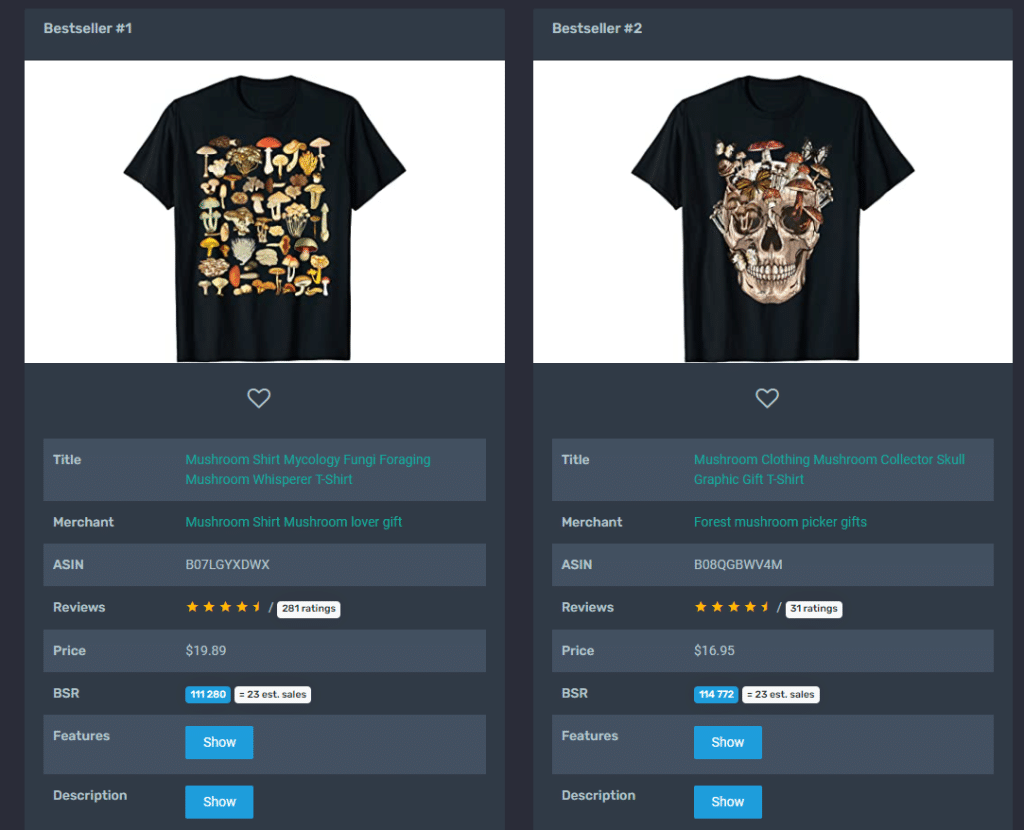 In short, the best-sellers' keywords can be found here to see what keywords are used to get the ranking. You'll also be able to view the best-selling designs, how your competition optimized their listings, what keywords they used, and ultimately, whether you can create a better product.
Etsy/Pinterest Search
This is a super cool tool that helps you search channels such as Etsy and Pinterest by keywords. It brings back results, which are broken down into categories. Ideally, you want to be looking at what the audience has selected as favorites as this shows if customers like the design or if people like the design and are not customers yet. Another criteria to consider is the views. Views show that people are interested.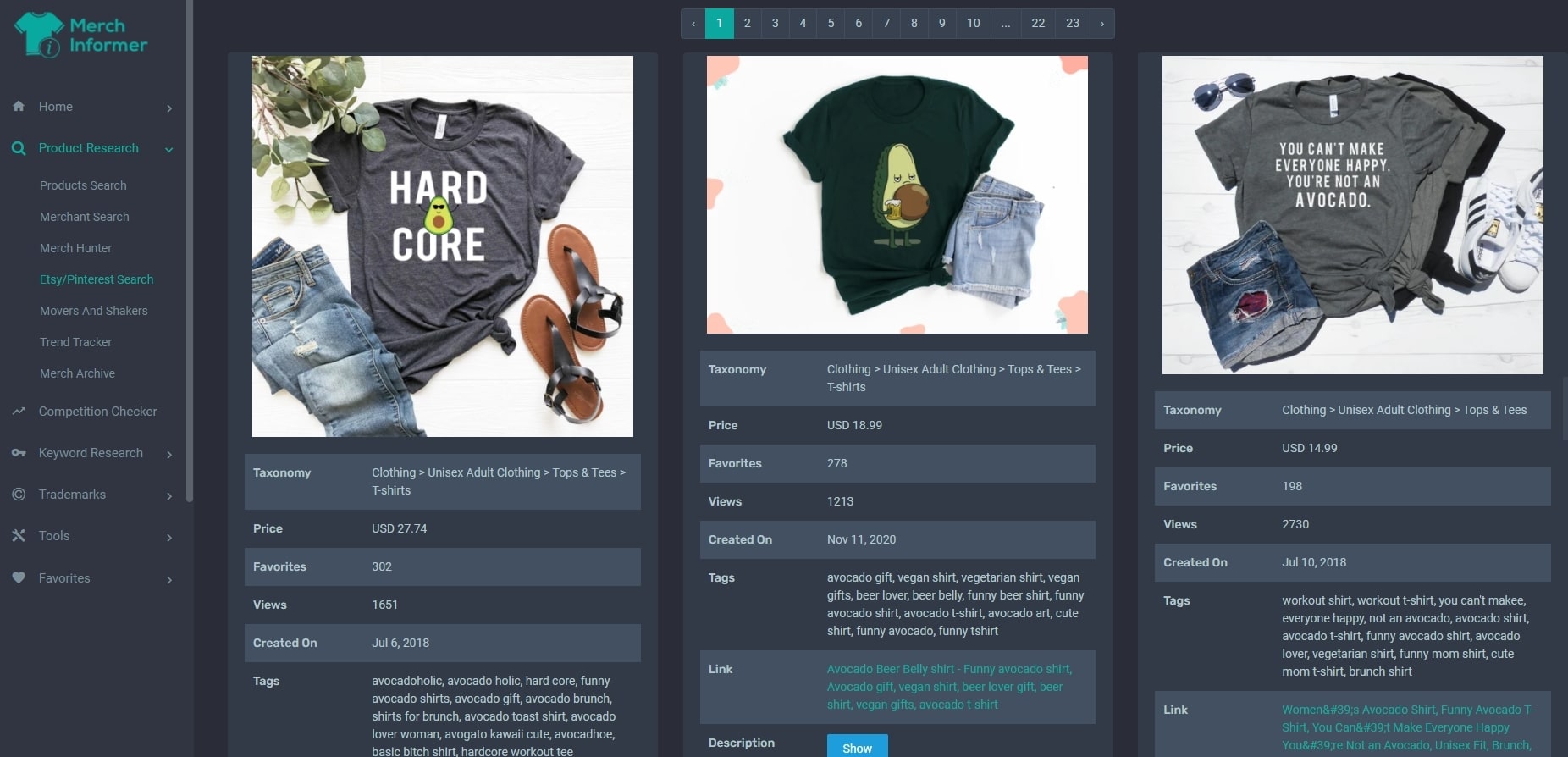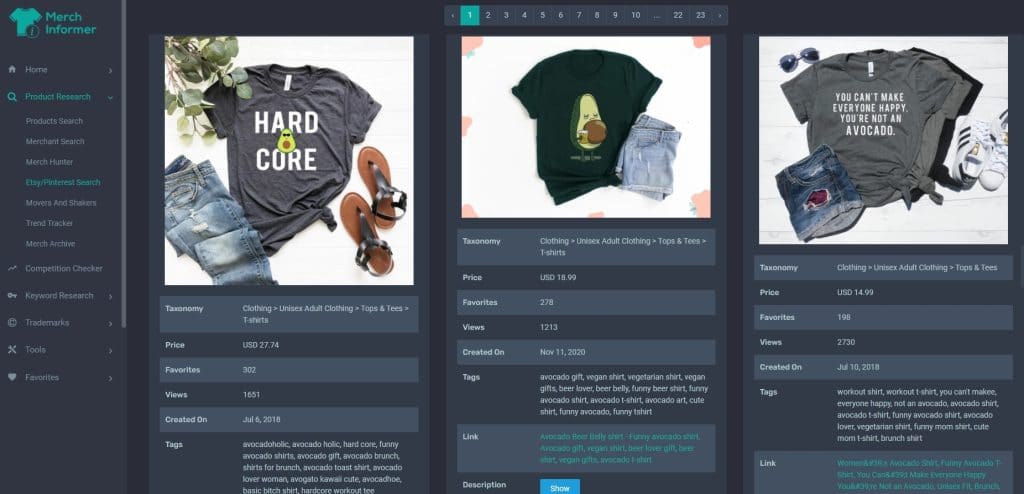 In addition, this is a great way to find keywords and phrases that aren't on Amazon yet, but which people actually like. You can take certain phrases and cross reference them with merchresearch.com to see if they are being sold on Amazon or not. For example, with Pinterest, you'll be able to see who pinned and to what board they pinned to as well as comments and re-pins. Re-pins are a great way of signaling social proof that people like the content and are interested in the niche.
But Wait, There's More
If you thought that was all, you're in for a surprise. With Merch Informer, you can also take advantage of tools such as Trend Hunter, Merch Archive, Keyword Research, Trademark Checks, and the mighty Uploader and Designer. All of these are geared toward helping you make more money on Amazon through your t-shirt designs. It's not enough to simply pump out design after design.
To actually make money, you need to pin down your niche and give customers exactly what they're looking for by looking at the existing supply and demand for these products. Merch Informer can help you do just that and so much more. In fact, there's hardly a platform on the market, which helps you do so much in one place with a few easy clicks.
Merch Informer is so robust that it can replace one, three, and even 10 employees with all the tools included in each subscription plan. And speaking of subscriptions, you can opt for $9.99 for newbies or $59.99 for professionals, both of which are billed monthly.
Ultimately, it's such an affordable investment that if you were to add up the costs of all the other different platforms you might already be using, Merch Informer would increase your ROI while leading to serious cost savings in the long run.