With Winnie The Pooh Now In The Public Domain, How Profitable Is Kids' Merch On Amazon?
A huge announcement was made on January 1st of this year for those interested in listing merch on Amazon Merch on Demand. Created by A. A. Milne in the mid-1920s, Winnie the Pooh, whose copyright was previously held by Disney, is now in the public domain – a whopping 96 years later.
But what does being in the public domain mean? Essentially, it's about a specific work that can be used by the public without copyright or other legal restrictions. This should immediately signal to Sellers on Amazon Merch on Demand that there's now one more children's niche to explore (except for Tigger, who is not in the public domain).
So how big is the kids' market on Amazon Merch on Demand? And is it worth exploring it? We take a closer look.
How Big Is The Kids' Market On Amazon Merch on Demand?
To determine the size and scope of the kids' market on Merch by Amazon, we head over to Merch Informer's Keyword Finder. We've entered the keywords "kids tshirts" as the opening act in our research process.
There were a total of 59 search results, which include the keywords mentioned above. When adding up the Amazon search volume, it became clear that search volume for these items is quite large, indeed. According to our calculations, the total Amazon searches for this and other related keywords comes to a total of 17,886. This means that nearly 20,000 searches for kids' t-shirts take place every month.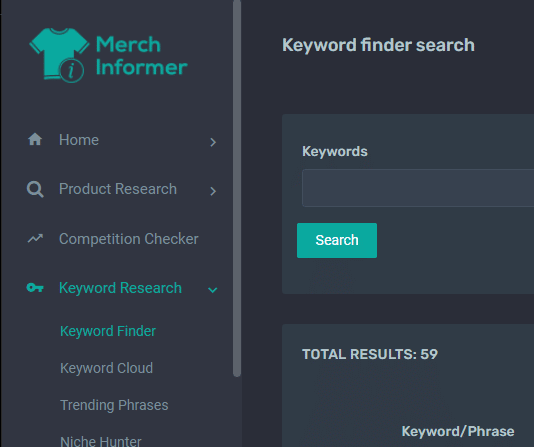 Next on our research list is the Products Search tool. We've entered "kids" as our keyword, chose the US as the marketplace, and Merch by Amazon shirts as the category before hitting "Search". Of the 500 results that came back, we noticed that the best-sellers rank (BSR) for such shirts is in the region of 5,563,813. Meanwhile, prices go for an average of $17.63. The lowest price and highest price are at $13.07 and $36.00, respectively.
Also found in the Products Search are the related keywords and their search volume to get an idea of the overall market for kids' shirts on Amazon. What we found was that "kids" gets an Amazon search volume of 2,620,967, "kid" gets 2,574,757, "for kids" gets 19,095, and "kid's" gets around 7,151 searches on the platform.

These numbers are downright staggering, and should entice you to compete in this niche if you're looking to get massive exposure.
What Have Some Of The Best-Sellers In This Niche Done Right?
Because kids' merch is such a broad category, best-sellers here have made some efforts to optimize their listings by niching down.
For example, the "Kids Share love merch for Kids and young T-Shirt" has gotten 4.5 out of five star ratings with over 50 reviews. This shirt sells for the highest price. In addition, the Seller has made an estimated 6 sales with a low BSR of 263,962. This is considerably lower than the average BSR for this category of merch.

While the Seller has not optimized their title and description, their unique design is what appears to be gaining them the highest number of sales in this category. In terms of pricing strategy, it is interesting to see that the Seller has not budged. They have priced at $15.99 and despite the fact that the BSR has fluctuated quite significantly over time, they've stuck to this price and have, in essence, ridden out the fluctuations to get to the low BSR of 263,962 that they're currently enjoying.
Generally, we do not recommend this approach. You still want to be as creative as possible, but optimizing your listings to the fullest is an absolute must.
How Does The News About Winnie The Pooh Impact The Kids' Niche On Amazon Merch on Demand?
Now that the much-loved Winnie the Pooh is in the public domain, Amazon Merch on Demand Sellers can take advantage of yet another children's niche. Let's take a look at some of the efforts put forth by the character's previous intellectual property (IP) owner.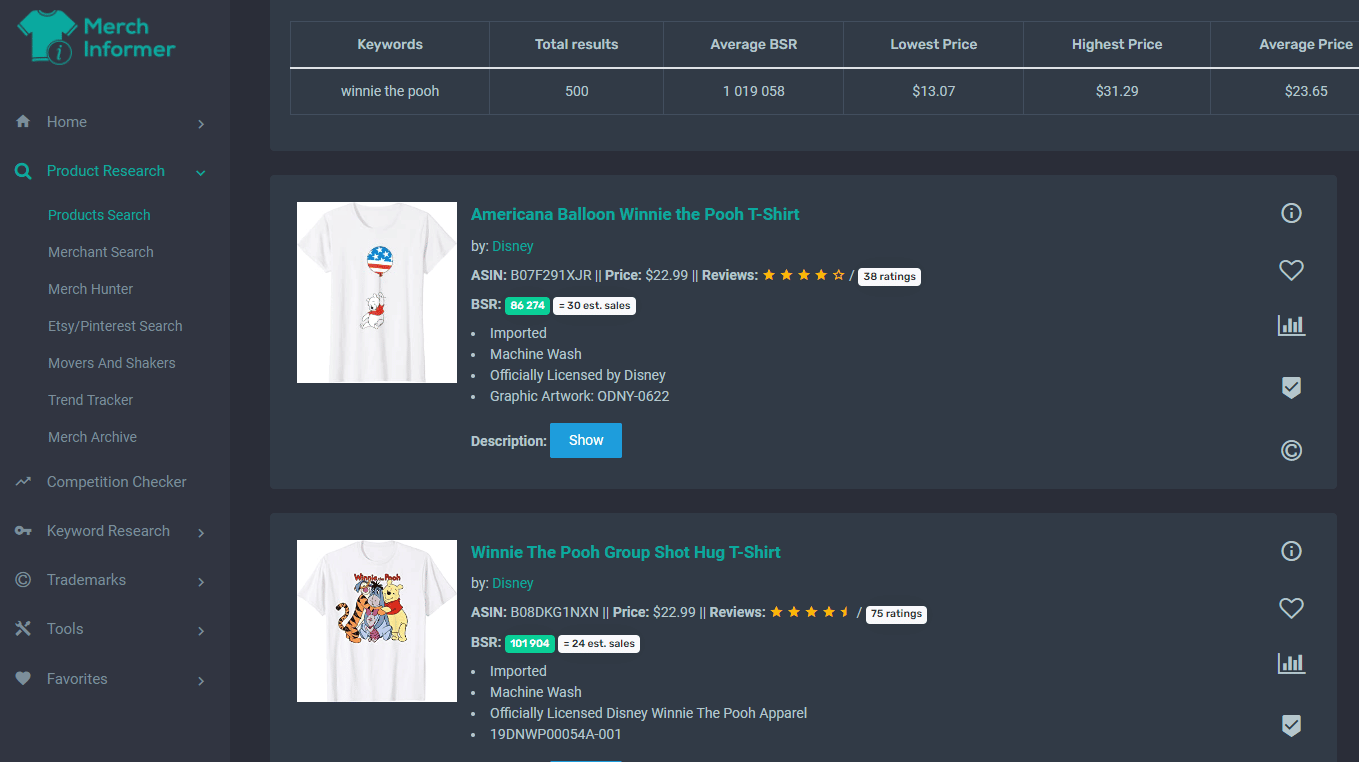 Interesting to note right off the bat is that the ratings of Winnie the Pooh t-shirts are quite high. On average, these items get 4.7 out of five star ratings, with reviews being in the hundreds. Listings are also generally priced below the average. Pricing strategies are varied, which, as expected, has resulted in swings in the average BSR, too.
With some t-shirt descriptions, the previous IP owner has made reference to other related characters and the availability of the design in categories such as tees, sweatshirts, and hoodies. Meanwhile, the designs themselves are quite simple and feature the text "Winnie" or "Pooh" and a small depiction of the yellow bear with his red jacket.
Our Advice To Sellers Looking To Compete In This Niche
Winnie the Pooh is a beloved character from the fictional Hundred Acre Woods. Both children and adults love him and his friends. And his popularity is unlikely to wane. Now that Winnie the Pooh is in the public domain, you have free rein to use the design and add your own personal level of spice and uniqueness to it.
If you were to replicate what the previous IP owner has done, you may find yourself struggling somewhat as their listings are not ideally optimized. For example, their descriptions are quite sparse and bare (pun intended) and these could be improved on by specifying who the t-shirt is meant for, what the design contains, and utilizing more sought-after keywords in your title and description.
And speaking of titles, these can be optimized, too. This can be done by utilizing the full character limit that Amazon Merch on Demand offers. Try not to write short titles, instead provide a full and clear picture of what the customer will get.
Pricing around the average of $23.52 should do the trick. However, much like the previous IP owner did, you may wish to experiment with the price and either increase or decrease it to see how it affects your overall BSR and total sales.
The best takeaway is that you'll already be using the established Winnie the Pooh brand and you'll be able to capitalize on the millions of searches for kids' shirts from the get-go. There will be little need to just hope for the best because the product and character basically sell themselves. All you need to do is focus on optimizing your listings so that you can cater to the searches for these types of items on Amazon Merch on Demand.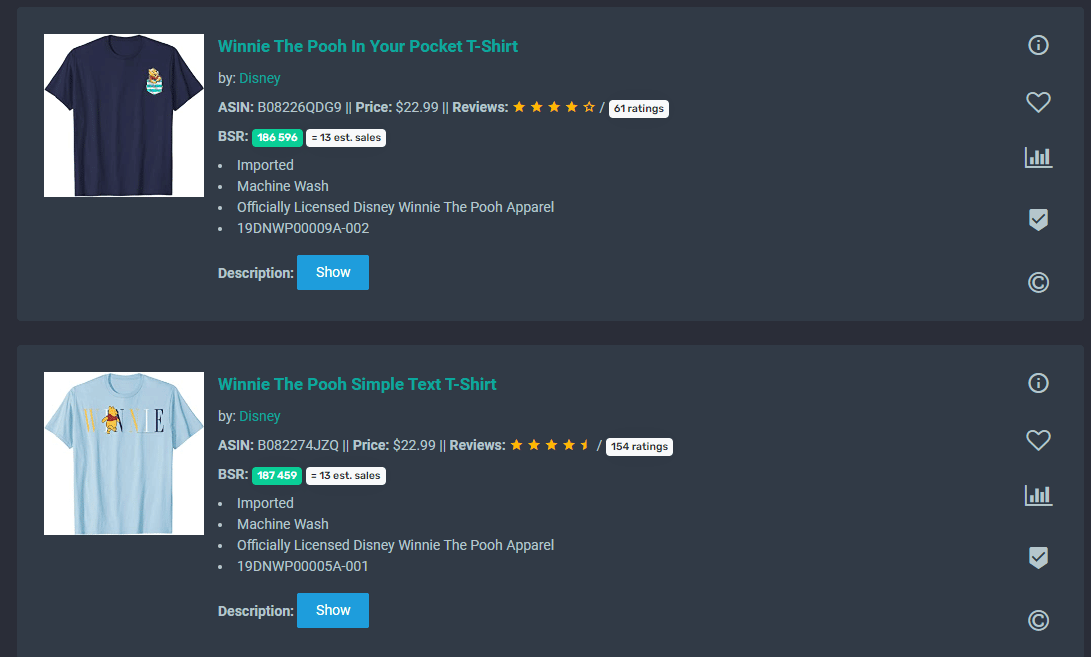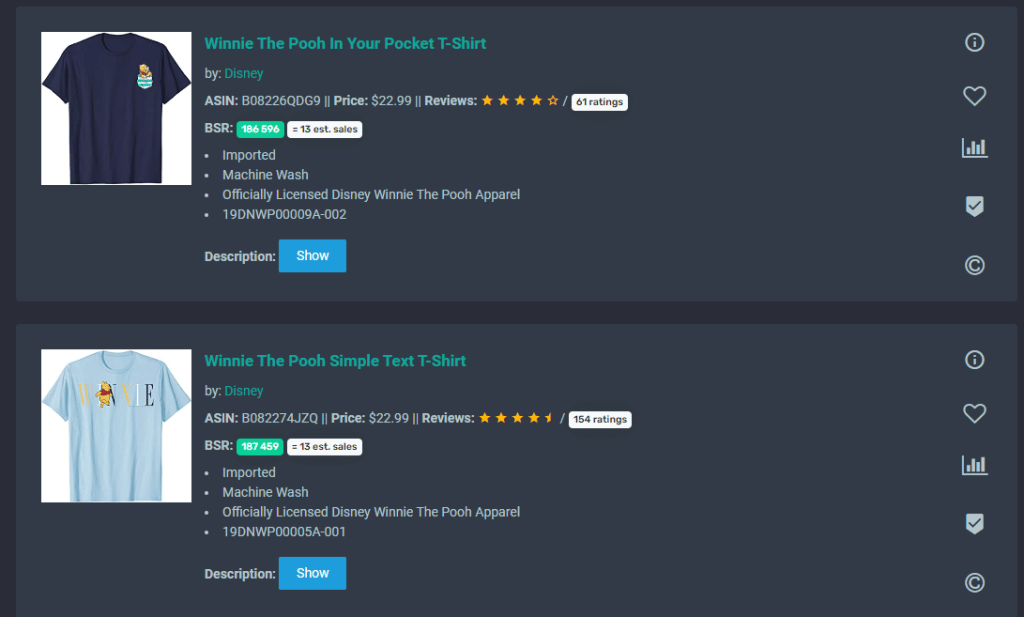 Merch Informer Note: Just because Winnie the Pooh is in the public domain now, does not mean that his friends are!
Final Remarks
Sellers who wish to introduce Winnie the Pooh to their portfolio can now do so. And the beauty of it is that because the character is loved by all, you can cater to youth and adults at the same time, thereby broadening your market. A catchy design with the yellow bear will grab your audience's attention, while clear and optimized titles and descriptions will help you get found and rank better.
Don't forget to use varying pricing strategies to see how you can improve your rankings and BSR in order to get found more easily. With a combination of these factors, and with the help of Merch Informer, you will be able to tap into an already popular niche with millions of searches that you can capitalize on.