100k School Debt to Financial Freedom – Merch by Amazon Update 2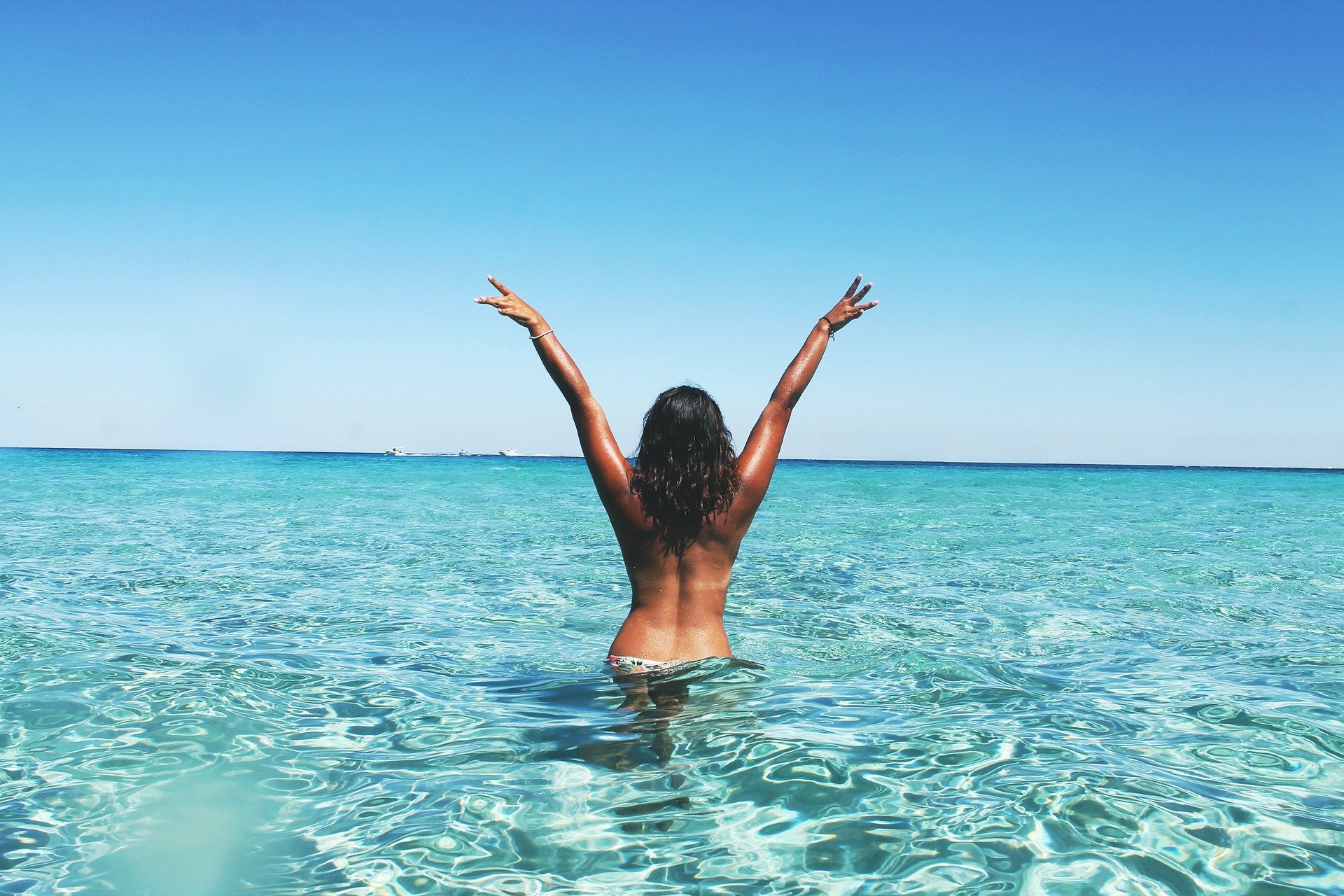 This post is also available in:
German
Another month has come and gone and it is time to put out the next update to digging out of school debt.  If you missed the first update in this series, you may want to check that out below. Otherwise, prepare to learn how to 5X the earnings of an account in 30 days.
100k School Debt to Financial Freedom – Merch by Amazon Update 1
If you do not want to read that article (you really should), the gist of the story is that my girlfriend went back to school to get a second bachelors degree and needs to pay off about $100,000 worth of school debt. The goal is to do that within 1 year with Merch by Amazon. Since this is the second update, there will be 10 months left after all is said in done to hit this goal. I think this is very possible with all the great things coming up such as Q4 and Christmas shopping season which is absolutely massive. Most people can expect 4-5X normal monthly earnings in December alone.
The growth this month was MASSIVE so make sure you read till the end to see the progress on the account.

The Process
If you were paying attention to the article last month, the account ended at just over 250 shirts live (267 to be exact) and hit the first 100 products sold in a rolling 7 day period. This was exciting with only a months worth of work, but there was a still a lot to do. Hitting 6 figures in a year does require a process and thankfully the process is pretty easy!
Step 1: Use Merch Informer to find niches within 100k-300k BSR.
Step 2: Add shirts from those niches into the favorites module.
Step 3: Check trademark on those terms/phrases and put them into the trademark alerts module.
Step 4: Wait 3-5 days
Step 5: Remove shirts that have trademarked phrases/fell out of the 100k-300k BSR range.
Step 6: Get new designs in those niches created
Step 7: Upload
When you put it down in a list like that, it really does not look that hard. A lot of people get hung up on competition. Do not get me wrong, when you have 10/25/100 slots, competition is important! But when you get into the 500 tier and above, you have slots to play with, and I would recommend going with the method laid out above. It is SO EASY and I can tell you it works time and time again!
There is literally no reason to get hung up on anything else. I might sound like a broken record when it comes to this. Find where customers are spending their money, make sure the things they are buying are not trademarked, and then provide them with better products. Rinse and repeat that until you hit your goal.
Finding Great Niches
One of the things that we added to Merch Informer this month is the Merch Hunter. This is a recreation of the database of Merch by Amazon shirts and can be used to display the very best top sellers on Merch at any given time in order of BSR. This is great for two reasons. The first is that you can see exactly WHAT is working and how (via the historical price/BSR graphs that look like this:)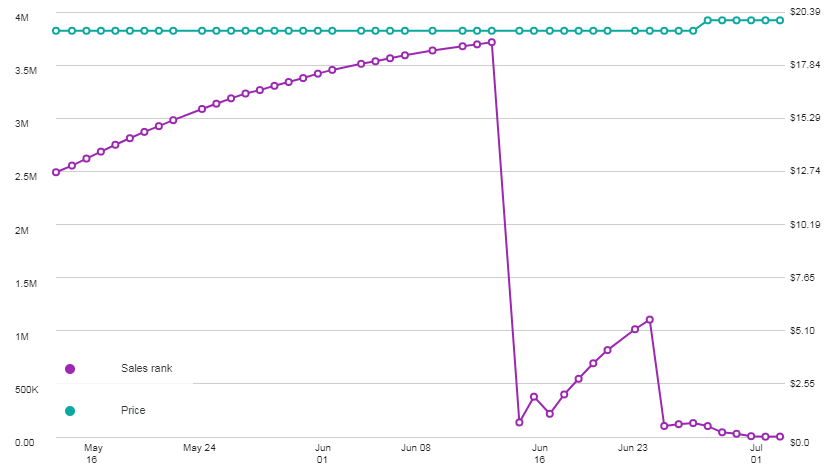 The second is that it is incredibly quick and does not require you to wait for 20 or so seconds in between searches. Being fast and having historical data makes it really easy to decide what you should be going for and what you might want to avoid.
When we pushed out this new feature, I showed the girlfriend how to use it and how to target niches above the 100k mark in order to find the sweet spot of where people are buying but there is no too much competition.
If you would like to do this yourself, first step it to head to the Merch Hunter. Pick how many top best sellers you want to display, and then check the 100k+ button to the right. Finally, add a keyword to the keyword field and hit search. What this is going to do is show you the top sellers above that specific BSR for that keyword in order of how well they are selling.
Instead of the product search, this is what she mainly used to find hot selling niches this month. Before that (since we pushed it mid month), she was using this method:
Checking Trademarks/Removing Shirts
Once she went through and added the shirts in the correct BSR range from the research methods above to the favorites module, the next thing that was done was a USPTO search and then adding those phrases to the trademark modules.
Checking USPTO is something you simply MUST get used to in order to succeed on Merch by Amazon. Without it, you will be flying blind, and get shirts taken down and have no idea why they are being removed.
You cannot infringe on someones trademark. To do this, you want to search TESS. I made a quick video that I linked before, but if you have not seen it, please make yourself familiar again.
After you check TESS on the USPTO website, remove the shirts you cannot obviously make a different version of. Merch by Amazon is still in the beginning stages and shirts slip through the cracks all the time.
Just because you see something on Amazon does NOT mean you can do it too!
Keep that in mind when you are doing your research. Just because someone else is getting away with it currently, does not mean you will. In fact, this is the quickest way to get a strike against your account and eventually get your account banned. It is just not worth it.
Next, add them to the trademark module within Merch Informer. What this is going to do is check the USPTO database every single day for you to ensure that your phrases you are using are still safe to use on a shirt.
Previously we only had 100 slots available but with the change in structure to Merch Informer this month, higher plans have been introduced to allow you to track more than 100 trademarks at a time.

Once you have the new phrases you might consider using have been added to the trademark alerts, your job is to simply wait a few days!
Why wait?
Well, consider this. You are looking at frog shirts like the example above and see a design in the BSR range you are looking at. You decide that is a great niche and outsource some designs right away. By the time the designs get back to you, you check the niche again and the BSR on the top sellers in that niche is now in the millions! This means they are not getting sales. You are stumped asking yourself "what happened?".
Well, the design might have gotten lucky and someone ordered a good amount of them at once. It could have been a one off design that they marketed for a specific event. These are not good shirts or niches to go after.
The entire plan with this account is to get it earning day in and day out. To do this, we need to focus on evergreen shirts that will sell consistently.
After 3-5 days, go through all your favorites that you have saved. Remove everything outside of the BSR range you are comfortable with. In this case, we picked 100k-300k. Anything outside that range gets removed. My girlfriend also keeps an eye on the trademark alerts and removes any niche that has that certain phrase get trademarked in the time we are waiting. Remember, the name of the game is to keep your account safe while making money!
Outsourcing!
Once everything has been removed and you are left with your list after a few days in the BSR range you are looking for, you are ready to outsource. This list you have is now a list of designs that sell consistently, and that you think your designer (or yourself) can improve on by coming up with a new design. If you going to do it yourself, nice! If you are like the majority of us, you will need to outsource. In order to do that, we have written an easy to follow guide here:
How To Use Upwork To Outsource And Scale Your Merch Business
After you get your shirts back, upload them! We have written a ton about uploading, so feel free to follow any of that advice (it seems to work for us!), or do whatever feels most natural for your account.
The Results For June
Before we hop into it, let's do a quick recap of May Numbers:

Now, I know that the last update had a bit higher royalties than it is showing in the screenshot above. This is because Amazon pays based on when the products shipped out, so no worries there!
This month, all shirts were priced around $16.99 per shirt. She has found this to be a good sweet spot for doing volume in sales, but also making decent money.
The other big news is that in the last 2 weeks, the account got upgraded!

This brings the account to 20 uploads a day at the limit. With a lot of tests and some traveling this month she was not able to hit the max uploads a day (tisk tisk). That being said, this month was great. Here is a screenshot of the peak: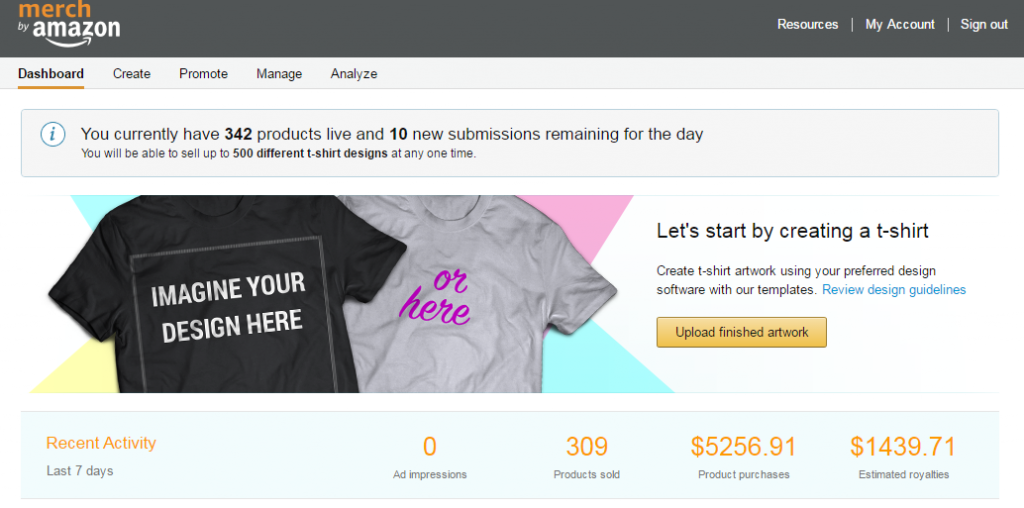 Here is a summary of the totals for June 2017 from downloading the excel spreadsheet:

933 shirts sold and $4,098.54 in royalties!
The most insane thing about this increase is that last month the total was $756.94 and this month no extra time was spent on the account. The time expenditure is still around 30 minutes a day.
Just like everyone else, the account is experiencing a bit of a slow down in sales with slower shipping times, but this is to be expected until MBA can figure out their own program. Until then, uploading continues for Q4!
The Math
Since designs can easily be created yourself (and what most people are doing when they start), we are only going to be including the royalties in the math.