100k School Debt to Financial Freedom – Merch by Amazon Update 4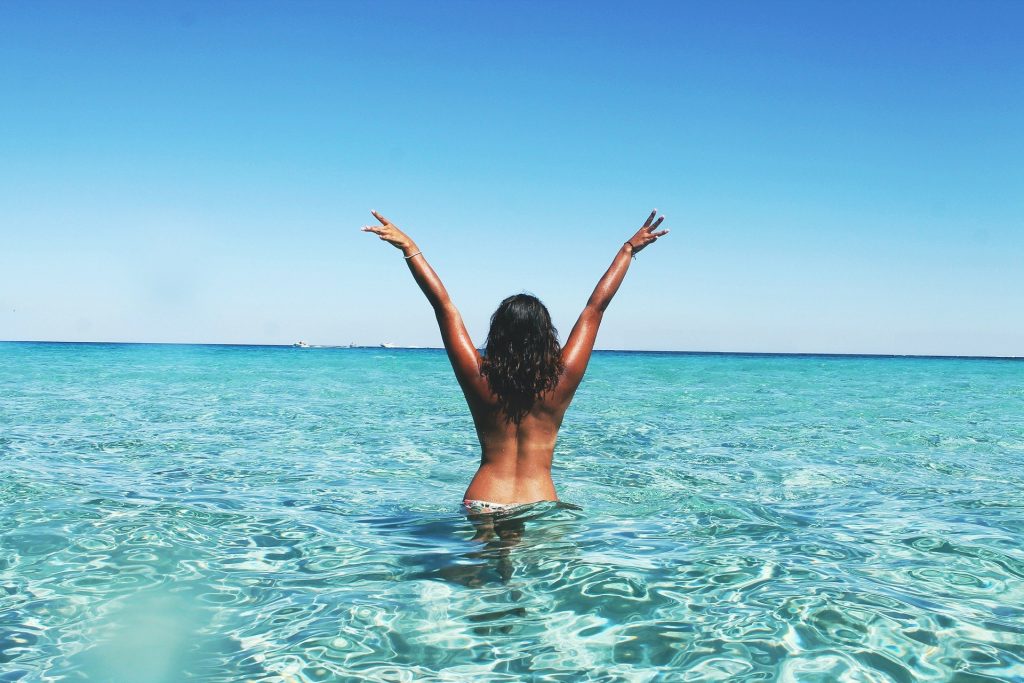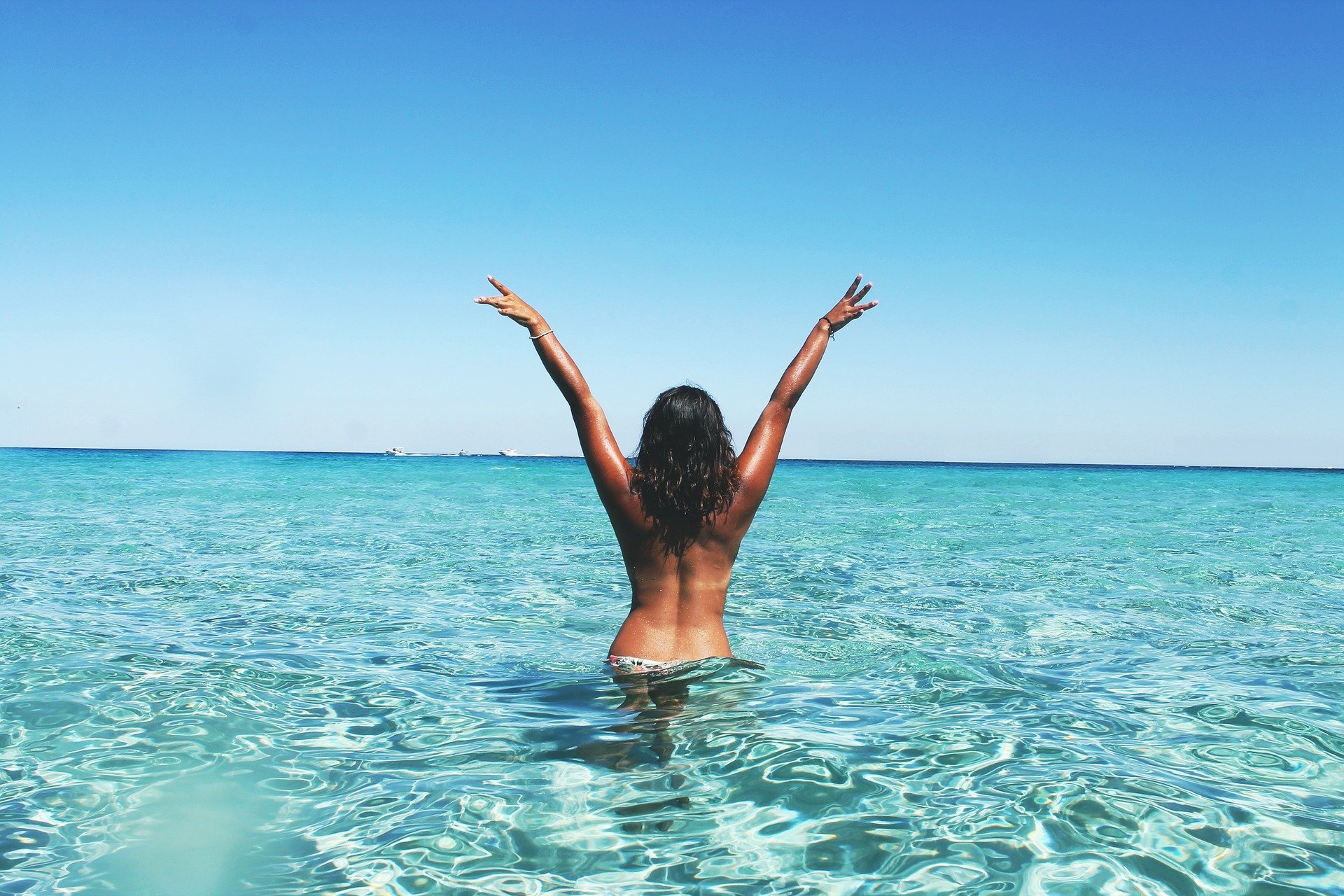 Once again I am a bit late on writing this case study so I would like to appologize. I just spend the weekend in Seattle attending the Merch by Amazon conference and eating a LOT of fresh seafood!
I guess that marks 2 months in a row that I was away at a conference but this was one particularly great. It was the first Merch by Amazon conference ever and I got to meet a ton of really great people in the community. Special shout outs to Lanelle Barber, Ken Reil, Michael Essek, Stephanie Witham, Chris Green, Joel Barnett, Carrie Hitchens, Brandon Ortega, Thomas Smale, and Josh Brown who I met all in person and had some really interesting conversations with! I should have a post about the conference coming out soon!
Many people came up and asked about this particular case study on my girlfriend's account. It was amazing to hear over drinks that a guy implemented the exact strategy she is using to grow his account from less than 20 dollars to 800 dollars in royalties from his account the very next month! Since I know these posts are helping people, I will continue writing them so make sure you drop any questions in the comments below.
In case you missed it, here is last months case study:
How To Use Upwork To Outsource And Scale Your Merch Business

If you read that case study, you may have noticed a big trend. Sales dying off and everything being slow.
I hear this constantly from the community so it is NOT just you! Sales (outside of the eclipse niche), have been pretty slow. We are seeing slower sales across the board and this month is no different.
That being said, the goal is still the same. She is working towards paying off around $100,000 worth of school debt and that is still the main purpose of this case study.
We have around 8 months left to hit this goal and I think it will for sure happen. I know I keep saying that I think it is very possible that we will hit the 100k goal within a year, but I know something that many other people do not know that have not been in program very long. I know that these stagnant sales are for the most part NORMAL. I know that print capacity goes to the big players and big trends and the main trend that was taking up all that capacity (eclipse), is now over!
Q4 has pretty much just started and I am super excited for what the future is going to bring. If you thought last years numbers were big (if you were around then), this year I actually expect them to be bigger because Merch has had an entire year to build out the facitilities and print capacity to handle it. You may remember that they completely shut off uploads for a few months last year. I expect that that will NOT be the case this time, but who knows. We have to optimize the uploads while we have them!
Last month, this account did $2,515.57 in royalties which was way down from the previous month. This month is not painting a better picture, but there a few key points I want to discuss.
What Happened In August?
In July, life pretty much happened with the amount of school and work that was happening outside of the online world. I always harp on hitting your daily uploads, but when you have other things going on and MBA is not your full time job, this can often get side tracked for other activities.
I was actually gone at another conference in California and school tests and work related things kept coming up.
After July, you can pretty much just say she was burnt out.
This happens to all of us though! I know, because it has happened to me plenty of times. All you can really do is focus on what you need to get done, and then just get back on the train and keep going.
August was the month of reboot.
A lot of you may not live with someone else that is constantly harassing you about hitting your uploads, or doing research, or really just talking about Q4 constantly. Well, we talk about merch a LOT (or at least I do), and that finally seemed to kick start the engine again.
Trending Research
Trends are a tricky one, and something I talk a lot about. Since the account in question is at the 1000 tier, this is something we wanted to make sure to hit because there are plenty of slots to capitalize on. Halloween is coming up, and we wanted to make sure that we got to market early.
The first thing that she did was hit up the Merch Hunter and look at all the Halloween designs that were already live. As you can see they are doing pretty well!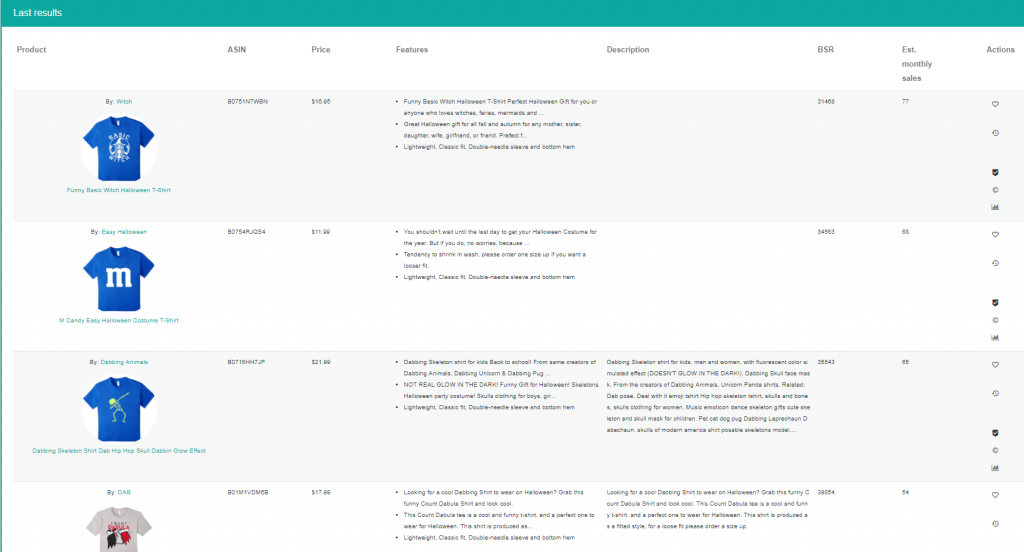 As you can see from the above screenshot, there are already a TON of designs selling and selling like hot cakes!
When you are really early on a trend, especially when it comes to a holiday, there is a great approach after using the Merch Hunter!
First, start by checking the Merch Hunter and seeing what is selling on Amazon right now. If you are early enough like we were, you should notice that some designs are selling, but the massive wave of sales has not started yet.
Second, head over to Pinterest, and do a search for "Halloween Shirts". It should look something like this: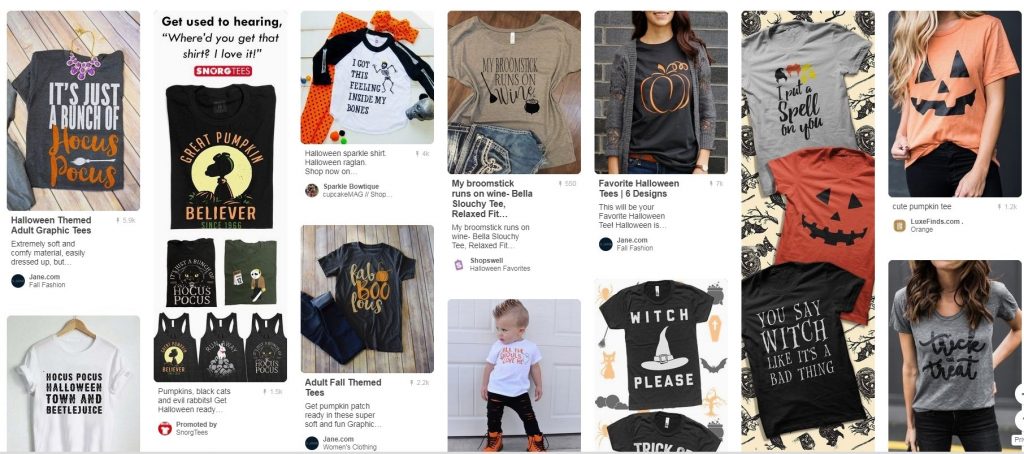 Right away, you are going to say to yourself "you can't use half of those!" and that is absolutely correct.
But some of them you can!
The trick here is to go through and write down all the phrases into a sheet and then bring them back into Merch Informer. You can either put them into the Merch Hunter, or the product search. Since we are not looking at BSR ranges, I would suggest the product search.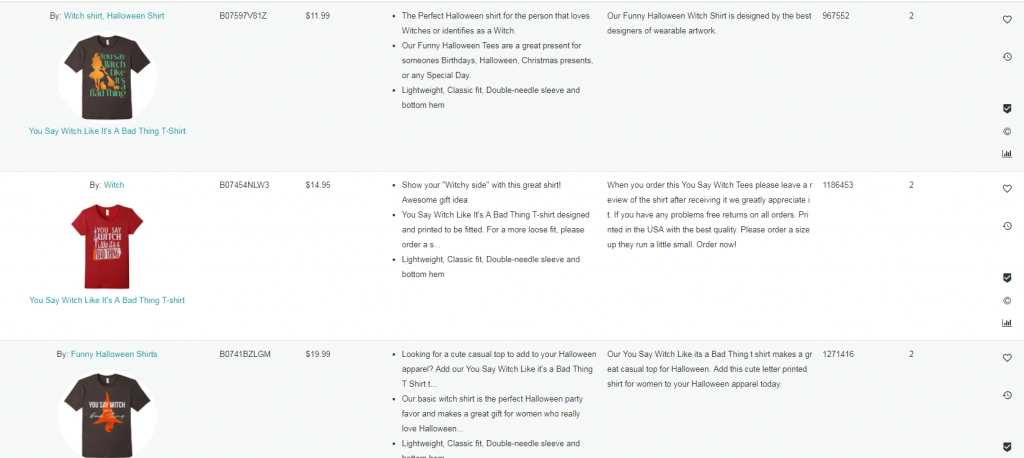 I grabbed this screenshot a little too late but this really demonstrates this technique.
Usually we are looking for a niche that has a lot of other sellers that are selling so we know the niche has demand. With holiday niches though, if you are getting in early, you want to see little to no shirts up! The reason for this is because they are holiday niches, the goal is to get things up before they are even selling.
If you can get a shirt up with a nice phrase for that holiday before anyone else is even thinking about uploading shirts, you have a very good chance of getting a ton of sales on that shirt.
As you can see from the above screenshot, there are a few that have started to sell, but this is even more telling:



There are only TWELVE designs for that phrase that are currently selling on Merch! That right there is a massive opportunity that took about 30 seconds to dig up. Easy money for people that want to take action!
90 Day Rule
The 90 day rule is something about Merch by Amazon that I really wish was not an actual thing. I understand why they did it. It costs money to have ASINs on Amazon, and if they are not selling there is really no point in having them.
Some people think that if a design has not sold within 90 days, there is no point in putting it up again and usually just leave it.
From my experience though, I KNOW that good research went into those designs and I know there is demand for them. Usually looking at the niches with a fresh set of eyes is exactly what is needed to get that initial sale.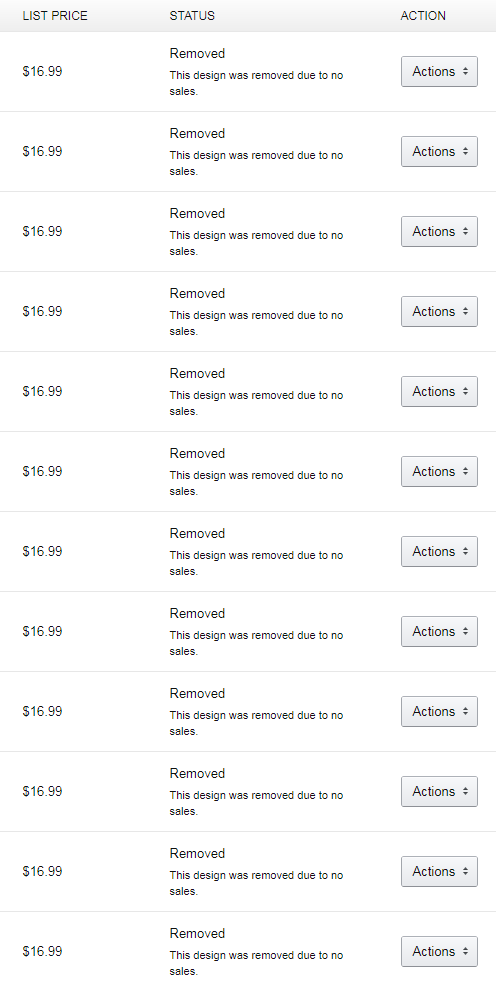 My girlfriend has 10 pages of this or around 150 designs that have been removed for no sales. This is a big opportunity here and something that has been happening over the past month.
The plan is to reupload them after taking another look at the niches and finding out what keywords the competition is using that IS selling shirts in those niches. Getting those 150 designs back up is going to be huge for Q4 and if she can keep up, should be ready for a tier up soon!

The Results For August
Before we get to it, here is a quick recap of the July numbers: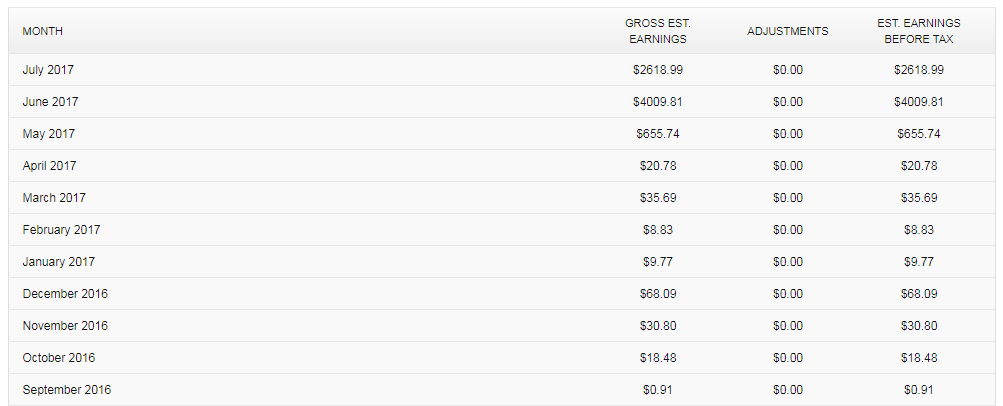 Last month you will see that July looks a little bit higher than was reported in the last article. This is because Amazon will pay based on when the products ship out. The extra money should be attached to the payment the month following. This month was still a down month just like the majority of people in the community are reporting, and in fact, we are down more than last month here. Keep your head up though!
I should also note that all the shirts are priced right around $16.99 except for those that have reviews and are proven sellers which have seen the price bumped up. This is the sweet spot that we have found, but I know a few others are following the same outline but have jacked all their shirts up to $19.99. This is something we are considering doing for Q4.
Here are what the current uploads are looking like. Keep in mind that we are dealing with a lot of removals for not getting a sale in 90 days.



Here is a summary of the totals for August 2017 from downloading the excel spreadsheet:



470 shirts sold with $2068.95 in royalties.
This is an absolute disappointment if we are being honest. I think it is important to remain transparent and it probably helps a lot of people that are facing the same exact thing. Q4 is just starting here, and I am happy to report that numbers are finally trending upwards from here!
The Math
Since designs can easily be created yourself (and what most people are doing when they start), we are only going to be including the royalties in the math.