100k School Debt to Financial Freedom – FINAL Merch by Amazon Update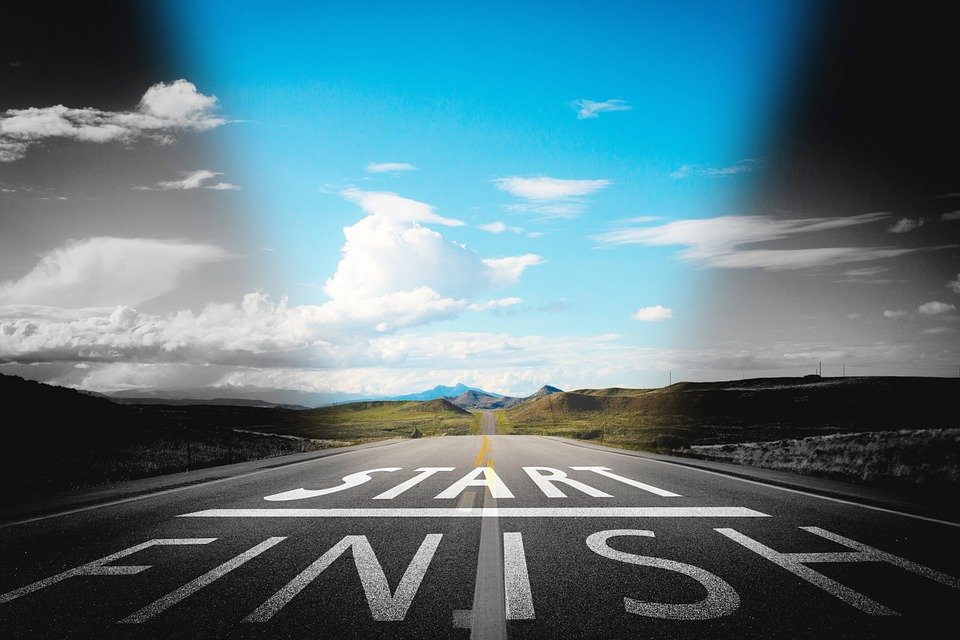 Hello Fellow Merchers!
Melissa here (aka "the girlfriend") to wrap up this year-long case study.  Where have the last 12 months gone?! Anyway, let's jump right in and discuss the highs, the lows, mistakes and the realities of selling via Merch By Amazon.
As mentioned in the first month's write-up, my Merch journey started in August 2016 when I was accepted to the program. At that time I had just finished up my first Bachelor's degree (Psychology) and decided that I wanted to pursue a career in medicine. In the midst of applying to Nursing school Neil got the itch to leave Madison, Wisconsin and move to good ole Colorado. I quit my full time job back home, didn't know if I'd gotten into any schools out here and essentially had zero income. Neil and Todor had recently launched Merch Informer (maybe you've heard of it) and were still figuring out the entrepreneurship — basically life was a hot mess. Neil pushed me to upload my shirt limit (25 at that time), which I did very excitedly, expecting to make sales immediately………*crickets*

A whole $0.00 in the first month. AWESOME! Sales waxed and waned. Of course my shirts ran into the 60 day rule (now changed, thank god) so I was finding myself uploading the same damn 25 shirts that weren't selling well anyway. I started nursing school in January, hence the $100k in student loans, and this trend in sales continued until April 2017, the first month of my case study. At that time Neil stated the following about my Merch account results, "As you can see, very unimpressive." <—RUDE.

In May 2018 Denver was hit with a MASSIVE hail storm and the Grand Cherokee I had just bought a few months previously was destroyed. The drama continued, no car (no way to get to school), 100k in debt, and no income. What is my life?
Now, I'll admit that I can be stubborn at times. I was sad, exhausted, car-less — yet Neil harassed me everyday about keeping up with my uploads. I didn't know how to use Merch Informer, what I had been doing clearly wasn't working. I felt stuck. After a million and one discussions about taking action I finally decided to create my very first Merch Informer "Favorites" folder. It was actually kind of fun seeing the ridiculous designs that sold. I learned all about BSR, keywords, my target audience and the three main modules that Merch Informer had at the time (Brand Search, Product Search, Favorites). In May 2017 I promised Neil that I'd give Merch a good old college try.
At this point my rage and competitive edge took over. I've accomplished a good amount in 26 years on this planet, I can damn well sell some shirts on Amazon. I used Merch Informer to find new designs that sold and was quickly at T100. From then on I found myself uploading during class, in between classes, at lunch, after a long day of clinicals at 9pm and during every waking moment in between. I'd found my stride — which I'll talk about later–is probably the hardest part of getting your Merch business off the ground. Once I started seeing results and found a method to the madness I continued to tier up, I bought a new car, paid down $35,000 of my student debt. I've now graduated from Nursing School and work as a Neuroscience Nurse. I'm still making it a point to upload shirts on my 3-4 days off each week and am proud to announce that I've officially sold more than 10,000 shirts in the last year! My mind is absolutely blown.


My Numbers
My monthly earning for the past year are as follows (April 2018 not posted yet – $4000)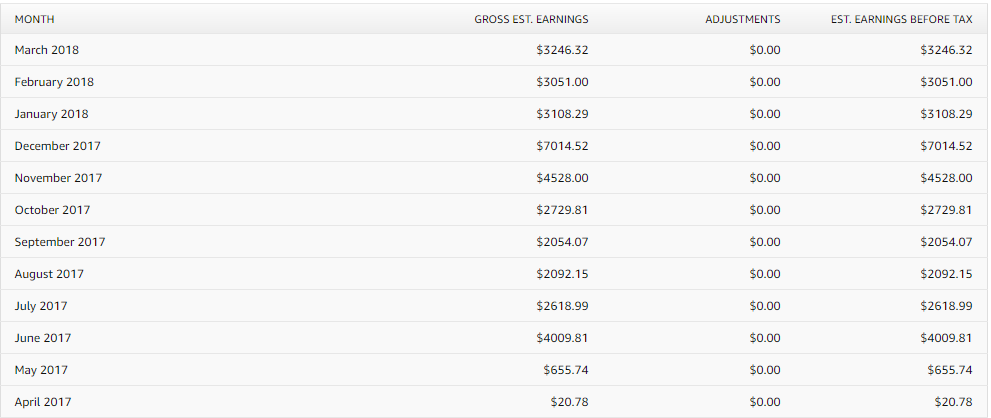 Did I Reach My Goal?
Let's talk about what this means in terms of my goal — paying off ALL of my student loan debt. This year has been about building my Merch account into an asset – tiering up and consistently doing research/uploading. While I didn't gross $100k and pay off my loans in one lump sum, I have paid off $35k.
At this point my account has averaged $4160/month for the last 6 months (thank you Q4). This type of business typically has a multiple of 25-35 monthly royalties depending on the age of the business, number of unique designs and processes in place to automate workflow. In my case, using the 6 month average of $4160/month and an expected multiple of 30x monthly royalty, my business is currently worth:
$124,735
In 12 months I was able to make $41,500, but also turned my account into a $124,735 asset. Combined, this means I've created a business worth $166,235 putting in a few hours of work each and every day.
I can't believe how far I've come! Thanks to Merch Informer I've learned how to expedite my research process, hit my upload limits and sell a crazy amount of shirts!
For those of your just starting out — this goal is attainable. And for that reason I strongly encourage you to sign up for Merch Informer today. Don't waste hours and hours doing market research when this tools gives you all the same information in ONE PLACE!
The Technicalities
My biggest initial obstacle was the fact that while I'm a millennial and use electronics constantly, I didn't know how to go about selling on Amazon. I buy stuff online all the time, but how do I know what other people want? Sure, I can outsource to a designer but how do I know that people will buy it?
After making my favorites folder I first used the Product Search (and later the Merch Hunter) module to find products in the 100,000-600,000 BSR range. Typically I look for shirts priced above $16.99 with poor keyword optimization and 0-3 reviews.
To start, I priced my designs low. When I say low I'm talking $12.99. Now, price seems to be a hot topic in a lot of Facebook groups, so let me explain my rationale. Of course I'm in this to make money and at $12.99 I may as well be giving the shirts away for free. However, I'm playing the long game. I want to sell shirts quickly so that I can continue tiering up. If I price my shirt at $19.99 right off the bat my chances of making sales and getting those reviews are lower/slower but my profits will be higher.
Now that I'm at tier 4K, and Amazon has changed their royalties, all my standard shirt base prices are $16.99 until they get about 20 sales or at least one review. Then, depending on the BSR I increase the price to $19.99 for a basic tee. Again, this is just my personal strategy and people can choose their own methods.
Understanding Trademarks/Copyright
Neil referred me to TESS, the United States Patent and Trademark Office website, and after a quick discussion I understood the basics of infringement. I use this website every single day. It's a staple in my process and in my opinion absolutely essential for keeping your account in good standing. I even check and re-check shirts as they come down from the 90 day rule because trademarks are constantly changing. Again, I'm thinking long term.
My advice is if you have even an once of doubt about whether a word or phrase is trademarked then simply stay away from it. Those few extra sales aren't worth the risk, especially for those higher tier accounts that are truly assets. That being said, I still holler questions to Neil in his office at least once a day about trademarks — which I'm sure he enjoys.
Outsourcing designs
I've been outsourcing designs from the very beginning. Now, in many of the Facebook groups there seems to be a negative stigma around hiring designers, which I don't quite understand. My motto is to work SMARTER. I work 3-4 13 hour shifts a week as a Nurse and have an upload limit of 400 shirts a day. It doesn't make sense for me to create all of my designs myself — and based on my artistic skill I'd say I'm doing the customers of Amazon a huge favor.
If I designed every single one of my four THOUSAND shirts that'd leave me very little upload time, not to mention time to do anything else that I enjoy on my days off. I know there are tons of people with kids/grandkids and people that work much longer hours than I do. So please, while we harp on hitting those upload limits everyday we all also have lives outside of Merch. So by all means, if hiring a designer for $4/design gives you a little bit more freedom — DO IT!
How To Use Upwork To Outsource And Scale Your Merch Business
Just make sure that they're providing you with quality work, they aren't infringing on the rights/designs of anyone else and again that you always TESS check and reverse Google image search everything.
This leads me to the most recent update to Merch Informer — The Merch Informer Products Designer, which gives people like me some help in the design department. I had a chance to play around with it this morning and made a pretty awesome looking shirt in 5-10 minutes! This is what the designer looks like below: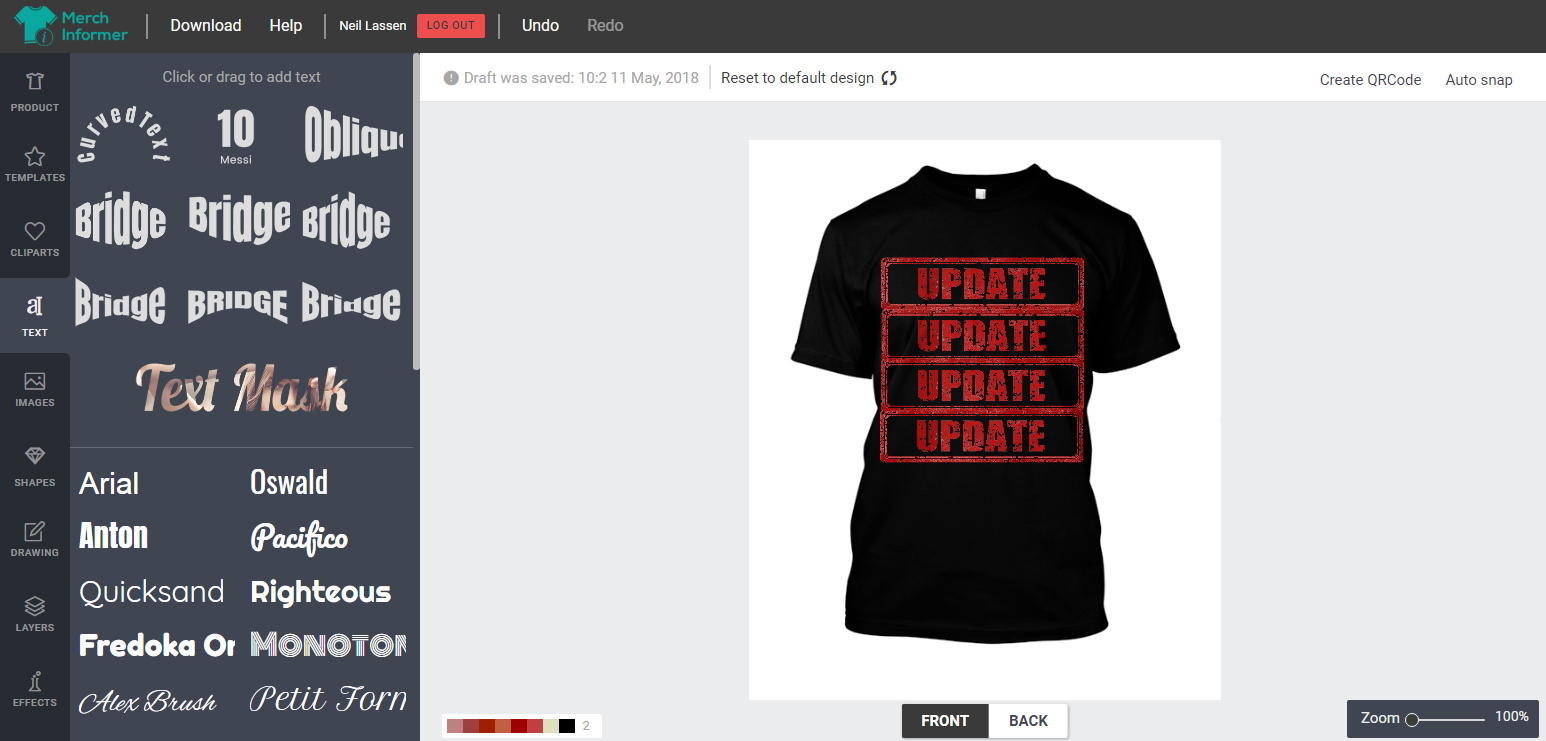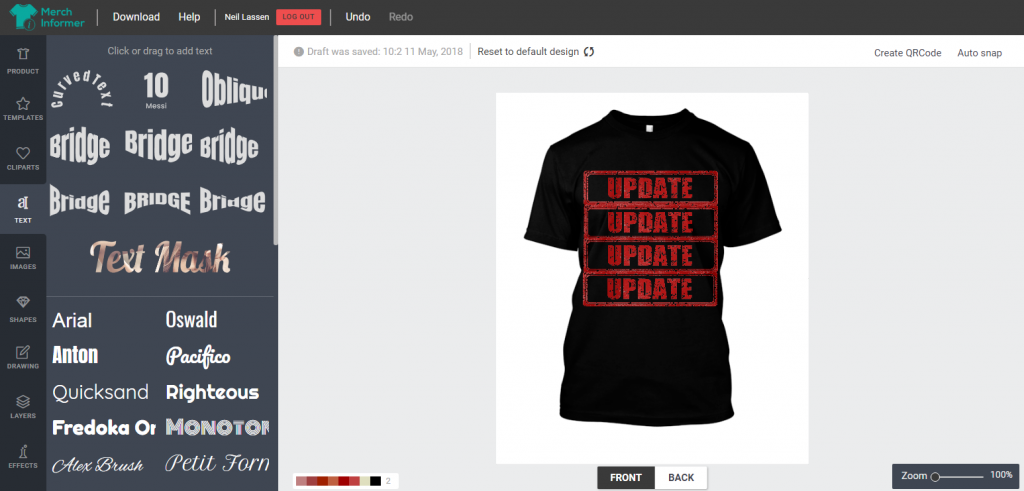 Types of shirts
I know that all accounts now have access to sweatshirts and hoodies, but back in May 2017 when this case study started I was only able to upload standard and premium tees. I uploaded unique standard designs until I hit tier 1000, and then uploaded those designs to premium. I gained access to long sleeves around month 7 and then sweatshirts/hoodies in January (month 9). I'm still currently in the process of uploading all my designs to all formats and am hoping to tier up to 8k very soon (based on 10k sold)!
Etsy
I also created my own Etsy store in September 2017 and uploaded 100 of my shirts to see how sales compared to Amazon. Remember, Etsy doesn't get nearly the about of traffic that Amazon does, however your profit per shirt will be considerably higher (~$8 for a standard tee). Over the last 4 months I've sold 60 shirts and gotten 13 5 star reviews for my shop. My overall numbers are as follows:




My goal for the next year is to put the majority of my shirts up on the Etsy Marketplace to continue increasing the value of my business. This is one area, I admit, that I still need some help with. There are some Merchers on Etsy with just a few hundred shirts up absolutely crushing their competition. I'd love to reach out to them for any tips or advice. If you're one of those people, PLEASE drop some knowledge in the comments below! Do you run traffic to your shirts? I've integrated my stored with Printful to expedite the production and shipping process and have been generally pleased.
My only complaint is that I'm constantly getting messages from customers asking about shirt color options. The shirt displays/colors aren't as consumer friendly as the Amazon listings are.
Sell Your Amazon Merch Designs On Etsy With The New Printful Integration
The Process
Right now I want to discuss my exact method — from research, to my designers, to uploading and sales.
Merch Informer
My one and only research tool (SERIOUSLY). While you all probably think I'm slightly biased (I won't argue with that), I will say that even if I wasn't dating a Merch guru I would still without a doubt pay for Merch Informer.
AIN'T NOBODY GOT TIME FOR MANUAL RESEARCH!
Seriously, I don't have time to do research for even more than hour a day, let alone 8 hours (how long it'd take me to do research that would keep up with my 400 upload/day limit).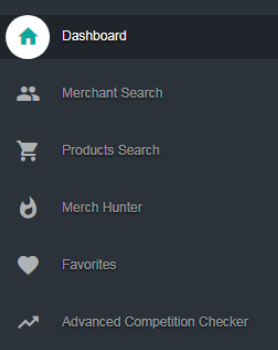 My three go to modules are the Product Search, Merch Hunter (**my favorite) and Favorites. Product search is great for looking up real time data about niches that I'm interested in.
For example, maybe I want to see all of the shirts related to camping that are selling right now. Just type that into the product search and you can see the latest data about all shirts in that niche. Even sort my price, don't waste your time competing with shirts priced at $12.99. This also shows your shirts with reviews. Again, don't waste your time competing with shirts that have more than 5 good reviews.
Maybe I'm having a hard time coming up with shirt ideas/inspiration that day — then I head over to the Merch Hunter and take a look at what's selling well in general. I'll take a look at top selling shirts with 0-100k BSR to get a feel for the market. Where are consumers heads at? What are they spending their hard earned money on? Are there any trends or similarities between designs? Is there a holiday coming up that I'm now aware of? Then I'll broaden my search to all shirts with 100k+ BSR to find shirts that are evergreen and have less competition.
In terms of product breakdown I try to keep 80-85% of my designs evergreen. I want shirts selling consistently so that I can keep increasing my royalties each month. The other 15-20% of my designs are based around holidays and trends.
Once I've got a favorites list of about 50 shirts that have peaked my interest I go through the list and check all sayings/words on TESS. If a shirt is image only I'll reverse Google image search. Another important point is that I generally avoid text only designs. The less unique your design is the easier it will be for a competitor to report you as infringing on their work, and I don't want to be any part of that.
This process will likely weed out at least 25% of favorites folder.
Next, I often leave these designs in my favorites folder for a number of days. Then I'll re-open all the shirts and check their current BSR. If one has dropped from the 100-600K range down to 1million+ BSR then I'll delete it from my list. Clearly there isn't a true demand and I'm not going to create a design for that. I'll also take a look at the Trend Hunter module which shows you BSR trends. This graph can also give you a good idea of whether or not the seller is running traffic to their shirt.
Outsourcing
I've had to hire 3 designers to keep up with demand for my account and I found them all on Upwork. You can check out the related article on how to do this above.
Side note – after that article went out there were a huge number of copy/pasted scripts from the article on Upwork. If you're going to hire, make yours unique. You want designers that can answer your questions, be honest with you and are always on time. I've built a relationship with my designers but I strongly suggest having them attach any clip art of images (other than their own) that were used. That way you can continue checking their work and make sure that your design isn't infringing on the rights of anyone else. I typically send out batches of 30-50 shirts at a time and set their deadline for 1 week.
Once the designers send me their work, I go back through my favorites folder and make sure that the new designs are different from the originals.
Uploading
Uploading is a process. Typically I open up 10 new tabs on my computer and put 2 designs up in all 5 forms. This expedites the process because you can copy and paste your brand name, title and bullet points.
Earlier in the year I ran a test to determine whether Brand Name truly mattered. My results…IT DOES. Make sure that the Brand Name you're using is related to the design in some way. This works in my favor by becoming one more keyword that I can use to your advantage. Again, always TESS check your brand name and all keyword combinations in the bullet points.
In terms of shirt titles, keep it professional. Capitalize the first letter of each word and type out "T-Shirt" (or other type of product) at the end. Make sure it's an accurate description of your shirt and includes appropriate keywords (e.g., Best Mom Ever Cute Mother's Day T-Shirt)
My biggest pet peeve — DON'T KEYWORD STUFF. Don't enter keywords in list format (e.g., mother, mother's day, mama, mom, best mom, favorite mom). You want your audience to be able to read sentences about your design and have them make sense. Utilize a few great keywords in the most valuable way possible. Then copy and paste this bullet point into the produce description so that mobile buyers can also see it.
Again, my upload limit is 400/day. Do I often hit this limit? No. But I do make an effort on my days off to try and put up 100-200 which is enough to deal with all my shirts hitting the 90 day rule. My point, don't forget to take some time for yourself/family/significant other too. Is your business important? Of course, but remember to keep it in perspective too and don't beat yourself up if you decide to take a night off (easier said than done).
Mistakes
Whether you're at T25 or T100,000 you're going to make mistakes. That's a fact of life. And that's okay. We live and learn and that's the important part. That being said I thought I'd take a moment to openly talk about my Merch screw ups!
I've had a total of 8 shirts removed for Content Policy violations.
Things I've learned — stay up to date on Japanese cat cartoon characters (they aren't just cute cats), no swearing, uploading the same design to 5 different products can sometimes backfire on you, and finally some people just suck.
Three of these were false takedowns, which I could prove by upload date and TESS/Google check. In these cases I submitted all of that information to Amazon.
The most important thing to remember about rejections and take-downs is to RESPOND to them. You want Amazon to know that you're serious about your business and you're making your best effort to keep your account in good standing. If you were at fault, it's okay to admit that and state how you'll prevent the same mistake in the future. If you believe the design was falsely reported, build a complete and respectful case for yourself that Amazon can reference if there are any questions in the future.
Conclusion
I can't believe I've been at this for a year already! It's been a rollercoaster of emotions – from life changes, to tier up, changes in royalties, take downs, etc. Though this can be a time consuming and stressful process I am grateful beyond words to Neil for introducing me to this platform. It's helped me to not only gain financial freedom from student loans but also opened doors for a future in business that I never would have had.
Merch Informer is truly the best and most efficient tool for your account and Neil/Todor/Dimitar and the rest of the Merch Informer team amaze me everyday with their dedication to improving an already great SaaS.
I also want to thank everyone that has taken the time out of their day to keep up with and read my monthly case study updates. I hope that they've been helpful but most of all I hope they've been real. This is my reality. I have proven to myself that I can make this business work and I hope that I've also proven to all of you that your business can be successful as well.
My current short term goal is to reach 8K tier very soon and continue to upload/design. Hell I may start making some of my own designs too. In the long term I also want to get all my designs up on Etsy within the year and potentially other POD platforms. Also on the list to do is sign/contract some designers onto my account via Behance.
I'll check back in with everyone around the 18 and 24 month mark to let you know how my Merch journey has continued to pan out. Feel free to let me know how your account is doing in the comments below!
The Results For April
Before we get to it, here is a quick recap of the March numbers: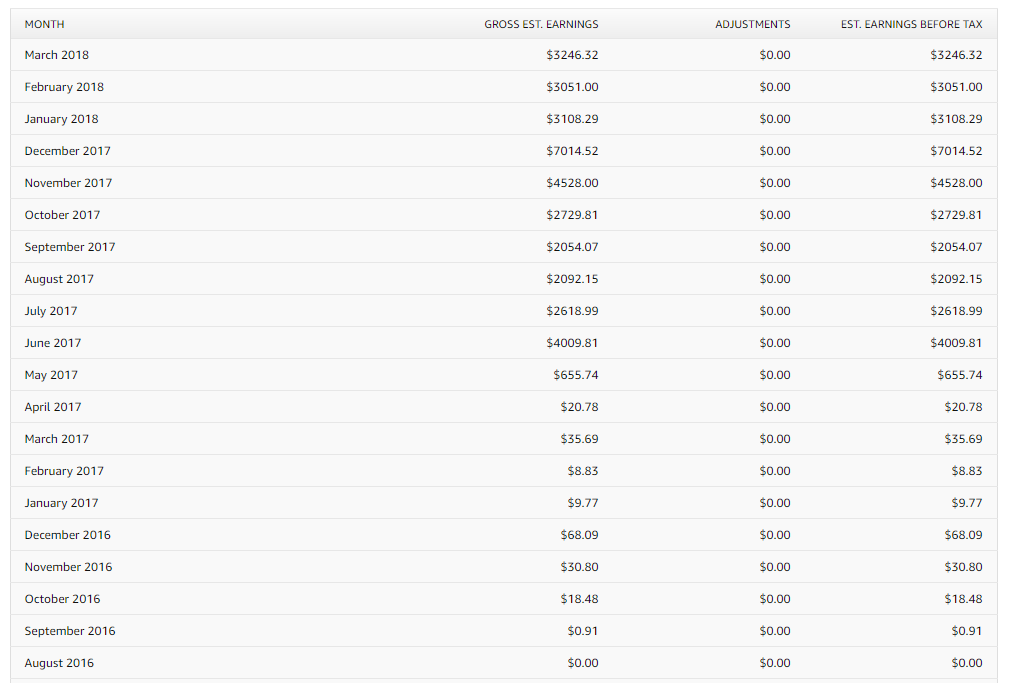 You might notice that March numbers are a little different than was reported in the last case study. This is because you get paid in the period when the item ships, not when a customer purchases it.
Currently all the shirts are priced at $16.99 for standard and premium are being priced at $19.99.  Long sleeves are being priced just above $25 to take advantage of the free shipping while sweatshirts and hoodies are priced at the recommended price.
Here is a summary of the totals for April 2018 from downloading the excel spreadsheet:

$4,032.29 in royalties with 1,167 products sold. Not bad at all!
Here is a breakdown of the shirts sold:


The Math
Since designs can easily be created yourself (and what most people are doing when they start), we are only going to be including the royalties in the math.
Debt: $64,584.34
Royalties: $4,032.29
---
Debt Remaining: $60,552.05
+
Business Worth $124,735