Merch by Amazon Shirt Reviews – Should You Enter Those Niches?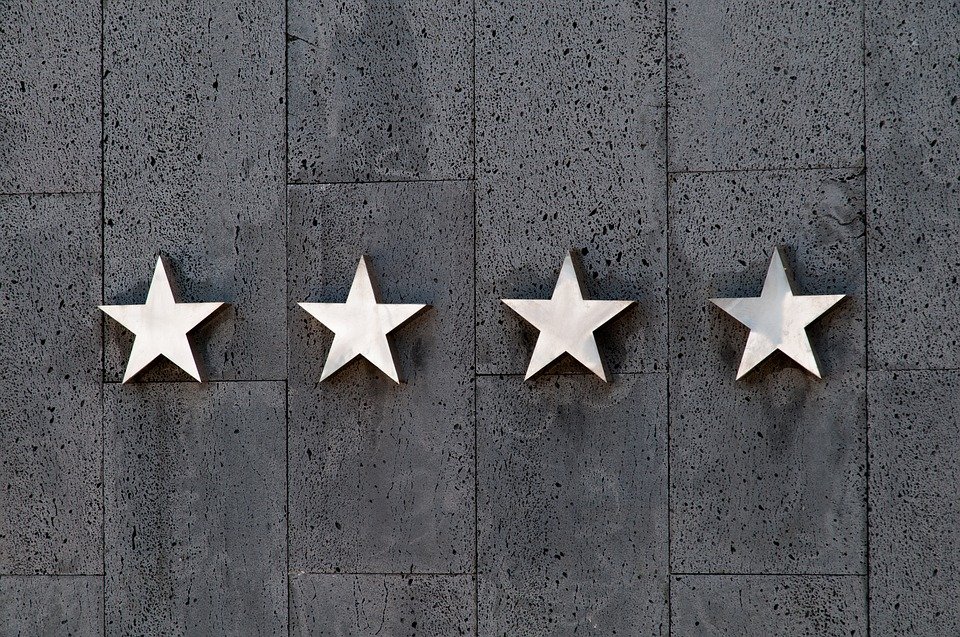 When people first start getting into Merch by Amazon and learn how to do their research, I see one mistake popping up over and over again. They are simply NOT paying attention to reviews.
It is only one piece of the puzzle to find out what people are pulling their wallets out and purchasing. You do this by looking at the BSR (best sellers rank) which gives you an idea of how well a particular niche is selling. Now people might disregard this and try and come up with their own niches, but all this is doing is putting you at a disadvantage by guessing what the customer actually wants. If you want to look at BSR and keep the competition LOW (which should be the goal), take a look at 100k and above BSR. I have found this to be the sweet spot of shirts that sell consistently, but where you can still get some traction if you were to enter that niche.
My sister actually just started doing the research for her account based on the BSR but when I took at all the listings and niches she had saved within the Merch Informer favorites module, I noticed the same issue popping up. She was completely disregarding the reviews that those niches had! Reviews are one of the most important metrics on Amazon that will determine if your shirt continues to sell or not.
Reviews? What To Look For
One of the reasons I think I have such a high sell through rate on my shirts is that I got into the program early and priced really low while everyone else was pricing high. This allowed me to do a bunch of volume on my shirts that other people simply were not doing. This volume allowed me to accumulate a lot more reviews than they did. Since the chance of getting a review is so low (we are not able to reach out to the customer at all), the only chance you have at getting some is simply selling more shirts.
Once your shirt gets a SINGLE review, it has seemed that that shirt is going to continue selling in the future and will not stop. All it takes is that one 5 star review to really launch your product over everyone else. It is the social proof that buyers want, and if a buyer has a choice between a shirt with a 5 star review, and one without, almost always they will pick the shirt that has been reviewed.
Amazon buyers shop with their eyes first (when it comes to shirts), and then reviews second. If your shirt has a single part of that equation, you will be on the losing end of the stick.
For this reason, I had to explain to my sister that was doing her research that if she saw a niche where the top shirts had more than a single review, she would be better off finding another niche. You might be able to come up with a better design, but unless you can get the traction needed to get ahead of the shirts with multiple reviews, you are always going to be coming in second.
Example Shirt That Has Reviews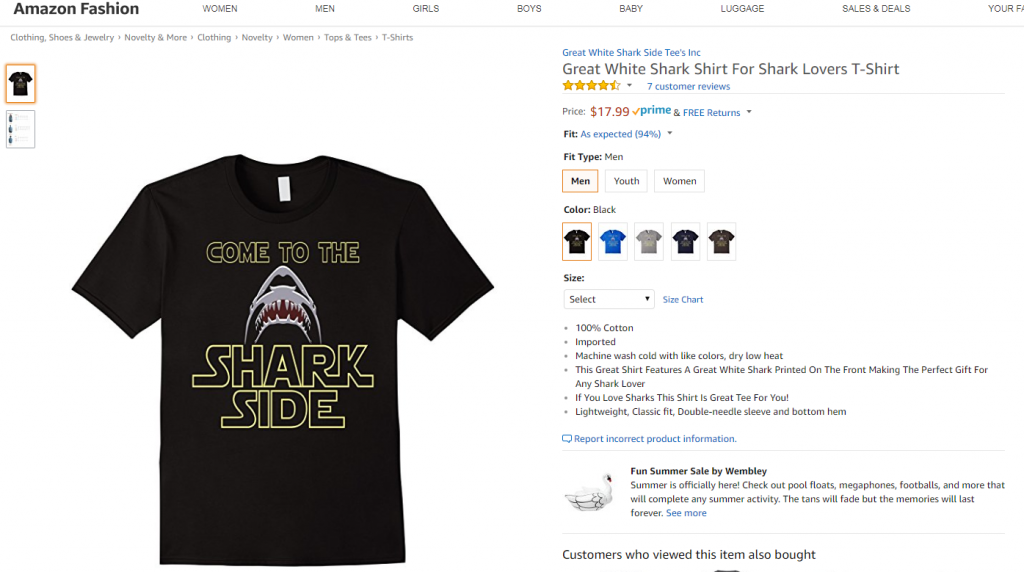 Now before I go on, this is not my shirt at all, but one I am going to use as an example. This is potentially problematic in the eyes of Amazon because of the font they used so if this is your shirt, I would probably go fix that to some other font.
Now, this shirt looks pretty good and has a fancy saying with some decent keywords in the title, brand, and bullet points. Of course it could be worked on (especially the bullet points), but we see that this product is selling:



Now, a lot of people would notice it is selling almost 1 shirt a day at $17.99 and just jump on it right away!
This would be a huge mistake in my opinion. What people have not noticed is that this shirt has 7 customer reviews which is a LOT of reviews in the Merch by Amazon world.
Not only that, but most of them are 5 star reviews and they are all real and verified.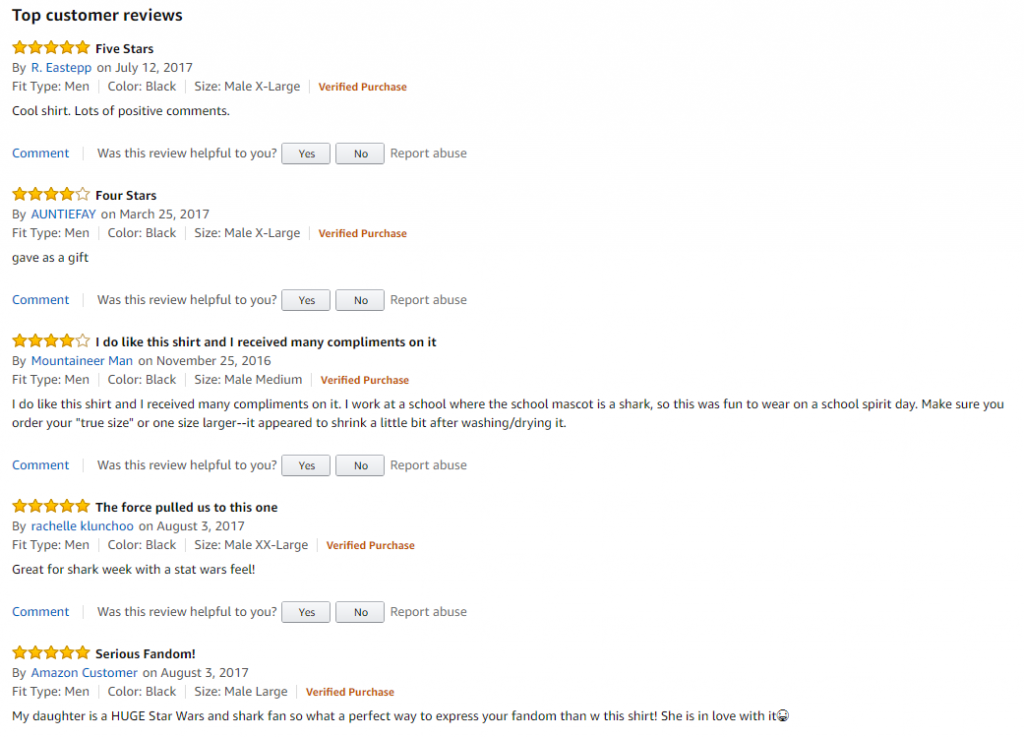 If your strategy is to make consistent sales, I would stay away with niches that have more than a single review on a shirt. Instead of going up against competition that has been in the game for a while (you can see this shirt has been consistently selling based on the date on the reviews), find a sub niche where you can squeeze yourself in and make those daily sales as well. There are so many niches out there, you do not need to go up against these shirts that will always win.
https://merchinformer.com/ultimate-merch-amazon-careerhobby-list/
Fake Reviews?
Now, everything I mentioned above has to do with real verified reviews on the listings.
Unfortunately, some people have figured out that they can fake the reviews by having a bunch of accounts (or friends) not purchase the shirt but adding a fake 5 star review to the listing. This gives the buyer the social proof they want without anyone actually purchasing the shirt.
I fully expect Merch by Amazon to come down on this practice in the near future so do NOT try and skirt around the system. That being said, let me show you how to spot these. If you end up finding a shirt with 1 fake review, or even a few fake reviews, I would still enter that niche because eventually Amazon should fix this issue and that leaves you ahead of the pack if you can get the traction.
The first sign of a fake review is the not "verified" tag on the review.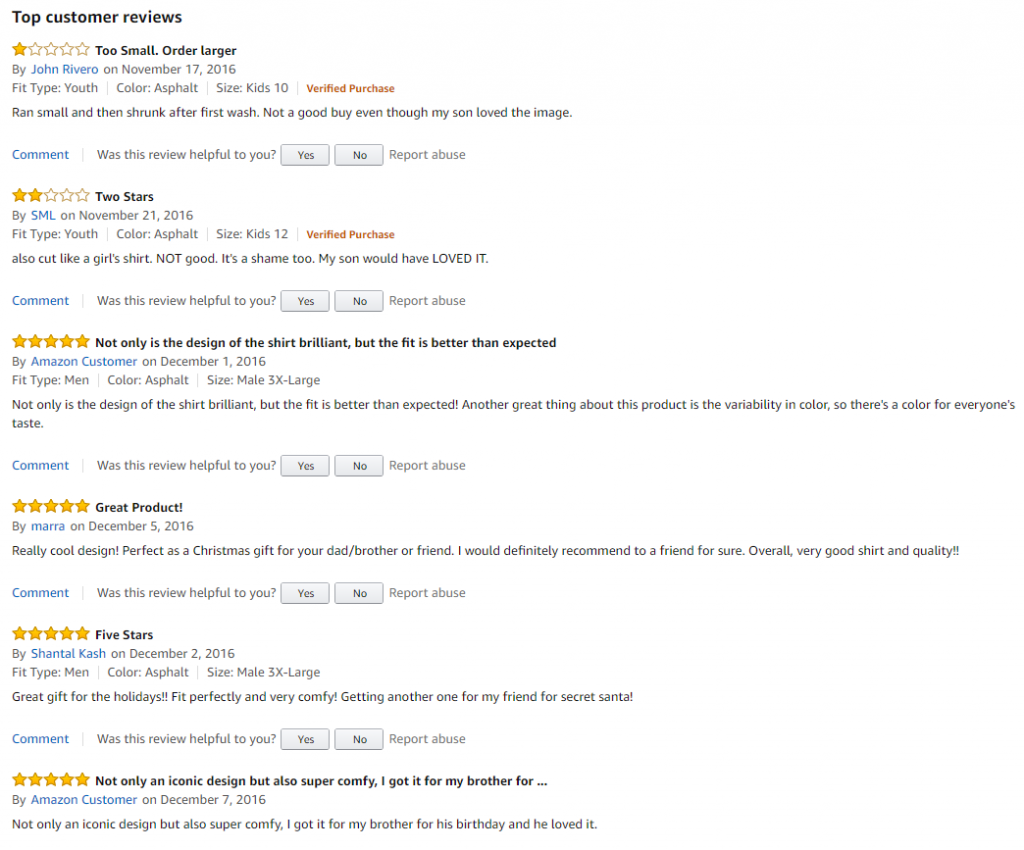 Notice how the 2 REAL reviews are very negative of this shirt giving both 1 and 2 star reviews. The other reviews underneath are giving 5 stars and are NOT real reviews. They are fake and do not have the verified purchase tag.
The second sign of fake reviews is the time they are posted. Since the people doing these fake reviews think they have figured out how to game the system, they normally do not take many actions to hide it.


2 fake reviews in one day, and then a third the day after?
This is almost laughable. Anyone in the game knows that you have to do a LOT of shirt sales before you get a review generally and that reviews are very rare to get in the first place. If you see a lot of non verified reviews in a row based on the date, you know that the person who owns the shirt design is trying to boost up their design and play with the algo.
Finally, and this one is my favorite, you can actually see what all these fake accounts are reviewing.
If you click on the blue name of the customer review, it will show you the Amazon profile and everything they have reviewed. The people doing these fake reviews clearly have no idea this is a thing…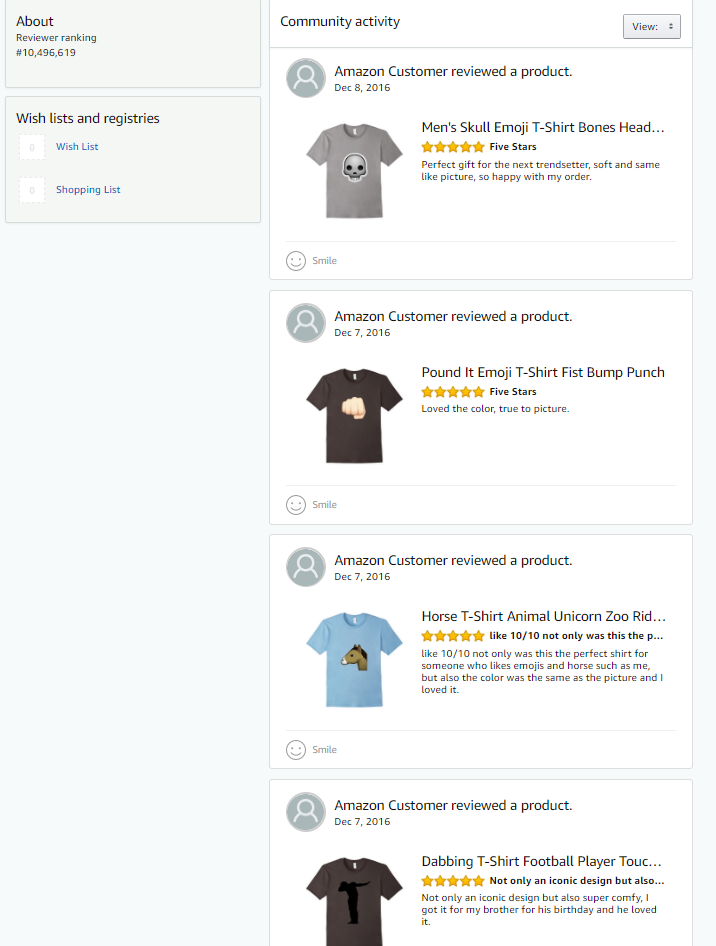 If you click on their customer name and you see something like this, you just have to wonder why Amazon has not done anything about this practice in Merch yet. One profile reviewing all different shirts from the SAME brand, on the same dates, without actually purchasing the item and giving all 5 star reviews?
Yep, you can be 100% positive this is a fake account giving fake reviews.
Wrapping It Up
The takeaway from this article should be simple. If you want to attack the low competition, low hanging fruit, if you see a shirt with lots of reviews, stay away from it. Keep digging until you find a way where you can enter the market and not go up against the best sellers that have been out there for over a year or more. Remember, getting those reviews can boost your shirt to new heights but they need to be from REAL buyers. Do as much volume as possible (market your shirts), and you will come out ahead of the game.