Merch Informer Book Hunter Chrome Extension UPDATE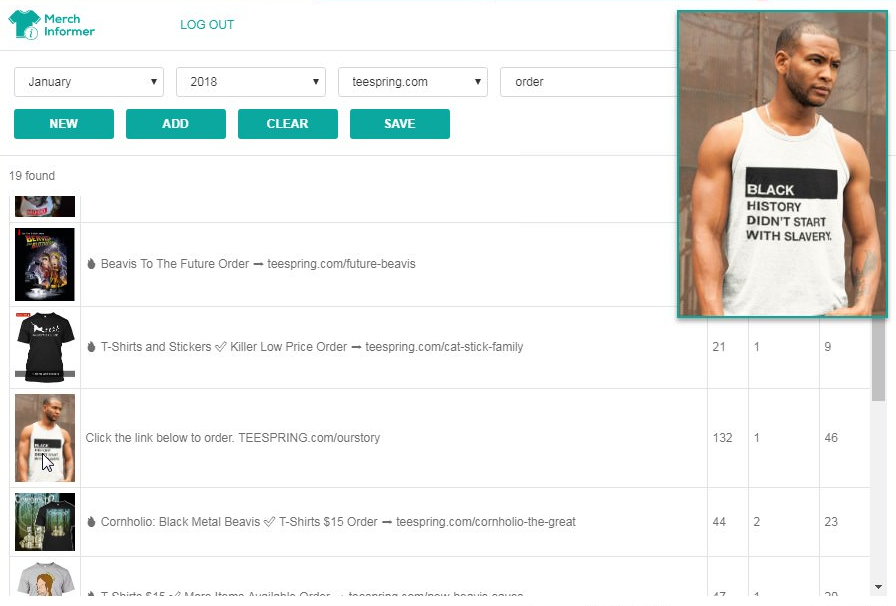 This post is also available in:
German
Earlier this month we released our new Chrome extension which is part of the Merch Informer family of research products: The Merch Informer Book Hunter.
This has already been a great source of easy, unsaturated niches that you can use on Merch by Amazon by using SOCIAL proof! The entire idea was to find ideas off of Amazon (on social media instead), and get some social proof that these niches have customer demand.
Bringing fresh ideas onto the Merch platform with your own designs in niches which demand is such an easy way to make sales. If you are unique (but there is demand in those niches), this makes your products stick out, and leads to sales!
While this was already easy, we decided to make it even better!
Merch Informer Book Hunter Update
If you have not already, make sure to grab the plugin from the Google Chrome store here: https://chrome.google.com/webstore/detail/merch-informer-book-hunte/nhaniflhedjjeomiajkheofdaeeabfgg. This plugin is free for everyone who has a Merch Informer login (try out a 3 day free trial today)!
After you have downloaded the plugin, click on the icon in the upper right hand corner of your Chrome browser and log in!
Note: Turn off your ad blocker, and restart Chrome if it does not instantly show up for you.
After this, head over to FB and you will presented with the updated interface that looks like this:

If you are not familiar with how everything works, please head over to our release article here.
For those that do, this will look a bit different.
We got rid of all the different modifiers in a drop menu and added a spot to add YOUR OWN KEYWORDS!
All the previous modifiers are still there in a drop down menu: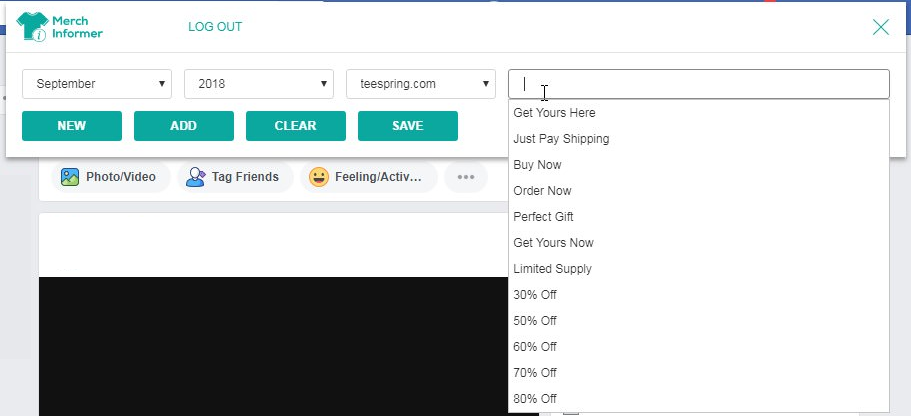 Niche Example
With the new option to enter in your own keywords, this makes finding untapped niches even easier.
Lets just select January of 2018, and then teespring.com as our site of choice.
For our unique keyword, I will simply put in "order". Since many amateur sellers simply post on social media and just say "order – LINK HERE", this will pull back a lot of interesting niches for us.

Click on "New" which will rip through a search and bring back lots of targets.
Simply from going through these, this one caught my eye: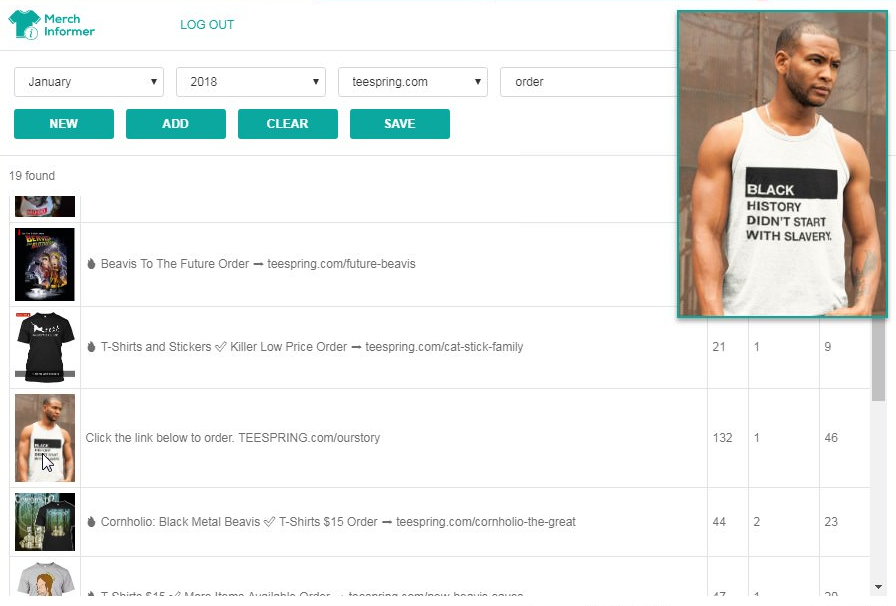 This took about 15 seconds, let's take a look into the competition on Amazon.
First thing I will check is how many designs are actually up (not how many are selling). This will give us an idea of just how many shirts are on the platform, in absolutely no order at all.
Under 100 results, and half of them are from the same guy (with a different saying completely).
Now, let's pop into the Merch Informer software and see how many of these are actually actively SELLING!

18 shirts actually selling. EASY!
While the average BSR is a bit high, this type of niche takes off during black history month, so it only makes sense.
Wrapping It Up
The point here though, is how easy it is to get off of Amazon, then bring results back onto Amazon and see what is for sale. If there is demand, come to the table with something UNIQUE! Finding these with the updated Book hunter is literally easier than ever.
Want to bring something completely different to the table with this SAME research? Try mixing it up:
Women's history month
Asian Pacific American Heritage Month
Hispanic Heritage Month
Native American Heritage Month
Good luck and have fun with the update!