It Is Never Too Late To Enter Merch by Amazon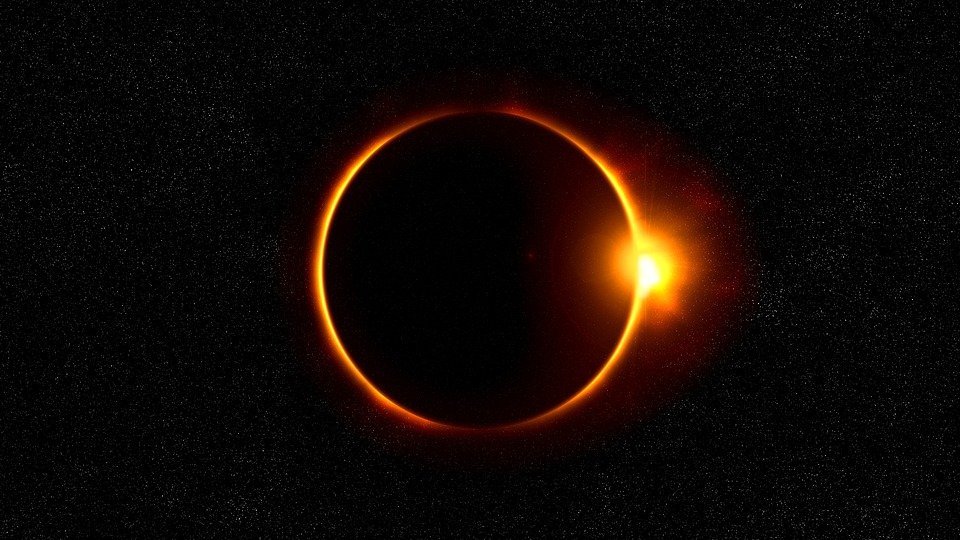 With the Merch by Amazon program nearing its 2 year birthday coming up here soon, I have been thinking a lot. I get a lot of questions each day through Merch Informer as well as Facebook about Merch and if it would be too difficult to get started now.
Too much competition!
Too Saturated!
How can I stand out with hundreds of thousands of shirts already on Amazon?
I know if you read the Merch Informer blog (which you are doing right now!), you have probably heard these questions and claims as well. Today I want to address them.
Let me be very clear. With the program still in its infancy, there is so much room for growth and so much more money to be made, you would have to be crazy to not see the opportunity that is in front of you. Take FBA for example, there are still people clearing millions a month and many more doing thousands or even tens of thousands of dollars every single month and that program is over 10 years old!
Too Much Competition!
I never really understood this claim. This goes hand in hand with people saying the program is already saturated.
Competition is market validation!
When you are doing your niche research or just simply taking a look at the shirts that are on the Merch by Amazon marketplace, you quickly notice that some shirts are crushing it, while others are not. You see that a lot of people are going into certain niches (moms, dads, vetrans, eclipse shirts anyone?). You know what this tells me? It tells me that because there is competition there, that there is also money to be made! Your market is validated and you know customers are physically taking their wallet out and entering in their credit card information to buy those products.
When you release a product, software, info course, or any other item for sale, do you have any idea how much time and money it takes to actually validate those ideas before they are offered for sale? A LOT! Amazon has done this work for you so right there, saving your time, money and a whole lot of effort.
Competition is great! I know we talk a lot about finding less competitive niches and this strategy works very well when you have thousands of slots to fill, but otherwise, competitive niches means $$$$$ that other people are making and that you TOO can make. Pretty simple concept. Learn to accept and love competition.
Trends
You know what niches have a lot of competition? Trends do! Some people hammer them home, some people stay away, and others do not even look at trends at all (which is a big mistake by the way).
It only takes a single shirt to change your life.
Sounds pretty corny when I type that out, but this is absolutely true. Trends are constantly happening and it seems like every other month there is some trend that is taking off on Amazon.
If you never start because you are afraid of competition, or are wondering if it is too late to make real money on Merch by Amazon, please just take a look at these screenshots of the biggest trend I have ever seen on Merch so far: eclipse shirts.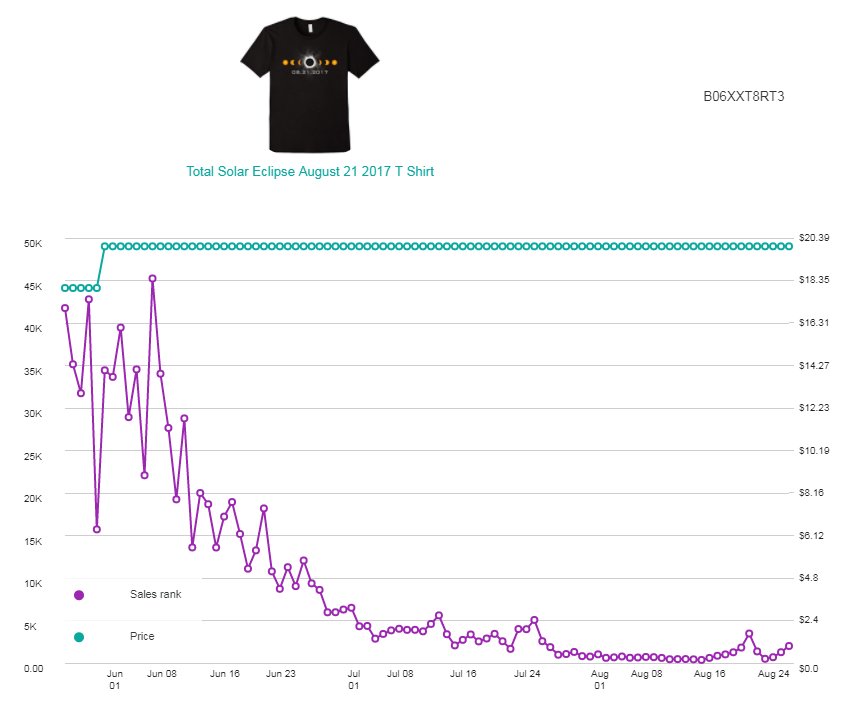 The person that did this shirt, also did one other that took off: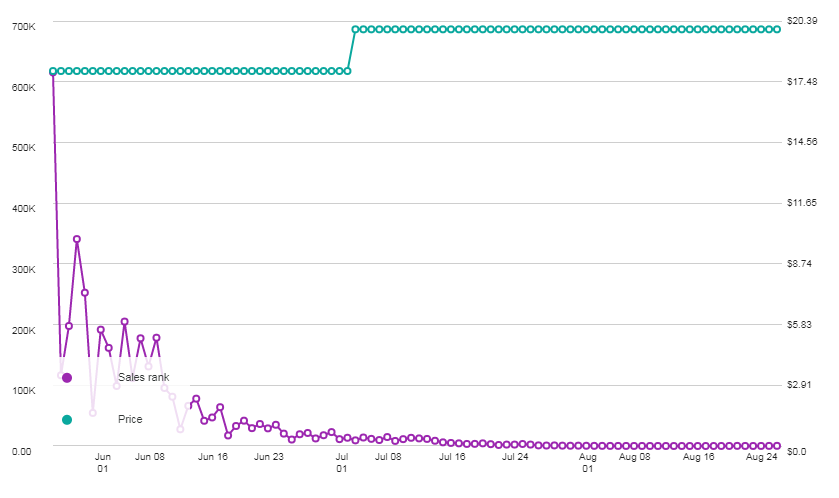 Since starting Merch Informer, I am in a unique position where I pretty much know and talk to all the biggest sellers around. It just so happens I talked to the person who's account had these shirts on them and they are a Merch Informer user! (3 day free trial anyone?)
Curious to see what those 2 shirts did?

That, ladies and gentlemen, is 40k a WEEK!
This is not a tier 8k account where they are just throwing everything up against the wall. This account is at the 500 tier (like I know many of you are), and has less than 500 shirts live yet it was able to clear this kind of cash per week.
Can you imagine if they thought that it was too late to enter Merch by Amazon? Thought there was too much competition so why even try?
Some people cry "too saturated!" while others take action and reap the rewards. It is never too late to enter the Merch program and that is extremely clear when you see the screenshot above.
Getting Noticed
I have written a lot about this in the past, but it still comes up with people who are unsure of the program and if there is room in the market. Having a lot of shirts up on Amazon is a great thing because it validates the program, shows you people are making money, but in the back of your head, you still think that that is just too many shirts to compete with.
If you are going after trends, I highly suggest you catch them as early as possible. Stay up to date on the news and trendy topics by visiting Reddit. Upload your holiday shirts as early as possible! If you are just going after evergreen (still my bread and butter), then make sure you are nailing down your keywords.
One of the biggest things that I see new sellers doing as well that I just need to mention again is that they refuse to play with price.
I want you to scroll back up and take a look at the screenshots for BSR and price on the eclipse shirts. Notice anything?
They priced lower at the beginning and when the shirt took off, they bumped the price. This is probably one of the most used techniques that top sellers play around with. While everyone else is refusing to lower their price below $19.99 and complaining about how much money they are making, the shirts that are taking off typically follow the exact same format: get in early, set a low price, once it takes off raise the price for extra free money!
The video above pretty much goes over what top sellers are doing, so I would highly recommend you take a few minutes to watch that as well.
There Are Only Two Shirts!
Merch by Amazon is such a new platform they only have two (cheap), shirts!
Two print on demand shirts on Amazon and it has all the POD (print on demand) sites out there running scared. Have you noticed how many of them are attempting to integrate with Amazon lately?
Eventually it is going to be a lot more than just two shirts. Think tank tops, sweatshirts, coffee mugs, phone cases… so on and so forth.
If you want to look at what might be coming to Amazon, take a look at the brand partners and see what they are offering. One of my go to brands is music.ly.
Plush Pillows and PopSockets anyone?

Phone cases?
All of these things are coming to this platform and when they do, your designs that you ALREADY HAVE can now be put on more products through the Merch platform. Learn the t-shirt game and sooner rather than later, you will be able to scale it even further.
Multiple Countries?
Currently the Merch by Amazon program is just for the USA. If you start to look around though, you might have noticed they have started expanding.
Let's take a look at the traffic estimates for each of the Amazon locale websites shall we?
United States Amazon

Brazil Amazon
Canada Amazon

China Amazon

France Amazon

Germany Amazon

India Amazon

Italy Amazon

Japan Amazon

Spain Amazon

United Kingdom Amazon

Australia Amazon

Mexico Amazon

While Amazon.com (USA Amazon), gets the majority of the traffic, you can tell that all the graphs are pretty much trending up.
Can you imagine what it will be like when our designs can be printed on demand with all those millions and millions of extra eyeballs, in multiple countries across MULTIPLE products?
If you think 40k a week is a lot like the screenshot above, just imagine how large those numbers are going to look when you have a hot seller across 40 products all across the world? I wouldn't be surprised if we see 10X those numbers.
The Future Is Bright
The next time someone asks if it is too late to get into Merch by Amazon, or that Merch is too saturated, show them this post.
If they still cannot see just how bright the future is, they cannot be helped and you should keep scaling your own business!
Until next time, keep grinding out those uploads and let's crush Q4 together!