Merch by Amazon SEO Ultimate Guide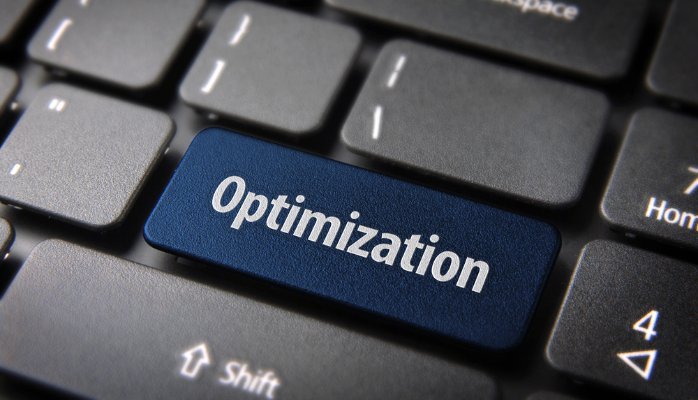 Selling shirts on Amazon with Merch can be super exciting! It can also make you question what you are doing with your life if you take the time and effort to design your shirts but they just are not moving. This can be extremely frustrating, and often times, the person ends up giving up for good before they even get out of the 25 tier (the hardest tier by far)! You could learn to drive outside traffic like I just wrote about with Pinterest, or you could learn to optimize your listings. A combination of both is ultimately the best but this article is going to focus on the later.'
Coming from an internet marketing background, I have noticed that for a lot of you, making money through Merch by Amazon is your first attempt to make it online. To that I say congratulations! This may mean that you are not as familiar with keywords (the base of good Amazon optimization) as I am. That is okay, we will be going through all the basics here and then towards the end moving into more advanced Merch SEO.
Optimizing A Merch Listing
In order to SEO your listing properly, there are a few key points we need to cover. These are: Price, Brand, Title, Bullet Points and of course competition.
Price
I know in most of the Facebook groups people preach to sell your designs for 19.99 and never go below that. I am just going to come out and say that I believe that is WRONG! Your price should not be based on what you think it is worth. Your price should be based on the market, and the competition you face.
So what does this mean for you? It means that the less competition you face, the higher price you will charge originally. The more competition, the lower the price (at first!). You see, reviews on Amazon are king! They are what really kick your earnings into overdrive. When was the last time you bought something off Amazon that was not a piece of clothing? I bet the first thing you did was read the reviews and based your purchase off of those right? Same goes with shirts. As soon as you get some good reviews, you can raise your prices and people will gladly pick your design over cheaper ones because you have reviews and they do not!

This does not mean that you should be pricing your design as the lowest. My suggestion is to take a look by searching Amazon for your general niche design before you upload. Find the average price, and price your shirt right in the middle. You will not be competing on price at first, but you WILL be competing on how much better your design is. If you have a moderately priced shirt with a design that is blowing the competition out of the water, you will sell more shirts every time. I go into more detail on how to create amazing designs in this article here.
This strategy that I outlined above is particularly important now that Amazon has released their 180 day policy. Following the above, you will have a much higher sell through of your shirts, and will be raising prices as soon as you get those much needed reviews. Think long term here! This is not a quick money grab. There is no "right" price. There is only the price that the market determines.
Brand Name
There are two ways to go about branding your shirts. You can put your shirts under different "niche" brands, or you can utilize the Merch platform to build yourself a brand with everything underneath it.
In the past each and every shirt I created was generally put under a different brand. This was so that someone cannot just come and copy everything I have created. When you come up with a brand name, this is your chance to grab the attention of someone scrolling through the Amazon results. They will see a title and a brand and then a thumbnail. If your brand is related to what they are searching for, this increases the probability that they will click through. This way, you can group like t-shirts together into little niche stores.
For this reason, I suggest adding a few keywords about your shirt. If you were to do a ghost shirt, something along the lines of "Scary Ghost Tees" or "Friendly Ghost Shirt Store" might make sense. Each of these has the keywords "Ghost Tees" and "Ghost Shirt" in them, something that a customer might be searching for. Not only do these have some keywords in the brand, but at the same time, they are niche enough where you can put multiple ghost shirts under a single brand. If someone gets to your scary ghost shirt and clicks on your brand, they will simply see your other ghost shirts. This works out great.
The other option you have is putting all your Merch shirts under a single brand. I am not against this practice but it does not make much sense. Think about putting your sassy girly shirts under the same brand as your hardcore motorcycle shirts. It really kind of changes the meaning behind your brand which is why I am a fan of niche stores.
Each one of these optimization sections is just an exercise in pretending you are a potential customer.
Title
This is where keywords come into play. In order to talk about keywords, we first need to talk about competition.
For an example, lets say that you just created a killer design about cats. You upload your shirt after looking at similar designs and price it accordingly. Now you get to the point where tou must select a title. What do you put? Do you just put "black cat t-shirt"? No, that is a big negative!



If you were to do what I said above, you would be competing against almost 150 thousand other t shirts! How can you possibly expect to stand out or make any sales when you are swamped with competition? Chances are you probably will not, and get disappointed when you do not make any sales in the next 2 months.
You need to really take a look at your design and describe it to yourself. This description process is really just adding different keywords in the title.
Ask "What would a customer search for if they wanted to buy this shirt". You need to niche down. Maybe your shirt has black cat ears on them. Black cat ears t-shirt might be a better fit. Check it on Amazon.


Three thousand results. That is better, but still a little too much competition. Now is where you might want to try some adjectives. How about Cute black cat ears t-shirt?



1.3k results this time. What about adding one more thing to the title.



There we go! 64 results. This is called "niching down" and getting very specific. I like to describe my t-shirt titles like I would describe the shirt to a blind person who cannot see. This sounds silly, but it works! Eventually you will get comfortable describing your shirts in detail and will not need to spend the time searching amazon as that can be very time consuming. You can also use the advanced competition checker within Merch Informer to quickly find keywords that are worth exploring and putting in your titles to save you some time.
T-Shirt, Tee Shirt, Tees, Shirts
When I am searching on Amazon for a t-shirt I always type "t-shirt" at the end of my query. I have always done this, and I think most people do. For this reason, I end every single one of my titles with "t-shirt". I think you should too and this only makes sense.
Some people may not search for t-shirt though, they may include operators in their search query such as "tee shirt" or something similar. What do you do with those? I personally include them in the description which we are about to go into. Since there is already "Shirt" in the title, the only other shirt variation I will include in the description is "Tee". This is easy, and saves time.
Bullet Points
If the title is the first place to really catch your customers attention, then the bullet points are where you SELL them! This is where the majority of Merch sellers fail and I still do not understand this. There are 2 facets here.
On one hand, you want want to make more sales so you need to be putting keywords in your bullet points. On the other, you do NOT want to describe your t-shirt and sound like a brick wall. You are here to make sales right? Act like a salesman/woman. Sell your customers!
So how do you do this? You have 2 bullet points so you need to make the most of them. Let's start with the first bullet point.
For an example, let's just say that we ended up creating a shirt like we described above. A nice cute black cat ears Halloween t-shirt. You have set a brand name, the title of the product and the price. Now you need to come up with your first bullet point. To do this, you need to think of synonyms of your main keyword. Since there are really no decent synonyms of Halloween, we will be focusing on the main root of the keyword here: "Cat".
If English is your first language, this should be super simple. If not, simply run the root keyword through a Thesaurus. You can do so by clicking that link. Synonyms here may include: kitty, kitten, the "type" of cat, and so on. Now that you have your synonyms, you want to include them in a sentence format.
Remember, you are not just describing your shirt here. They can see your shirt right there! Your potential customers already know what your shirt looks like, this is your one chance to sell them on purchasing it.
Staying home on Halloween this season and just want to snuggle up with your kitty in the covers? Sounds like you need to purchase this cute kitten tee for your Halloween costume today or purchase it as a gift for that lonely friend who is always home with their black cat.
See how that does not just say what was on our theoretical shirt but you are selling them? You included keywords such as "kitty" "cute kitten" "kitten tee" "Halloween costume". You also included the "gift" keyword which really seems to help boost sales around the holiday.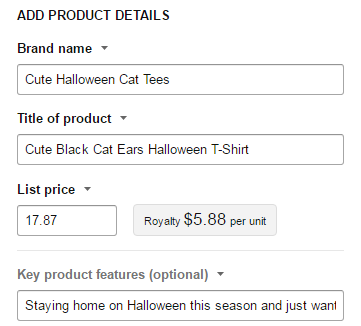 Now that your first bullet point is done and looking good, time to move on to the second.
This is where I do things a little different from most people. I play damage control. Yes, you read that right. Amazon is not perfect and does a lot of weird printing mistakes. However the worst thing they do is use shirts that tend to run a size too small. This generally makes people ANGRY when their clothing does not fit when they first get it and often times will end up in a negative review because they had no idea it would turn out like that.
NOTE: You can not longer mention size in your bullets. Therefor, we have edited the second bullet as follows:
So what should you do? Tell them the shirt runs a size small and to order a size up! I will generally use this format: This "t-shirt title here" is designed and printed to be fitted. For a more loose fit, please order a size up.
This Cute Black Cat Ears Halloween T-Shirt makes a great gift for friends and family.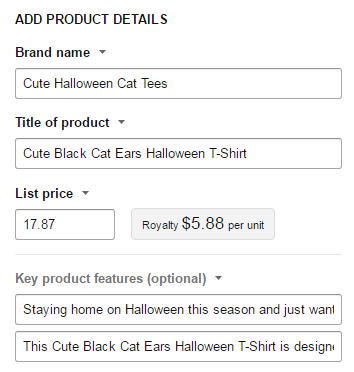 With this technique, you pack even MORE keywords in their by using the title, but it does not look spammy at all.
With the update to the Merch by Amazon content policy, you are no longer allowed to talk about the fit and size of the shirt. This is disappointing as their clothing currently does not fit true to size.
Since we are aiming to get the keywords in there a second time, we still use the name of the shirt, but instead fill out the second bullet point with the ending "makes a great gift for friends and family".
Note On Product Description
From my time selling on Amazon through FBA and testing with Merch, it seems that the product description does not really affect where your shirt ends up in the results.
That being said, the product description DOES show up on Mobile (a huge growing segment of internet purchases) instead of the bullet points and it also shows up as the meta description in Google. Because of this, it is highly recommended you fill out the description. I do this by copy and pasting the first bullet point there.
Advanced Merch by Amazon SEO
Following the exact strategy that I laid out above, I was able to bring my Merch account to where it is today.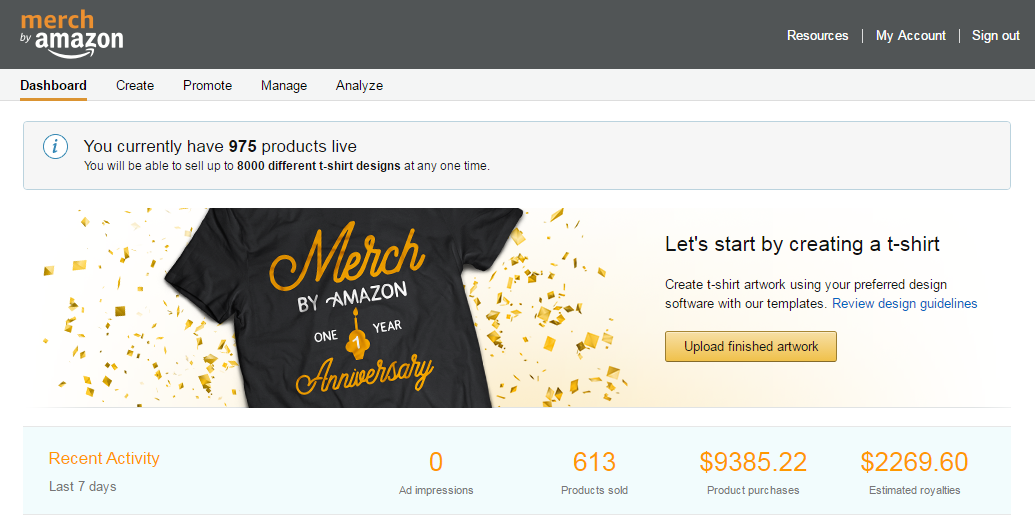 So the above screenshot was taken in late 2016. This is all from organic traffic only using the proper keywords and bullet point strategy. In this advanced Merch SEO section, I want to go over how you can double these numbers.
You could always just add more shirts (and you can sure bet I will!). There were over 7000 empty slots. I admit I had been slacking. The real secret to increasing those numbers without putting up more shirts (which costs more money if you are outsourcing), is to actually do SEO outside of Amazon. Keep in mind that this is an advanced section and most people will probably not try or attempt this. The ones who DO though, will put themselves far ahead of the competition.
Google SEO (The secret no one is talking about)
Remember near the beginning of this article I mentioned that I was mainly involved in creating websites? Well, the entire point there is to rank a website in Google for a specific search term so that it shows up at the top of the results. The closer to the top you are, the more visitors you get, thus the more sales occur. Pretty easy concept right?
Well people search Google ALL THE TIME for clothing to buy. Millions of people are searching on Google rather than Amazon to find a certain t-shirt to wear. Up till this point, I am willing to guess you have completely ignored this outlet right?
To do this right, you will probably have to go read some SEO guides on how the entire process works, but this article should at least get you started and get those gears turning on how to increase sales.
Finding Keywords
The very first thing you want to do in this entire process is find something that is selling well on Amazon. You can do so with Merch Informer, or you can spend the time searching through the results to find niches with relatively low BSR. You should have that down by now. Now, you want to compare these niches to the same niches in Google. For example let's just say that you have a "I love my pitbull t-shirt". You know that pitbulls on Amazon are a good niche and you may be getting sales on that shirt. So you need to check it through Google.
To do this, you need to sign up for a Google adwards account. You can do so here: https://www.google.com/adwords. Keep in mind that you may need to enter a credit card. We are not looking to run any advertisements though, we just need a tool that is inside the adwords account called the Google Keyword Planner.
Once you are logged in, you should see it at the top, under Tools.



Now, once you have navigated your way over to the Google Keyword Tool, you want to check the title of that shirt or keywords related to that shirt. This will toss back at you a range under the tab "keyword ideas". If you are not running a campaign with them, they will just give you a range. It will look like this:



This tells you a few things. It tells you that 10-100 people search "i love my pitbull t-shirt" each and every month. Those are potential customers for your Merch by Amazon shirts! It also shows you that if you were to set up ads for this keyword, each time someone clicked on your ad, you would probably be paying around 61 cents. Ouch! Probably not the best idea.
You could be getting this potential traffic for FREE though! Each one of your shirts could be getting a stream of free traffic from Google and literally no one is talking about this. Why? My guess is most people in Merch are not internet marketers, nor do they want to take the time to get these products ranked in Google for keywords. I can tell you from testing this out on a family members account that it is both easy and a fun way to make more sales in the process. Lets go over exactly how to do it.
NOTE: You can also take a look at search volume inside of Merch Informer with the keyword finder: https://merchinformer.com/merch-by-amazon-keyword-tool-search-volume-added/
Setting Up Your Merch Listing To Rank In Google
In order to rank your design in Google for specific keywords, you will need two things. On page SEO, and backlinks. Just these two things can give you the extra traffic you want. The on page SEO are the EXACT steps we went into above.
All you need to remember is to have the title of your t-shirt the exact same as the keyword you are looking to rank for in Google. That is it! As long as it has the exact title, it will be a lot easier to rank because Amazon is such a large website.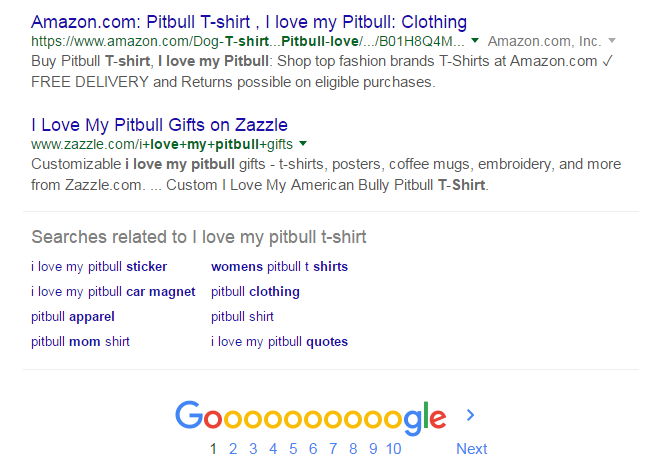 I went ahead and Googled the keyword. As you can see, near the bottom of the page, there is a Merch by Amazon listing ranking! Now, it is the bottom of page 1 and is probably not getting a lot of traffic, but as you can see, their title is not the exact same as the keyword. Simply by making this change, you give yourself a better chance at beating it! All this shows though, is that a Merch shirt is ranking in Google while yours is not! So now you need the other piece of the puzzle, backlinks.
Getting Backlinks/Making Sales Along The Way
So what you now need to do is get backlinks. Backlinks are hypertext that link back to your product on Amazon. The more of these that you get that are from niche relevant locations back to your site, the higher you will rank in Google (very simplistic explanation).
There are 2 easy ways to do this in my opinion. I have tested both of them and they have BOTH resulted in extra sales for my family members account while we wait for the rank increase in Google. Killing two birds with one stone here!
Option 1: Niche Relevant Forums
This is the option that I have been experimenting the most from lately, and trust me, if you do this correctly, you will make extra sales EASILY. You need to find forums related to your niche. In the example case, I did a shirt about pitbulls. So to make this work, I would search out forums about pitbulls or dogs in general.
Once you have found a forum that seems active, sign up for an account and get involved! No one likes someone coming into their community and instantly pushing products down their throats. Do you? Probably not. You need to get involved in the conversation, be helpful, and be friendly. After you seem to have a place in this forum and have built up a few posts and maybe some rep, it is not time to make a post! Forums are places that people hang out and talk about something they are passionate about. This makes the absolute best buyer out there!
Think outside the box for this one. You could make a post showing off your t-shirt that you are wearing! Show them how great your design is and give them a link (backlink cha ching!) to where you got it. If that is not your forte, maybe make a post about how you started a t-shirt business and one of the designs you just created just so happens to be about the niche of the forum. In this case pitbulls. Give them a link to your design (backlink cha ching!).
By giving out the links to your designs in niche relevant forums, you will make extra sales, as well as build links to be ranking in Google. While your friend is desperately out there waiting to tier up out of the 25 tier, you are doing something about it, and pocketing the money along the way.
Option 2: Purchase Your Shirt For Website Owners
Wouldn't it be great if you could just approach someone who owns a website in your t-shirt niche and have them post a link to your shirt for you? After all they have an audience that could buy your designs!
The fact is, that very very rarely will anyone take time out of their day to help you out (a stranger), for nothing in return. It is just the truth. I run several large sites myself and ignore probably 99% of the email I get because people are begging.
Do you want to know how to stand out? Give them something in return! You could offer to give them a bit of money to post your design. That is a bit boring but it does work! Instead though, what about purchasing your own shirt and having it shipped to them? I can tell you the few times someone shipped me free things in the mail, I went out of my way to help them in return because they gave me some pretty great stuff!
To do this, first you need to find some websites in your t-shirt niche. As the example was laid out is pitbulls, I would find some good pitbull websites.
Remember, we only want to reach out to sites that get some traffic! If they do not have any traffic, giving or posting your shirt on that site is not going to help you out.
To find out if a site is getting any traffic, copy the URL of the website and put it into either Semrush, or SimilarWeb. Make sure they are getting a few thousand people a month as a starter. If they have just a few hundred or even less, move on. They are probably not worth your time.
So once you have found a website that you want your shirt to be seen on, you now need to reach out to the person who owns it! If they have a contact form, go ahead and send them an email and ask them if you could send them a shirt. Be creative with the email, you want to stand out. If there is no contact information listed on the website, you can still get it!
To find information on who owns a website, simply run their URL of their website through WHOIS. This will give you the name of the person as well as their email. You can then use this information to personalize the information and send them an email about your shirt and how you want to send it to them!
Make sure to ask for a link back to your Amazon page if they like the shirt and keep in touch. Making connections is the biggest part of this business and the people who take the time to do so are going to FAR outsell the ones who do not.
When you do get a website owner to post your shirt, chances are it will be send out to an email list the webmaster has, or their traffic will see it somehow. This will give you increased sales right away. You ALSO will get a backlink to your shirt on Amazon. Get enough of these backlinks and your shirt will start to show up for keywords you have in the listing and that people are searching for on Amazon. This in turn will give you even MORE sales.
Wrapping It Up
We are getting around to 4,000 words, so I think it is time to wrap this up. You can go ahead and follow the guide to optimizing your Merch by Amazon listings that I laid out in the beginning of this article. This works and works pretty well! If you happened to see my screenshot, then you can go ahead and say that the first half of this article is exactly how I build a $8,600 a month business without driving a single visitor to the page. For a lot of people, this sounds really great and would probably be satisfied if they hit those numbers. What is really going to set people apart the longer the Merch program goes on though are the people who are satisfied with their organic earnings, and those who are never satisfied and continue to push for more. These are the people who are going to follow the second half of the article and start driving outside traffic. As I laid out above, driving traffic can be absolutely free! You do not have to spend a dime in advertising if you really do not want to (it just makes it easier when getting those backlinks!).
You may pick whatever avenue you chose. Whichever you do go with though, make sure to give it your all!
[mc4wp_form id="7″]