Leverage Pinterest Marketing To Sell Your Merch by Amazon T-Shirts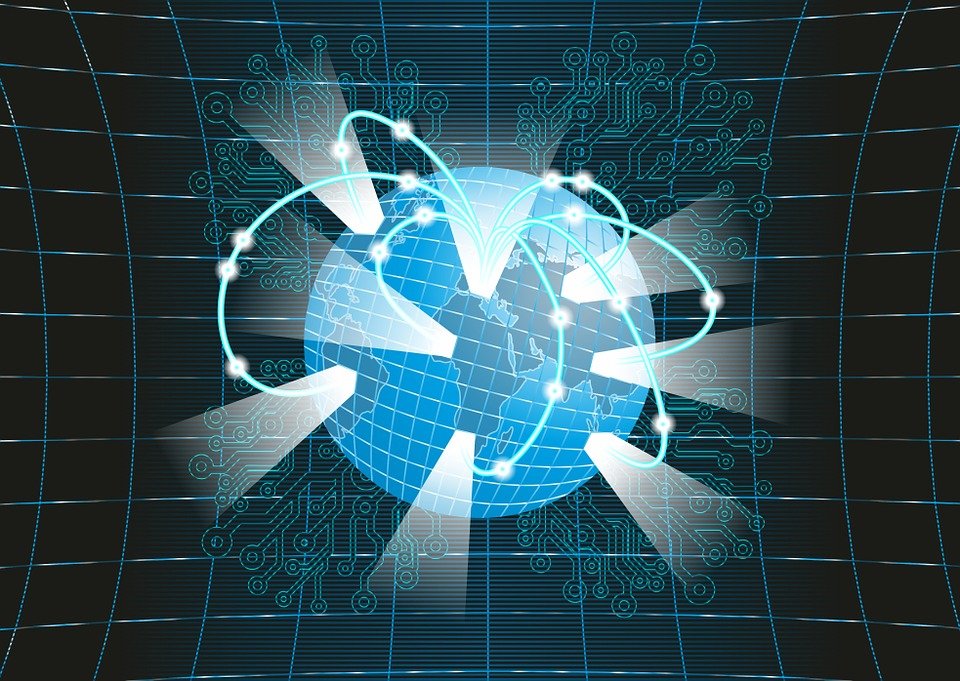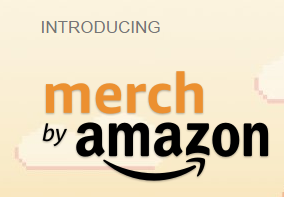 Amazon is an absolute powerhouse for selling items online. At the time of writing this, they are the 5th most visited website in the USA and the 10th most visited website in the entire world. With over 2 billion visitors each and every month, Merch by Amazon has allowed us to start to leverage this incredible traffic source to make more sales.
With all the traffic available though, there are also a lot of sellers that are relying only on organic traffic to make money. This can make sense if you are in the higher tiers and have hundreds if not thousands of designs uploaded to the platform. But what of the beginner who only has 25 shirts uploaded and cannot seem to get any sales to tier up? How can you make yourself stand out among the more than 1 million shirts uploaded to Merch thus far? You start advertising yourself!
Where Should You Market?
There are two types of marketing, free and paid. If you are new to internet marketing in general, learning paid advertisements is a long and hard process. Marketing for free is much easier and generally a lot more fun! The first thing you need to figure out when looking into what platform you are going to start marketing on, is ask yourself "Where does my target audience hang out". You want to go to where they are, not have them come to you.
In this guide I am going to be going over Pinterest as a form of marketing, and why you should not be skipping this tactic if you are selling shirts on Merch by Amazon.
Target Market: Pinterest
Coming from an internet marketing background, Pinterest is one of the most overlooked platforms that you can be on. Pinterest is perfect for driving mass amounts of traffic and especially sales. The demographic breakdown is perfect for our target audience.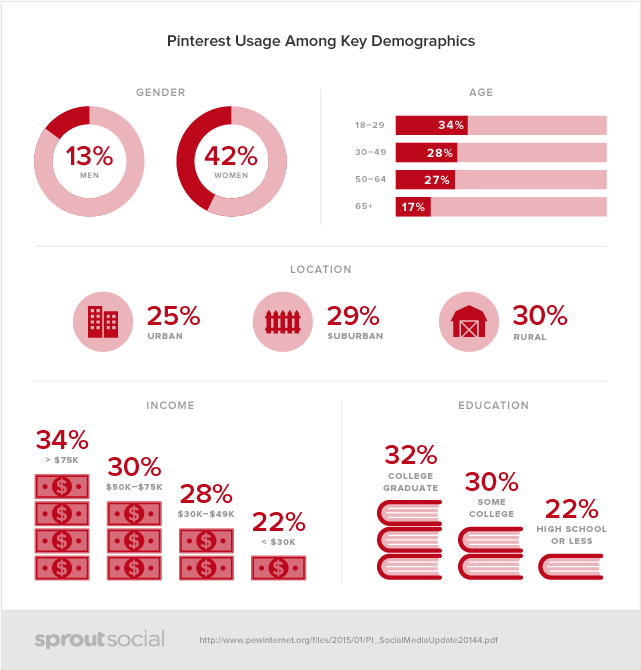 This infographic by sprout social lays it out perfectly. The platform is dominated by women who are educated and have disposable income. I may be generalizing here, but most of the women in my life love to shop! People who love shopping and have the money to spend? THAT is the target audience we want to reach, and now we know they are hanging out on Pinterest. Lets get into how to set up your account and exactly how you can leverage this audience to make more sales.

Setting Up Your Pinterest Account
The first step in setting up your account is to actually sign up! You can do so by visiting this link: https://www.pinterest.com/join/.
When you are signing up, you have two options. You can either sign up for a personal account, or sign up for a business account. Let me make it VERY clear right now. You want to sign up for a personal account with a female name. If that did not register the first time, please read it again and then do it! I have run businesses and personal accounts on Pinterest and for the purposes of selling shirts, you want the best traction you can get. You will simply get more followers (more eyes on your shirts) if you have a female name and it is not a business account.
The sign up page will ask you for your name (make one up!), and your gender (female!). Fill these out and click come on in. It will ask you to choose 4 topics you like. For this, I generally just pick whatever looks interesting. Finally, the next step will ask you to get the Pinterest browser button. You want this! Get it!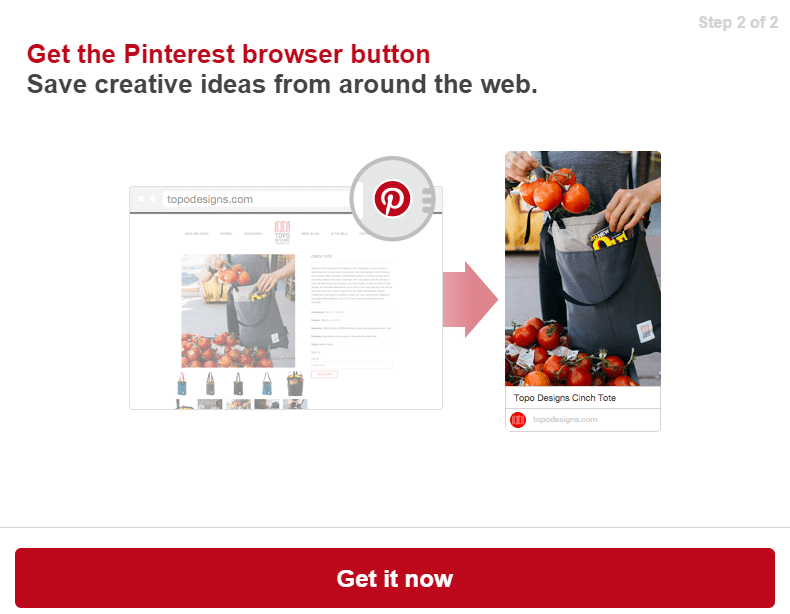 The screen it will bring you too is called your home feed. Notice at the top there is a little search bar? Go all the way to the right and you will see a little person figure. Click this to bring you to your profile. This is the area where you will be building out your profile! It should look just like this: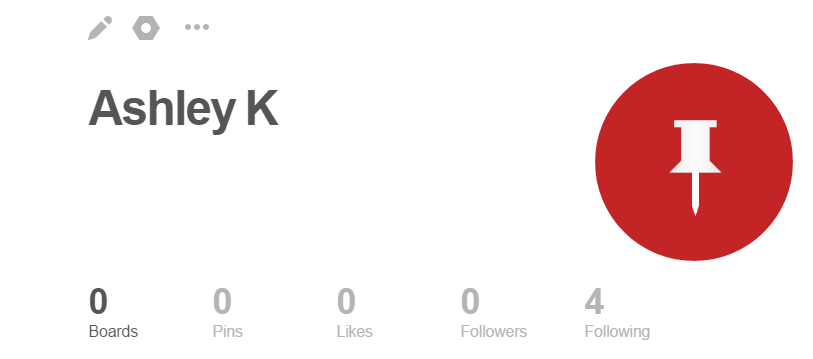 The way Pinterest works is that you "pin" or place images into boards that are interesting to you. These images can contain links that will let someone know where they can learn more.
No one is going to want to follow or check out a person on pinterest if they do not have anything interesting to look at. Your goal is to be someone that has something to share. In order to do this, we need some boards with images! Remember that you are creating a persona here. You want your persona to like all the niches that you created t-shirt designs about! Makes sense right?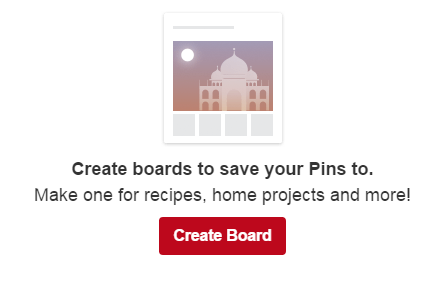 To get started, click on that big red "create board" button front and center. It will then bring up a page where you can create your board. Give it a niche relevant name, a description, category, and then click on create. For the purpose of this example, let's say my niche is "dogs" and I have shirts created under this niche.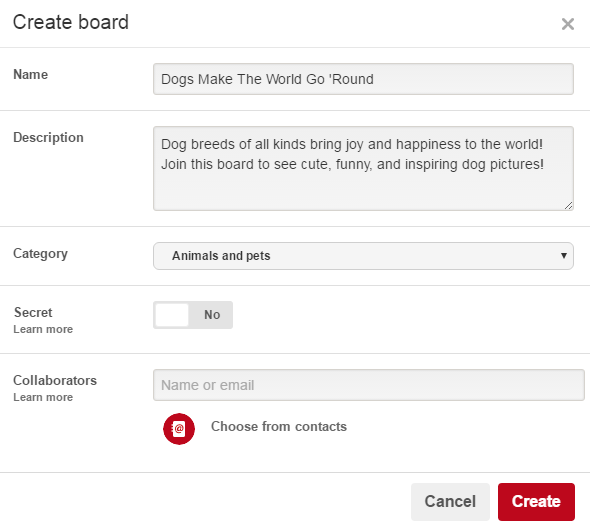 After you create your board, it will be completely empty with no images. This is where the plugin you downloaded and installed into your browser comes into play. You can either go to Google and start looking for images from your board. Once you open an image, simply click on the pin button in your browser and add it to the board you created.
Pro Tip: My favorite way to fill out these boards though is by repinning images that are already on Pinterest! To do this, simply go to the top search bar and search for images that you want to include on your board.



Find an image you want to place on your board and click on it. You should see a little Pin/Save button on the upper right hand corner of the image.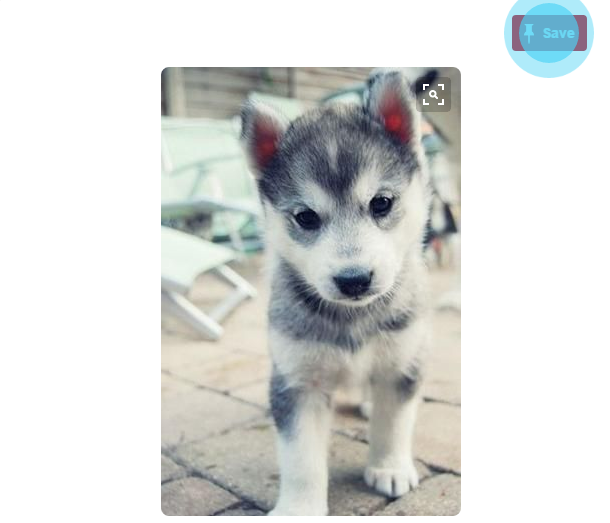 It will then ask you what board you want to save it to. Save it to the board you just created! If you navigate back over to your profile, you will then see the image in that board.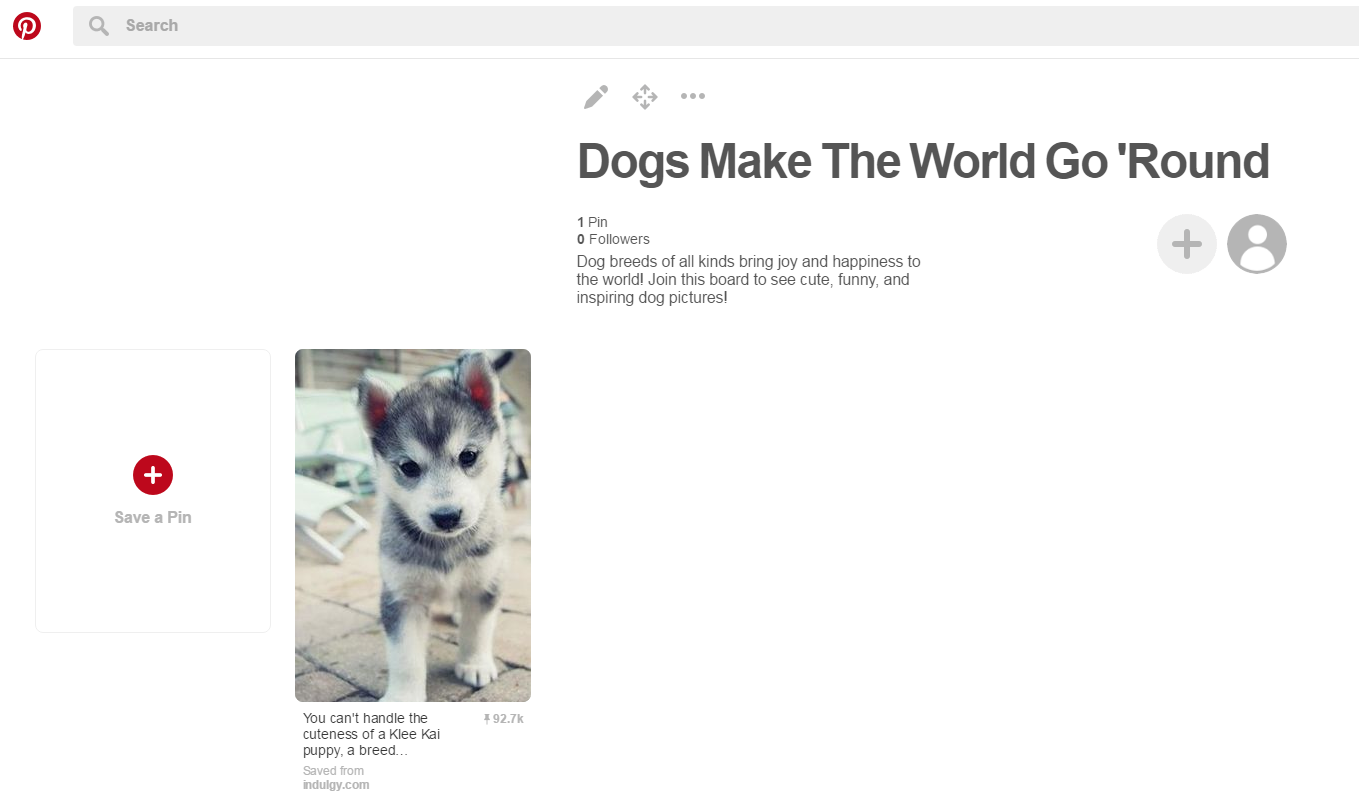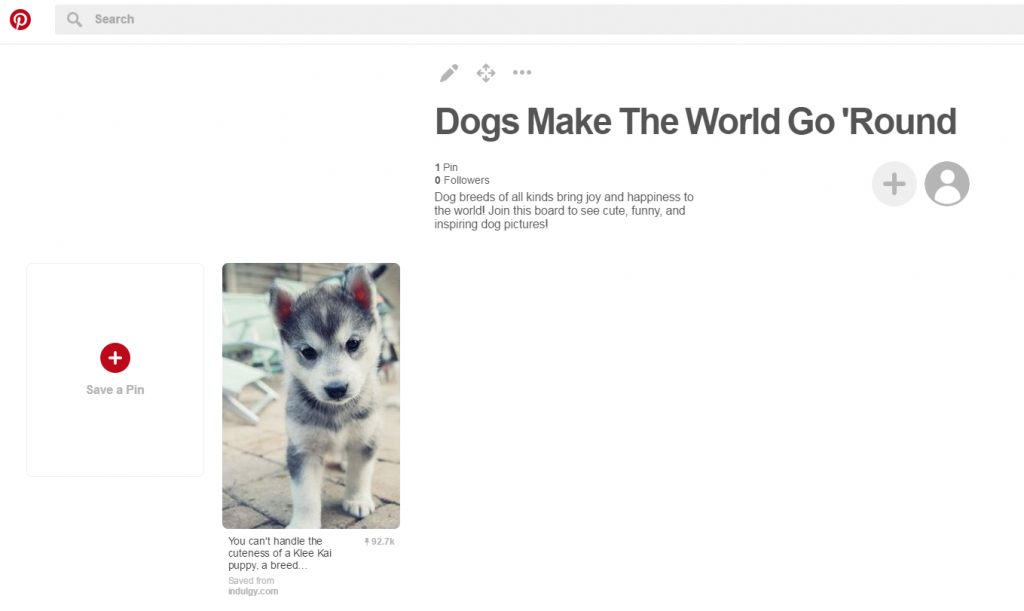 Now that you know the process of adding images, you need to add lots of images. I would say about 30-40 images per board.
Here is the kicker. You NEED to look like a real person who has real interests for this marketing strategy to work. This means that you need to create 20-30 boards each having 30-40 images. Yes, this is a lot of hard work, but it will pay off in the form of Merch by Amazon sales! Make sure that each board you are creating is at least semi relevant to one of the t-shirt niches that you have online.
Once you are done creating your boards and populating them with images, you are ready to move on to the next step, getting followers (which means traffic!).
Gaining Followers and Getting Traffic
Followers are how Pinterest operates. The people who chose to follow you are the ones who are going to see the images that you upload in their feed (sort of like Facebook). This means that if you have enough followers, the moment you post a t-shirt that you have on Merch by Amazon, your followers will see it in their feed and might go purchase it. You are getting your products in front of more eyeballs instead of relying on organic traffic on Amazon.
Following the suggestions I am about to show you, this is an image of an account that I have been working on for about a month. So far I have not advertised any of my shirts on it, but I think I am almost to the point where it will be helpful:



As you can see from the above image, I am following more people than follow me. This is because the entire technique to gain followers is to follow other people! By following other people, they will get a notification that you followed them and most likely check out what you have on your own boards. If they like what is on your boards, they will follow you back! Pretty simple right?
So who should you follow? Remember above when I gave you the pro tip of repinning images to your board that are already on Pinterest? Well, each one of those images has probably been liked and commented on by someone already. Go back and find those images. The people that liked/commented are interested in your niche, and like the content you are likely offering. We know this because they already engaged with the content! Now all you need to do is follow them. Since they are active users, once you follow them and they see that the content you have is good, they will follow back. Each and every follow is another potential customer, always remember that.
Follow Limits
When you first start following people and do not have any followers, there is going to be a limit between how many people you can follow before they decide to block you for a while. If you reach this wall, simply wait a bit (typically 15 min to an hour) and you can start following again. Eventually, enough people will begin following you back that you can keep going. If after a few days you are still at the limit and cannot continue, start unfollowing all the people that did not follow you back! This gives more room to follow people who are interested in your content. If someone does not follow you back, this means they will never see your content, or your shirts that you will be posting at a later date so they are useless. Unfollow them and continue!
Automating Follows/Unfollows
The above can all be done with lots of spare time and a little patience. It does take a while to get done but it does work extremely well. If you are a little more tech inclined than the average person, you may be able to start automating this process. There are 2 ways to do this; software, and imacros. This guide will not go over how to use these tools, but if you want to go with a premade software, I have used pinblaster in the past. This is a paid software, so only use it after you have seen some results with the methods that have been laid out in this article.
The other is to use imacros. This is essentially a plugin that you can use to automate certain internet tasks. You can visit and download imacros here: http://imacros.net/download. In order to make imacros work, you need to be able to write a script or find one online. Simply search and see if you can find a working one.
Best Way To Gain Followers Fast
The best way I have personally experienced is to put up content that has been shared/liked lots of times. In one of my niches, the content that dominates are the images with motivational quotes overlaid on them. These get shared time and time again, and when content is shared, your account actually grows as well! People are able to see where the content was shared from, and will follow back to your board. This is actually why Pinterest is so popular! Once you have a good foundation of followers and images, you will continue getting traffic almost forever as people share and repin images that are old and continue showing up as fresh content to new pinners.
Posting Your Merch by Amazon T-Shirts to Pinterest
When building your Pinterest account, I really suggest that you do not start posting your shirts right away. You want to come off like a regular person! Does a regular person start pushing products down your throat as soon as they sign up? Most likely not.
I personally like to wait until I have a good sized audience before I would start advertising to them. I think a good rule of thumb is wait till you have around 5k followers. At this point, you can start pinning your Merch T-Shirts to the boards you have up. Make sure to mix them with other content as well. You do not want to make someone unfollow you because you are spamming them with unwanted t-shirts. If they see it and like it, they will purchase from you! If they repin that image from your board to their own, then their audience will see your shirt. How great is that? More eyeballs on your shirts without paying a single cent to market them!
Pinterest/Merch by Amazon Advanced Method

During your time building your Pinterest account you may have come across something called group boards. These are Pin boards where multiple people can post to the same board. These are generally massive, and followed by a LOT of people (aka, lots of potential buyers).
If you follow the instructions above to build your account, eventually these big boards are going to contact YOU to pin on their group boards. I get probably 20 of these invitations a month. I simply go through, check to see if the board has a lot of followers, and if it does, I will become a submitted to that board. If not, I will simply decline and go on with my life.
You could wait for these to start coming in, but you can also contact the person who runs that board and request an invite. These a lot of the time are ignored, so I would suggest simply waiting until your account is big enough (around 5-10k followers) before you start going with that strategy.
Wrapping It Up
This post is really just scratching the surface of what is possible by promoting your Merch tee shirts on Pinterest.  There are so many potential buyers out there in your niche that would love to purchase something from you if only they knew it existed. Get your products in front of the audience that cares and leverage Pinterest to sell more shirts than you thought was possible. This is a great way to drive traffic yourself, and for free! Following the above strategy, you should skyrocket yourself right out of that annoying 25 tier from Merch by Amazon. Good luck out there!
[mc4wp_form id="7″]