New Plan, New Price, New Opportunities!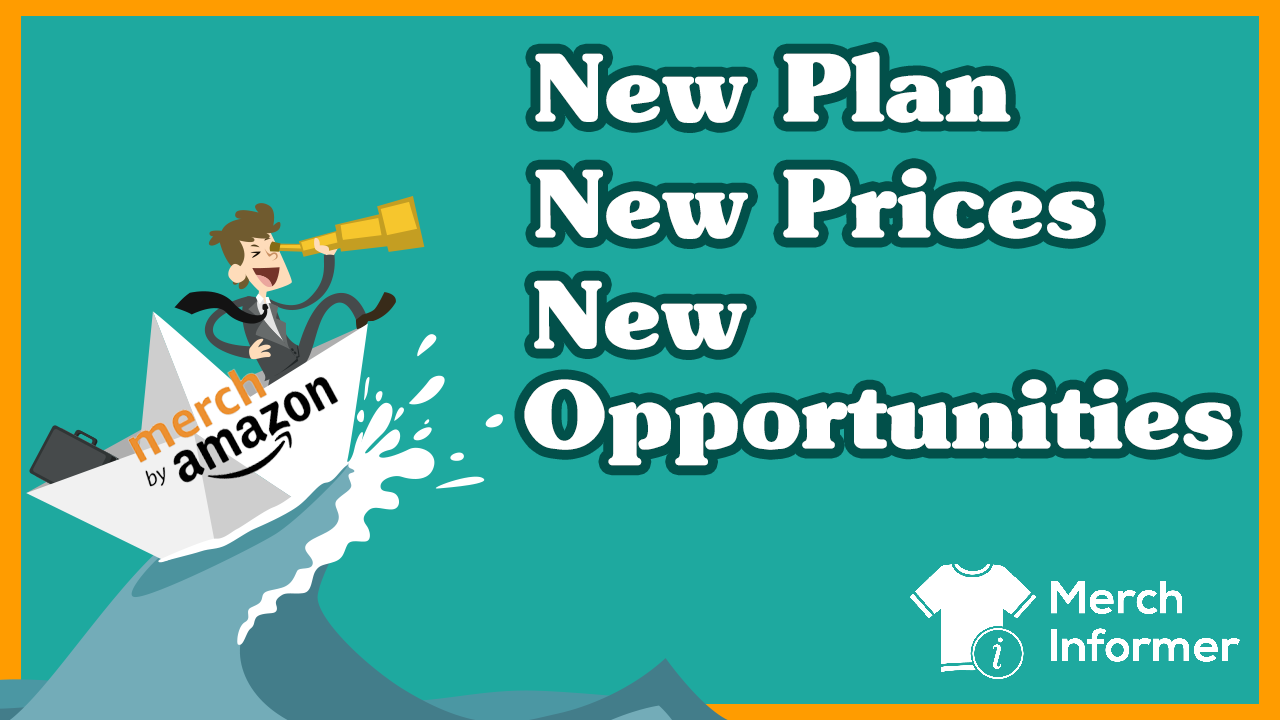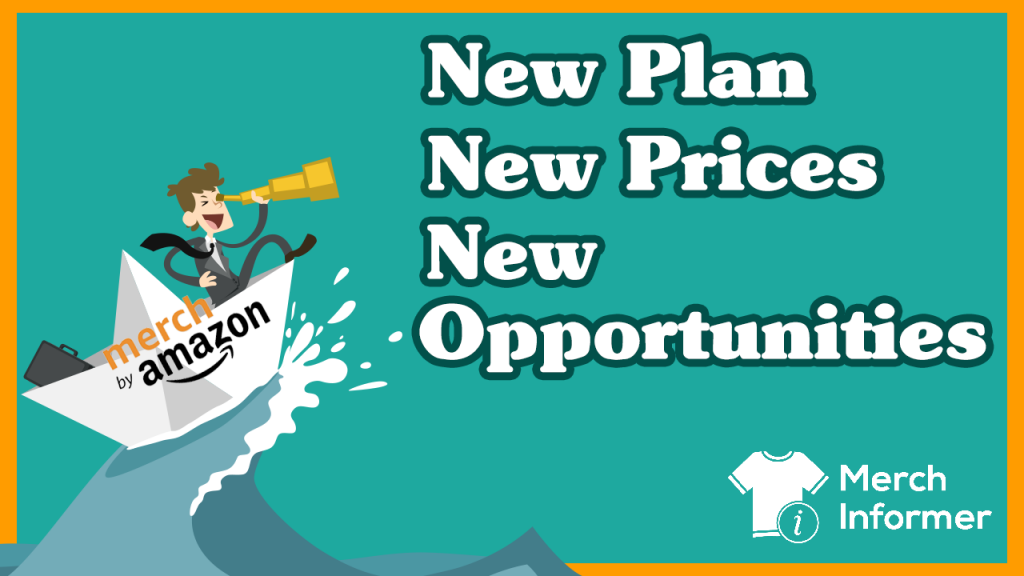 As Merch by Amazon has expanded as a platform, accepting more people and coming to market with a wider product selection, things have changed! What once was the wild west is becoming just a little more tamed. Long gone are the days you could tier up near instantly with designs you barely put any effort into at all. Now there are tier limits, 90 day rules, and more people on the platform. That being said…
It is the EASIEST time to make money on the Merch by Amazon platform!
Merch by Amazon has been expanding their support team, building new printing facilities, offering multiple products to sell your designs on, and that is just the begining! There is more coming to the Merch platform that is revolutionizing the print on demand industry.
There are going to be many people that disagree with this, but the fact remains that if you have great designs in researched niches that are proven to have buyers intent, you really cannot lose! As long as you can find out where customers are pulling out their wallets and spending money, you can sell them your designs in many different forms (shirts, long sleeves, sweatshirts, hoodies!).
Here at Merch Informer, we have a track record of practicing exactly what we preach! We know how to sell shirts, and LOTS of them.

Merch Informer Case Study – A Merch By Amazon 20k Per Month Blueprint
As the Merch platform expanded, so did we. You can now do your product research quicker than ever, which is super helpful to burst through hundreds of design ideas in under an hour.
What about the people just joining the platform?
Because of the influx of people joining the platform with this amazing Merch by Amazon opportunity, we wanted to do something for the accounts just joining. For anyone in the 10, 25, or maybe even the 100 tier, we are pleased to announce a new Merch Informer plan at a new low price!
Introducing The Newbie Plan
Not everyone needs to research hundreds of design ideas at a single time. Sometimes all you want to do is find 10 solid ideas and make sure those ideas are not going to get your brand new side hustle in trouble (trademark checking anyone?). We want to help these smaller accounts sell more shirts in order to become top sellers. No one WANTS to spend 6 hours of their day clicking through Amazon links in order to try and figure out what is a good niche or not. You have better things to do, so let us help.
The Newbie plan from Merch Informer is the cheapest plan yet ($9.99) and it is going to save you hours and hours of your time!
Let me show you how.
Here are the modules that are included in this plan:
Product Search
Brand Search
Favorites
Trademark Alerts
Advanced Competition Chcker
Keyword Finder
Listing Optimizer
Merch Archive
I will step through each one of these modules and explain how these are going to help you get ahead of everyone else that just started.
Product Search
The product search is one of the most helpful features in Merch Informer, and one that you should be taking full advantage of. The data is in real time, and is perfect for analyzing keywords and finding out where customers are spending money.
Why would you use the Merch Informer Product Search instead of just searching on Amazon?
Great question! You would use the product search because it is going to show you the best selling products FIRST in order of BSR. BSR stands for Best Sellers Rank, and the lower that number is on the product, the more it is selling.
It may turn out that when you search on Amazon for a keyword, something on the 10th page is actually selling better than what is being displayed on the first page. The reason for this is because that product may be better optimized for another keyword entirely. Unless you have more patience than us, you may never have run across that niche! You no longer have to worry about that, as Merch Informer will dig these gems up for you in just seconds.
Simply pick a category you want to search in. The product search has these as categories to choose from:
Merch by Amazon Shirts
T-Shirts (FBA/FBM)
Long Sleeve Shirt
Sweatshirt
Hoodie
Enter in an a keyword, and click on search!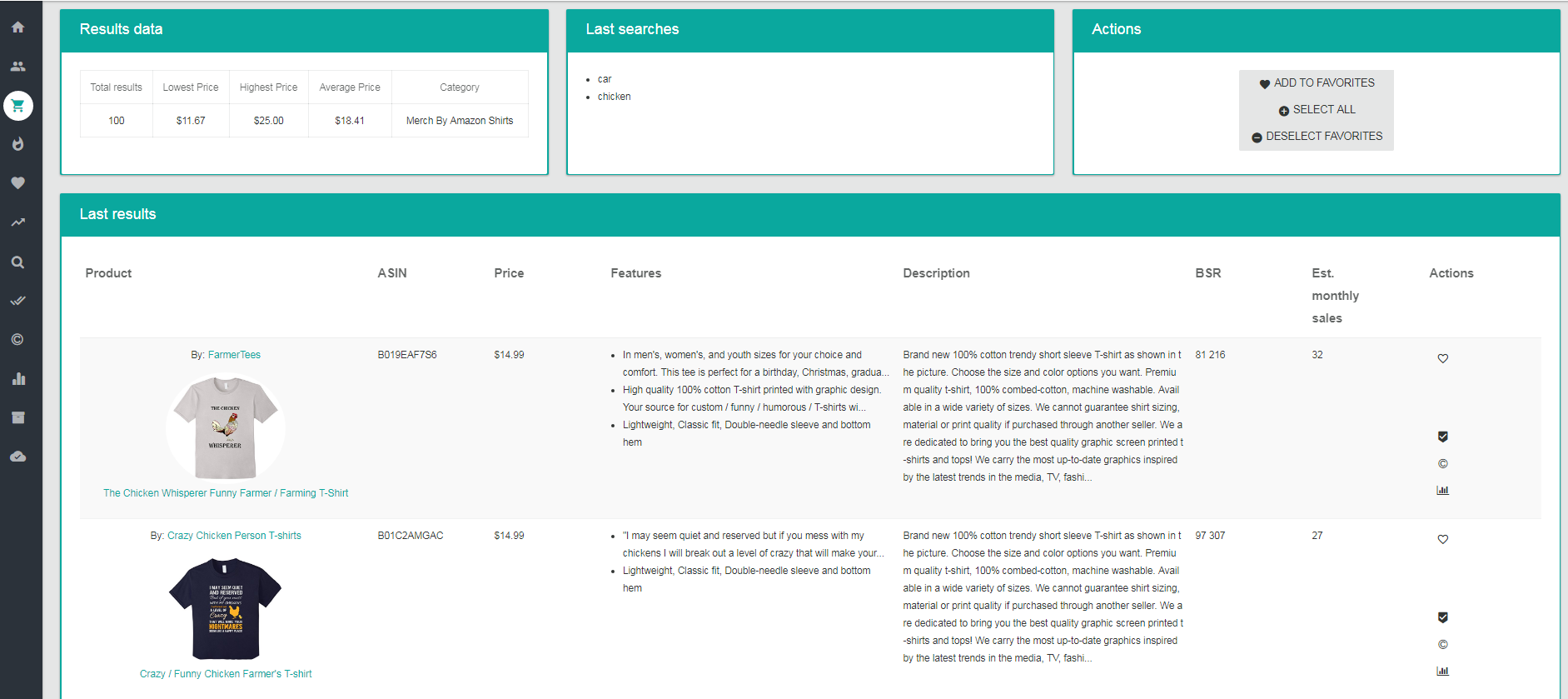 This will instantly show you the lowest price, the highest price, and the average price for the keyword entered.
You will then be able to see the brand, the name of the shirt, price, features, description, BSR, estimated monthly sales, and many actions that you can use for each of these designs.
The powerful part here is that you can take a look at the shirts, see what keywords they are utilizing to get the BSR that they have. You can pick apart top sellers in order to dominate these niches. No more scrolling through 100s or 1000s of different Amazon tabs like we had to do back in the day. You can now do all of that work in mere seconds.
Merchant (Brand) Search
The merchant search is just as powerful! If you are using the product search and come across a brand that seems to have it together and is making lots of sales, you may be interested in what other keywords or niches they have uncovered. This has never been easier than using the Merchant search to find niches you have never thought of before.
Take the example above. We see there is a brand called "FarmerTees". You can simply click on the brand name and it will automatically move it over to the brand search! This will display their other top sellers.



Bam! Just like that, we came across another niche. You can see from the first example that they also have a shirt in the rolling tractor niche. I would have never thought of that, but you can see that it has a BSR and is selling monthly.
This is just an example of how easy it is to uncover niches that are proven sellers with Merch Informer!
Favorites
We have gotten to the point where much of the design work is outsourced to a VA. With all these different designs and ideas, you need a way to keep organized!
Personally, I used to have a folder just full of spread sheets that would take me days to compile with hundreds of lines in them (per niche). This was not a great solution and often slowed me down just looking for the right spread sheet.
This is where favorites inside Merch Informer are incredibly helpful. If you are on a page where you like some designs in a niche, simply click on the "heart" icon, and then click on the "add to favorites" on the top of the page. This will add these designs to an organized tree that you created before hand.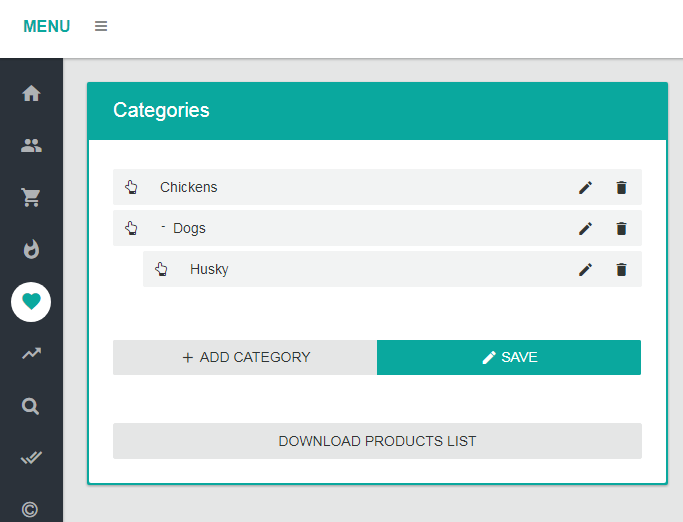 You can create this organization tree before you do any research.
Then, when you are in the product search, you can select your favorites.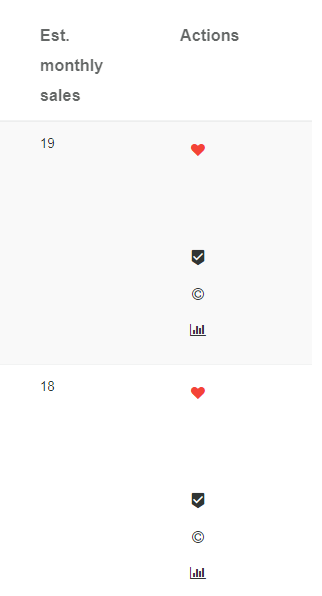 Now, when you head back to your favorites, you should see these in your category that you selected!



After you have some categories filled up with ideas, here is where the magic comes in. If you want to fire these off to a VA, we will create those pesky spreadsheets for you.
Simple click on Download Products List and you will be able to pick what you want to include in the spreadsheet!
Pretty easy right?
This module alone is worth the cost of the newbie plan inside Merch Informer just for the amount of time it will save you with spreadsheets.
Trademark Alerts
Trademarks are something you must figure out sooner rather than later when it comes to MBA. It is crucial you understand how to search the TESS database so you are not infringing on intellectual property owned by someone else. In case you are brand new and have no idea what I am talking about, we have a video on how to do EXACTLY that: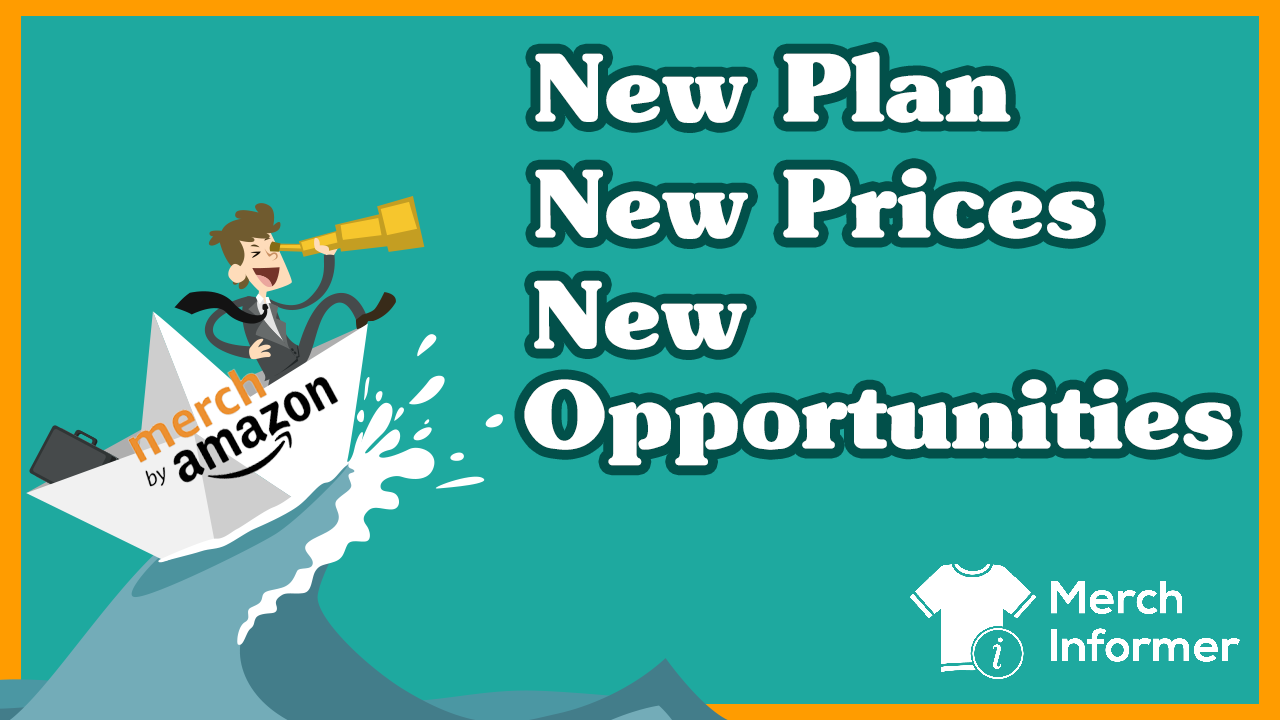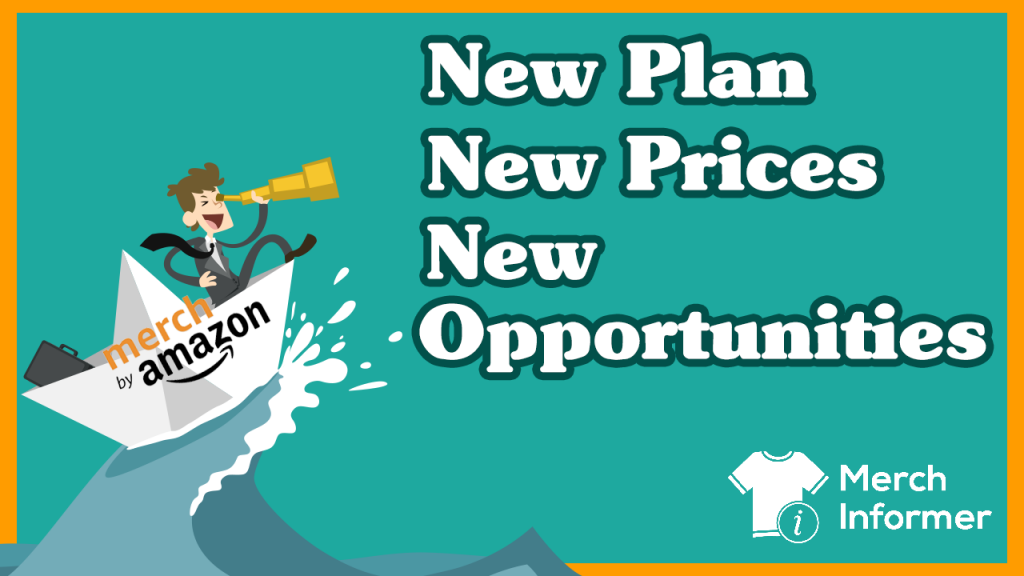 Now, this is what you should be doing each and every time you put up a new shirt on the Merch platform.
But wait a minute here…
What happens if something gets trademarked 5 months later. At that point, you should have a bunch of designs up on the platform right?
Are you really going to be bothered checking ALL your shirts and sayings every single day for trademarks that may or may not have been granted?
No one has time for that!
This is why we put the trademark alerts module inside Merch Informer. This module is set to give you a heads up if anything changes on USPTO for words and phrases that you enter into the system.
Simply enter in a keyword that you want to keep track of.



Then save it. After that, the system will check every 24 hours and alert you of a change.
This is what it will look like if the phrase is still OKAY to use, and another phrase that you are not allowed to use since it has a trademark.


Now you have a way to keep track of all your shirts. If the status on a phrase changes, you can then go in and deal with in your Merch by Amazon account before Amazon deals with you. Keep safe out there!
Advanced Competition Checker
The advanced competition checker is something that everyone should be using. This tool is going to help you decide if a keyword is really worth going after.
Sometimes, you just want to go into a niche where you are not competing with thousands of other people. If there are thousands of other sellers going for the same keyword, ranking is going to be much harder. You CAN make a lot of sales in these type of niches, but they can be hard to crack.
This is where the advanced competition checker comes into play.
Enter in a keyword that you want to rank for or create a design around.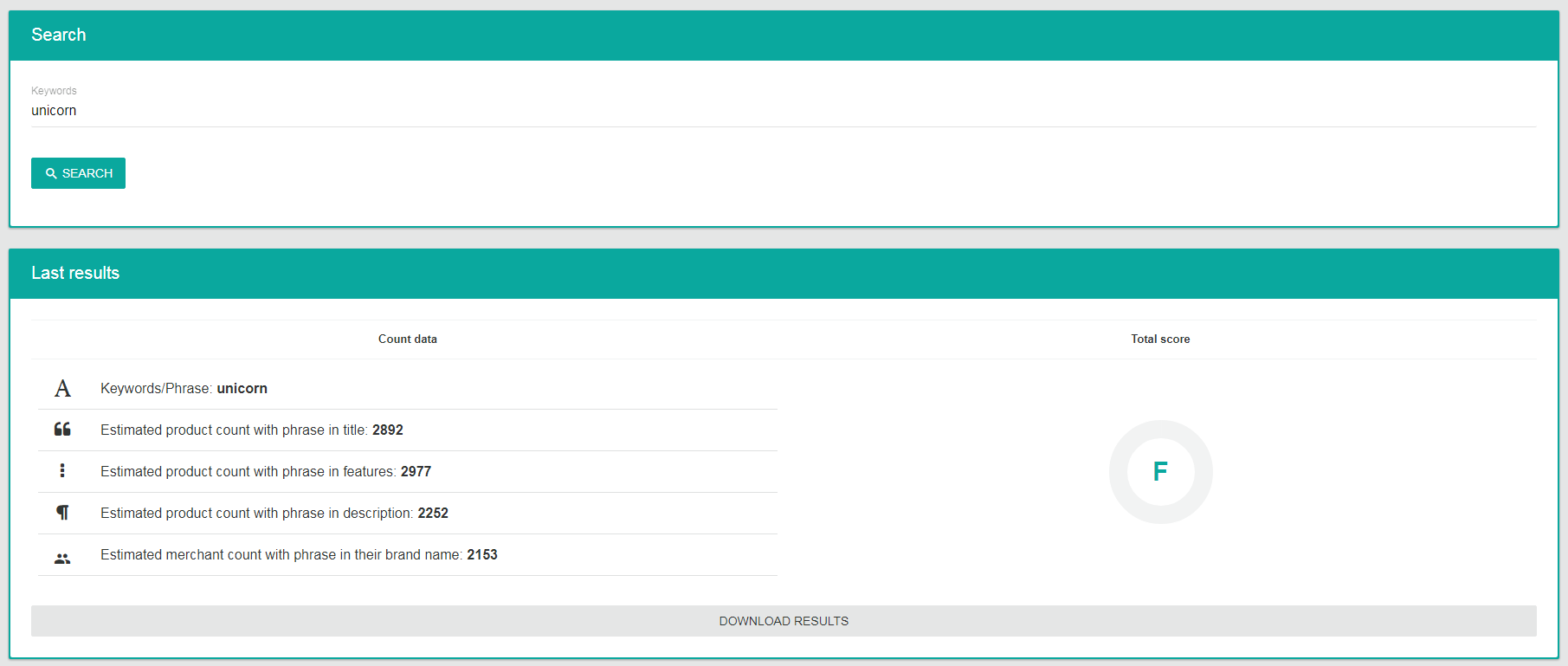 It will then display the keyword and phrase with the estimated amount products with the phrase in the title, features, description and part of their brand name. This gives you a snap shot of how many other products you might be competing with depending on how those other people optimized their product.
Merch Informer will also give you a total score. This score tells you how hard it would be to rank this keyword within Amazon search.
The scores range from A-F. A is the easiest to rank within Amazon search and F is the hardest. This is NOT to say you should not make a design in these niches, just that it might be a bit harder to gain traction.
Keyword Finder
The keyword finder is almost considered a hidden gem when it comes to modules within Merch Informer because most of the people using it are searching for specific keywords.
Instead, let me show you how this module is the best tool to come up with hundreds of ideas in as little as a few minutes.
So the first thing you need to do is head over to the keyword finder within Merch Informer: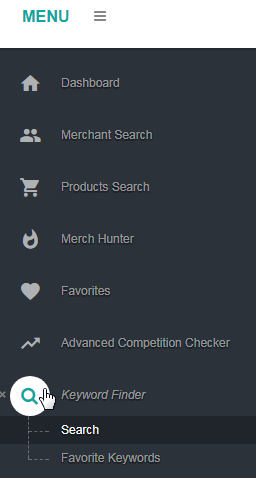 Once you are on the keyword finder, you are prompted with a box. Now, where most people make a mistake is that they enter just any random keyword and hit search. Instead, you should enter in an open ended phrase. This module works based on Amazon auto complete.
Amazon is a big data company first and foremost. They know what sells, and how to sell more items than anyone else on the planet.
We can use this to our advantage. We know that if they are recommending certain products or keywords, then those keywords are more than likely going to lead to a sale. One of the examples I like to use to demonstrate how crazy powerful this tool is is to use "I am" as the seed keyword.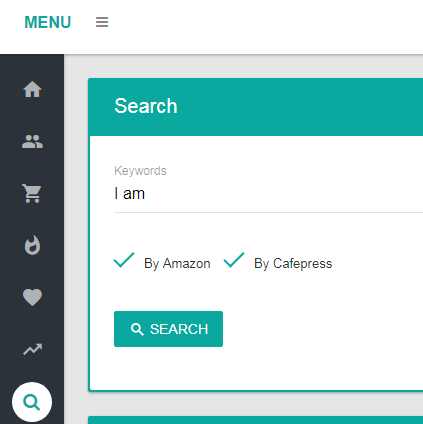 Click on search and you will see hundreds of keywords laid out before you!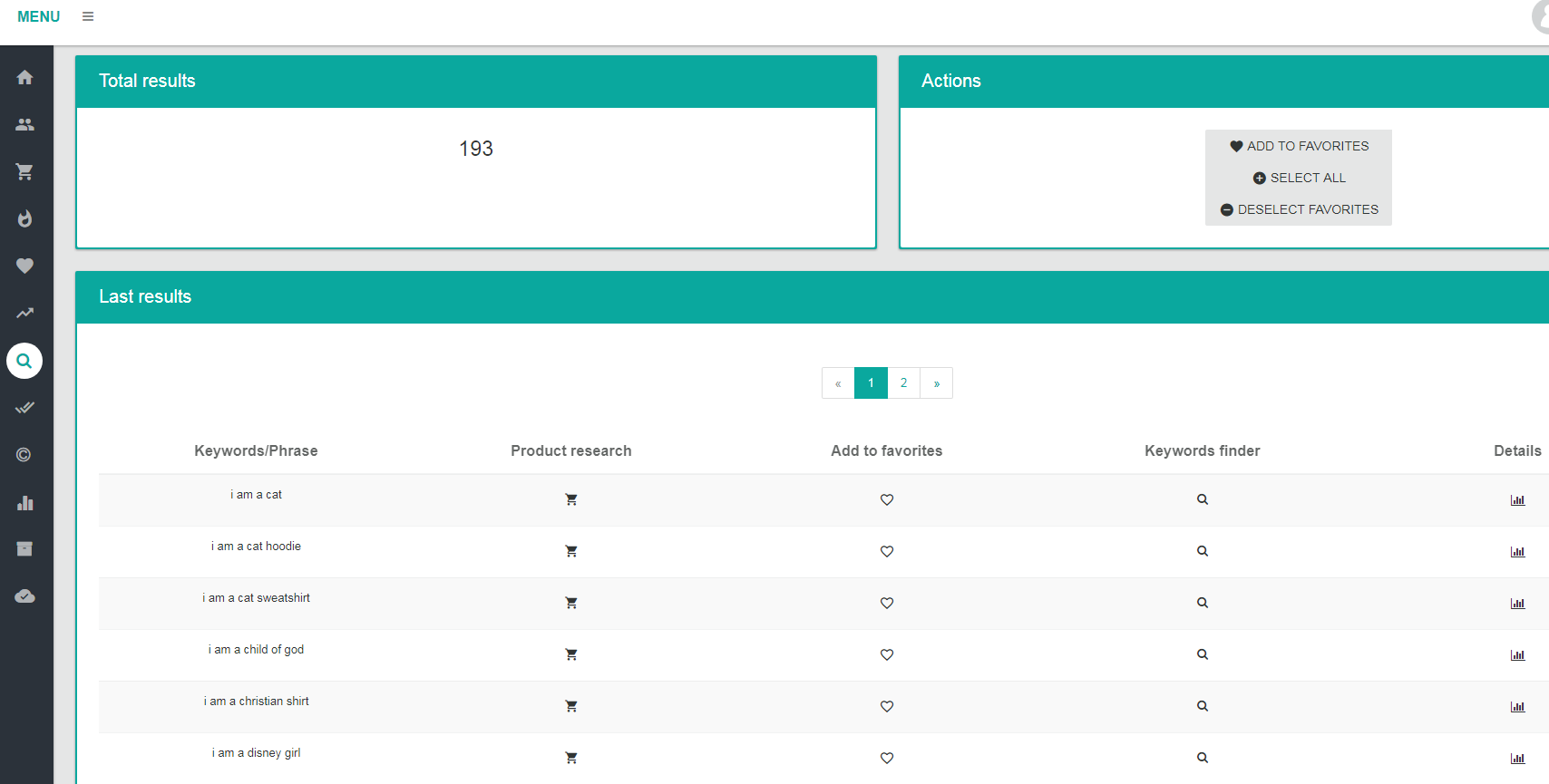 You all of a sudden see all of these keywords that are auto suggested by Amazon. You know that some of these are probably going to lead to some sales.
Go ahead and click on the little details button on the right hand side of your screen.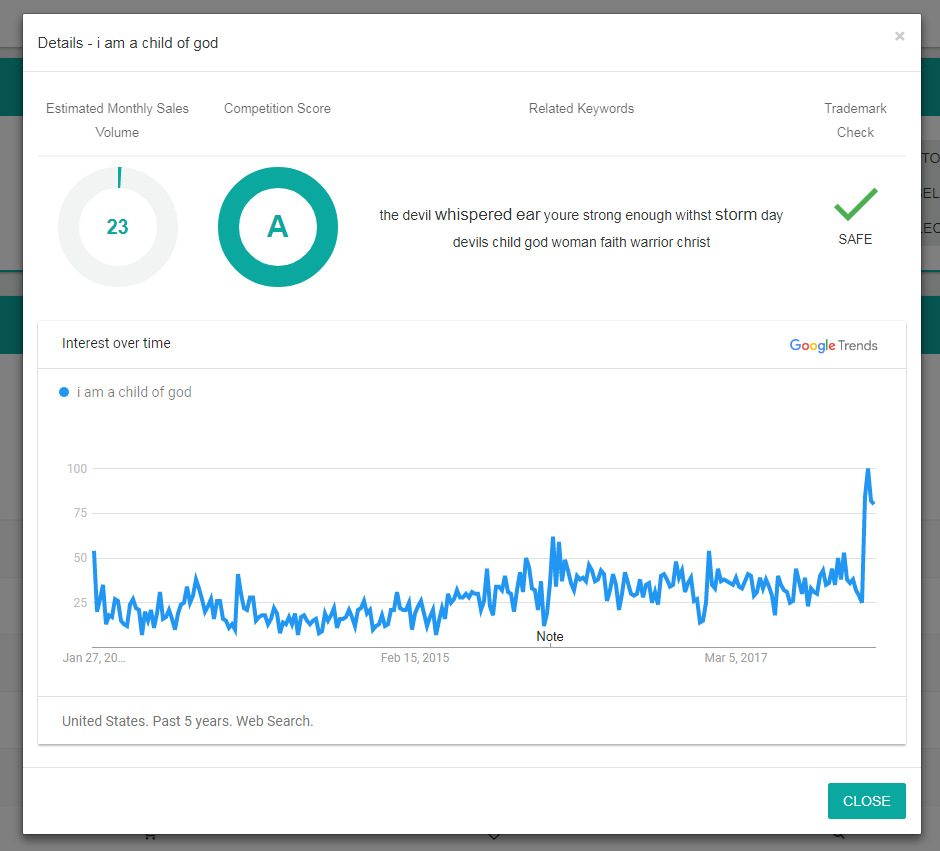 With a single click, you can now see the estimated monthly sales for that keyword, the competition score on how hard it is to rank with Amazon search, related keywords, a quick trademark check on the phrase, and Google interest over time (great to see if this is a trend or not).
Just by entering in a wide open seed keyword you can see how easy it is to find solid keywords that lead to making more sales putting more money in your pocket.
While this works, let me show you how I personally use this module.
Here are the results for "I am":



While some of these keywords look great, and lead to more sales, instead, I see a ton of niches.
This is what I see!



Where other people see phrases, I see a list of useful keywords.
I will then take these keywords and move them back to the product search (where we started this article) to dig deep and see what is selling!
This is the easiest way to come up with ideas on the fly, and see if you can validate those niches quickly. Remember, if you make designs in niches where people are not purchasing, you are going to have a bad time.
Listing Optimizer
The listing optimizer is built into two parts and is helpful for when you have done your research and are not uploading your shirts onto the Merch platform.
There is the listing score checker, and the synonym suggest.
The listing score checker is great for when you ALREADY have a design live on Amazon.
To use it, you will an ASIN and a keyword.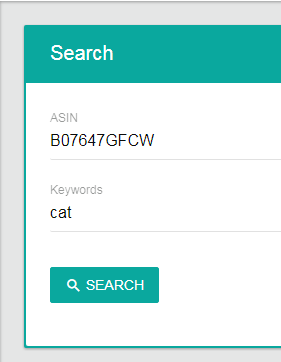 When you click on search, it will then analyze that product page and give you some ideas of how you can improve it:



Make sure that you have the main keyword in your title, brand, and features.
What a lot of people do not do is put the main keyword in their description and make sure that it is over 1000 characters.  This is VERY important.
It may not help much or Amazon optimization, but what people forget is that Amazon listings rank in Google. If you want to get as much traffic as possible on your product page, you want them ranking in Google for your keywords as well! Make sure you take a well rounded approach.
The synonym suggest is great for when you are looking for other keywords for your listing. Simply head over to that part of the listing optimizer and enter in your main keyword:



Just like that, you will have a list of nouns, adjectives, and verbs for your keywords. This is great for getting some density in your listings and covering all keywords that someone might search to find your designs.
Merch Archive
Finally, the newbie plan inside Merch Informer includes the Merch Archive which is a fairly new module that we released.
Many people kept asking us what the best selling designs were a week ago, or even a month ago. They wanted to look at the trends at a particular time of year or even a particular week to see what the top selling designs on Merch were, and analyze how they got there.
The Merch Archive is built to do exactly this!
Select a date, and see the exact 500 best selling designs on the Merch by Amazon platform on that specific date. The longer you are part of Merch Informer, the more powerful this tool gets as each day more data is added.
Curious to see what the best selling designs leading up to Christmas of 2017 were? Well, now you can see that in the Merch Archive!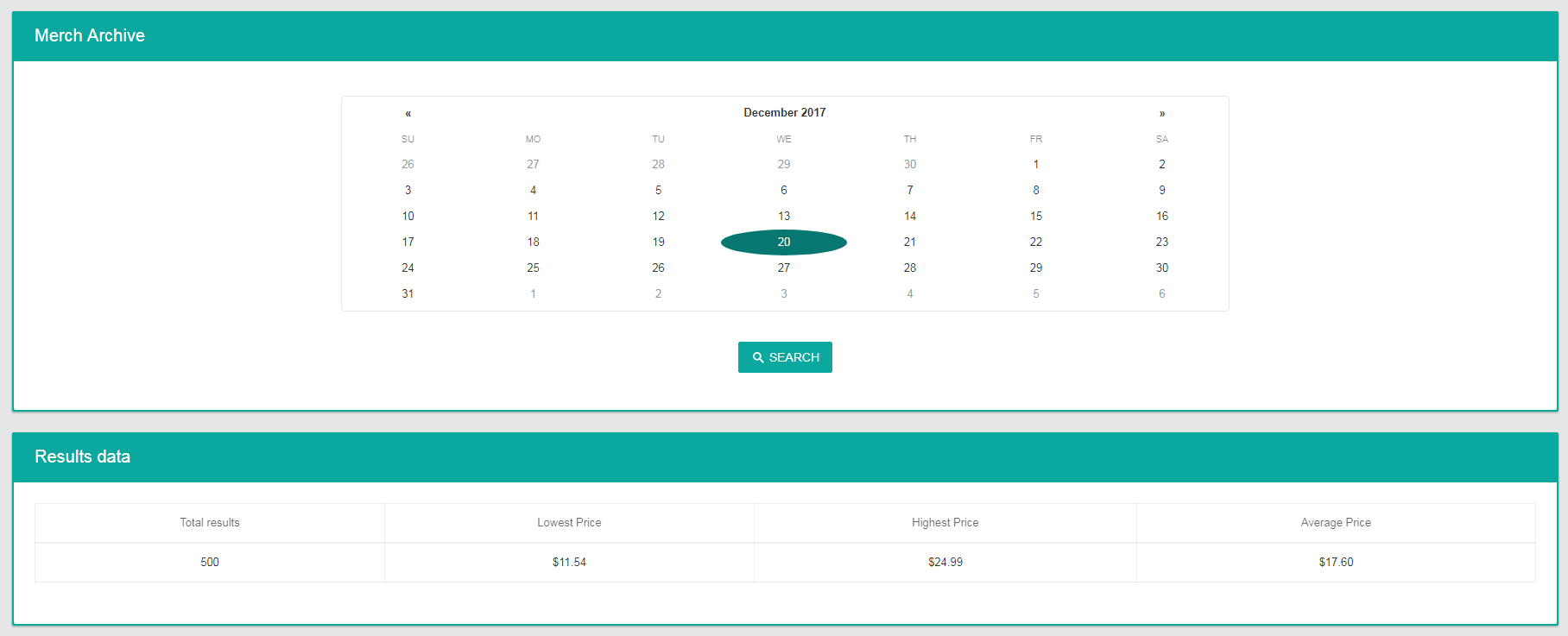 Scroll down to see all of the best sellers in order of BSR giving you valuable data!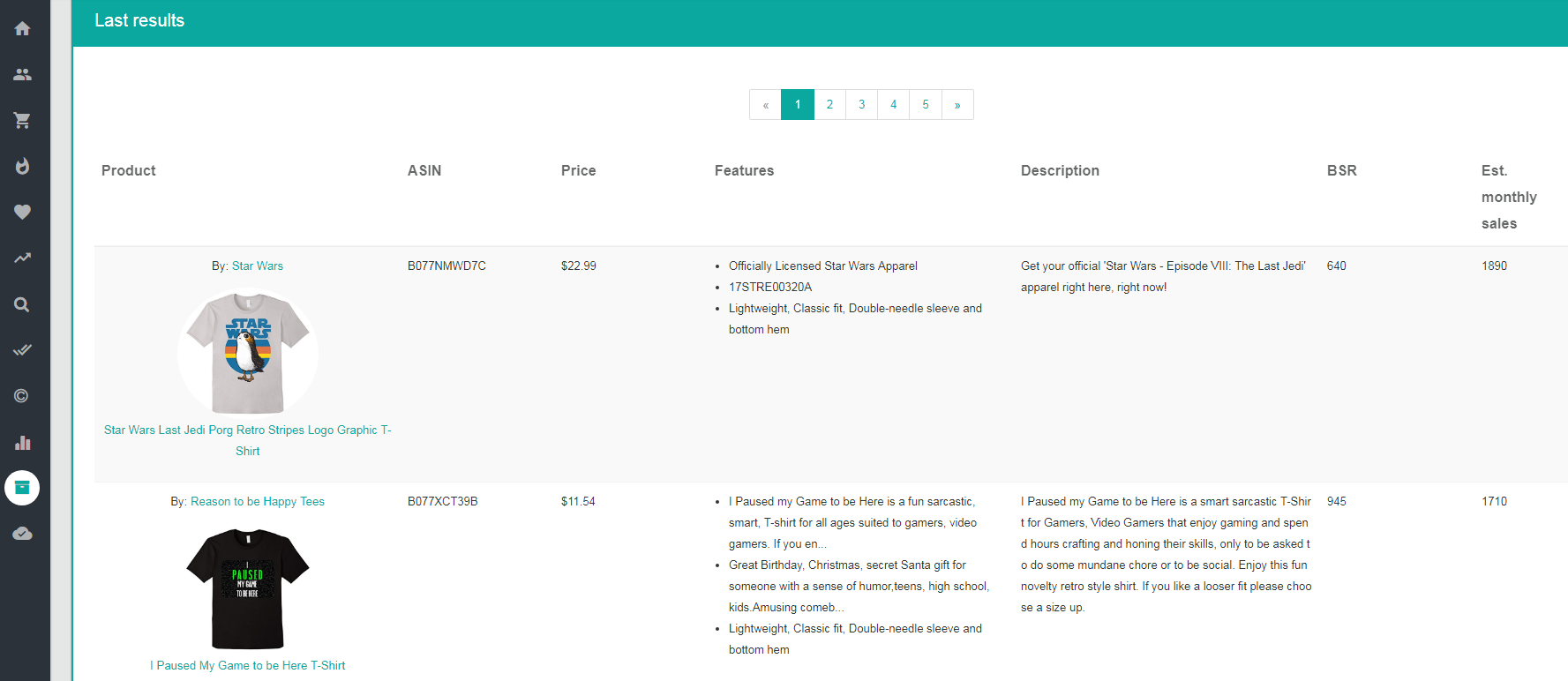 Stop wondering what was selling leading up to holidays or special events and start using the Merch Archive when everyone else is taking a stab in the dark.
Wrapping It Up
This article is coming up on 3 thousand words so I should probably wrap it up. I hope everyone who made it this far has actually picked up some small tips and tricks that I use every day in my own research in order to sell the the max volume possible of shirts on the Merch platform.
I want to leave you with this.
There are 2 facts when it comes to Merch and you should follow these 2 facts if you want to make money instead of dreaming.
Fact 1: Buyers buy what they like, NOT what you like.
Fact 2: You make money when buyers buy what they like, NOT what you like.
These might seem pretty obvious, but if everyone just stuck to these two simple facts, everyone would be making a lot more money.
Figure out where buyers are spending money. Use Merch Informer to do this in just a few minutes a day. Give these potential customers exactly what they want!
When you give a potential customer a better product in a market they are already shopping in, you will make money. Simple as that.
Stick to these 2 facts and it should do you well in your Merch by Amazon career. Good luck out there!