Spreadshirt: Endless Print on Demand Possibilities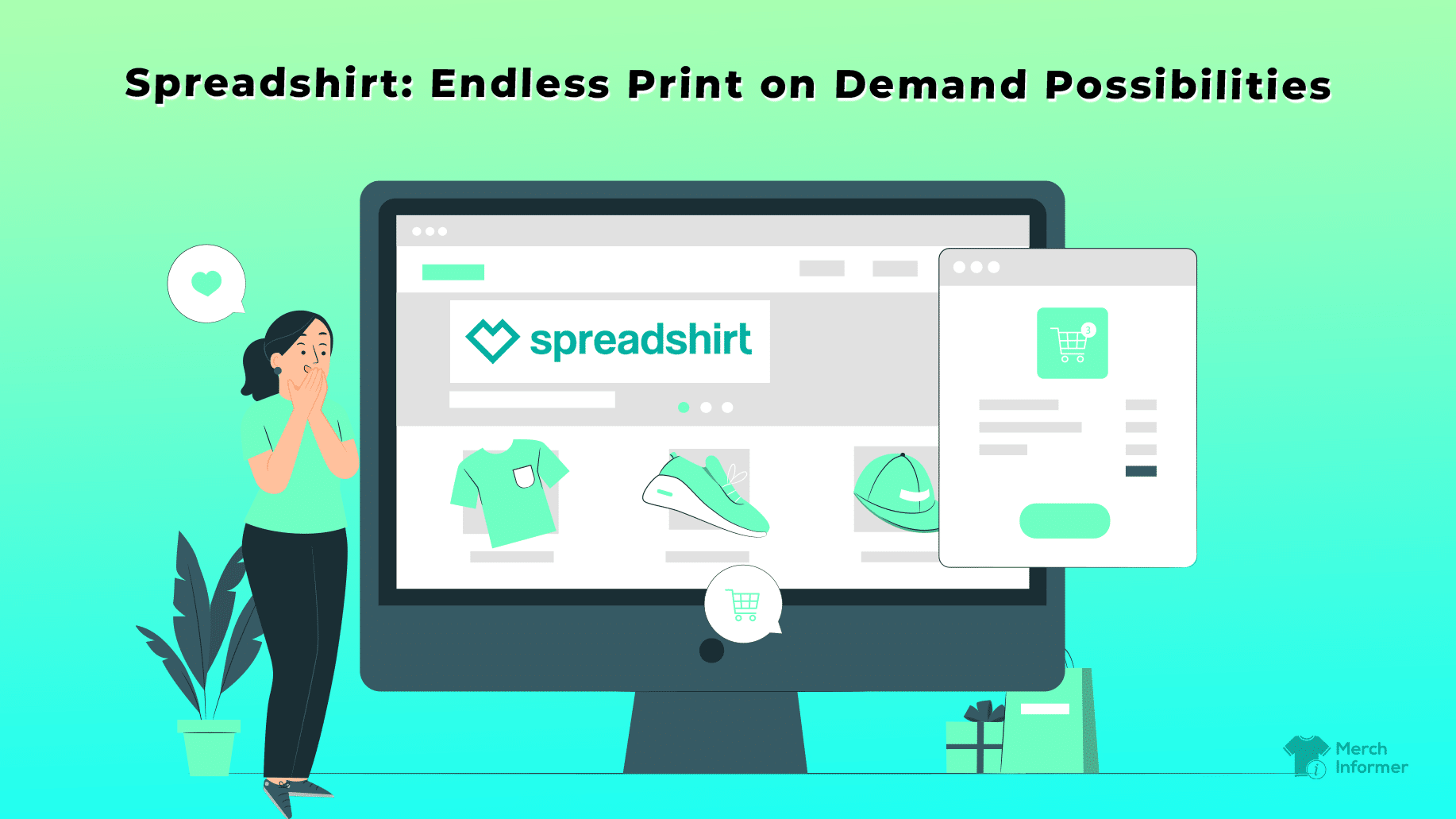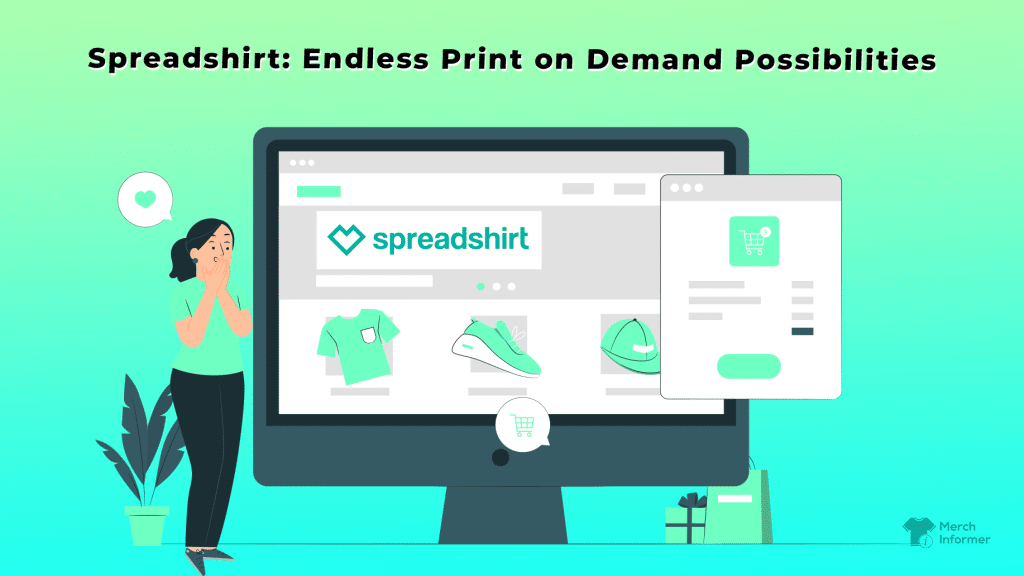 There are plenty of ways to make money on the internet, some harder than others. Print on demand has to be one of the best, most hassle-free and inexpensive ways to start and scale a massive business online. Tools like Spreadshirt make it incredibly easy to get started with print on demand.
Spreadshirt: Endless Print on Demand Possibilities.
Spreadshirt is a global clothing and accessories platform that allows individuals to create, print, and sell custom designs on dozens of products through print-on-demand services.
Spreadshirt doesn't just allow people to create personalized clothing and accessories, they also have a huge marketplace with hundreds of thousands of daily visitors making it the ideal print-on-demand platform for entrepreneurs and creatives alike. Read below to find out more about Spreadshirt, how to make money with print on demand, and how to design your first product today!
What is Spreadshirt and How Does it Work



Spreadshirt is a large online print-on-demand platform that allows anyone to design and print custom clothing and accessories.
You can explore your creative side and print a t-shirt for yourself or you can apply a design to the dozens of products made available by printing partners on Spreadshirt and sell them on the Spreadshirt Marketplace.
The best part?
Because Spreadshirt uses print-on-demand, you never have to buy, hold, or store inventory.
Instead, a customer will purchase your design on a product they really like, and Spreadshirt will automatically use a print partner to create the order and ship it to the customer!
Essentially all you have to do is make an account, create a design, upload it to a product, and sell it on the Spreadshirt Marketplace and Spreadshirt will take care of the rest.
Is Spreadshirt Really Free?
Yes!
Having a Spreadshirt account and creating your own shop is completely free!
In fact, unless you decide to hire a VA or graphic designer, you incur no expenses at all since Spreadshirt only prints on-demand meaning when a purchase has been made.
What does this mean for you? Well for starters, you take on no risk.
Unlike traditional businesses, where you would have to purchase and hold inventory then get traffic to your website and ship orders once they are made, Spreadshirt takes care of everything!
What Percentage Does Spreadshirt Take?

Since Spreadshirt will be taking care of accepting, fulfilling, and shipping orders, or at least their print partners will, they have to take commissions and pay you accordingly.
Recently, Spreadshirt has changed its pricing model on the Marketplace. Sellers like you will receive a fixed commission for every sale made.
For example, you will make $3.00 for every standard t-shirt sold or $7.50 for a premium hoodie sale in the U.S. You can find a full list of product commission payouts here.
However, there is a lot more that goes into the pricing model especially when you factor in things like promos and so on. For a more in-depth look at the Spreadshirt commission and payout model, see here.
Keep in mind that Spreadshirt has a very competitive pricing model and you stand to make a lot of money if your shop is optimized and ranks high in search. For information on how to increase your sales contact us today!
How Do You Make a Design on Spreadshirt?
So, you've decided to sell on the Spreadshirt Marketplace? Great!
Now all you have to do is figure out how to make a design and sell it on Spreadshirt.
First of all, when it comes to the design, there are plenty of free and paid tools you can use including Photoshop (paid) and Canva (free). You can also make use of the Merch Informer designer to crank out designs to sell on Spreadshirt time and time again (and we have the analytics and software to do a LOT more!).
To sell big on Spreadshirt you really don't have to be a design expert because some of the top Sellers are just simple, quirky, funny, cool, or trendy designs. You could also hire a VA or graphic designer down the line to take care of everything for you.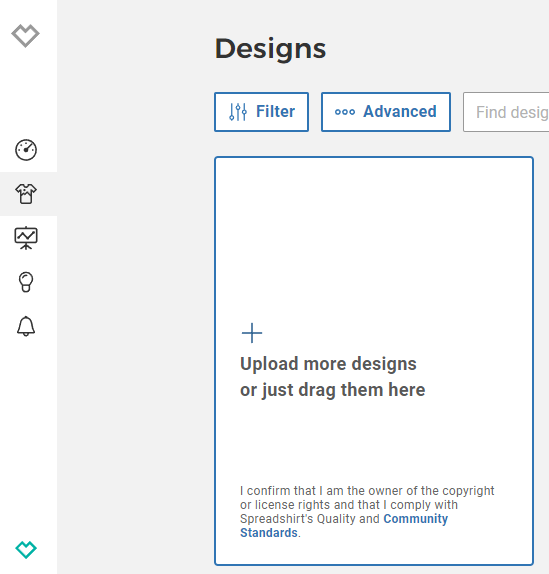 For now, let's go over how to design products for Spreadshirt:
Go to Spreadshirt and at the top click "Start Selling".
Then select "Sell on the Marketplace", you can go with the "Create your Own Shop" option if you would like but you will miss out on the hundreds of thousands of daily visitors that Spreadshirt gets so instead of trying to gain traffic on your own, we suggest going with the Spreadshirt Marketplace.
Once you click on "Sell on Marketplace" you will be redirected to a registration page where you can setup your account.
Fill in the relevant information (email and password) then hit "Get Started Now".
You can then take the Guided Tour or keep reading to find out more!
You should see a page where you can upload an existing design you've made as a .jpeg, .png, .gif, .svg, .ai, or .cdr.
Upload your design to Spreadshirt – once done you can view or edit your design.
You may get a message like "Action Required" – something needs to be done before your design can be published. Click the edit icon – there will likely be your original version upload and an optimized version that Spreadshirt automatically centered it and reduced the transparent area for but it's up to you which version you choose.
Click "Confirm Selection" and then the Action Required message will go away but you haven't Published the Design just yet.
Click the edit button again to upload your design to certain products – you will see a huge list of available products you can use your design on for print on demand.
You can click "X" at the top of the products you don't want your designs to appear on.
Once you've made your selection click the image to edit your design.
Here you can use the slider bar to edit the size, click and drag the design to align, rotate, etc… The design must stay in the print area marked by the white rectangle.
Click the Product Color Tab to select default colors and deactivate colors you don't want your design to print in. If you have a design in white, let's say, you should deactivate the white color print option so your design appears once printed.
You can also select the Print Area and have different designs on the Front and Back of the product.
Once you're done click "Apply" and go through this process for each product you want to sell. This may be time-consuming but it's worth it to increase your sales!
Once you're done, click Next at the top right.
Enter design details – name, description, and tags. This is super important for optimization and search ranking.
Once completed click Create.
And that's it! You will be asked to fill out some more personal information so just go through that process and click Apply.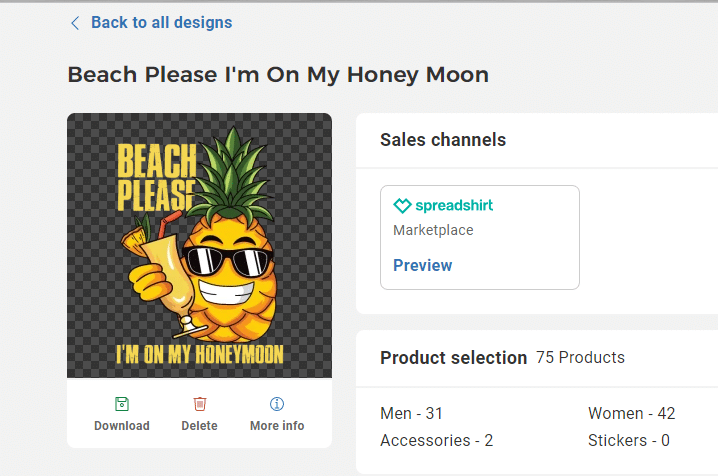 You can check the status of your design by going to your designs tab. Your design should be "In Review" and it should take less than 10 days to get approved.
Then it will be available in the Spreadshirt Marketplace!
If you are serious about making money with print-on-demand, then contact us today as your all-in-one tool for selling merch! We will help scale your business quickly and effectively.