The Importance of Selling Outside of Amazon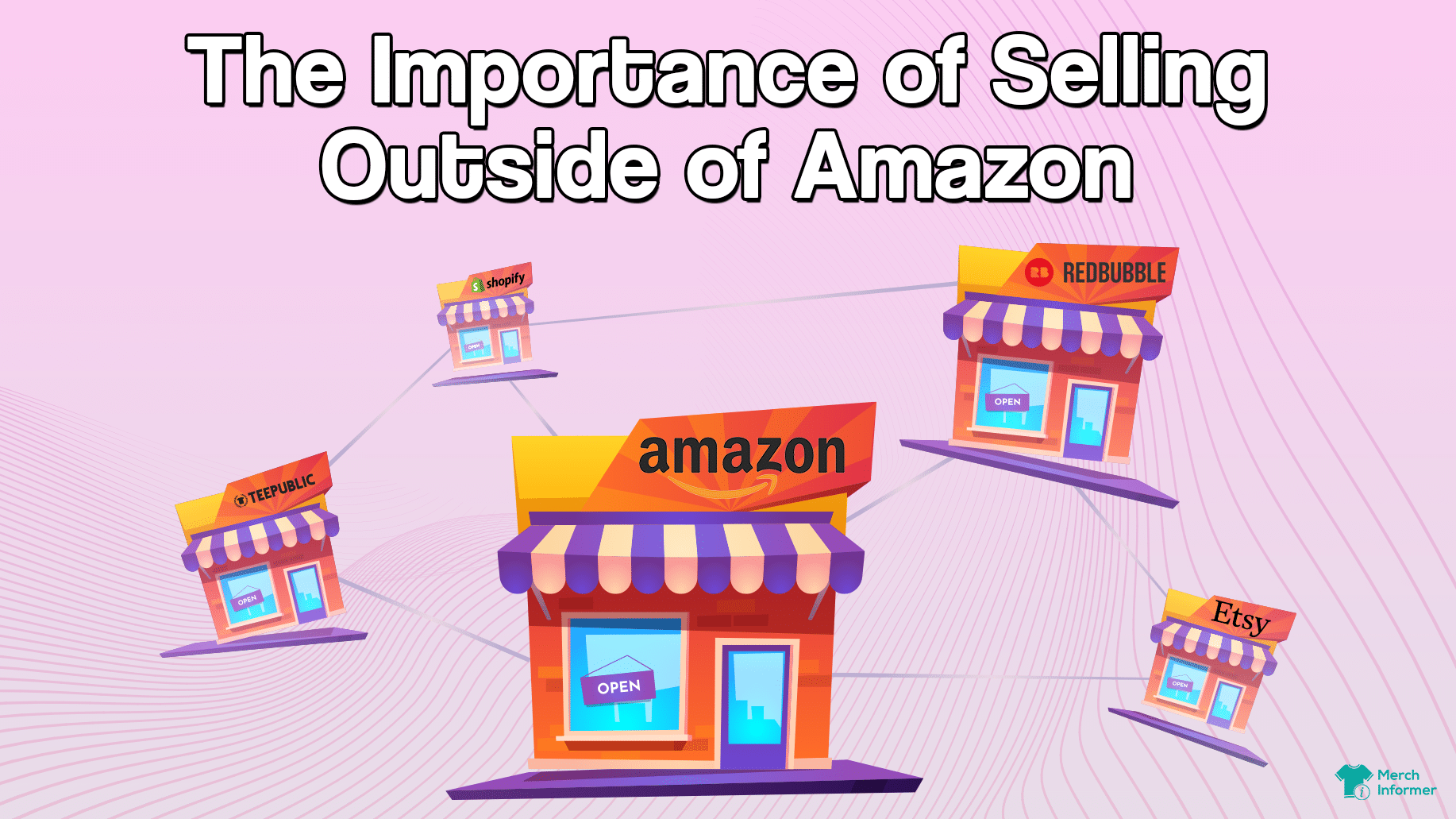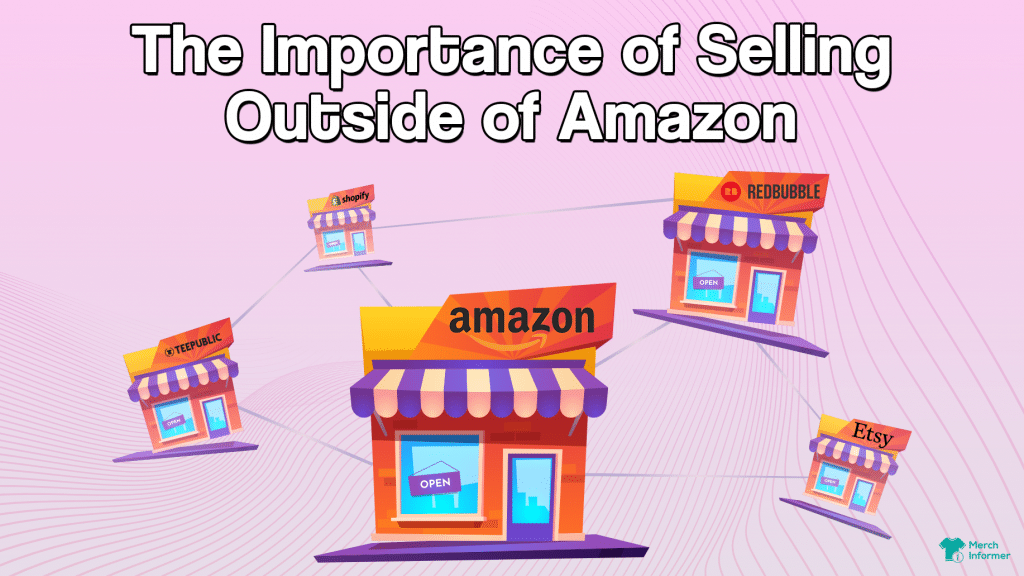 When you're selling Print on Demand products, Merch by Amazon is the platform to be. It's Amazon, after all – there are millions of people flocking to the website every single day, and it's the go-to destination for when you want to order something fast. 
Since 2015, the number of buyers and sellers in Merch by Amazon has only been growing, to the point that it's already the biggest Print on Demand marketplace today.
Still, as massive as it is, you shouldn't rely only on one platform for your merch revenue. 
In this guide, we'll look into why it's an advantage for you to sell outside of Amazon, and we'll also explore other platforms where you can sell your designs. 
Let's dive in: 

Why Sell Outside Amazon? 
First, it's completely possible to have large enough earnings on Merch by Amazon. You might notice that even when you branch off to other platforms, your designs on MBA could still bring in the most revenue. 
Aside from already having a huge customer base, Merch by Amazon handles all the steps well for Print on Demand. It takes care of all the logistics and shipping, not to mention that you won't be charged for production until a customer already pays for your designs. 
Despite these benefits, there are several reasons why you should distribute your designs across different platforms:
1. You'll widen your revenue opportunities 
When you already have your designs created and ready to go, it makes sense to give them more exposure by posting them on more than one platform. 
Even though Merch by Amazon might be your first choice, not everyone goes to Amazon to specifically browse for apparel. Some people prefer to visit other stores, and they might be missing out on your designs simply because they didn't have the chance to see them.
T-shirt designs that do well on Merch by Amazon also have a good chance of being successful on other platforms. The good news is that creating accounts and uploading your designs to these platforms doesn't take that long, and you can be getting extra earnings out of it.
2. You won't be too dependent on Amazon's rules 
If you sell only on Merch by Amazon, you could end up being very reliant on Amazon's rules. For example, in a rare event that caught many sellers by surprise, Merch by Amazon temporarily closed and stopped printing in March 2020 because of the COVID-19 pandemic. 
Businesses that had other platforms on the side then fared better than businesses that depended only on MBA. 
Another example would be the application process for new sellers, which can be time-consuming figuring out why an application may have been denied. The point of this is to weed out low-quality sellers, which run the risk of increasing as the platform grows.
Waiting for approval can take between 2 weeks and 2 months, but it has reached as far as three months for some people. During this time, it's reasonable to move ahead with other platforms to get your sales rolling.   
3. You'll have more options to promote your brand 
Unlike other Print on Demand platforms, Merch by Amazon doesn't give much leeway to its sellers when it comes to customizing their profiles or even marketing their designs. 
You can't put extensive profile images or link to social media pages, and there's no artist bio  either. 
It's also harder to track customer data with Merch by Amazon. There's no built-in CRM where you can store your customer's contact details or generate spreadsheets for analyzing trends. 
In general, there isn't much you can do to promote your branding from inside the platform. This won't be a problem if you already have strong branding elsewhere, but new businesses might find it more challenging to set themselves apart. 
4. Upload automation makes it easy
You might be tempted to stick with only Amazon because managing your designs on several platforms sounds like a lot to manage. Thankfully, you don't need to upload your design to all these platforms manually anymore, you can use an uploader app. 
Merch Informer has a Single Upload Interface where you input your designs only once but publish them on multiple platforms. This covers a ton of Print on Demand platforms, including Redbubble, Spreadshirt, Teespring (Spring). If you use Printful to sell on Etsy, Shopify, or Amazon, that works too. 
Essentially, you can get more eyeballs than ever on your designs with a lot less effort. 
Top Stores for Print on Demand Products
With all of the online stores available out there, you might be wondering where else to start selling your designs aside from Merch by Amazon. You can check out our list of marketplaces as well as Print on Demand sites. 
Results vary per business, so feel free to experiment with different platforms. Here are four prominent websites where many Print on Demand sellers have flourished: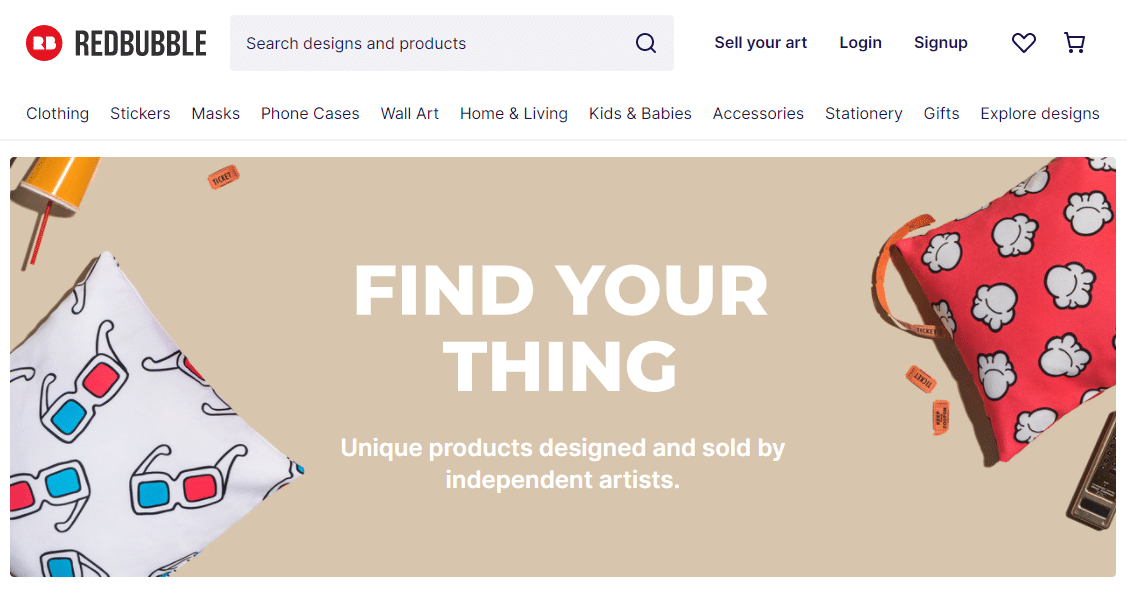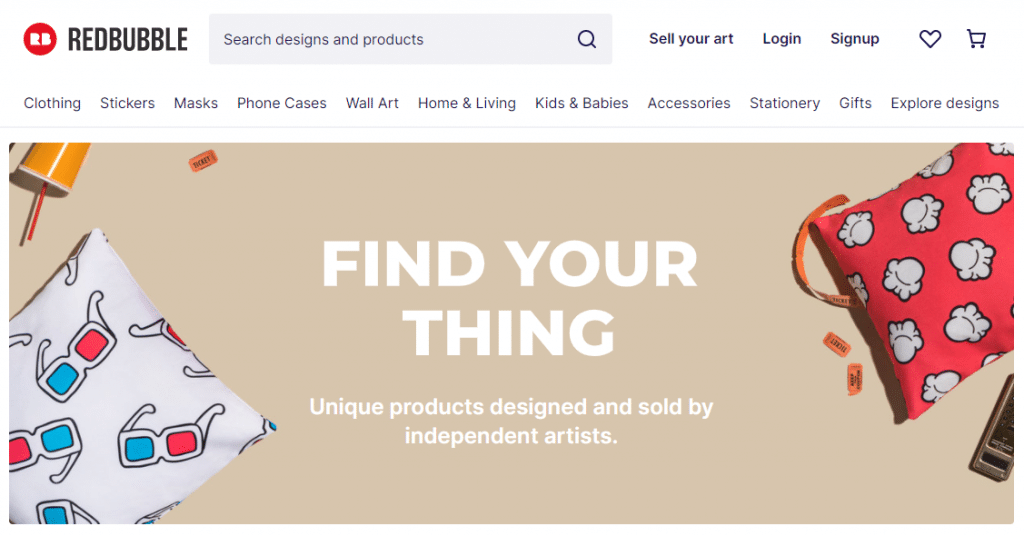 After Merch by Amazon, Redbubble is the largest print-on-demand website. Established in 2006, it's one of the oldest marketplaces and has more than 600,000 sellers.  
It's already earned the trust of many customers over the years, and it seems to have earned Google's trust too as many of the designs here rank high on the search engine. 
Compared to Amazon Merch, Redbubble is more focused on unique, quirky designs. In fact, it describes its designs as "weirdly meaningful art".
You can stand out on Redbubble if you choose the right niche, and also use high quality and relevant mockups for your designs. 
Pros
Large traffic

– Redbubble gets more than six million visitors every month.
High Google rankings

– When you upload your designs with the right long-tail keyword, there's a good chance that it'll rank high on Google. This can be a major plus for businesses and designers who are still starting out and establishing their brand.
Google Shopping Ads

– To give your designs more visibility, Redbubble uses Google Shopping ads for targeting potential customers without any extra charges on your part. 
Good reputation

– Redbubble is well-known among people who like buying artsy shirts, and most customers have good experience with ordering and shipping.  
Customizable seller page

– You can add a profile and header images as well as social media links. Redbubble also puts the spotlight on certain sellers on its homepage.  
Flexible profit margins

– Redbubble charges you a certain amount for each product, and it's up to you how much to add to this for the final market price. 
Cons
Intense competition

– There are millions of designs on Redbubble, so it's important to choose the right niche and keywords for your designs. 
Variable charges

– Redbubble doesn't have a consistent base price for products because it depends on the delivery address, which determines taxes, material costs, and local production. 
Charges
It's free to sign-up for Redbubble and post your designs. You only get charged once a customer orders your product.  
Payment 
Redbubble charges a base price depending on the type of product you're selling. From there, you can decide how much you'll be selling it to customers. The difference between the two is what you'll earn. 
Redbubble sends out your earnings every month as long as they reach above $20, 20€, or £20, depending on the currency you're using. If your earnings fall below that, they'll let it accumulate every month until it reaches the threshold.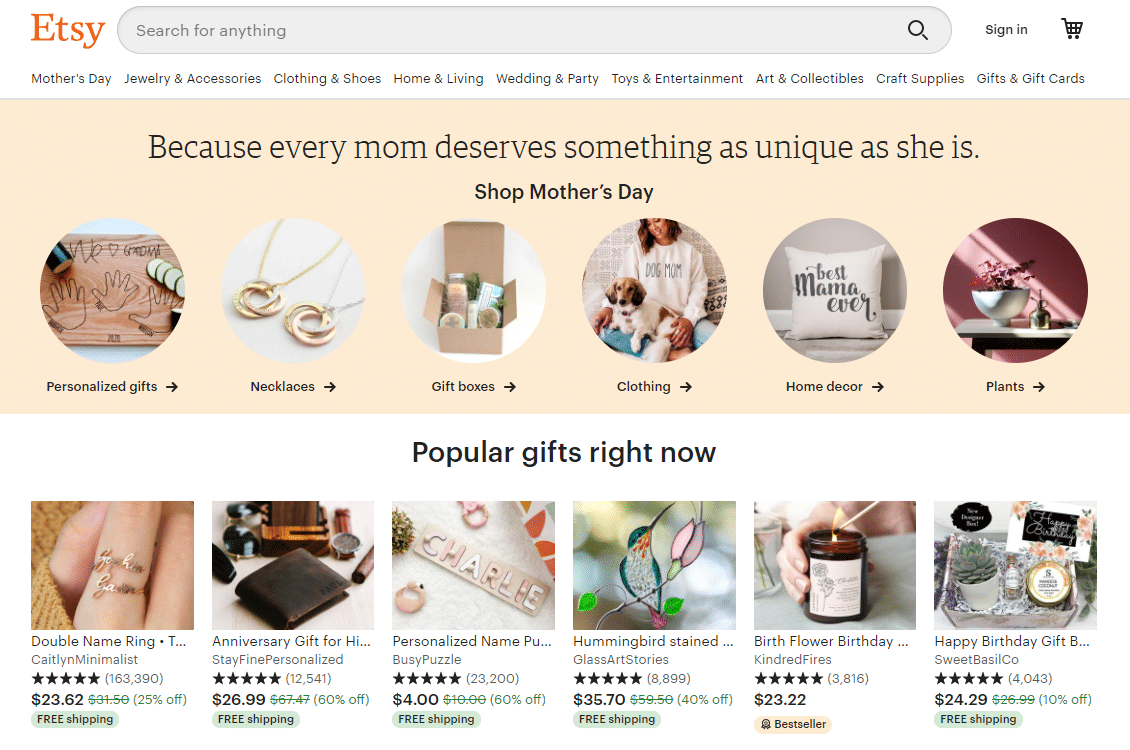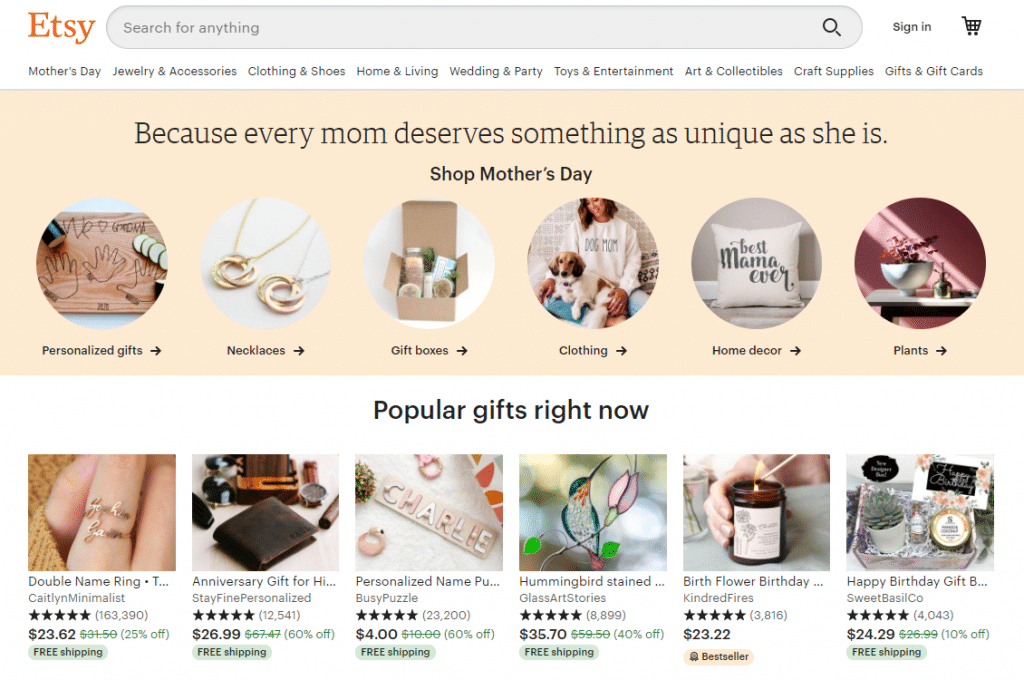 Etsy was founded in 2005, and it's now a huge online marketplace with a wide range of artisanal products. Creatives, small businesses, vintage dealers, and DIY crafters make up a huge number of Etsy sellers. 
Luckily for Print on Demand sellers, Etsy has partnered up with production companies so you can easily sell shirts, blankets, hoodies, and more without worrying about manufacturing and logistics. Printful is among the most well-known Print on Demand companies that you can work with when you're selling on Etsy.  
Pros
Well-established marketplace

– Etsy is extremely popular, with customers not only from the US but also all over the world. As of 2020, it had 81.9 million buyers, and many of its products get featured in magazines and blogs. 
Sales and discount codes

– You can market your designs more easily on Etsy because you can run sales or give discount codes to loyal customers.  
Quick sign-ups

– Signing up on Etsy is much faster than on Merch by Amazon because there's no approval process needed–you only need to build your shop page and add your product photos, copy, and prices.  
Cons
Pay per listing

– Unlike Print on Demand shops, Etsy charges you per listing, regardless of whether or not anyone makes an order. If nobody orders your listing after four months, you have to pay a renewal fee to keep it posted.
Hands-on customer service

– Since you'll be working with a third-party Print on Demand company, you'll have to handle customer service at your Etsy shop yourself and reply personally to customers' inquiries and complaints. 
Charges
There's no sign-up fee for Etsy, but when you upload your products, you have to pay $0.20 for each listing. 
Payment 
When you integrate Etsy with Printful or any other Print on Demand service, they'll charge you a certain amount per product once your customer makes an order. This covers fulfillment, shipping, and taxes. 
For example, with Printful, T-shirts start at above $8, while hoodies are at $17 minimum. Your customer payments will get deposited on Etsy. For your first 90 days as an Etsy seller, you'll have to wait for a week after a sale to receive the payments, but after that, you can receive them the next business day.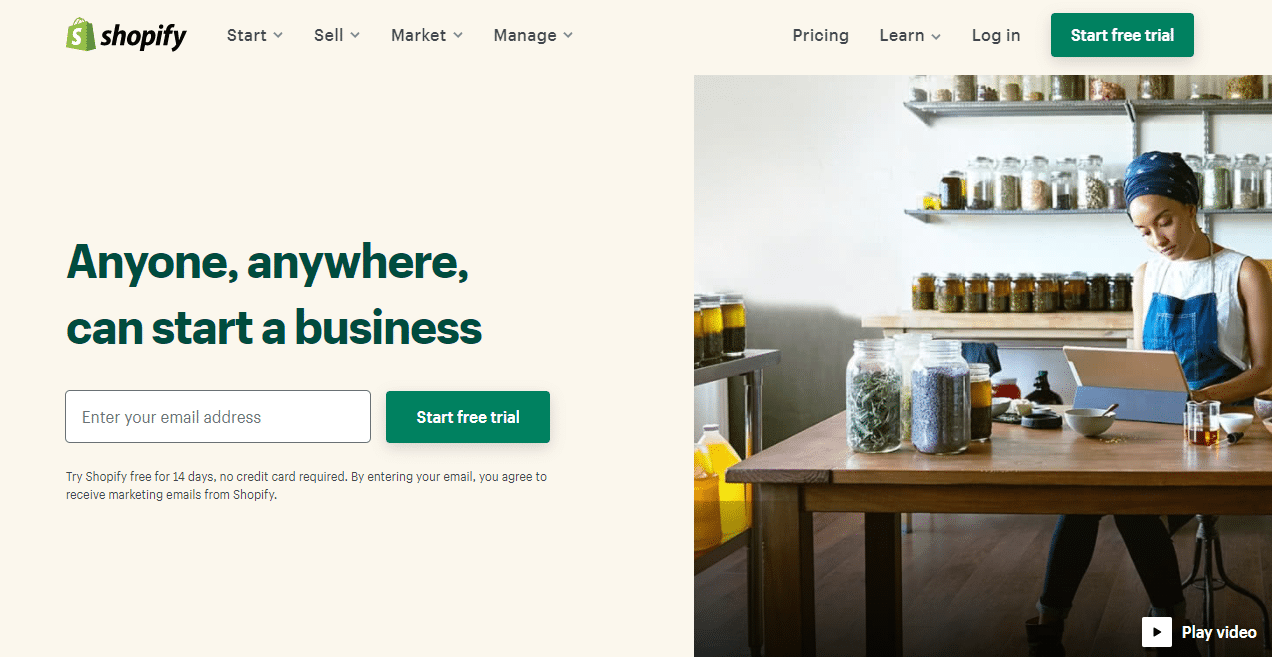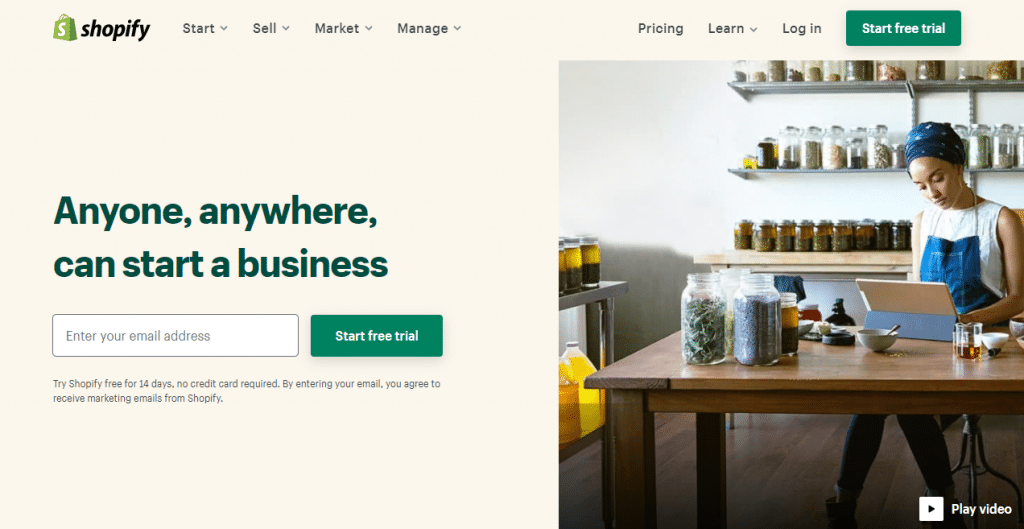 If Amazon is the ultimate online marketplace, Shopify is probably the most well-known eCommerce store builder around. As of 2020, Shopify makes up 3% of all websites around the world, with more than 44 million customers ordering from Shopify sellers in a year. 
Shopify's major advantage is convenience. It works on a subscription-based model, and practically all key business processes are streamlined, from website design to customer payments. 
You can also build a unique brand for your business with your own store with Shopify – tools like Placeit that have t-shirt mockups, logos, marketing designs and more can help you build a unique brand. 
As a Print on Demand seller, you can link up your Shopify store with popular services such as Printful, LuluXpress, and Printify. For a full-on merch empire, it's possible to integrate Amazon with Shopify. This way, the merch on your Shopify store can be viewed and ordered by Amazon customers. 
Pros
Extensive collection of tools:

There are more than 4,000 apps in Shopify's App Store. Whatever you're thinking of doing with your online store, Shopify probably has an app for that.
Payment options:

Compared to other platforms, Shopify has a diverse range of payment options in multiple currencies.
Control over your business:

Since you'll be making a separate website for your Print on Demand products, you decide on the design and marketing, and you can establish a distinct branding. 
Cons
Requires active promotion

– You're responsible for driving traffic to your Shopify store, so you'll have to devote time to marketing.

More expensive

– Aside from the monthly subscription, you might have to buy additional tools and plug-ins, and costs can accumulate. 
Charges
A Basic subscription is at $29 per month. This covers most of your basic eCommerce needs, but if you have a larger team accessing your store or you want professional reports, you can upgrade to Standard ($79) or Advanced ($299). 
Payment
Shopify has several payment providers, so your payout details depend on which one you choose. Your earnings per product are also determined by the Print on Demand service you're working with. For example, if you work with Printify, they have a catalog of print providers along with their rates.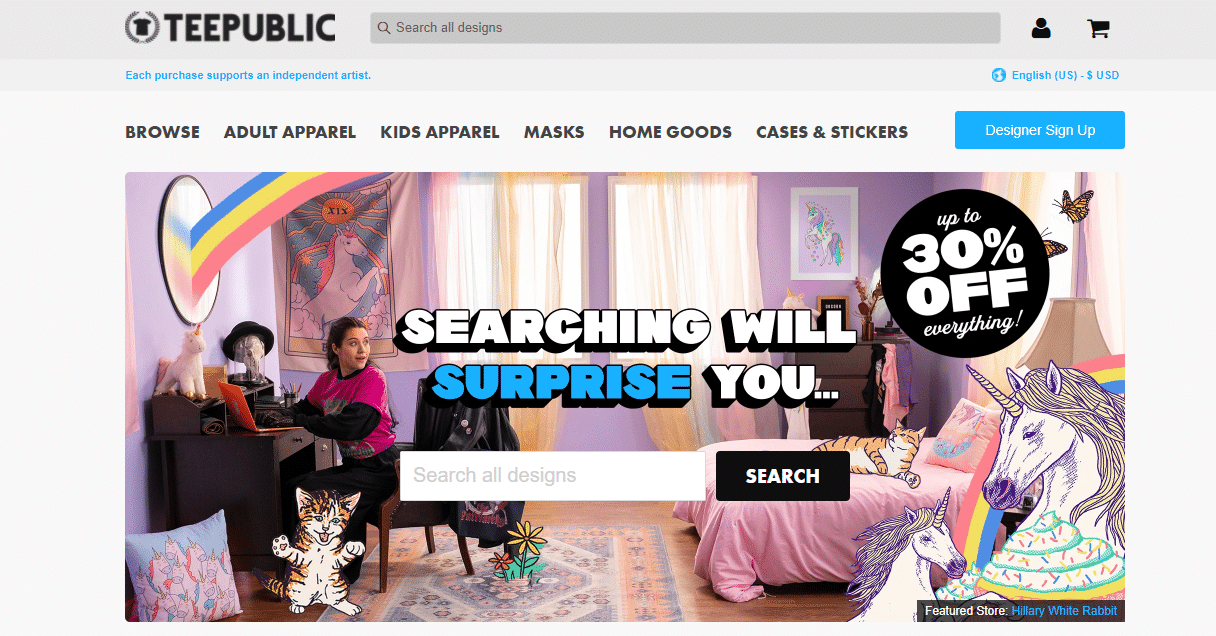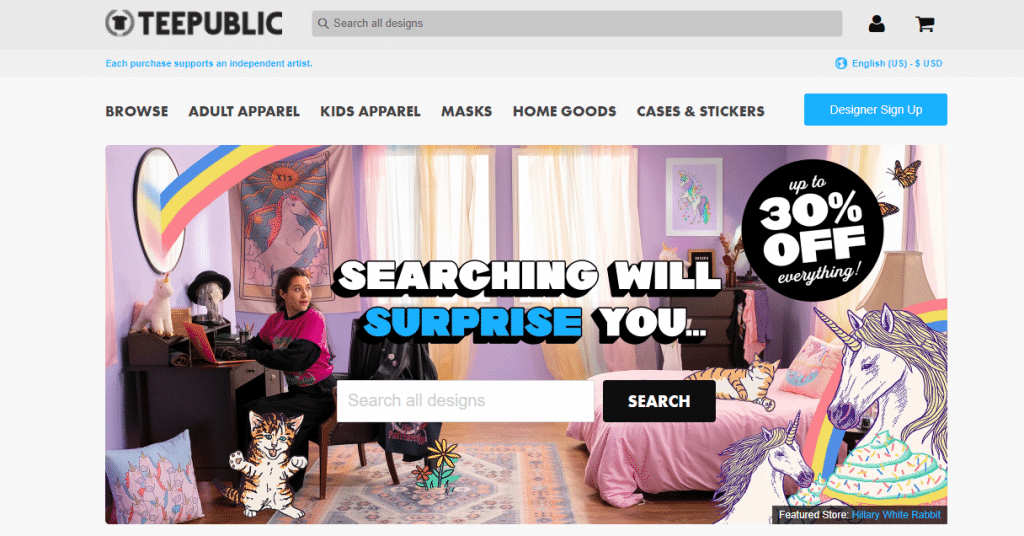 After Redbubble, TeePublic has one of the largest markets as a Print-on-Demand website. In the past five years, it has amassed more than $7.5 million in earnings for independent artists who post their designs. 
What sets TeePublic apart from other Print-on-Demand websites is its emphasis on sustainable production and vegan-friendly products. 
The founders of TeePublic also founded Vimeo and CollegeHumor, so they've had experience building companies from the ground up. In addition, Redbubble bought TeePublic for $41 million in 2019. Although Redbubble now owns TeePublic, the two still operate as separate businesses, and TeePublic has distinct pros and cons from Redbubble. 
Pros 
Sales

– It's common for TeePublic to run sales where selected products are available at $14 for a limited time. While this results in a lower commission per design for sellers, more customers might end up buying, which can result in higher earnings.  
Convenient Uploading

– Uploading designs is a key part of running a Print-on-Demand shop, and TeePublic has a very user-friendly process. You can upload several designs at the same time and complete listings in a few minutes.
Option to Hire Artists

– If a customer likes your designs, they can hire you through TeePublic to make customized designs for them. 
Cons
Fixed Prices

– TeePublic has a fixed pricing structure where you get paid a certain amount depending on the type of product that you're selling. They determine the product price, and you get commissions for each sale. 
Less Traffic

– TeePublic receives around 5 million visitors every month, which is far less than Etsy's or Amazon's traffic. 
Charges
You can set up a store on TeePublic for free. Charges only kick in once customers start making orders.
Payment
Unlike many other Print on Demand websites, you don't control the prices for your products at TeePublic. Instead, TeePublic designates a specific amount that you'll earn for each product, depending if it's sold at regular prices or if it's on sale. 
Sale earnings are typically half of regular earnings–for example, a shirt that'll earn you $5 at regular price will earn you $3 when it's on sale. 
Key takeaways 
Regardless of which platform you choose to sell your designs on, here are the key things to check:
Does it get a lot of traffic every month, with high Google rankings? 

Are its features helpful and user-friendly? How easy is it to upload your designs and set up your store? 

What are customers saying about it? Is it a trustworthy website? 
Setting up an account on several websites doesn't take that much time either as long as you already have your designs prepared. 
Knowing the niche you want to target and choosing the right keywords will also go a long way towards making your designs much more marketable. Over time, you can tweak this for each platform depending on which designs perform the most successfully. 
Each platform can attract different audiences, so don't be surprised if they don't all favor the same designs!
Merch by Amazon might be the ultimate Print on Demand marketplace, but you can grow your revenues by expanding to other platforms. 
There's little risk too since most Print on Demand have no upfront charges. The more visibility your designs have online, the more customers and sales you can gain.