100k School Debt to Financial Freedom – Merch by Amazon Update 9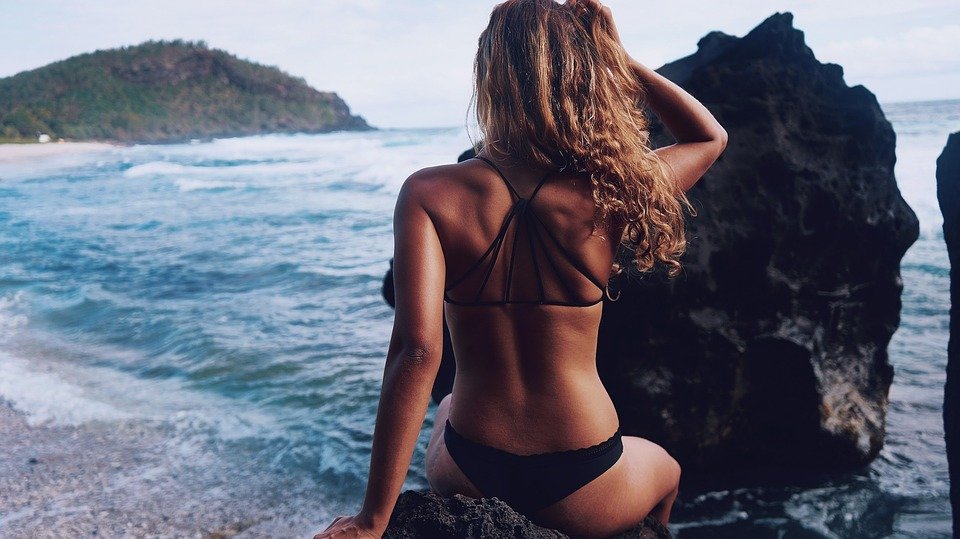 January sure was a month! Everyone was coming off those high Q4 sales where lots of people were crushing all sorts of sales goals. January, for many, was a bit of a shock. With sales dwindling, new royalties coming into play, and a new application process, many people started to get discouraged about Merch.
My girlfriend's account saw the exact same decline in sales but a few things done in early January were crucial to something that is beginning to happen in February!
In case you missed it, here is last month's case study:
100k School Debt to Financial Freedom – Merch by Amazon Update 8
Quick Note: Merch Informer came out with a cheaper plan to help everyone new to the Merch by Amazon game really make sure they are making the best use of their time. The Newbie plan is half the price and packed full of features. If you have not given the 3 day trial a try yet, make sure to read about what you are missing here.

January saw a MASSIVE slump in sales but if anyone has been in the Merch game more than a year, you know this was expected. In fact, it is not just Merch by Amazon that is experiencing this slump in sales.
January is actually one of the worst months by far in all of retail. People are out of money because they spent what they had on gifts and presents for Christmas. People also have lots of clothing they probably received as gifts. They ALSO probably receive a paycheck every 2 weeks, so many people are just not looking to spend much money at all.
Not only did lots of the shoppers not really have any money to spend on our shirts, but there was still a throttle going on which seems to be almost completely gone as of writing this article.
All of this combined can make people very discouraged. Why would you put time into a business when you are not making much out of it. You feel as if you are wasting your time but somehow forget the great highs of December. This brings me to something I keep coming back to:
Motivation may get you started but it takes discipline to keep you going.
So, with that being said, let's jump into January and what happened with the account.
What Happened In January?
January was an extremely busy month of just straight studying to take her nursing exam so she can work as a licensed nurse. Because of this, not many designs were uploaded to the account.
As of publishing this article, SHE PASSED!
That being said, she did spend some time uploading to Etsy and has started making over a hundred dollars a month on Etsy. Etsy is pretty easy to get started, but one of the things that no one thinks about when they get started with the platform is that they need to actually do customer service!
She got a good lesson in customer service when someone who ordered a shirt requested a larger size. Not only did she have to eat the cost of the original shirt (which will be mailed back to her), but she had to purchase the new size from Printful and email it to the customer. All in all, she lost about $3 which is not bad at all. However, dealing with the customer and figuring out shipping and shirt sizes can be frustrating. You should be doing everything you can to make the customer happy though. Etsy is ALL about customer interaction and doing what you can for them. If you go through the effort to make the customer happy, they will return the favor.
Even though she lost a few dollars and time on that sale, the lady was so happy she turned around and left the store a 5 star review which drastically helps get your store really goin
g!
If you are interested in getting started on Etsy, we wrote an in depth guide here:
Sell Your Amazon Merch Designs On Etsy With The New Printful Integration
Now, back to Merch!
Hoodies and Sweatshirts!
We have known for a while now that Hoodies and Sweatshirts were available to brand partners and high tier accounts. This is why we added them extremely early to Merch Informer so you could search our product search and get ahead of the curve.
On January 2nd though, everyone got this update in their dashboards:


This was super exciting! We now can sell hoodies during the cold season. Not only that, but we can take the SAME designs that have been selling well during Q4 and get those up onto different types of clothing. Since each design costs us $4 from our VA, the more products you can put that design on, the more ROI you can make per design.
Sweatshirts take the exact same dimensions as t-shirts do for the design file. However, hoodies have a different size!
This left the entire community a bit confused on how to properly resize all of these. For someone in the smaller tiers, they could simply open up any editor and go through each one. But what about the people that had thousands of designs that needed to be resized? This was going to be a MASSIVE time sink!
We got in touch with our friend Greg and quickly came up with a script for Photoshop that will go through all your designs perfectly. It even works with the Photoshop free trial so everyone can make use of this method.
She started using an older desktop (7 years old!) that I dug out of my closet and rebuilt for her to strictly do her Merch business. This computer manged to resize just over 1000 unique designs in a few hours. If you have a better computer, you should be able to crank through all of your designs in even less time.
After all the shirts were resized for hoodies, she put up only the designs that had sold multiples during Q4 onto hoodies and sweatshirts. This seemed to work pretty well in term of sales! Hoodies were certainly a better seller than sweatshirts though!
Tier Up!
This account has moved fairly fast through all the tiers.
In early January the account jumped from tier 2000 up to tier 4000! This means that uploads went from 40 a day up to 80 per day. As she was studying for her exam, this just was not going to happen.



At these higher tiers, things do begin to start getting harder to manage. The dropbox folder with everything is an absolute mess and trying to deal (and find) all the shirts coming down for no sales can be a bit difficult.
That being said, at these higher tiers with the drastic amount of uploads you can upload a day, you can really start making some money! So while they were not all filled every day in January (no where close), even with dwindling royalties, this puts the account in a great position to dominate 2018!
Trending Designs
The one main thing that was focused on during January was trending designs.
If you want to make sure you are ahead of the curve, you should be looking to the future to see if you want to go after trending niches. While everyone else was getting discouraged, my girlfriend noticed that she should focus on Valentine's shirts because February was around the corner!
After doing some research into the niche, she got a decent size batch together to send off to the designer and put those designs up as soon as they were delivered about a week later. This meant that her Valentine's day designs were up over a month before the actual date. This is CRUCIAL if you want to gain traction.
I will not go into the numbers here (next month's case study!), but I can tell you this move was very very much worth it.
Keep in mind, your strategy is going to depend on how many open slots you have to play with.
Royalty Change – What Did We Do?
This is probably the big elephant in the room. Merch by Amazon finally changed our royalties in January which we knew about. Not a single person was looking forward to it, but it was to be expected as the program grew.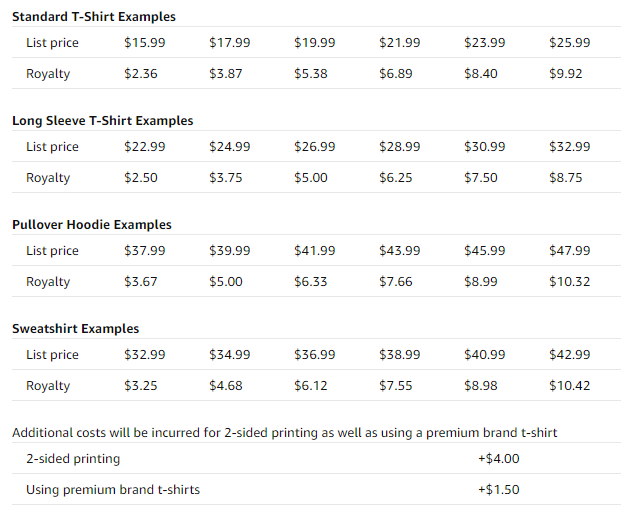 As you can see above, we all took a pretty large cut to our royalties.
I remember the days when you could make over $4 per shirt just selling at $14.99, but I digress…
With the lower royalties, people have been talking about what they are going to do about their prices. Will they raise them? Most of the community seems to think so! Will the 2 new products (hoodies and sweatshirts) offset the decrease?
I think it is actually a bit of both. The 2 new products are selling pretty well which helps offset the decrease in royalties, but people are trying to crank up their prices as well. If you look at the data in the Merch Hunter, you will see that in the top 1000 BEST selling shirts on all of Merch by Amazon, there are only 51 results that are priced higher than 20 dollars.



This should be a big signal to all of you. People on Amazon want to get the BEST price and above 20 dollars, they are no longer impulse purchasing. I will probably write about my own personal strategy later, but as of this post my girlfriend is NOT raising prices on her shirts.
The same strategy is still applying. Raise prices on shirts that get reviews or take off in BSR and leave all the others priced competitively. While January sales are a bit down, as of writing this, it looks like the strategy is working well.
Anvil Shirts Being Replaced!
Before we wrap this up with the results for January, at the very end of the month, we got this in our dashboards!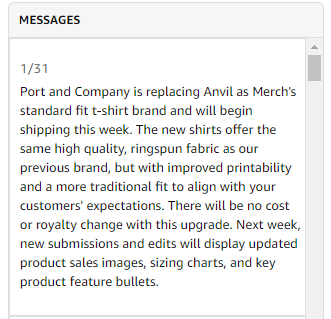 It looks like Amazon is rolling our Port and Company shirts to replace all of Anvil!
This is great news as the Anvil shirts were awful quality (in my opinion), and SHOULD help with some of the negative reviews we have been receiving.
From people that have already ordered some samples, the shirt is thicker, tighter woven, and the print seems to be a bit more vibrant. However, it has been mentioned that they do feel a bit warmer. We shall see how this new shirt does, but the change is a welcome one!
The Results For January
Before we get to it, here is a quick recap of the December Numbers: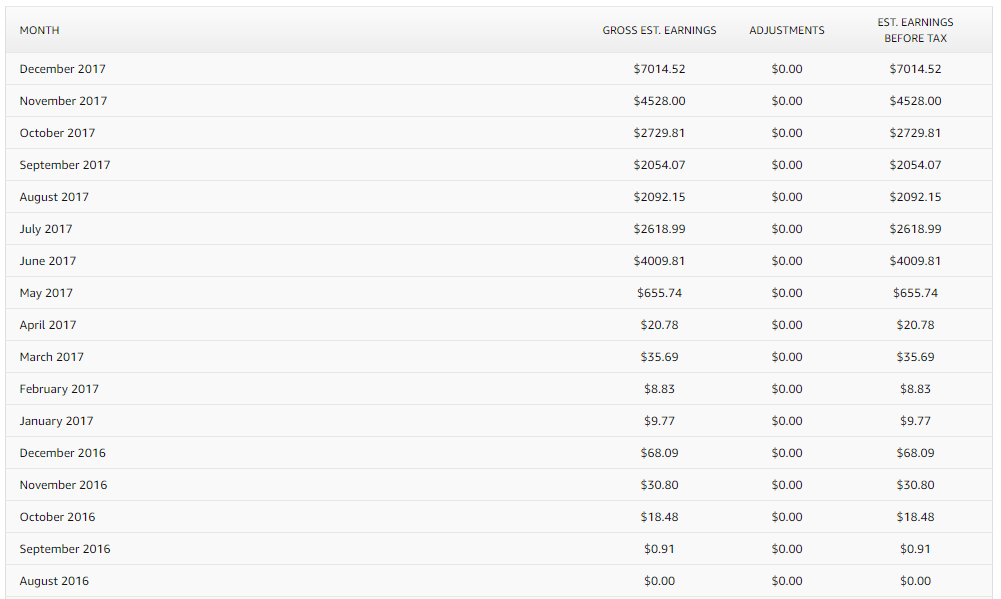 You will notice that December earnings are actually a bit lower than what was reported in the last case study. In the last case study we were expecting an extra $900 dollars on this January payment, but it was off again. This is getting hard to keep track of, but the next payment they should finally be caught up and include it in that payment.
Almost all the shirts are still priced at $16.99 while the premium versions are priced at $19.99. Long sleeves are priced at $25.99 to make sure they qualify for free shipping where sweatshirts are at $35.99 and hoodies $39.99. These price points seem to be working well for the quality of the clothing as well as sales volume.
Here is a summary of the totals for January 2018 from downloading the excel spreadsheet:



623 Asins sold with $2485.29 in royalties.
This is a big drop from December, but still, not too bad for January and getting the royalties cut in the middle of the month. As you can see from the numbers, and the earnings report from previous month, the account is still in a great position to increase in earnings. If $2485.29 is one of the worst months of the year, a typical month should be looking pretty good in the near future!
Here is the breakdown of the shirts sold:
Standard: 62.2%
Premium: 25.3%
Long Sleeve: 4.2%
Sweatshirt: 1.6%
Hoodie: 6.7%
It is interesting to see that standard and premium shirts are still what is selling the most. This is why they released t-shirts first and why this is what you should be focusing on. In second place is NOT long sleeves though, but hoodies. I suspect this may change in the coming months as the colder months become a bit warmer.
If you are looking to replicate this success, then make sure to check out the newbie plan Merch Informer just released. This plan is half the price and the girlfriend decided to release some coupons to celebrate the end of the year. You can use coupon code: casestudy for 20% off the monthly $9.99 a month newbie price or coupon code: casestudyyearly for 25% off your first year on the newbie plan. These codes are extremely limited so make sure to snatch them up before they disappear.
The Math
Since designs can easily be created yourself (and what most people are doing when they start), we are only going to be including the royalties in the math.