Growth Hacking Pinterest To Sell Amazon Merch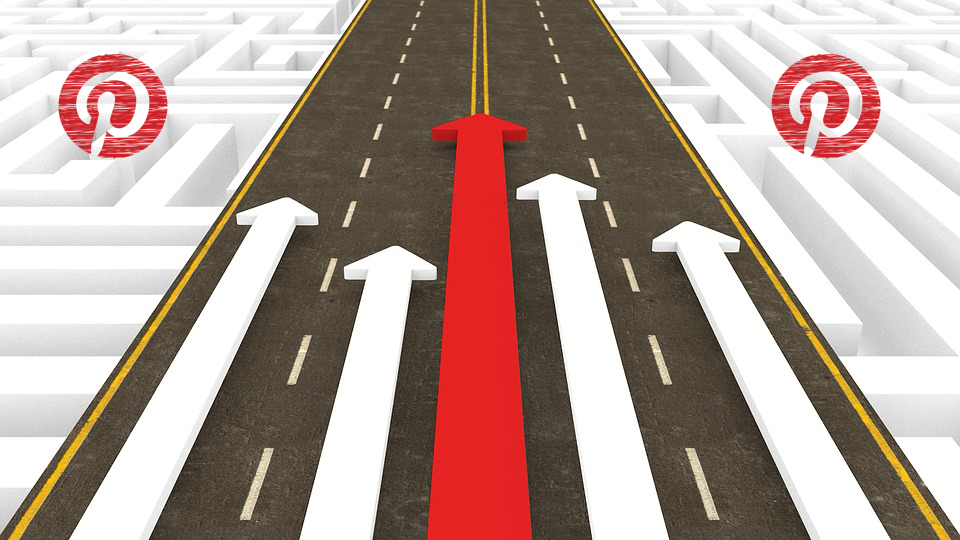 How many times have you seen someone mention or felt that you were just not getting any sales through Merch by Amazon leaving frustrated even though they were all posted on social media? Social media can be one of the biggest opportunities for selling your Merch if you do it correctly. The fact is though, that simply posting your shirts to social media is not going to work unless you put in the leg work first.
Posting your shirt on your personal Facebook account is not going to get much traction as none of your friends are specifically targeted. Tweeting about your design to the 1200 followers you got by doing a giveaway is NOT going to turn into more sales. Half or more of those giveaway followers are fake and used specifically to join these type of giveaways and they are just looking for free product and could care less about your product. It just does not work this way!
The above might sound a little harsh, and it is to an extent, but it is true. Everyone is coming at social media with a single angle of "sell shirts, sell shirts, sell shirts" without taking the time and consider why these people would want to purchase from you in the first place? You have to give and provide value before the majority of people will trust you and purchase something you created. This is similar to why you should try the 3 day trial of Merch Informer.
The perfect example of this is the Youtuber Philip Defranco that we talked about in the article on how to price your merch shirts. If you are not familiar, he runs a youtube show where he talks about current events, much like a news station. He also happens to sell a LOT of merch.
He clearly did not start out his channel to push merch to everyone. He started his channel to give people information that they were looking for and get some entertainment. It was only later that he pushed out merch and because he was connected to his audience, they eat it up each and every week. THIS is how you need to approach marketing your shirts to people. Give value first, sell them later. In my opinion, there is no better way to do this than utilizing Pinterest.

Pinterest – The Perfect Buyer Profile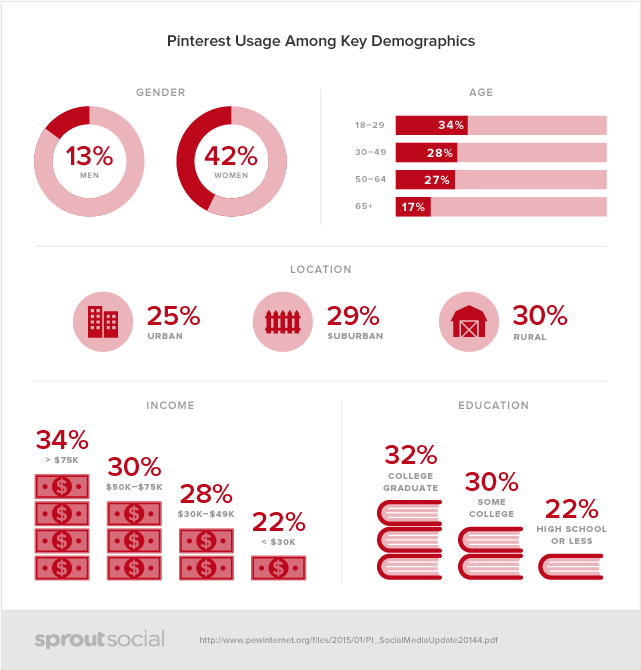 You could choose any social network you wanted to build and to sell followers your merch but I still think Pinterest is by far the best targeted audience that you can get.
If you take a look at the image above, you will notice a few things that should stand out immediately. Pinterest is made up of mostly women who have an education and have a disposable income. Having a disposable income means that these women are BUYERS!
Seriously, if anyone uses Pinterest themselves or has a significant other that does, you will know that when on the site, they are in a buying mood and are basically shopping around for things to purchase.
The key is to not focus on every social media network that you can find to post your shirts to, but to pick a single platform and focus on it till you master how it works. The best platforms to start on are the ones that are going to turn into the highest ROI for your time.
Free USA Traffic In Bulk
Running paid traffic to a USA audience can be incredibly expensive. We went over a way to get your adspend lowered at the same time as building your social proof when running Facebook ads to Merch by Amazon listings a few weeks ago. You still need to do a ton of testing to get these campaigns right and turning into some sales from you.
If you build out a Pinterest profile, you expect USA traffic for free. Not only will you get USA traffic, but you will get a LOT of it if you do it right.
Think about how many people might look at your shirts right now organically through Amazon. Making sales you might think you will just stick with organic traffic right? Well, how many more sales do you think you would get if you were driving traffic that looked like this?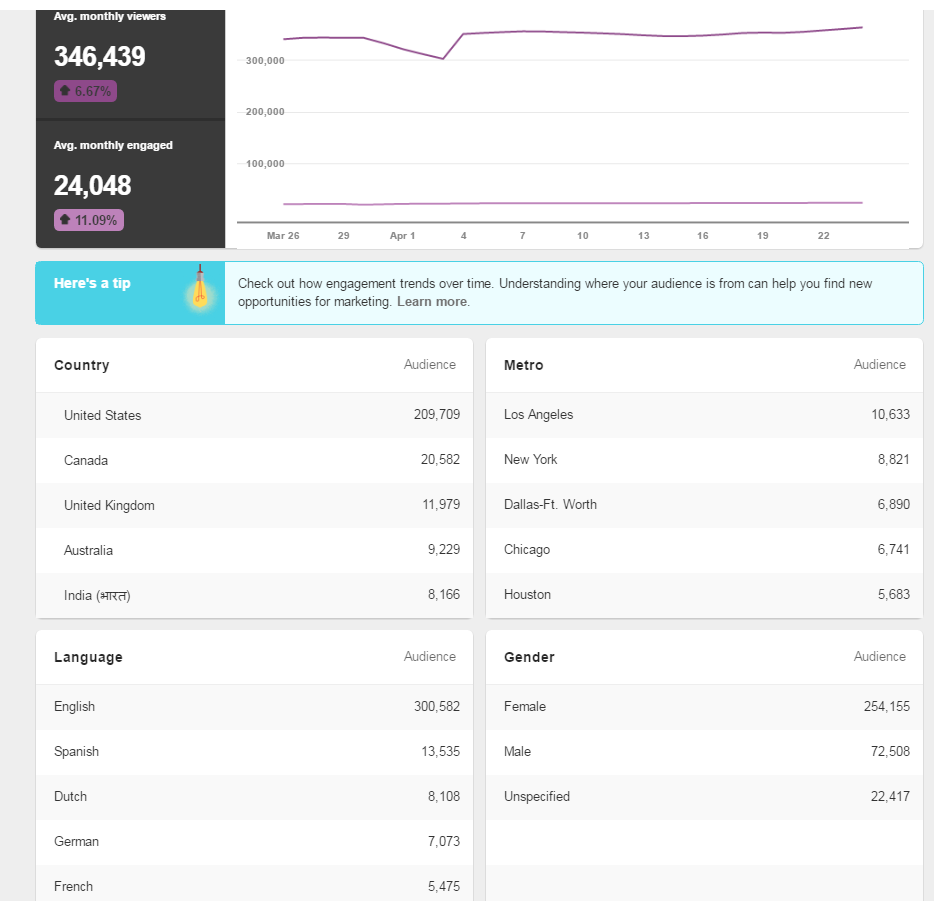 The fact that this is a relatively small account of mine should be telling. There is a LOT of room for growth on Pinterest and if you look at the audience broken down by country, you have the majority of the people being from the USA, which means they can readily purchase your shirts from Amazon.
The Gift That Keeps On Giving


See that image there?
What about this one…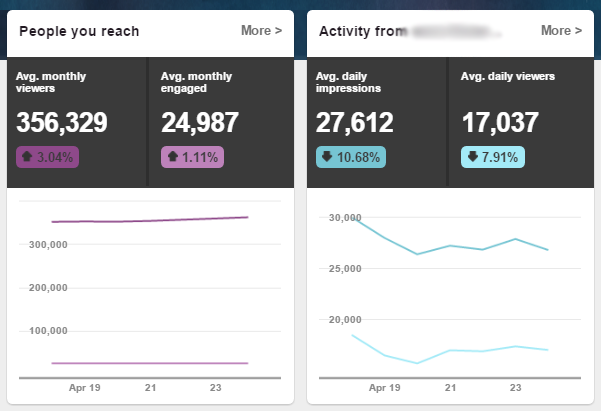 These are from an account I have not touched in many months!
With other types of paid advertising, or with Instagram and the majority of Facebook, once you post something, it will show up on someones feed and then die off over time.
With Pinterest, once you pin something to one of your boards, from that point on, it will continue being "repinned" by followers, and followers of followers driving traffic from people outside your audience.
Confused?
Imagine this: You have a social media account with 1000 followers. You post an image of your t-shirt and 3 people out of 1000 like it enough to repin it to their own boards. Now, they may like the image and not buy at all. Waste of time right? Wrong!
Imagine that the 3 people that repinned your shirt have a combined 10,000 followers. All of those people are now going to see your shirt pin. From those 10,000 people, maybe 15 decide to repin the image to their boards… so on and so forth.
Pinterest is literally a tumbleweed that once you get started properly, the traffic just keeps on pouring in and never really stops. I have preferred using this social media since I first got into selling online and to this day it drives thousands of visitors to my websites and now to t-shirts.
How To Do It "Right"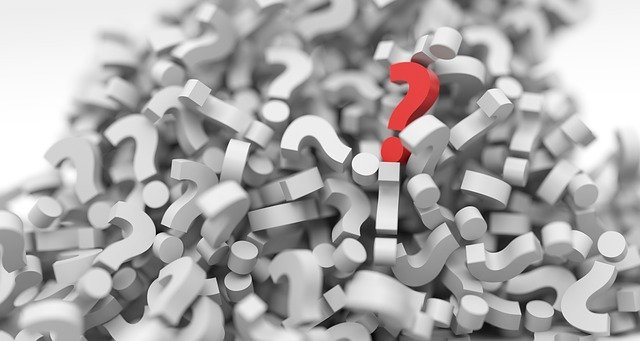 You keep seeing me mention creating a Pinterest account the "right" way. What does that even mean?
It simply means that you need to create and build your account by giving value to others (your followers).
The very first thing you should do is read the Amazon Merch Pinterest Marketing article we put up. This will explain to you how to set up your account in detail and get started.
A few main points you should take away from that article are these: You should always use a female personal profile. These get the very highest engagement from any type of account I have tested. Note that you will not have access to analytics if you use a personal profile. We want to build up a profile to drive traffic so completely forget about their advertising platform. It is incredibly expensive.
Second, you really do need to make your profile look and feel lie a real person who has real interests in what they are posting about. Since I have a LOT of shirts in a lot of different niches, I will create a profile that is just interested in all those niches. Each niche becomes its own board.
Finally, and this is the big important READ THIS section of the article where I tell you again that you need to PROVIDE VALUE to followers. No one is ever going to follow you and look at your content if you are just constantly trying to shove advertisements down their throat. No one likes this and if you try and just post your shirts on all your boards with little to nothing in between, you will fail.
In the original article I recommended 20-30 boards to start with. I still think this is a good amount of boards to get going right away. The biggest tip I can give you though is to limit the amount of times you post your shirts. Sounds almost backwards, but the goal at first should be to grow the account and gain followers, not to sell when you are first getting started. Once the account starts growing and you hit 5-10k subscribers, I would recommend pinning your shirt (mockups from https://placeit.net/ work great here), one time for every 15-20 other pins in that board you have. For example, I might post 15-20 different images related to cute pugs before I post a mockup of my pug shirt on Amazon. Then I would post 15-20 other images before I even thought of posting another shirt. If you decide to use the mockups from placeit.net, we got in contact with them and they are willing to give 15% off to Merch Informer readers.
If you follow that general rule of thumb, you are going to provide your audience value, entertainment, and advertise to them without being pushy or annoying. The less you can annoy your audience the more successful you will be.
Gain Followers and Grow
The last part of the entire equation is to gain followers. We went over this in the original Pinterest article, so I will not bother you with the small details. You will need to work at this every single day. Once your account gets large enough, you can start to slack off a bit and it will continue to grow, but at first, you will need to focus. This means that every day you will need to be following accounts that are interested in your material.
Pinterest operates on followers. These are the people that are going to potentially repin your pins, so make sure that you are following people that are interested in your niche. You can do this by looking at the followers of other accounts in your niche or people who are following group boards. Joining group boards can be one of the best things you can do to drive traffic AND gain followers at the same time.
Wrapping It Up
Instead of wasting your time trying to promote your shirts to fake followers on Twitter, spend the time and put in the work to grow a social network that is going to keep paying you back months and months after the initial effort occurred. Pinterest is the perfect platform to sell almost anything under the sun to their perfect buyer profile users. Use this to your advantage and sell your merch! Good luck.