Which POD Service Should You Use To Sell On Amazon?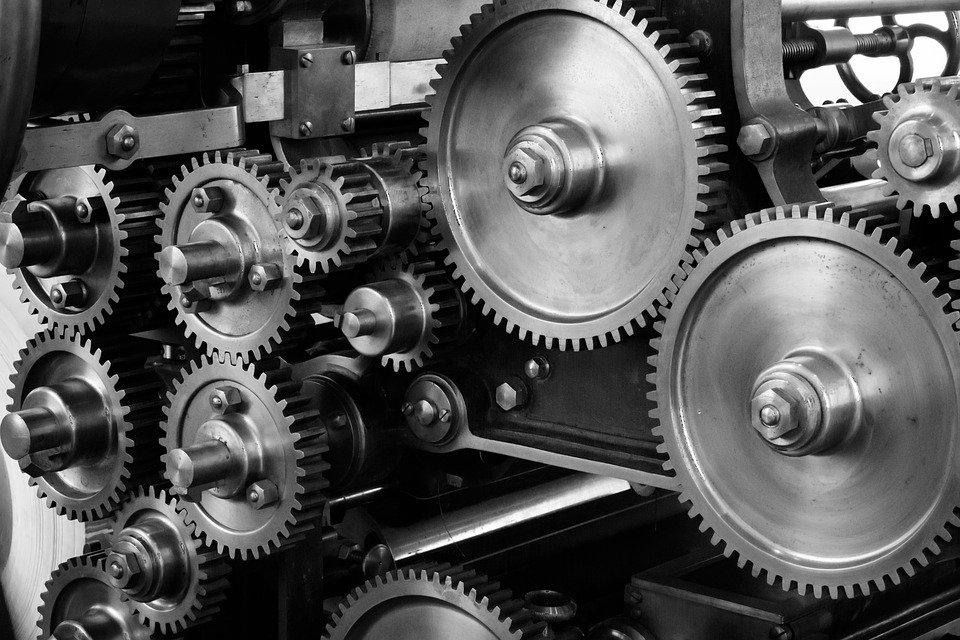 We have been receiving a lot of questions lately on which print on demand platform is the best for listing your merchandise on Amazon. Todor and I are huge advocates of mixing all three when building your brand because each has its own benefits (and drawbacks of course). In the article below we are going to cover the advantages of these platforms/integrations and how to best utilize each of them when growing your merchandise business.
To make this article as detailed as possible we are going to take into account the following factors for each platform:
Available products
Price
Prime eligibility
Branding options
Keyword optimization
Startup expenses
Merch by Amazon



Merch By Amazon – That's where it all started. Back in 2015 Amazon, in its all mighty wisdom, decided to enter the print on demand scene with the MBA program. Originally the entire program was designed to aid mobile app creators to easily sell branded merchandise for their games inside the apps. It quickly became very clear to both marketers and designers that the program could be used to gain access to the worlds largest marketplace and literally sell items without having to deal with inventory, customer support and even marketing.
There are a LOT of perks to getting accepted to the MBA program, which is why everyone is always asking when they are going to be accepted. There are drawbacks as well though.
Amazon, as big as it is, wasn't prepared for the high demand. They couldn't keep up with printing the shirts and the program quickly moved to an invite only beta. Almost two years later and the situation is pretty much the same. It can take months for a new creator to be accepted into the platform, the number of live designs are severely limited and every time Q4 hit there is a huge freeze on sales so that Amazon can keep up with the orders. We still do not have an exact date on when the Merch by Amazon program will be open for everyone but since amazon has recently acquired a percentage in one of the largest DTG (direct to garment) printer producers in the world, we are hoping it will be soon.

Now lets take a quick look on what you can and CAN'T do with MBA:
Available Products – Currently sellers are limited to only t-shirts at the moment. This includes the cheap Anvil shirts, and the new BELLA+CANVAS as their premium option (even though these are much cheaper than American Apparel shirts). Amazon has put out a few surveys in the last year on what content creators would like to be added next we still haven't seen a sign that adding new products is high on their priority list. Although t-shirts are probably the largest merch market and one of the most purchased novelty items, limiting your designs to a single type of product is just not a smart business practice. We understand that scaling can be a massive headache for the company trying to bring that scale to market but you should always be exploring all your options.
Price – The base t-shirt price starts at $9.31 but with the changing costs, Merch by Amazon is raising this fee to $9.81 as a base price. The lowest you can price a shirt currently is $10.96 for a front side print and whatever you price on top of that counts as your royalty. With the new changes, make sure you are adding in an extra 50 cents to that number. There are no extra expenses involved for printing or shipping the product to the customer which is one of the biggest positives of using MBA.
Prime eligibility – A huge benefit of Merch By Amazon shirts is that they are listed as prime eligible. Amazon gives prime eligible items a huge boost over regular ones in their seach results which naturally will translate into more sales over time. It should also be noted that there are a LOT of people out there that will not shop for any items that are not listed with prime. Some would rather pay a higher price to get their items quicker, so this is a huge plus.
Branding – You can easily brand your shirts with MBA. You have full control of what brand name you put your items under. Some people chose to put all their shirts under a single brand, while others decide to make their brand section a little keyword rich. There are positives to both, but the biggest positive here is that you have all the control. The only downside here is that other people can use the SAME brand you use, which will show both your products and whoever else has decided to enter in that same brand into the box.
Keywords – As long as you understand how keywords work with Merch, then adding keywords to your listings is really simple. You can work them into the title, the bullet points, the description. You really have a lot of control over what you put into these slots. Some people decide they want to keyword stuff (do NOT do this), while others decide to do it right and put them in sentence form. You have control here, which is a massive positive in our book.
Startup Expenses – FREE! As long as you get an account (apply now if you have not already!), you can take advantage of free programs to design with such as GIMP. Have no idea how to use GIMP? Check out Youtube tutorials to figure out exactly how you can make some shirt designs. Not everyone has the money to outsource and that is okay! Text designs are still selling well even to this day and I know you can figure it out.
Teespring


The latest Teespring integration with Amazon has us at Merch Informer extremely excited. Not only is there no barrier to entry with getting your designs up on Amazon anymore, but you can get your products up on Amazon without paying any fee at all!
A lot of exciting things are happening with this integration. More products are going to be added over time, and this will allow every seller out there to expand their range of offerings from a single design. This opens sellers up to being able to sell hoodies, long sleeves, sweatshirts and even tank tops to people on Amazon!
Because there is no barrier to entry, there are a LOT of people who are trying to sign up and get their account enabled to post on Amazon. Since this is a massive task and Teespring has to enable and move over thousands if not millions of designs, the downside at the moment is the wait time to be integrated with Amazon. Some people have gotten around this by emailing them and asking to be enabled because they already have inventory ready to upload and start selling today!
Let's go over some of the reasons why you might want to take a look at the Teespring integration and some of the downfalls currently:
Available Products – Teespring offers a LOT of products and they are rolling out many more this year. At the end of the year they want to release 50 new products which is crazy ambitious. Even though they are releasing a lot of new products for their platform, only products that are rush eligible products are going to be able to be moved over and sold on Amazon. Not only that, but they will need to have a margin of at least $6.75 to cover the marketplace cost. Even though only these items are available to sell on Amazon right now, I have been told that as time progresses more and more products will be eligible so get your designs up now to be ahead of the curve.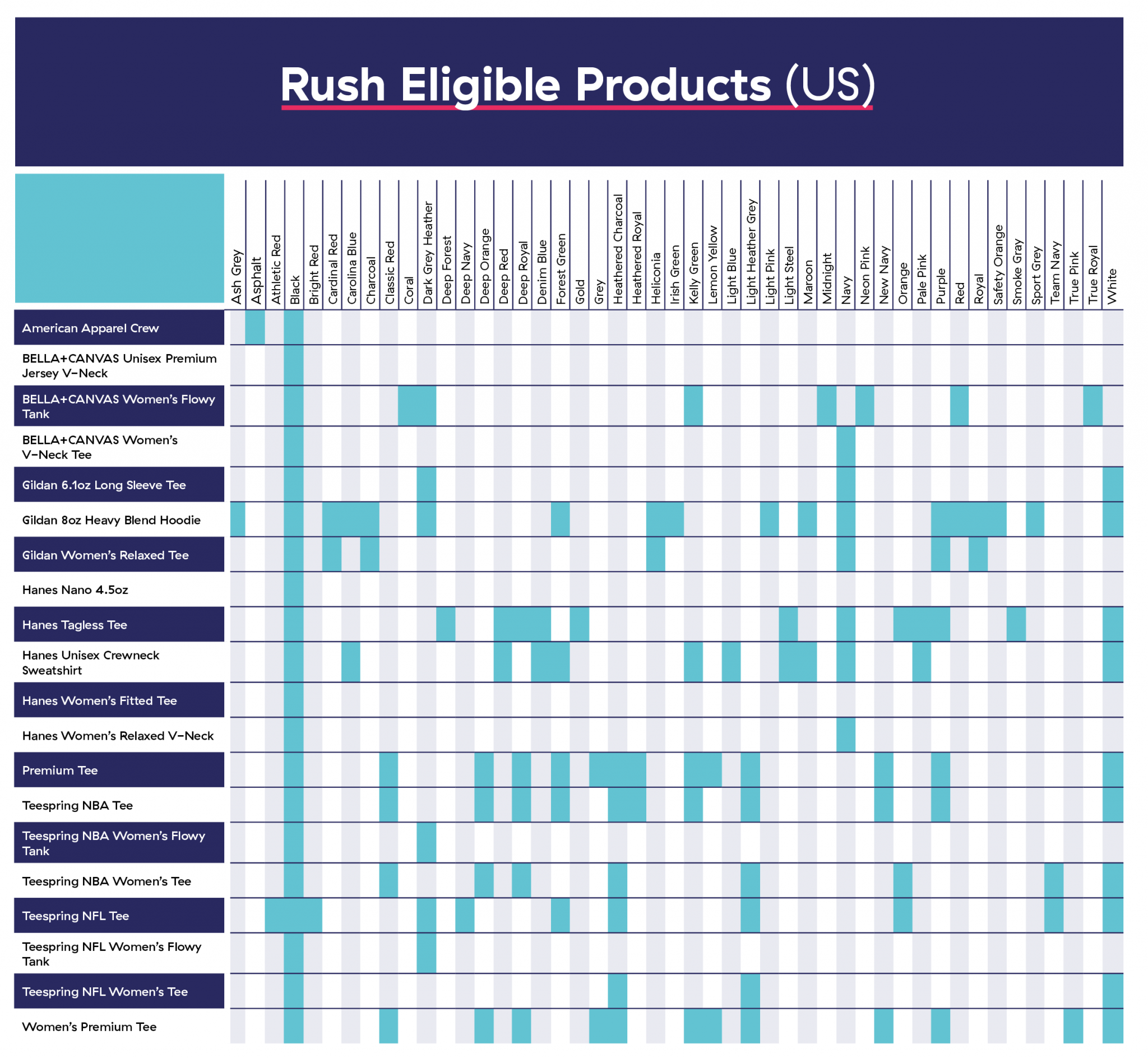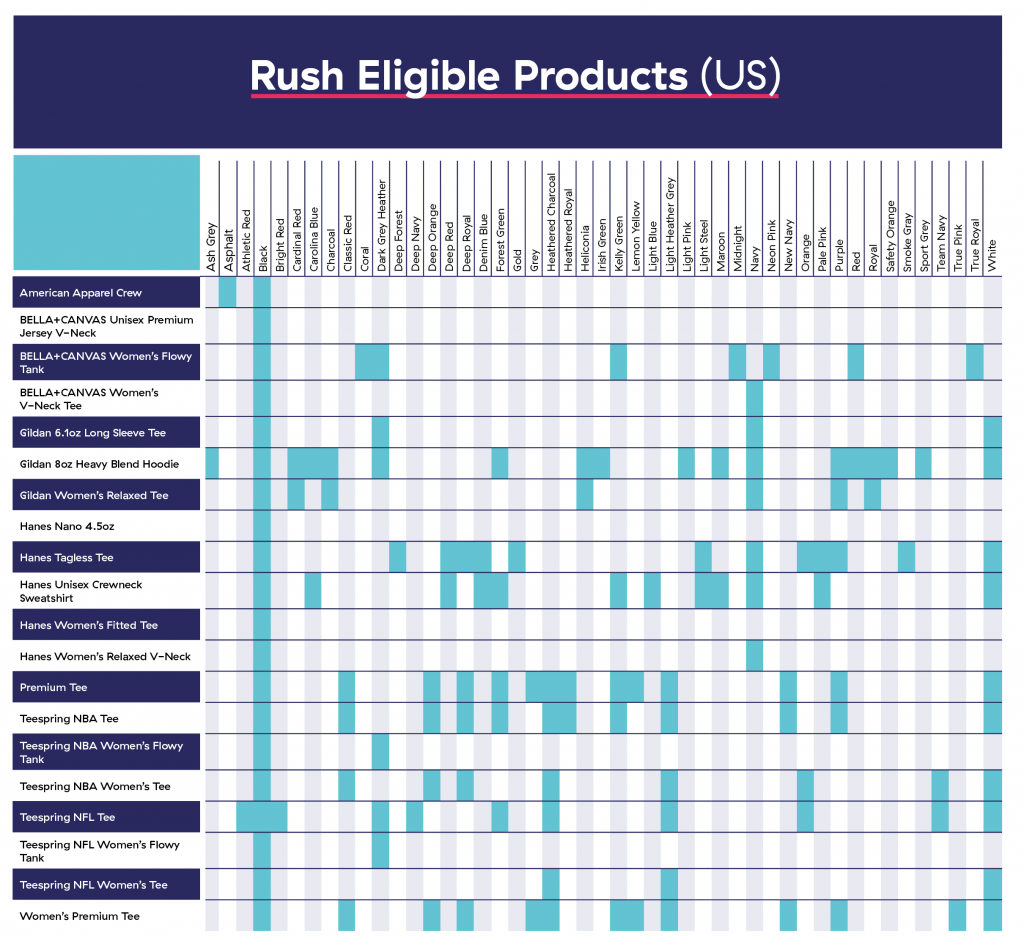 Price – We have gone over price in the Teespring Amazon integration article, but the one thing to know is that prices are going to be a bit higher. You will need to price in at least $6.75 because that is the marketplace fee for selling on Amazon. Teespring also adds $4 for shipping into the price on Amazon. This $4 charge does not affect you or your margin, just the price the customer will pay. One thing to note is that Teespring is currently testing out different prices on Amazon. You might expect to see your product showing up at one price on Amazon but they are displaying another price. This is them trying to find an optimal price in order to bring the most sales and will not effect what you make.
Prime eligibility – Currently, none of the Teespring products are eligible for prime. That being said, IT IS COMING! Yep, you heard that right. Teespring listings will be prime in the very near future. This is going to mean a massive opportunity for all the Amazon sellers to get their designs up on more products that are actually a lot higher quality than what Merch by Amazon currently offers.
Branding – Unfortunately, the biggest downside of this integration is that you are not really allowed to brand your products. All listings that go up on Amazon will be under the Teespring brand. They also take the first bullet point to put in their own little bit about the products being printed in the USA and that satisfaction is 100% guaranteed. You have the ability to enter all the other boxes, but if you do not fill out the description, they have one that automatically fills that slot as well.
Keywords – One of our favorite parts of the Teespring Amazon integration is the use of back end keywords! These are super powerful keywords that you can place in the back end of your listings that are not shown to buyers or competitors. Typically these are only available to sellers using seller central, but with the integration, we can use them now too! You get all the benefits of the MBA boxes to put your keywords as well as back end keywords. It should be noted that because of Amazon's rules, the titles of Teespring listings must name the type of product they are, so you will need to play within those guidelines. Our integration article has more information on this.
Startup Expenses – FREE! Signing up for a Teespring is free and open for everyone. You can sign up today and be designing in the next 10 minutes. There is no hold or wait time to be accepted like Merch by Amazon. The only slow thing that might happen depending on when you are reading this is that they are still rolling out the integration to Amazon. If you sign up and do not see the little globe icon after your campaigns, contact Teespring and ask them to enable your account.
Shopify/Amazon With Teelaunch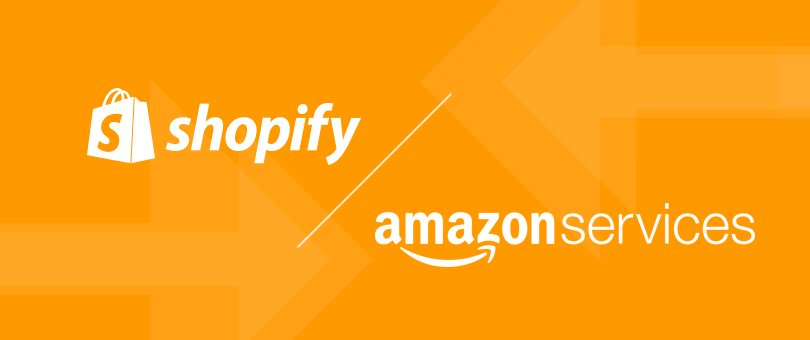 The Shopify/Amazon integration that we wrote with using Teelaunch as our POD of choice gives you the most control out of all three of these methods. It also gives you so many different types of products, that you will be uploading and uploading until your fingers are numb. This is a good thing. It allows you to go into niches that are not being targetted by most designs, and make extremely easy money using successful designs that are selling well on Merch by Amazon already.
You will need to invest a bit of money into this, which most people seem to not be willing to do. This is their loss because they are not treating this as a business but a hobby. More for the rest of us!
Below is a little about the pros and cons of this integration and why you should probably be jumping on top of this as soon as possible:
Available Products – Pretty much anything you can think of that can be considered Merch is available with this method. Teelaunch alone has 40+ products you can use, but other PODs may offer other item. If it can be considered Merch and you can stick a design on it, it is available with this method. NO ONE else is selling these items on Amazon with POD making this one of the easiest ways to make money. There is really no competition out there.
Price –  With Teelaunch, prices are extremely competitive. You can use any POD you want, but Teelaunch has been one of the cheapest to use. Prices can be seen here: https://teelaunch.com/collections/products. If you are looking to just do shirts, the base price for the cheap shirts is $8.50.
Prime eligibility – Probably the biggest downside with the Shopify/Amazon integration is that you will not be able to have prime listings. Since the shipping is being done by a 3rd party, you have zero control over this and thus will not be able to have seller fulfilled prime. That being said, everyone we know giving this method solid attention is making tons of sales so it does not have that big of an effect as some might think. If someone likes a design, they are going to buy it!
Branding – This is the best method we have found for building a brand. You can brand a store, you can brand your Amazon pages, you can brand your product information on the pages you create. Getting used to seller central can take a while, but is very worth it!
Keywords –  Since you are selling through seller central, you have access to all the back end keywords that Teespring offers as well as the keywords you can place in the listings themselves. This method has the most control. You will be able to go into seller central and tweak everything which will update the fastest on Amazon instead of waiting for Teespring to update on Amazon or waiting for your MBA shirts to go back into review!
Startup Expenses – This is not free. You will need Shopify which is $9 a month if you are using the lite plan for the integration only (Free Shopify Trial Here). You will also need a pro sellers account which is $39.99 a month. For around $50 a month you can get started with this method and listing on Amazon. You will also need UPC codes which can be purchased cheaply, as well as be able to float the costs for these products on a credit/debit card while you wait to get paid by Amazon. This might seem like a lot, but for having completely control over your business and no restrictions on the different types of products you can put up, this method is by far a favorite here at Merch Informer.
Customer Service – We had to add this one in because with this integration, you are responsible for talking to the customers since you are running the seller central account. This can be a pain point for people, but is also giving the control back to you. You have control over talking to the customers, control over the reviews (and responding to them), and everything in between. You MIGHT need to refund a customer at some point or another, so just make sure you have read up on the Shopify Amazon FAQs.
So Which One Should You Use?
You might be sitting there thinking all of this is great, but which one should you put your focus on? Which one should you be using?
All of them!
Seriously, they all offer advantages that the others do not. By using all these integrations at the same time, you are allowing yourself and your business to have the widest spread possible.
Should you sell a shirt you are selling on Merch by Amazon with Teespring? Absolutely! These might both be t-shirts, but they are going to be 2 different types of shirts, 2 different types of quality, 2 different types of prices. You are giving buyers a choice!
Not only are you giving buyers a choice, but you are also building out the amount of products you have your designs on which will make you money.
If you have 1,000 designs, using all these integrations, you can EASILY turn those 1,000 designs into 40,000 products. Think of how much more money you would be making with that kind of spread!
The bottom line is you should do your research, learn to use each of the integrations and get going. They really are not that difficult to use and if you get stuck, you can read our guides on each of them which are detailed and go over step by step how to set everything up. Good luck!