Teespring Amazon Integration – Zero Cost Startup Guide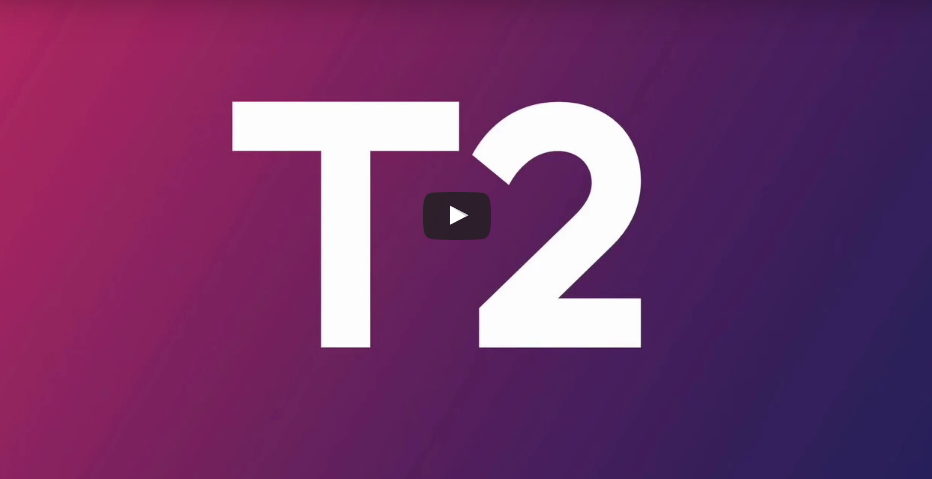 [toc] One of the biggest industries that the internet has seen has been Merchandise and this sector has been growing by absurd numbers year in and year out. I have never really been someone to buy much in terms of Merch but a little over a year ago, I found myself engrossed in the industry. This spawned myself and business partner clearing hundreds of thousands of dollars and launching Merch Informer. Selling Merch allows you to be creative and also business minded!
In this guide I am going to go over today, we are going to be discussing one of, if not THE biggest thing to happen to the Merch scene all year: Teespring integrating with Amazon. This will allow you to sell a multitude of products on Amazon with ZERO inventory, and ZERO cost with ZERO invitation required. If you are a Merch by Amazon seller and are sick of the limits they are putting on you and want to scale faster, or are just getting into the game and want to be able to sell your designs on more than just T-shirts (sweatshirts and tanks anyone?), then this guide is for you. If you are looking to hit a 6 figure profit this year, you are going to want to listen up!
Before we get into the meat of this post, we need to be very clear. This is not going to be a get rich overnight scheme. This is a real business that will allow you to sell goods on Amazon without spending a dime and see success if you put in the hard work, put in the research, and put in the hours. Putting it simply, this needs to be treated as a business where you take the time to find out what you need to be doing in order to penetrate the market. You might have to market your merch (we have guides on that!), but if you put in the work, you will see the rewards. Let's get into all the details of exactly how anyone can start today selling on Amazon without restrictions or limitations.
Understanding Merch
Merch by Amazon has been the main discussion in most of the groups I am part of, but the fact of the matter is, these are all focused on t-shirts. Merch is so much more than that! With Teespring, we will have access to a lot more products that function in a similar fashion to the Shopify integration but with a LOT less headache.
If you are someone who has never sold on Amazon before, let me be clear that this can be an extremely profitable venture. Shirts are easy to sell, but so are a lot of other items. In the Merch space, you barely need reviews to sell product and the products available to get started with are numerous. With the Teespring Amazon integration, you will start off with multiple products available to sell on Amazon right away.

Why Teespring and Amazon?
Early adapters of the Merch by Amazon program made incredible profit. In some cases over hundreds of thousands of dollars. The opportunity was open to anyone in the very beginning and those who saw the writing on the wall took action immediately.
Teespring allows you the same if not BETTER opportunity TODAY! Merch by Amazon was only shirts. The Teespring integration is much more than that, with shirts, tank tops, long sleeves, hoodies, sweatshirts…. In fact, the team is committed so much to launching multiple products a month that they have invested in a brand new factory in the USA. They are extremely committed to quality, and let me tell you, the quality is top notch. No more cheap Anvil shirts means better Amazon reviews and more revenue overall.
Many people listed their items on Teespring in the past and did not make any sales (this was me!). The table has changed though. With them integrating into Amazon, you can now take advantage of the insane amount of traffic that Amazon has.



Not only does Amazon have over 2 billion visitors a month (in the US local!), this is just going to continue to grow as Amazon does everything in its power to dominate the retail space. They are even adding Alcohol to the prime list. If that does not show you how serious Amazon is about being number 1, I am not sure what will.
You have the opportunity to get set up selling on this market place TODAY and not spend a single dime doing so. Adapting early today just means that later on down the line you will be able to sell so much more via this integration all while not spending anything to make money.
Here at Merch Informer, we have been test riding the Teespring Amazon Integration for about a month now and as you are about to see, we have some great stuff to share.
Teespring To Sell Merch!

There is going to be a lot more added to this list as time goes on, but as of RIGHT now, these are the products eligible to sell on the Amazon market place.
Upper Body Apparel (not limited to):
Hanes tagless tee
Premium tee (unisex and women's)
Gildan women's relaxed tee
Gildan long sleeve
Gildan hoodie
Hanes crewneck sweatshirt
BELLA+CANVAS women's flowy tank
In order for your Teespring listings to be eligible, you must have all of these qualifications:
Upper body apparel
Eligible for rush shipping
Printed in the US, on a campaign set to auto-relaunch
Margin larger than $6.75
I will explain exactly how this works, but for anyone interested in selling on Amazon, are you starting to see the big picture here? You can take a single design and throw it on multiple items and be selling on the world's largest market place TODAY with zero startup cost or wait time.
Let's jump into some detail and make some money!
Teespring Amazon Integration Zero Cost Method
Anyone can throw up random shirts on Teespring. It takes a bit of research and effort to make a bunch of money. In order to do so, you are going to need 3 simple things.
Understanding exactly what sells on Amazon
Designs/Artwork
Teespring Account
These might seem easy at first, but they are actually a bit more complicated so I will do my best to explain how everything works together.
Understanding What Sells On Amazon
In order to sell on Amazon, you need to understand what people buy on Amazon!
Would it make any sense to sell a product that no one is looking for? Of course not. It might be up on Amazon, but if zero people are searching for it, it will never be sold and you are left with nothing but disappointment.
If you know what people are looking for and what people are actively buying, you are already ahead of most of the people attempting to sell their goods. If you know what niches people buy in, you can then move on to the step of creating something that market would actually enjoy!
We do this process of finding out what people want by taking a look at the Amazon BSR (Best Sellers Rank).
Amazon Best Sellers Rank (BSR)
Every product that is sold on Amazon has a BSR or best sellers rank. The only exception is a product that has NEVER sold before. It looks something like this:



If at the time of reading this article you see something different, you might be interested to know that right now (3/18/17), they have completely removed BSR from being shown on Amazon. The only way to currently see this information is through Merch Informer.
The BSR is a representation of how well that particular item is selling within the category that the seller has put it into. If someone has a really high BSR, this means that it is barely selling at all. If the BSR is really low, the more items that product is selling. For an example, if a shirt were to hit number 1 BSR on Amazon, it would be the best selling item in clothing on the market place.
This takes some experience but if you are looking at the clothing BSR, this will equal about 1 sale a day, give or take. Nothing is set in stone, but the more experience you have selling in a particular category the better you get at it. Merch Informer estimates sales for you in multiple categories so this can be used to judge how well a product is going. Give our 3 day free trial a go if you have not already fell in love with it.
Simply put, if you can look at the BSR of products, you can estimate how well THAT particular niche is selling. This information is nothing but pure gold for merch sellers. This allows you to identify markets and provide them with better products which leads to sales.
Copyright/Trademark
This section should not really need to be said, but many of you who read this might get the bright idea that you can find out what is selling and simply take those designs for yourself and sell them at a lower price. This is NOT allowed at all, and is in fact breaking multiple laws. You need to understand that you will never be allowed to infringe on someone else's copyright or trademark.
In no circumstances can you steal a design and use it for yourself and if a saying on a shirt or that you find elsewhere is trademarked, you will not be able to use it. If you do either of these, it is the quickest way to lose your account and the gravy train will stop. You will need to do some more research into this for a better understanding of what each is, but know that Amazon is currently cracking down hard on this. What happens some of the time is that a saying might be selling well for many months but then someone trademarks it down the line. This could put your account in danger if you are not monitoring those changes. Let Merch Informer monitor trademarks for you with our automatic trademark alerts feature.
Getting Top Notch Designs and Artwork
If you want this method to truly be zero cost, you will need to make the designs yourself. There is no way around this. This might seem hard at first, but know that some of the shirts being sold on Amazon that are best sellers are nothing but text. If you want to make your own designs, please look into:
Photoshop
Illustrator
GIMP (free)
If you have any of these programs and do not know how to use them, open up Youtube and start learning! Everything you need is on Youtube and is exactly how we started our Merch business from scratch.
If you have some start up money or have been selling on other platforms you may feel like you want to scale your business and the easiest way to scale your Amazon business is to pump out more designs! We do this by outsourcing to talented graphic artists. I can tell you from personal experience once we hired a graphic designer business exploded. It can be hard to keep track using multiple designs and giving them multiple ideas so we solved this issue by putting the favorites module into MI. I use this ALL the time as I have grown to managing a large team around Merch.
Most people I know that are outsourcing are using Upwork and this is the online market place that I use to this day to hire freelancers from around the world.
I have shown this script before, but it cannot hurt to show it again because it works so well!
Hey, I am in need of 400 t-shirt designs in the time period of 2-3 months.
Your task will be pretty basic, I will send you ideas of t-shirts I want to make and you make them yourself in your own unique style. For example, I might send you a link of a already existing tshirt and I would need you to be inspired by it and create a better version that is in your own creative style.
I will leave a lot of 5* reviews so that you will be able to get jobs easier in the future and this is a long-term position. Once we have done the first batch of 400 – around 4 per day, we could continue if everything looks good.
I look forward to doing business with you!
This always seems to bring in a lot of interested parties that are cheap but deliver incredible quality. Forget about Fiverr and start using Upwork! People want to build up their profiles and will give you their best work in order to get good feedback.
If you are looking at that and thinking there is no way you will hire out 400 designs at once, that is perfectly fine. We grew to this point by using the same script and outsourcing lesser amounts of designs so it will work just fine for all purposes.
Teespring Account
Here comes the magic! Teespring accounts are absolutely FREE and super easy and fast to sign up for.
Head over to Teespring.com and click on Log-in from the upper right hand corner. From here, simply click on "Sign up" and enter in your email, and your password twice.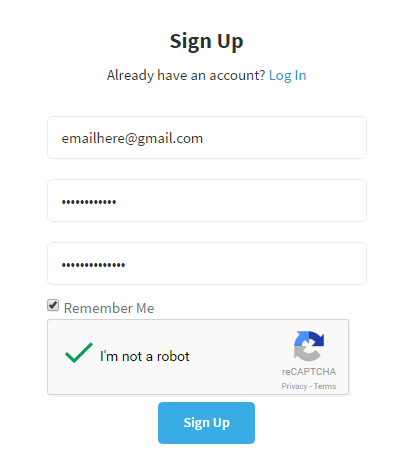 That is it! You are all signed up and can now sign in. Pretty easy and pain free compared to the Shopify Amazon integration right?
Connecting Everything Together!
Now that you have your awesome Teespring account set up for free and no cost ever, it is time to start putting some designs up and selling on Amazon! When you log in, the first thing you will want to do is click up in the upper right hand corner that says "Create & Sell".



This will then bring up the shirt editor where you can create awesome designs that you will then sell to customers on Amazon. I find that having designs already saved up on my desktop are the best way to go. Click on the Art tab and upload your own artwork. This will allow you to play around with the size.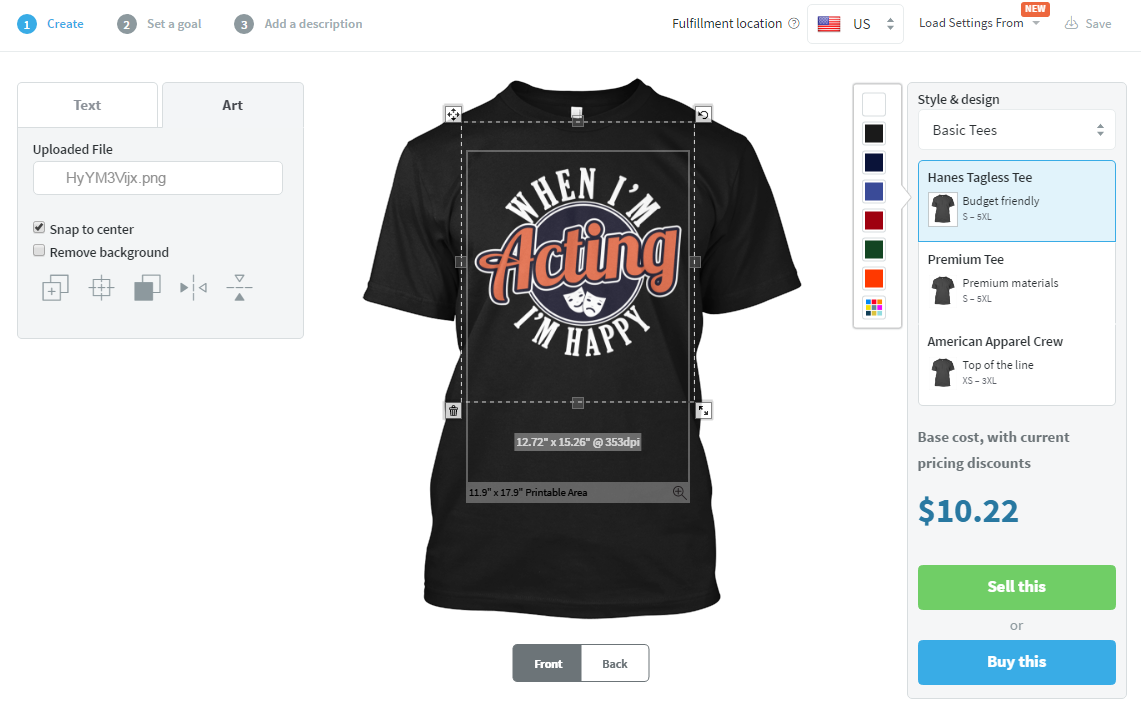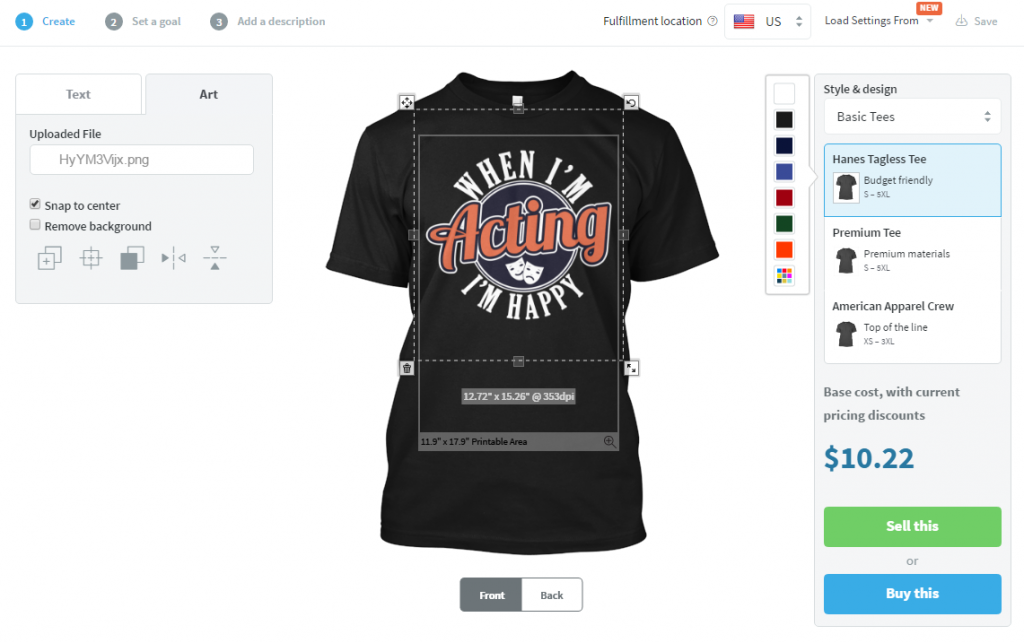 As you can see from this shot, I have resized the image a little bit on the shirt until it looks good. I have picked the Hanes Tagless Tee from the right hand menu but do not worry, you can add other variants and colors on the next screen!
Click on "Sell This" and this will bring you to the next step.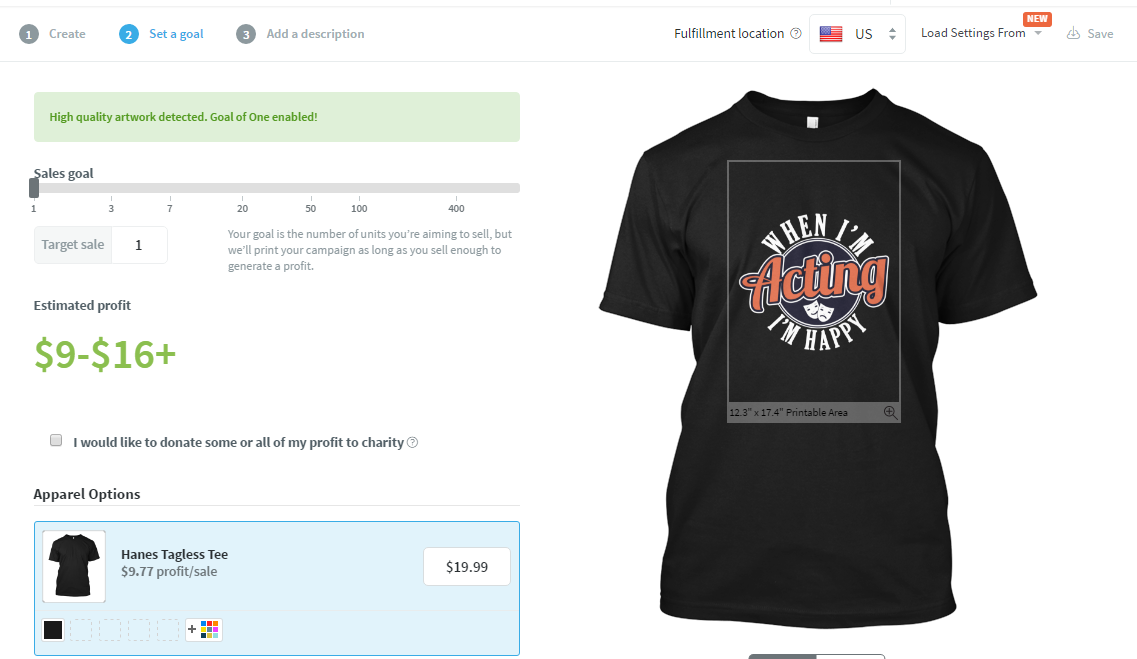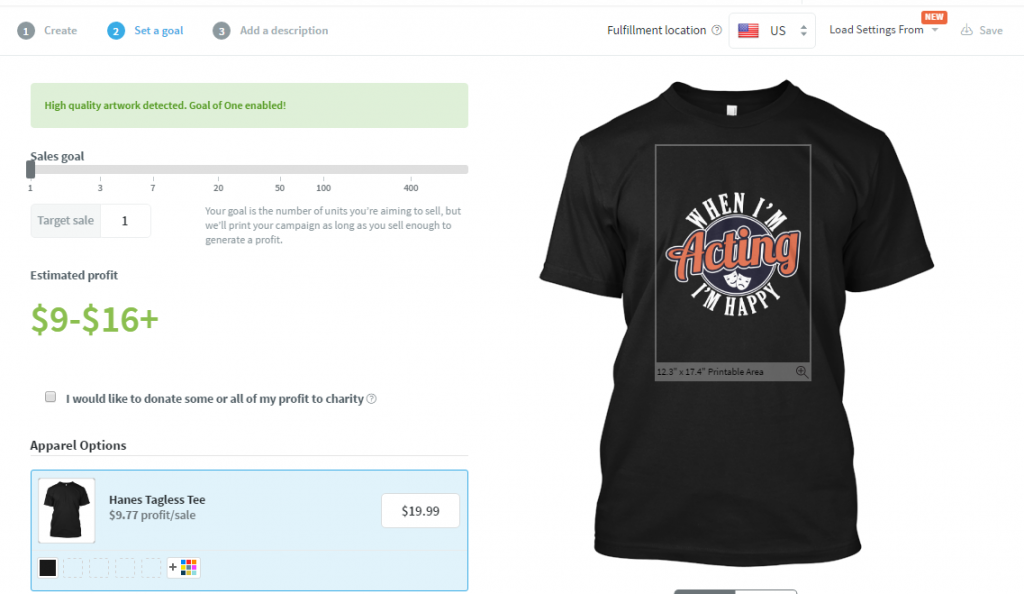 From this next screen, bring your sales goal down to 1. Since the goal here is to get sales on Amazon this will not matter much, but if someone does see your shirt on Teespring and buy it, you want them to print. Since campaigns are not automatically set to continue relaunching, this will ensure your shirts are always available.
In the left hand corner is where you add your Apparel options.
I HIGHLY suggest adding more than just shirts because this is where you are going to make the most money. I usually add a t-shirt, a long sleeve, a tank top, a hoodie, and a sweatshirt.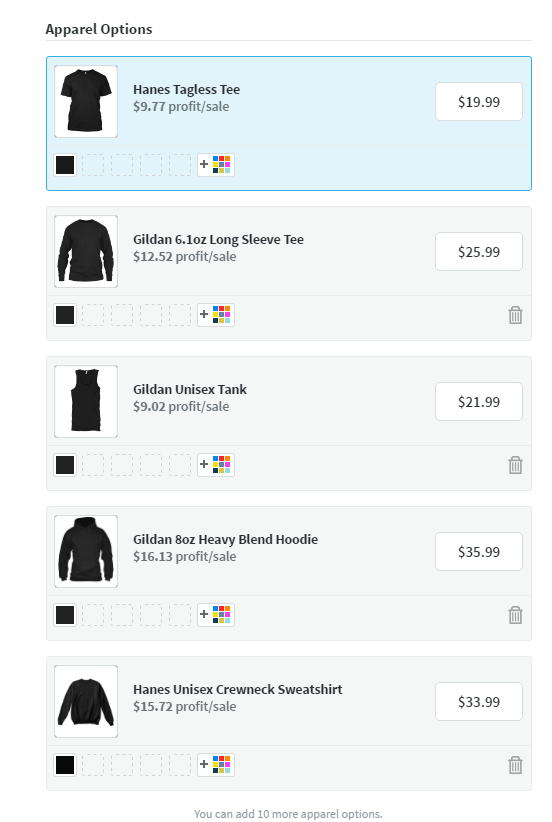 You can add more but know there is a limit to how many different clothing options as well as color combinations you can have. I find that keeping it to just these as well as a few colors each is the most efficient use of my time.
Keep in mind that as of right now, only upper body apparel with rush shipping is available to sell on Amazon. Also, you NEED to have above a $6.75 profit per sale or the clothing item will not move over.
For every piece of clothing sold on Amazon through Teespring, they will take $6.75 from your margin. They will also add $4 for shipping when selling the products on Amazon so they can offer the customer free shipping but this does not effect how much you are making (only how much the customer is paying). Knowing this, I have changed some of the "suggested" prices as you can see from the screenshot above.
When you have chosen the colors and variants you want, click to move on to the final step.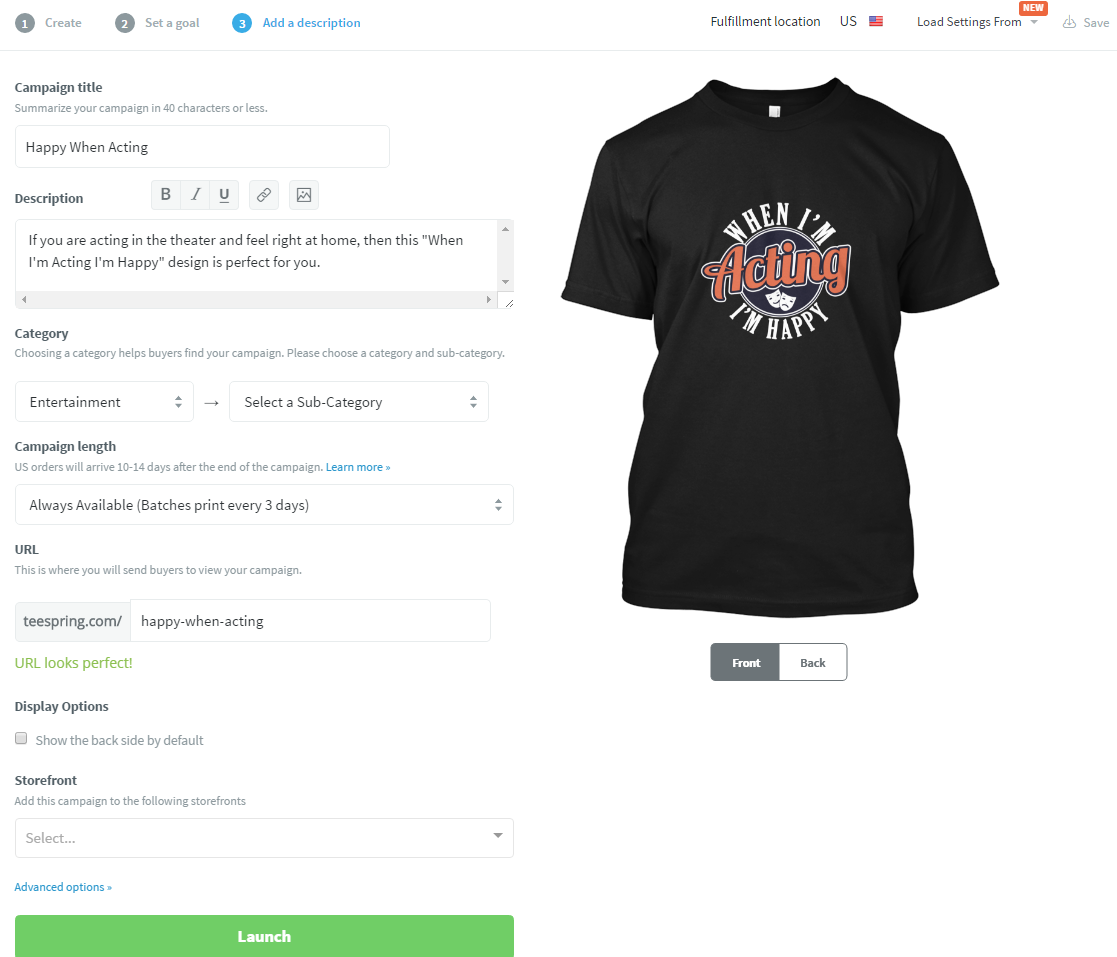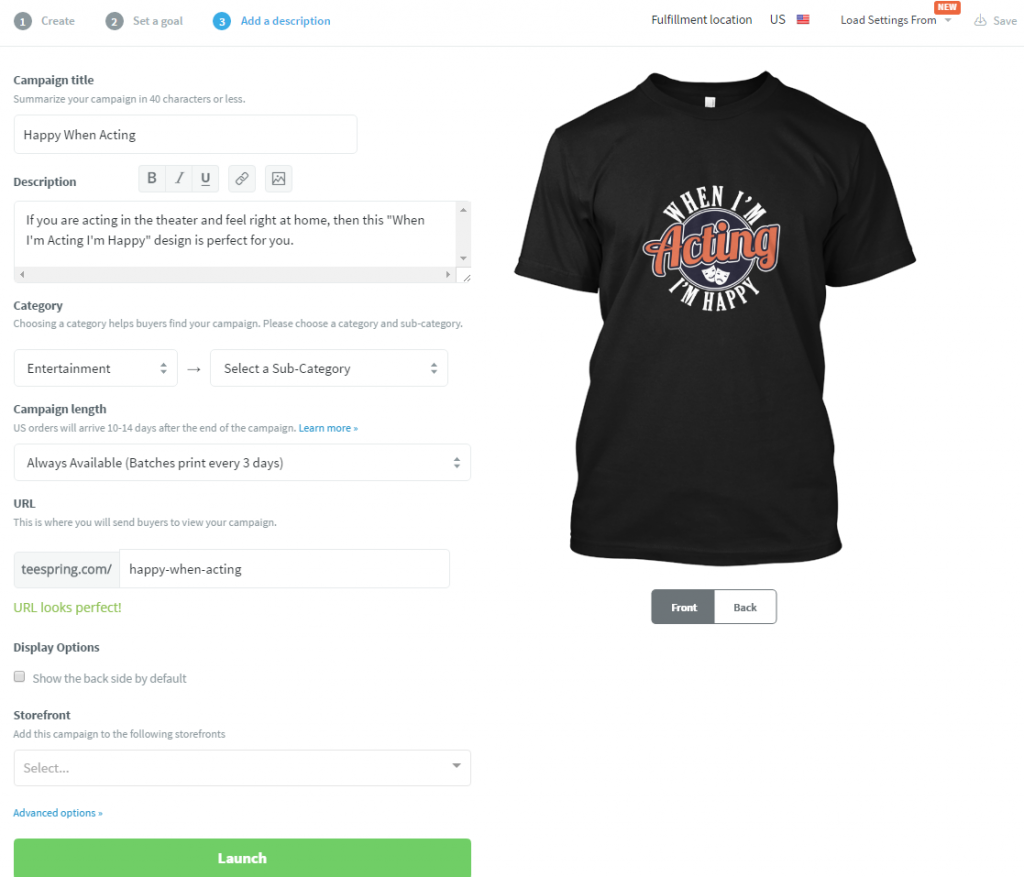 The final step to get listed on the Teespring marketplace is to just fill out the campaign title and the description as well as a category. As you can see, the campaign length is set to always be available which is what we want to sell on Amazon. I am not optimizing for Teespring so this does not need to be very detailed. Go ahead and launch your shirt!
QUICK TIP!
Before we move on, let me just drop a quick tip on you. If you want to upload another shirt as quick as possible, the easiest way to do this is by loading the settings from the previous shirt.
Go back to create and sell, and you will bring up the template you design or upload your design onto a shirt. in the upper right hand corner you will see "Load Settings From". Click this!
You will then see the shirt you listed previously. Load these settings and then upload your artwork!
This will save you a TON of time as the products and colors you picked on the previous design are already selected and ready to go for you.
Optimizing Teespring Listings For Amazon
By now in the guide, you should have your first design listed on Teespring! Congratulations. Now it is time to bring that design over to Amazon and optimize it properly!
Head on over to your campaign tab and you should see something similar to this:




On the right hand side, you will see a little globe. This globe is your Amazon settings. Click it!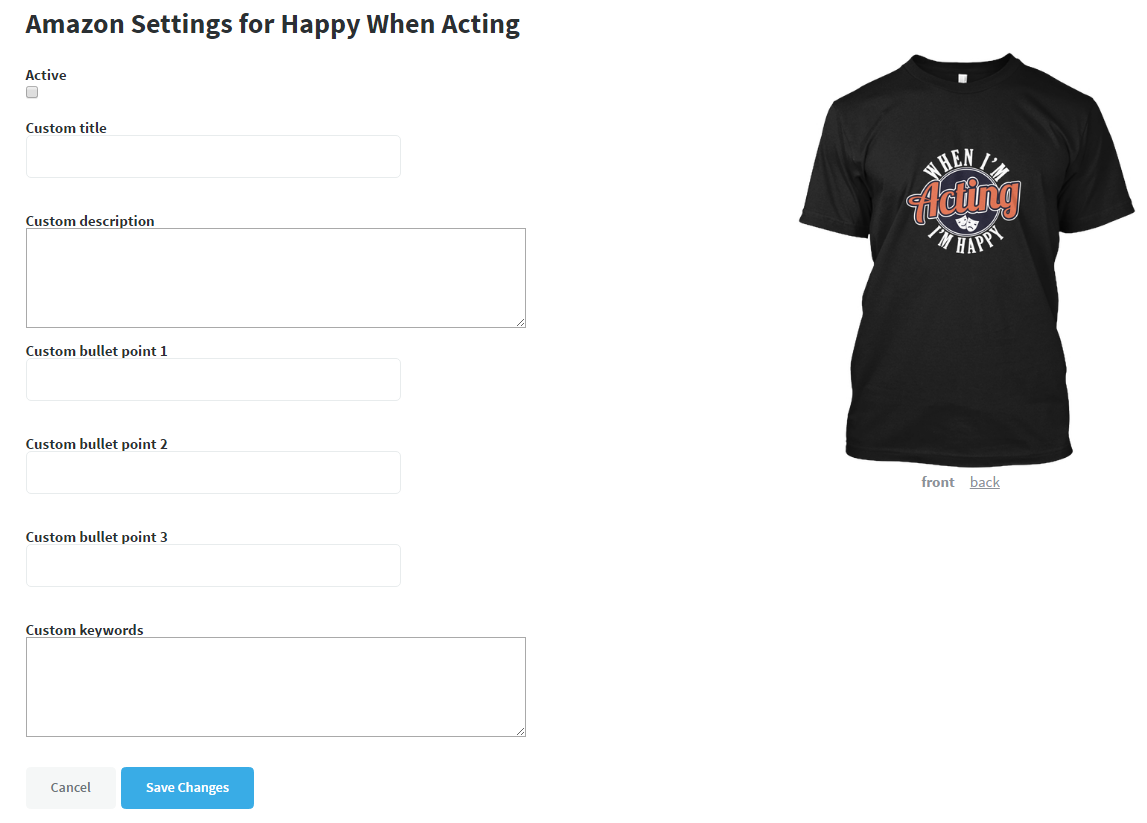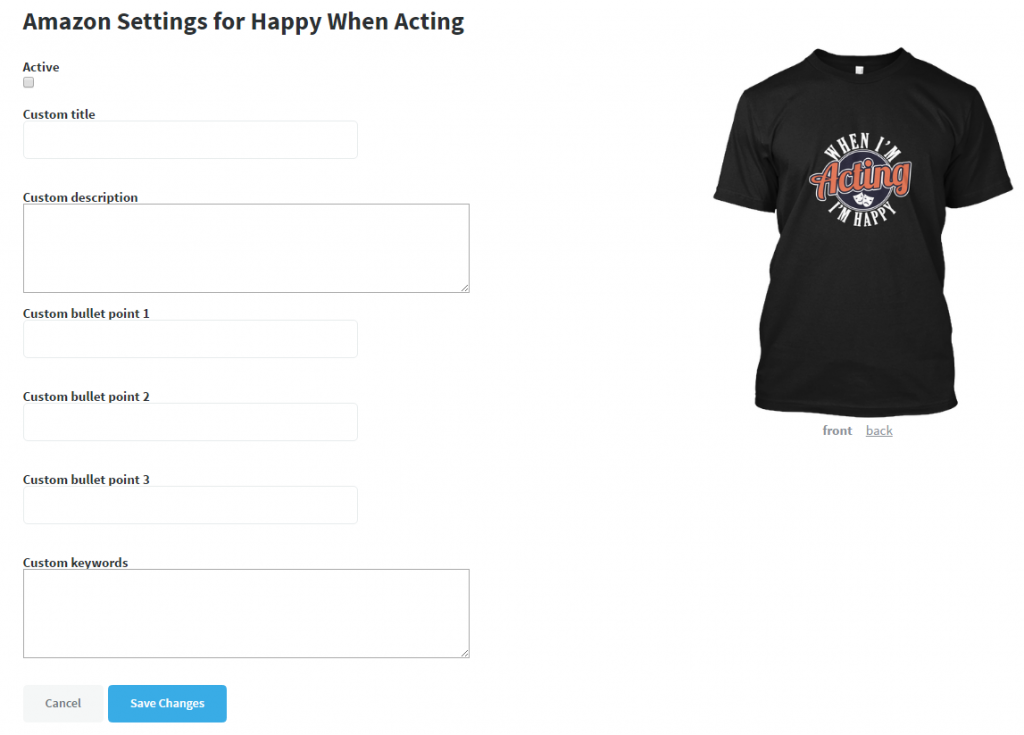 As you can see here, you will need to click the check box on "Active" to bring it over to Amazon. The crazy part though, is they actually let you optimize your title, description, multiple bullet points and back end keywords.
Did you hear that guys and gals?!
Back end keywords! This is probably the most powerful aspect of the Teespring integration that I have not seen a single person talk about. Let's go over all of these individually.
Custom Title
This is going to be the title of your product on Amazon. The most important thing to remember here is that this is going to be the title for ALL the products you chose for this design, not just a t-shirt. Knowing this, you cannot just title it XXX t-shirt, because that would make zero sense showing up on a hoodie.
From the early access Teespring documentation I was given, it says this: "Your title will be sandwiched into the format that is enforced by Amazon. For example, setting your title as "Fishing Grandpa" means it will be listed on Amazon as "Teespring Unisex Fishing Grandpa Premium Tee." 100 character limit.
You will need to be descriptive in your title and include keywords, but cannot include t-shirt or other variants as it will be squeezed into a format as you can see above.
Here is the simple title I use for the shirt I have been using as an example:



Custom Description
You can fill this out or not. If you not fill it out, then the general Teespring description will be used. If you want to write one yourself, there is a 2,500 character limit. I leave mine blank because the title and bullet points are what matter most to me.
Bullet Points
You have the space to enter up to 3 different bullet points here. Note that the first bullet point on the Amazon page is always going to be the Teespring message that offers 100% satisfaction guarantee. You may NOT use these bullet points for marketing messages like 20% off or a discount and Amazon will remove your products if you do. Teespring also recommends against using bullet points for keyword stuffing. There is a 500 character limit for each bullet point.
If you want to learn how to properly enter bullet points please refer to our Amazon Merch SEO article.
It is very important that in your bullet points you are not entering identifiers such as "t-shirt" "tank top" and others because these bullet points are going to be used on all products for this particular design. This is going to trip a lot of people up, so please try and keep telling yourself this when putting up your first few designs.
Using the example shirt, this is what my bullet points are (I used only 2 for example purposes).
Are you the most happy when you are on the stage acting? This is the perfect design for the happy thespian who is into drama and making other people smile! Great gift for those who are into theater and being in front of the crowds.
If you are an actor or actress who is into Drama, theater and being an Amazing thespian, buy this shirt for yourself or as a gift for a friend or family member right now! Acting is life and it makes us all happy.
Make note of the keyword use above!
Custom Keywords
The custom keywords are very powerful! You will need to play around with these on your own. Teespring says that you need to list your keywords one by one separated by spaces and to NOT use commas to separate them. You have an 800 character limit here.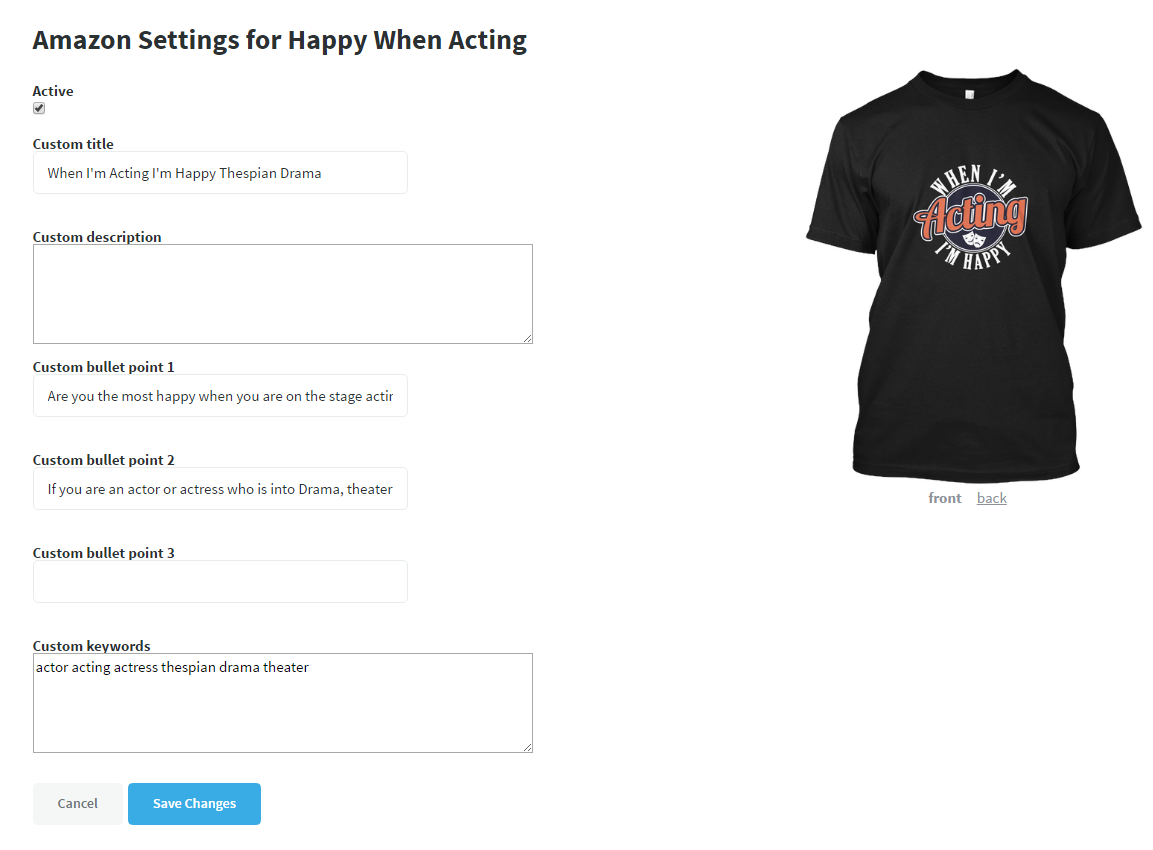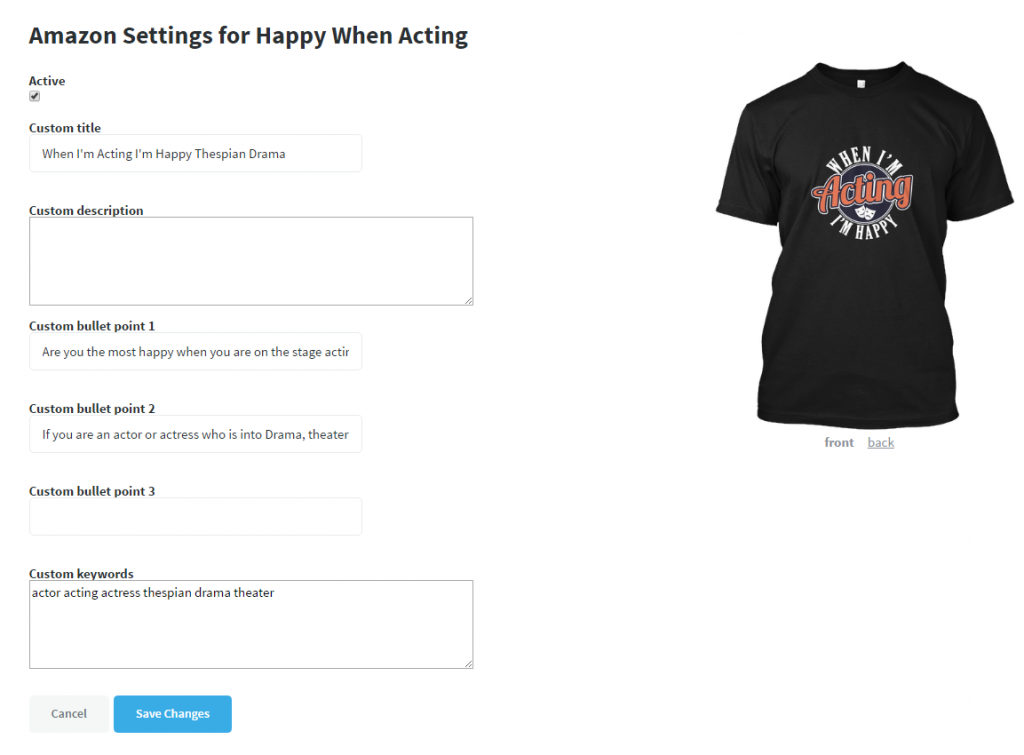 Click on Save Changes and that is all you will need to do. Your product is now going to be added to Amazon within 24-72 hours. Teespring aims for once a day and says that there can be some delays because this entire process is in beta, but from checking my own account for the last month, they are getting very efficient in this process.
You can change any of these settings at any time, but know that it will be updated on the Amazon page within 72 hours. You can view your Amazon sales stats in the marketplace sales tab within Teespring but they are currently lumped together.
Doing The Math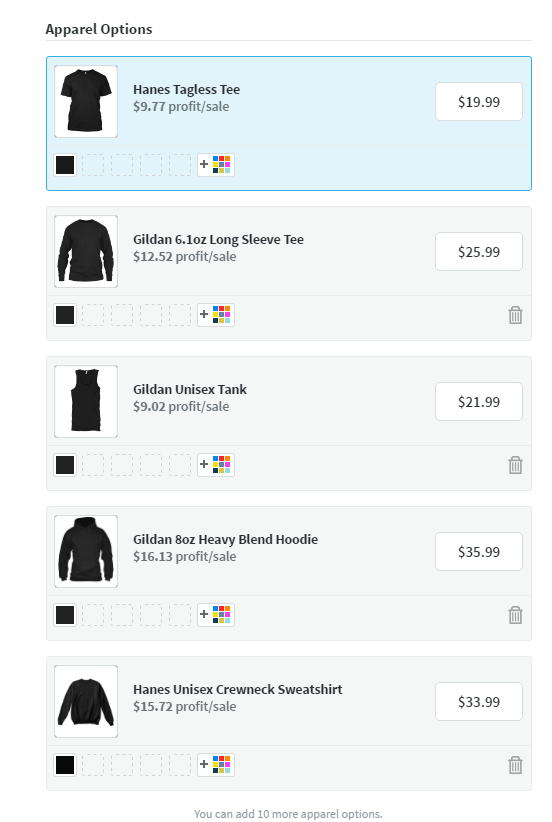 These are the products and prices that I use so far. You might choose to do something different, but these are the prices and products that I go with.
Teespring adds $4 to these prices when they are moved to Amazon. This does not effect your bottom line at all but it DOES effect what the customer is paying. I keep this in mind and tweak the prices accordingly.
Each Amazon sale will also deduct $6.75 from the profit per sale. Knowing this, with the prices above, here is how the math works out.
Hanes Tagless Tee $3.02 profit
Gildan Long Sleeve $5.77 profit
Gildan Tank $2.27 profit
Gildan Hoodie $9.38 profit
Hanes Sweatshirt $8.97 profit
You can obviously make more by pricing your products higher but at a higher price with Teespring adding $4 for shipping, this is not the ideal sweet spot. You will need to play around with pricing, but this is what I have found to work best for me.
As you can see, the hoodies can be an incredible earner and they have been selling off the hooks since I started!
Research and Marketing
Here at Merch Informer we absolutely hate seeing people get frustrated and quit. Getting designs up on Amazon is the easy part but getting sales can be more difficult, which is why I need to go over this again.
You MUST do your research properly or you will not make sales. If you do not research properly, you will be making designs for markets you might THINK exist, but in reality, there is no demand there at all. If you have read this far but decide to skip this section, you are probably just wasting your time.
Keyword Research
If you have great designs, perfect! Keyword research is still going to beat a great design over and over again. This is the difference between getting your design in front of interested eyeballs and being lost in the pack or having no idea why you are not getting sales. You simply have to go for the proper keywords.
The best way to do this is pretty easy!
Amazon actually gives us some of the best keywords out there! Since Amazon has a ton of data, they are going to do everything in their power to make more sales and thus make more money themselves. I use this to my advantage every day and it has helped me create thousands of dollars a month extra after we started implementing it.
If you have not already done so, sign up for the 3 day free trial of Merch Informer here. Once you have signed up, we are going to use the Keyword Finder which is hands down the simplest method of finding keywords that have demand, and that will make you money. Since last writing on this, we have had people make sales within 6 hours of their product going live on Amazon from the Teespring integration.
Once you have everything running and set up, go over to the keyword finder in the menu.
What we are going to do know is take all the keywords that Amazon auto suggests to us in certain categories to find designs that Amazon knows are profitable and wants to make more sales with. Enter a seed search term that can be auto-completed. This seed keyword should be something that is not complete. A good example is "I am" "I love" "keep calm and", or something along those lines. As you can see, each of those phrases can be completed with a lot of different endings. This is exactly what we are looking for because Amazon will give us the right suggestions. These are niches where sales are concurring! Just take these keywords, and make designs around them!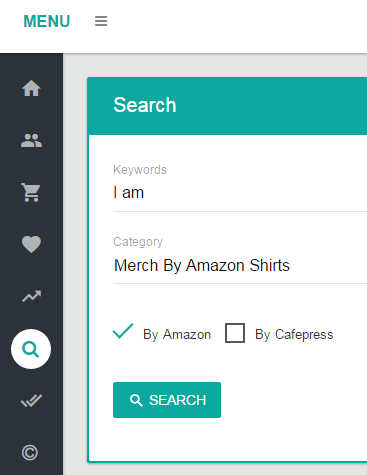 I generally check the shirt categories first since there are a lot of easy keywords here. Hit that search button and as you can see from my current search there are tons of awesome keywords just sitting here for the taking!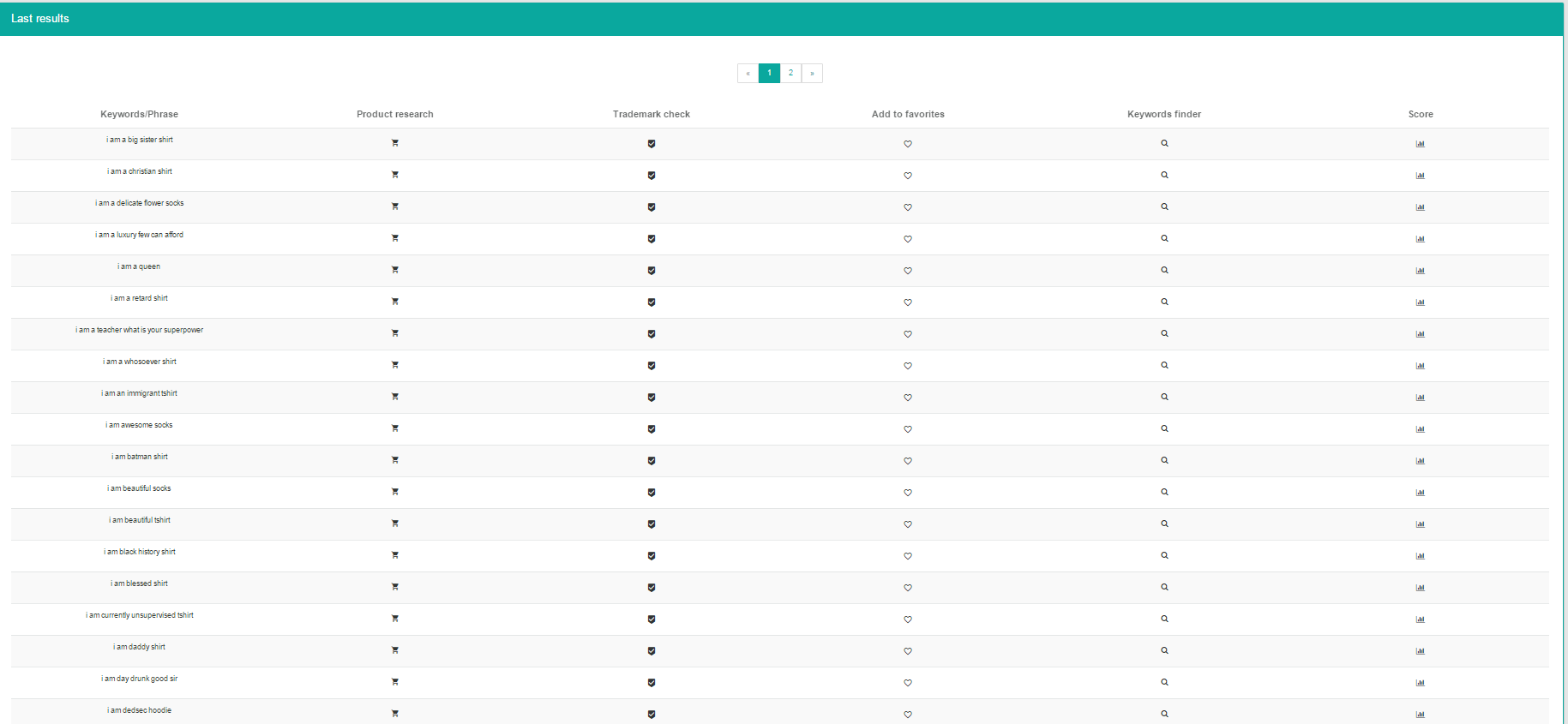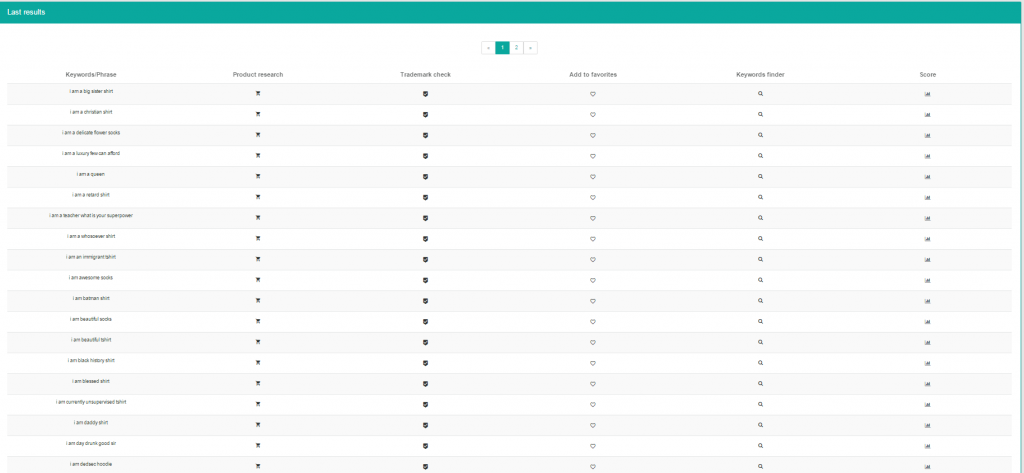 Take the information that Amazon gives you, use Merch Informer to streamline the process and pull the ideas fast so you can sort them properly and prioritize and then create products that people want by putting them out there!
Pick The Right Niche
The above is one of my favorite techniques to make quick sales and dominate for certain search terms but if you want to make absolutely positive that you are not going to be competing with a million other people, then you should be focusing on picking the right niche for you. This means to us at least that there is demand in the niche, but not very many people to compete against.
If you are not competing against many people but there is still demand, we are able to grab more sales by the simple fact that our designs are going to be better and we have less people to try and outsell.
Doing this is extremely simple with the above approach and the Advanced Competition Checker that we built into Merch Informer.
This allows you to see exactly what you are up against!




All you have to do is take the keywords that you found from the keyword finder and pop them into the advanced competition checker.
This will show you exactly how many results are in the search engine you need to compete against, how many results have that exact title, if there is a seller out there using the brand (this is to see how many Merch sellers are trying to game the system with Merch by Amazon), and then we give you a score of how easy it would be to enter this niche.
Since we know that the keywords we pulled with the Keyword Finder have demand because they are suggested by Amazon to make them more sales, all we have to do is determine if the competition is worth it to enter. If it is, we can quickly decide if this is something we want to get into if we have some great designs!
Finding ALL The Demand
My favorite technique is just to go after niches where there are designs that are already selling but I know that I could do a better job. We went over the BSR, or best sellers rank, near the beginning of the article, but this is what we are going to use to see and estimate how many sales a particular design is getting.
I built a six figure merch business off of examining the BSR so I know this technique works. I needed a way to streamline this process which is why I build the product search module in Merch Informer.
Enter a keyword, pick a category, and we will display the best selling products in that category based on BSR. Since BSR is currently removed from the actual product pages, there is no better way to get a head start on your competition.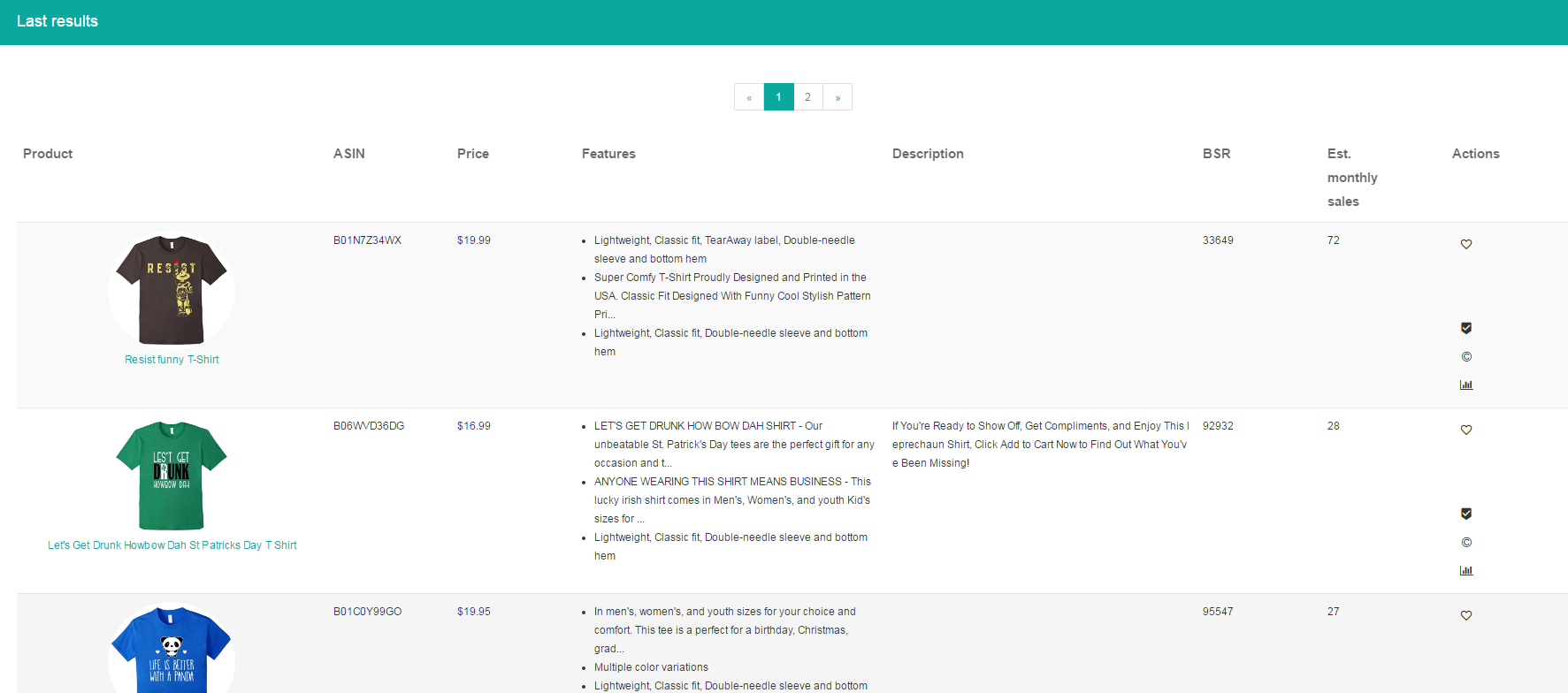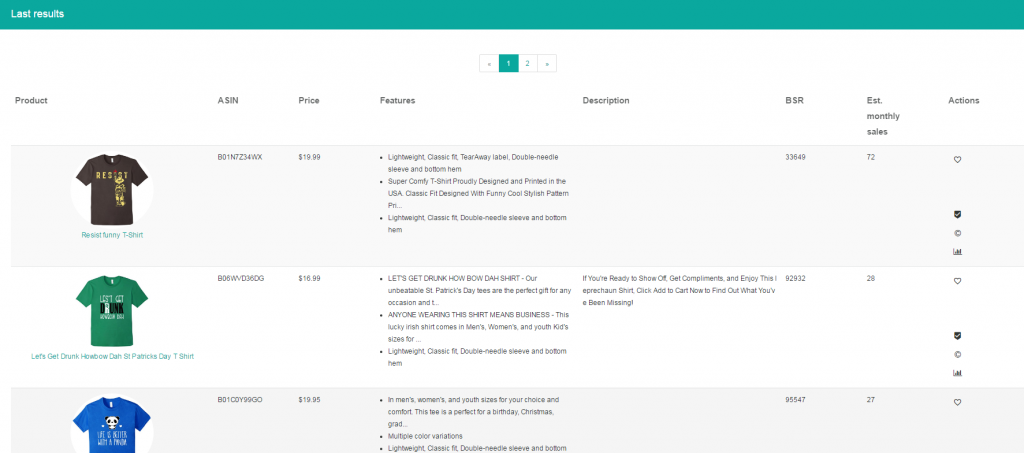 This will give you the ASIN, the price (as well as the average above but not shown in this screen), the features, the description, the BSR, and the amount of estimated monthly sales for that product all without opening a million tabs or wasting time. We make life easy, and this data makes you money!
If you took everything else away from Merch Informer but the product search module, it would not matter too much. This single tool was the backbone to building a six figure merch business in under a year.
Wrapping It Up
The Teespring Amazon integration represents the biggest opportunity this year by a long shot to get started selling on Amazon. You probably will not see something this great happen again for a long long time. Teespring has been investing in being able to keep up with demand and now that they have invested millions of dollars, you have the chance to sell on the biggest marketplace in the world TODAY without delay!
Know what sells on Amazon
WORK, put in the time
Optimize
Make Money!
Just start! There is no excuse why you are not exploring this opportunity. Do not leave the money on the table when it is there for the taking. There are 2 billion customers on Amazon every month and they are just dying to buy the ideas you have yet to put down on "paper". Get to it!
Let us know in the comments how your business has increased by deploying the Teespring Amazon Integration Method. Good luck!