What Are Merch By Amazon Tiers? What Is The Significance And How Do You Climb Up The Ranks?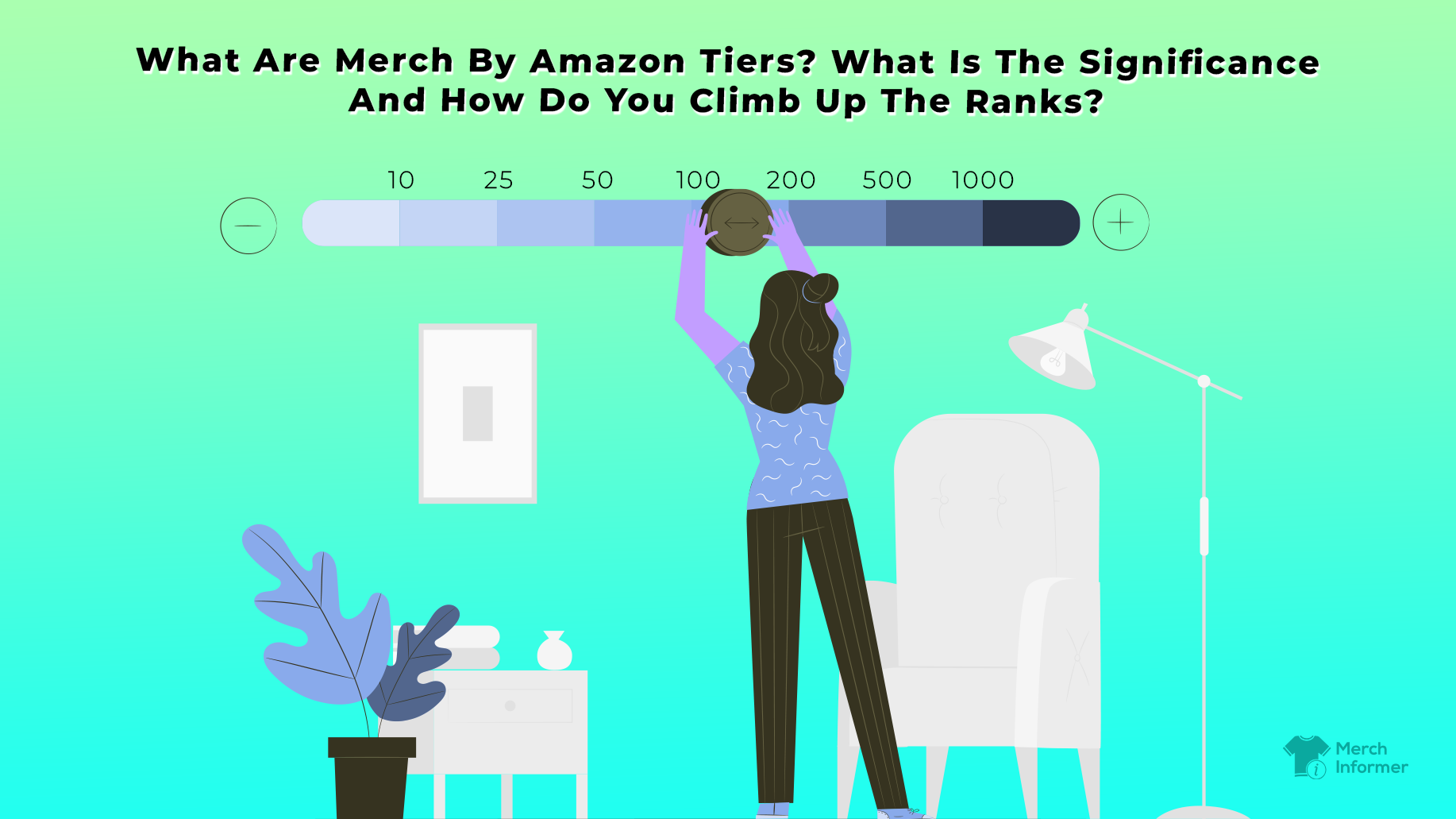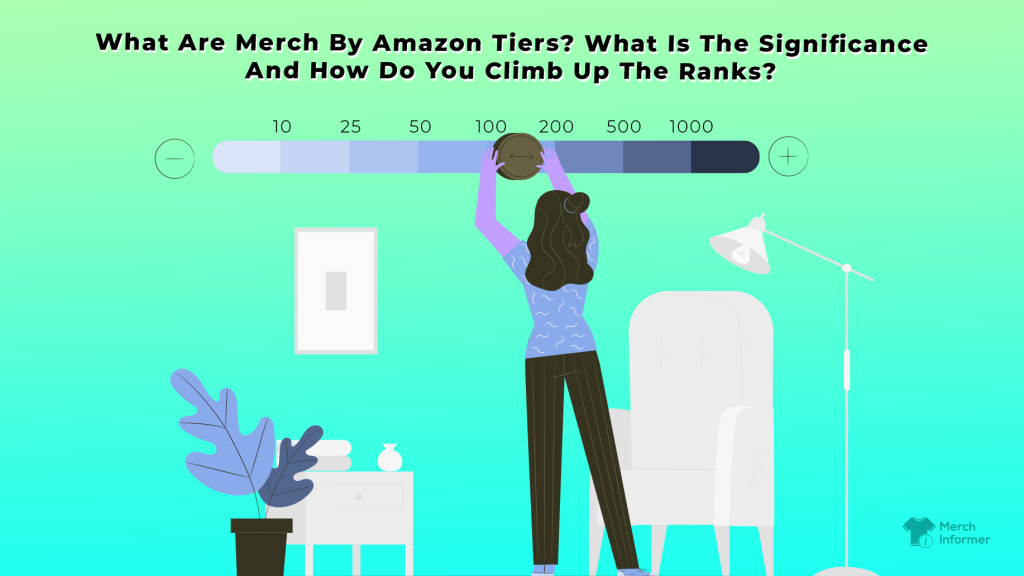 Entering the t-shirt side hustle by joining Merch by Amazon is among the safest, most profitable business decisions one can make. The platform enables Sellers to make a passive income and showcase their rad designs to a huge marketplace.
Yet, for quality control purposes, Merch by Amazon has implemented a tier system, which, in a sense, limits how many designs you can showcase at any given point in time.
So, what are these Merch by Amazon tiers and how do they work?
We explore the topic in detail below.
What are Merch by Amazon tiers and how do they work?


Amazon's implementation of its tier system limits the number of designs each Seller can upload to the Merch by Amazon platform. It appears that the reason for this is twofold: the first is (although not explicitly stated) not to flood the market with low-quality designs and the second is to improve the customer experience. With that being said; what are these tiers and how do they work?
In essence, there are around eight STATED tiers offered by Merch by Amazon (and there are lots of known higher tiers, such as tier 400k). These are:
Tier 10
Tier 25
Tier 100
Tier 500
Tier 1,000
Tier 2,000
Tier 4,000
Tier 8,000
The mechanics behind these tiers are the following: a newbie Seller will begin by starting off in tier 10.
This will mean that they will only be able to upload 10 designs before they can proceed to the next tier, which is tier 25. Making sales on the items that you upload, as well as filling your "slots" counts as progression to tier up. The same logic applies for the subsequent tiers.
One rule of thumb to consider at this point is that a Seller needs to fill at least 80% of their space available on Merch by Amazon with designs in order to climb to the next tier. There is no known data as yet as to whether a Seller can regress to a previous tier. Instead, what appears to be the case is that Amazon takes your sales history into account and bumps you up the various tiers as you grow, seemingly without penalizing Sellers for lower sales if they end up in a high tier.
As for the benefits of these tiers, it essentially boils down to this: the more t-shirts you sell, the more designs you can upload, resulting in higher profitability.
Strategies For Climbing The Merch By Amazon Tier Ladder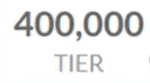 Getting out of tier 10 can be one of the hardest things to do for novices. There need to be solid strategies in place to ensure you get out of the beginner zone, sell more, and ultimately, earn more. Here are a couple of approaches you can try:
Implement a diverse promotional strategy
There are numerous social media platforms and channels that can be utilized in tandem with each other to promote your t-shirt designs. This should not be overlooked as a promotional sales strategy. Also along this line of thinking is the option to join groups and use them to advertise your designs.
Use competitive pricing
This will mean taking into account Merch by Amazon's royalties structure and choosing a price that, when fixed costs are subtracted from, will yield a profit. It is tempting to want to charge the highest possible price for your t-shirts. However, in the beginning stages, to get out of tier 10, you may wish to offer your products at lower prices and then apply a pricing strategy of hiking them up in a gradual manner.
How To Calculate The Costs Of Your Merch By Amazon Business: Delivery, Royalties, Taxes And More
Identify evergreen and seasonal trends
The fastest way you can do this is with Merch Informer. The platform offers you everything you need at your fingertips with just a click of a button. Why are trends important? Because that's where customer demand is. It doesn't make business sense to create an awesome t-shirt design if no one is actively looking for it. This is why it's crucial to pinpoint what is selling like hotcakes right now and then cater to customers through these types of designs.
Taking advantage of holiday trends is another great strategy to follow. There's usually a significant peak of demand for Christmas, Easter, Valentine's Day, 4th of July, and other holidays.
Hunting For Trends With Merch Informer: A Step-By-Step Guide To Being First On Merch by Amazon
Purchase your own t-shirts
Yes, it might seem counterintuitive to buy your own products. But this is one way of getting out of the first tier and if you've priced low, it shouldn't set you back a long way financially. Once you're out of tier 10, you can easily rely on sales to come from your customers. But being in tier 25 or 100 means the ability to upload more creative designs that sell. This broadens the scope of your offering as well as your chances of financial success.
Apply a holistic strategy
This refers to doing your research thoroughly. What are your competitors doing right? How are they pricing their t-shirts? What keywords are they using for their particular niche? How are they crafting their titles and descriptions? What designs are selling? Are these seasonal or evergreen? By looking at these questions as one part of the whole, you'll be able to diversify your sales strategy, offer higher quality products, and ultimately earn more.
Reach more potential buyers
It's easier said than done, right? However, there are other out-of-the-box ways of catering to a wider clientele. Some examples of these include collaborating with local brands. See where their needs are and how you can cater to them. Another example is by sponsoring sports teams. This should be considered more of a long-term investment but it's likely to get you that much more exposure. Finally, you can create t-shirt designs for companies and teams. This is a highly niche market but one that's worth tapping into because niche is what ultimately sells.
Practical Example: A Seller Who Has Climbed Several Tiers
To put all of the above to good use, let's take an example of a Seller who has climbed some tiers. The Seller under the spotlight is Mom Day Dog Shirt, which creates designs specifically targeted at mothers. The fact that their offering is aimed at cat and dog moms is telling because it means they've targeted a very specific niche of pet owners. This Seller appears in the top 10 of the top 100 results for the "mother's day" keyword and they've made 230 estimated sales based on the sales rank.
When looking at their listings, we can observe that they offer the same shirt design on a variety of different products – from premium t-shirts to v-necks. Overall, they have around 14 apparel items on sale with pretty much the same design that appears on all of them. These factors put together immediately tell us that this Seller has gotten out of the pesky tier 10, jumped to 25, and is now in tier 100.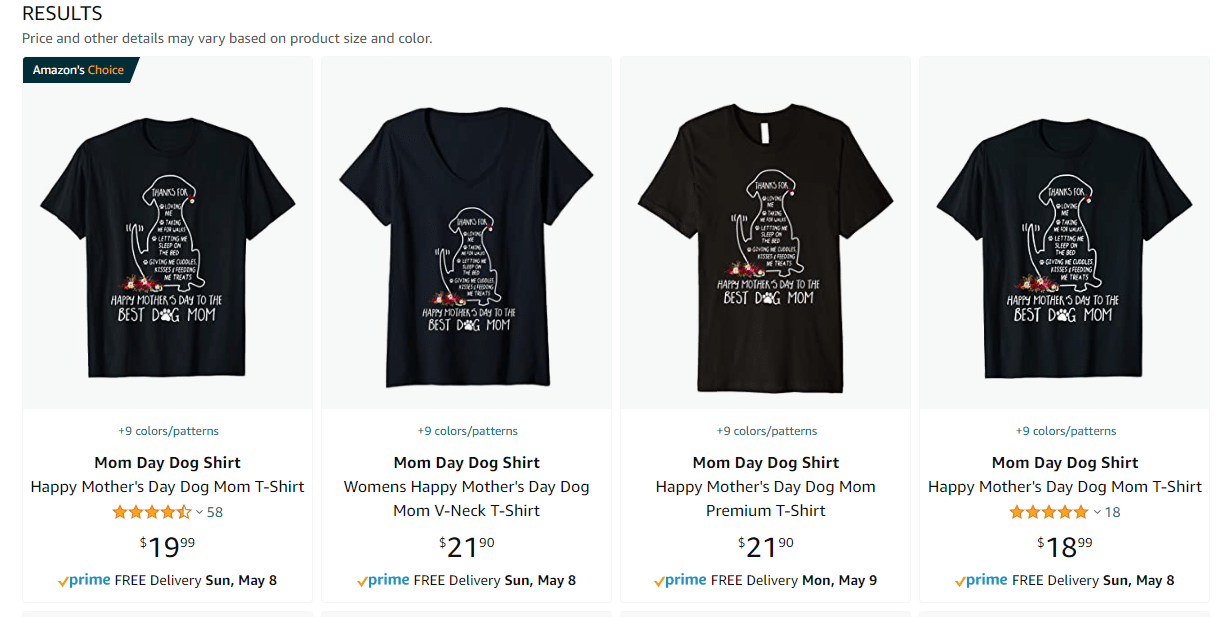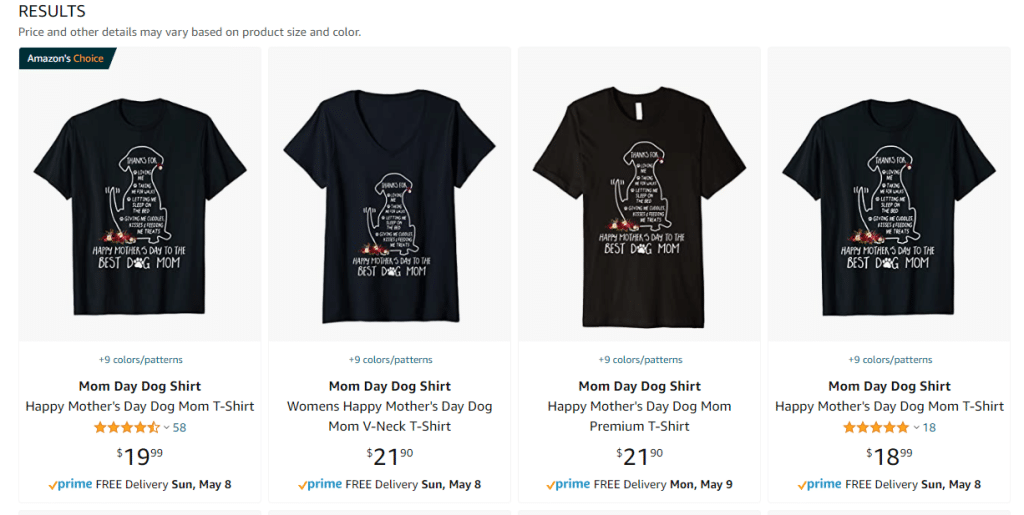 Pricing near the average of $17.60 at $19.98, the Seller drastically reduced their price for their t-shirt to $8.96 in mid-March for one day. Although this didn't have an immediate impact on the best-seller's rank (BSR), what can be observed is a slow decline in the BSR, reaching a low of 18,353 in early May. One of the possible reasons for this increase in demand and decline in BSR is the fact that Mother's Day in the United States is approaching. There's obviously demand for this product, which is not entirely seasonal because it can also make for an evergreen offering as a gift any time of the year.
Interestingly enough, this Seller has managed to climb up three tiers without promoting their products on social media platforms such as Instagram or having a web presence. Which means they're still doing well without the promotional efforts that are typically advised.
What Happens If You Fail To Climb The Merch By Amazon Tiers?
A failure to climb the Merch by Amazon tiers can be quite limiting for a Seller. Not only will you not be able to showcase a multitude of creative designs; you will also not be able to reach more customers. Obviously, this will affect the bottom line.
In addition, low sales volumes can impact the BSR. This means that the chances of getting visibility on Amazon's first page of search results become slimmer.
Therefore, applying some of the strategies mentioned above could really help to put you on the map, as they say, and ensure you earn tidy and consistent sums from your merch trade every month.
Closing Remarks
Sellers on Merch by Amazon know by now that this is a long-term game. There are numerous elements that make for an effective sales strategy and once that strategy has been put in place, it's time to climb the tiers. Getting out of the tier 10 zone can seem daunting, but with the right approach, it can be the first step towards financial success.