5 Ways To Market Your Merch by Amazon Shirts for Free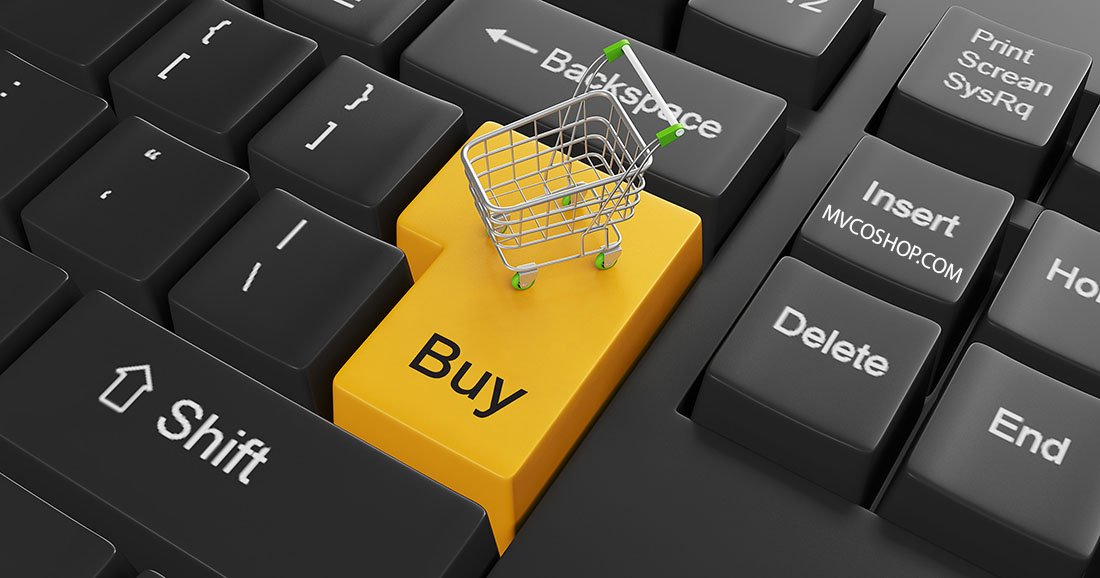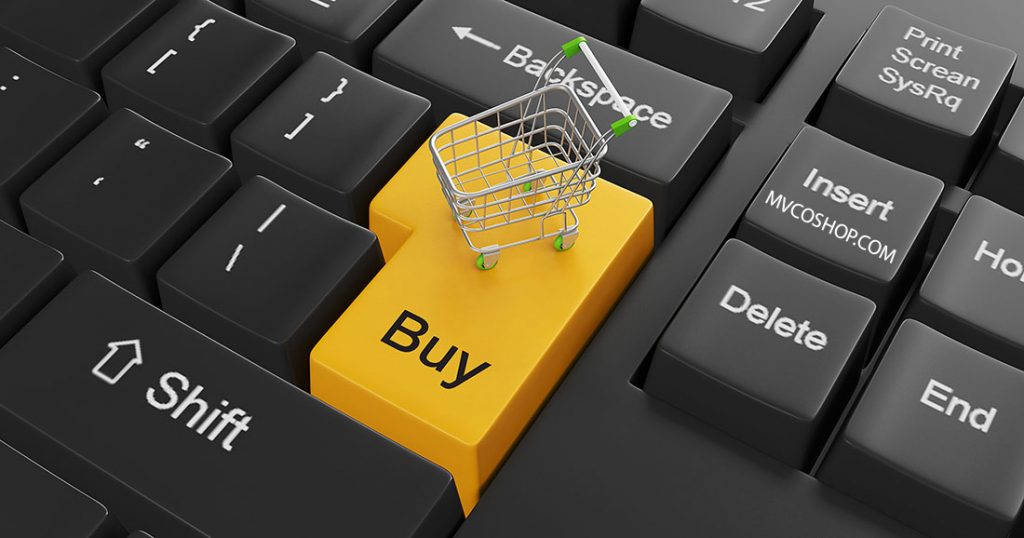 Being part of all the Merch by Amazon Facebook groups and talking to people who are just getting started with the platform often have the same complaint. They open up their account and see they have 25 spots available. They will then slowly fill up the slots and after 3 weeks, may have a few sales or even worse nothing! Does this sound familiar, or is this describing you?
I have seen over and over again posts like this, and then the responses are always the same "have patience!".
Coming from a marketing background, I always thought this was not the best response. If you have nailed down your Merch SEO and made sure that your listings are good, you certainly could have patience and wait until they sell. This does work, and in the beginning of my own account, this is exactly how I did it. There is nothing wrong with this approach but in the sea of competition, you are not doing yourself any favors. In fact, you are falling further behind by doing so.
You can either wait and waste precious time hoping you make a sale, or you can go out there and make sales and SELL! This is the easiest way to get out of the 25 tier and really give yourself the chance at success that you want to achieve.
Let's get into the 6 best ways to market your Merch by Amazon shirts and exactly how to set them up!

1. Instagram – Mobile Powerhouse
Just in the last couple of years, mobile users have surpassed desktop users. This is really not that surprising seeing as how we are all busy people on the move.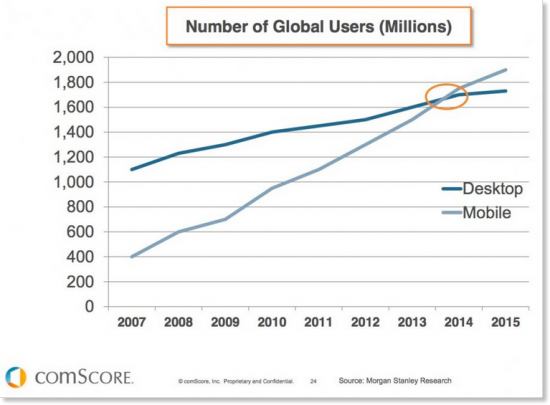 What does that mean for Merch though? It means that if you are not marketing your Merch on mobile friendly platforms, you are missing out!
One of my absolute favorite ways to take advantage of the mobile trend is selling on Instagram. Instagram is both a visual platform as well as being very popular on mobile. The combination of these make it an absolute powerhouse. I know people making $100,000+ per year just using Instagram. Let me walk you through how to create an account and the best way to set it up.
Setting Up Instagram
It is possible to set this up on a desktop, but since Instagram is a mobile app and you need to be a bit tech savy to do so, I will be running over the steps to get it set up on your phone.
Step 1: Make an account
Head on over to https://www.instagram.com/ and make yourself an account. I have found that personal brands work really well for this. You can either log in with your Facebook or provide your email, name, username and password. Then click sign up.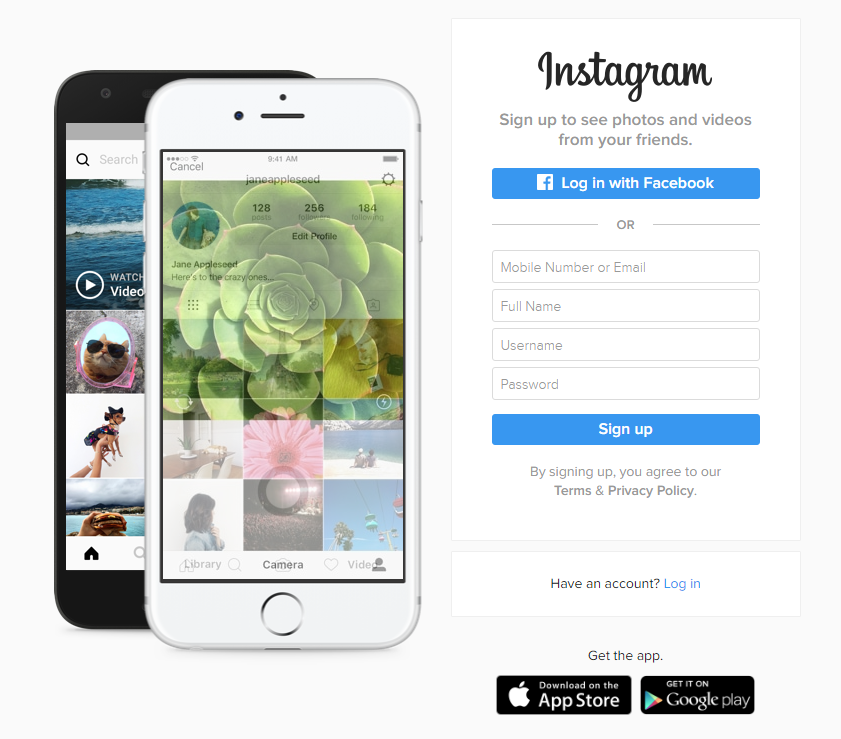 Step 2: Download the App
You will then need to download the app onto your phone. You can do so at the links below.
Step 3: Fill Out Your Profile
Once you have downloaded the app and logged in, you will now need to set up your account. Navigate to the little "head" icon on the bottom right of the app which will bring up your profile.
Next click on "edit your profile" which will bring up the page where you can fill it out. You will want to add a profile cover photo, your username, your website, and your bio. There is a spot for your private information as well but this will never be shown publicly.
Name: This is the spot to put your Instagram name which will show bold in your profile anytime someone lands on your page. I personally use this as my brand, but if you are making a personal brand, simply put in your name.
Username: This is going to be the username of your account and will also go into the URL of anyone who is looking at your Instagram page. Make this the same as the name you just entered but without spaces.
Bio: This is the spot to sell yourself and your brand! Make it short but interesting. What makes your brand great? Why should people care? Put interesting bits of info here to make them interested enough to click through to your products.
Website: This is the only place on Instagram that you will be able to put a clickable URL so you need to make it count. This works BEST if you have a website set up linking to your Amazon products. I know a lot of people do not have this set up (I will write a guide on it soon) so instead, we are going to use a shortened URL that will look like this: http://amzn.to/numbersletters. In order to make this URL to put in your bio follow these steps.
Step 1: Make an account here: https://bitly.com/. Easy and free.
Step 2: In the upper right hand corner click on "Create Bitlink" which will be a bright orange box.
Step 3: Enter in your product URL for the products you are selling
Step 4: It will then bring up a screen that shows you the shortened link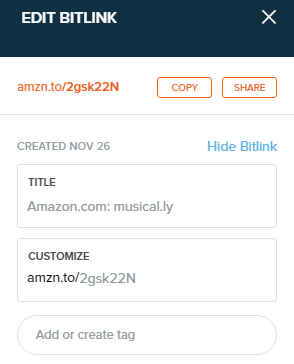 Step 5: The link is now editable and you can change the URL to your liking. If you do this, you will only be able to use a bit.ly link and NOT a shortened Amazon link.
Step 6: Click on Save at the bottom. If the URL is already taken, you will need to change it to something that is not.
Congratulations, you now have a fully functioning short link that you can use on Instagram (or anywhere on the net!). Here is the example URL here so you can see how it works: http://amzn.to/2ggVyuc.
You can actually do this with the Amazon affiliate program as well: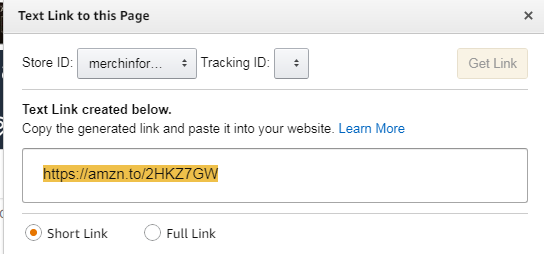 This is how the link will look like to your visitors: https://amzn.to/2HKAb2n
Step 4: Building Your Instagram
Now that you have everything up, you need to start building your Insta. This means that you need pictures of what your brand is about. Is your brand about basketball? Maybe some action shots of people playing the sport with your shirts on? That would of course mean that you would have to purchase some yourself to give them to people to wear. This can be worth it so it might be something to consider.
You could also just download the images from Amazon and put them up, but these are both boring, and will not garner the kind of response you are looking for.
So what do we do? We spice the images up!
This took me all of 30 seconds to create with our Merch Informer Logo, and best of all it was free!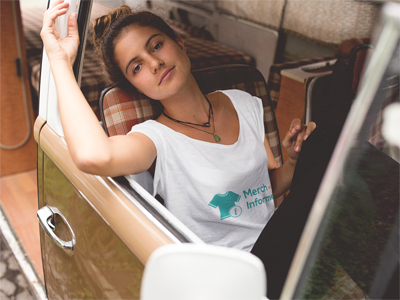 So how do we do this?
Head over to https://placeit.net/c/apparel. You will notice over 1,000 different apparel models where you will be able to upload your designs. These designs are then "placed" on the models, that you can download and upload to Instagram!
Select the model that you want to upload to
Click on upload image
Use the slider to position your image properly
Apply the image to the model
Click on download (you will need to create a free account)
Select Small image (it will work just fine with Instagram)
In the upper right hand corner under "My Drive" download the image and upload it to any place you want!
Step 5: Use Hashtags
When you are uploading your images to Instagram, you will need to add a description. When you are adding the description, be playful with it. Also make sure to include hash tags!
What are hash tags?
Hash tags are what Instagram users use to find topics they are interested in. For example, let's say your brand is all about basketball and you made a nice image and have uploaded it. After your description, include a few has tags. They look something like this.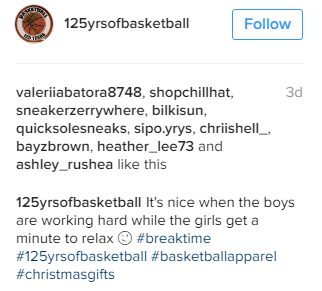 Now people that are looking for basketball apparel will be able to find and see this post! Pretty cool huh? You can pack the description full of RELEVANT hashtags!
Step 6: Gain Followers
The last step is to gain followers who will actually see when you are posting! There are 2 ways to do this that work extremely well.
The first way is to use trending and popular hashtags that are relevant to the topics you are posting about. As long as you are properly using hashtags, you will naturally get some followers.
That can be a slow process, so the best way to increase your followers is to follow other people! You do not just want to follow anyone though, you want to follow people who are going to follow you back. Here is the best way I have found to do this:
Step 1: Look up a relevant hashtag. In this example we are going to use #basketballclothes
Step 2: Find an image that is relevant to your topic. I stumbled across this:
Step 3: People who liked that post are interested in basketball clothes right? Great, we just found a target audience that seems engaged!
Step 4: Click on the names that commented on the picture. These are people that were engaged with the niche and are likely people who will buy some clothing at some point.
Step 5: Click on "Follow". That user will now get a notification that you have followed them. They will then probably check out your brand, and if they like what they see, will follow you back. This means that each time you post an image, it will now show up in their feed.
Step 6: Continue with the above steps while building up your following base. All you need is a few minutes each day to build this marketing channel.
That is basically the simple ins and outs of Instagram. So many people disregard this marketing channel but it is an absolute powerhouse at driving traffic and making sales! If you keep at this one and actually put in the time, you will eventually get to the point where you are making constant sales day in and day out just from Instagram (not to mention from organic traffic and increased organic sales because of the boosted sales rank!).
2. Twitter
Twitter is next in the list and one of the easiest places to drive traffic. Once you start learning social media platforms, you will soon realize that most of them are very similar and you grow them the exact same way.
Setting up a Twitter is really fast and can be grown in around 10 minutes a day while falling asleep in bed on your mobile phone, or after you finish up work for the day.
Setting Up Twitter
This can be done on either a mobile phone or through your computer. Since I rarely use mobile myself and do most work on the desktop that is what I will be walking you through today.
Step 1: Create an account
Head on over to https://twitter.com/signup and enter your name, email address and password.  For the name, I actually go with my brand name and not my personal name. You can do either of course.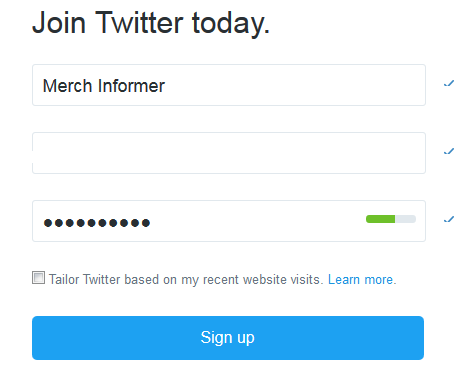 After this, you will need to choose a username. Again, I make this the brand. The next page will ask you what you are interested in. This is basically to tailor your Twitter feed based on your interests. Pick a few topics and click on continue. Follow a few people that are interesting to you. Since you are just setting up your profile, follow the people that are already selected and hit continue.
Finally you will need to confirm your email address in order to access a lot of the Twitter features. So make sure to not forget that step!
Step 2: Build your Twitter
Now that you actually have an account, you need to add a few things to make it look nice. The first thing to add is a profile picture. Since I am building this for a brand, I will put in the logo. If you are building it for selling shirts (like I hope you are), then include your brand image, or an image of your best selling shirt.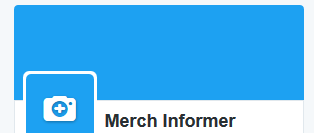 Once you have your profile picture, you need to add a cover photo. To do this, click on your twitter name which should bring you to your feed.
At this point, it will look something like this:



That blue is a bit ugly. To change it, click on edit profile and then click on add a header photo. You can move the image you pick to make it look nice, but when uploading make sure the image is large enough.
Step 3: Tweet something!
Twitter is all about getting your message across in 140 characters or less. This can sometimes be difficult if you have a lot to say, but this is the perfect medium to entice the user just enough to click through and see what you are talking about.
Right after you have added your cover photo, it is time to create your first tweet. Head on over to your profile page, and it will suggest that you can either tweet one of their first tweets, or you can create your own.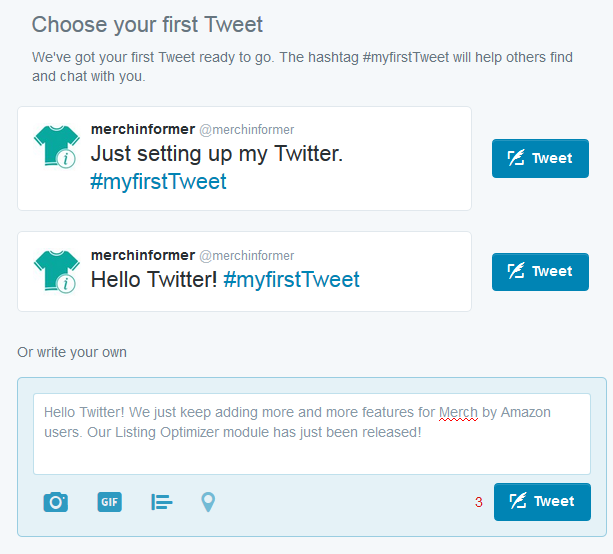 As you can see I decided to add my own. You can see exactly how it looks by visiting this link: https://twitter.com/merchinformer/status/802932725342752768.
Now, we want to use Twitter to make sales right?
Remember when we created a short link above in the Instagram section? These are absolutely perfect to use with Twitter. Grab those links, or make some new ones. Tweet about your designs and why people should check them out.
If you want to make even MORE money on top of the commission Merch by Amazon will give you, you can even use Amazon associates to get an affiliate commission as well. That is a discussion for another day though.
One final note about Tweeting. They use hashtags as well! Just like Instagram above, make sure to include relevant hashtags. This helps people find you. If they find you and like your content, they will follow you.
Make sure that everything you are putting out is not a promotion. People do not want to be spammed with Amazon links all day long. You need to make it about your brand or the niche that you are creating shirt designs on. If your designs are around basketball, tweet about upcoming games, thoughts on clothing, people involved in the sport. You want to be seen as someone who knows what they are talking about in the niche (and also sells shirts).
Step 4: Gain Twitter Followers
This section might start to feel familiar to you. We are going to gain followers by following other people!
We do not want to just target anyone though. We want to follow people who are both interested in our niche as well as being a potential customer for our designs.
The way we do this is find other accounts that are selling merchandise, and look at there followers. Their followers will be people interested in the niche, but also interested in clothing.
Going with the basketball example from earlier, I would type something like "basketball shirts" into the twitter search bar. Then at the very top, select "Accounts".



Go through the accounts listed and see if anything listed is a brand in your niche. Right down below I see this: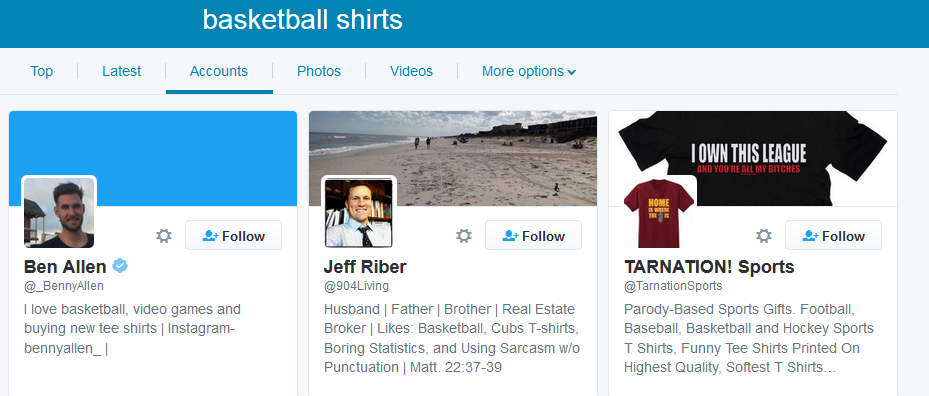 That right there is a t-shirt brand in our niche! Click the name to go to their profile page. Now is where the fun begins.
You will see that at the time of writing this, they have a little over 1,000 followers. This is 1,000 people that are interested in t-shirts in our niche. Time to follow those people! Click on the followers.


Now you will see the list of people following them. Simply go through this list slowly and start to follow the personal accounts of people who are interested. If they see that you followed them, they will check out your profile and if they like what you are posting, will follow you back!
When these people are following you, they will get your Twitter posts in their feeds. Trust me when I say this can drive MASSIVE amounts of traffic if you keep up the following every day.
3. Pinterest
If you have been following the Merch Informer blog at all, we already released a pretty in depth guide to Pinterest. Even though I know a lot of people saw and read this article, most people I follow up with are not taking action here. Pinterest is and will remain my favorite way to promote products, especially t-shirts. Why? Because their demographic is absolutely perfect for making sales!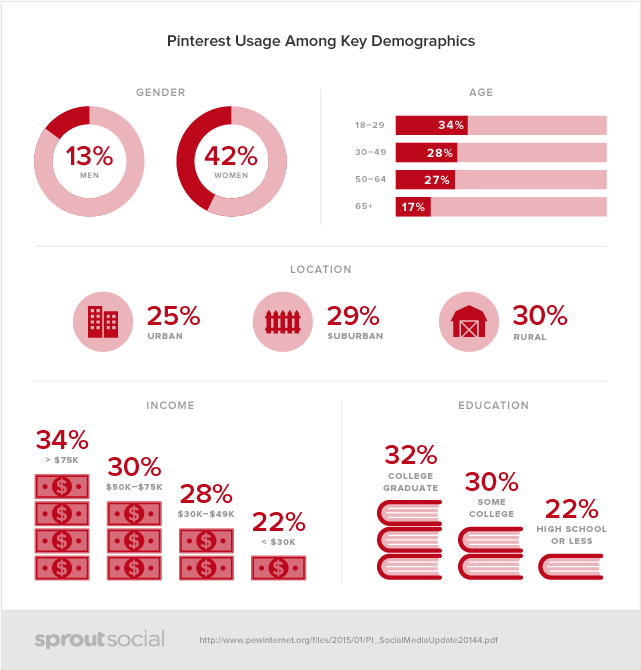 Just look at that for a moment. Specifically look at the income break down and gender. Most people on Pinterest are women who have money to spend! Could it get any better than that? I know from promoting lots of things on Pinterest in the past that the platform drives an absolutely insane amount of traffic and with very little work involved.
Wouldn't it be great to have 1,000+ extra eyes on your products each and every day? That is what is possible with Pinterest. I have a website that gets that much traffic from this platform daily and I have not touched it in probably a years time.
Setting Up Pinterest
Setting up Pinterest for the best possible results can be a bit time consuming. Remember that you get out of Merch by Amazon what you put into it. Keep up your efforts and they will pay off.
Step 1: Create an account
In order to use the platform you need to create an account. Head on over to the link here: https://www.pinterest.com/join/ and sign up.
Now before you go entering in your details, you will notice you have two options here. You have the option to sign up for a business account or a personal account. Do not sign up for a business account (even if you are a business).
In fact, you want to sign up for a personal account and you want to make sure you sign up with a female name. Why? Because after testing the Pinterest platform for over a year I know that personal accounts on Pinterest with a female name will get the most traction. You will get the more followers, you will get more clicks, and best of all, you will make more sales!
When you are on the sign up page you will need to come up with a name and enter your gender. Make up a name and make sure you pick female. Fill out the rest and click on the come on in button. You will then need to pick 4 topics that interest you. I generally just click on whatever looks interesting but this part does not matter much.
Finally, it will bring you a step where it will ask you to get the Pinterest browser button. You want this, so download and install it!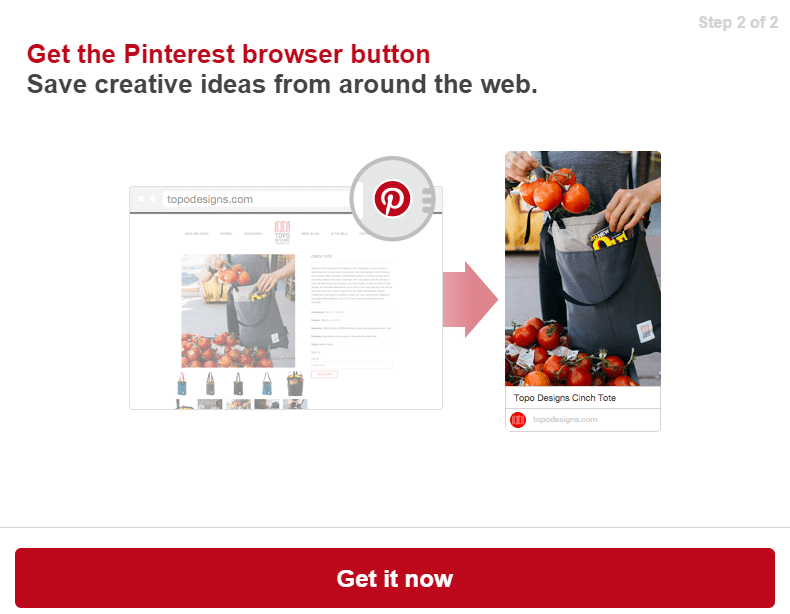 Step 2: Setting up your account
By now you should be on the home feed page. Look near the top of the page where you should see a search bar and click on the little person head. This should bring you to your profile. This profile is where you will set up who you are on Pinterest and looks like this: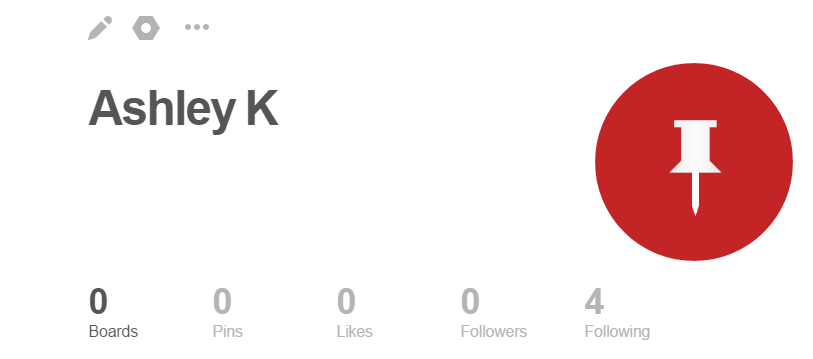 If you are not familiar with the Pinterest platform, think of it as an image board. You will pin or put images into boards that you find interesting. These images that you put up will contain information below them on where someone can find whatever you just linked to.
The entire goal here is to get people to come to your boards and check out what images you have put up. If you do not have your profile filled out or any boards that are interesting to look at, no one is going to want to check you out or follow you. Your goal is to be interesting and have something worthwhile to check out. How do we start doing that? We put up boards with Images! Keep in mind that you are building an interesting persona. Each of the boards you create should be in the niches that you have designs in.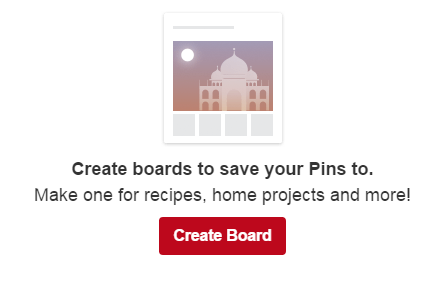 You should see the above image that says create board. Click on the big red button and you will be able to create your very first board. The name of the board is important so make sure you enter in a name that is relevant to the niche you are going to post images about. Give it a description, category, and then click on the create button. In this example, we are going to use the dog niche.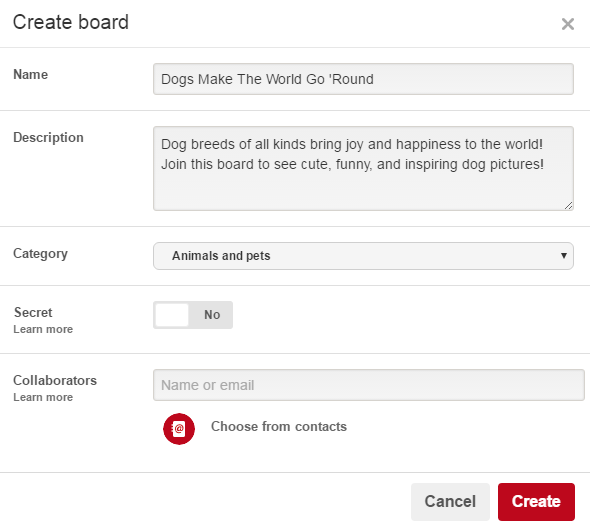 You have not created a board. This board is empty and contains no images. Remember the plugin you downloaded and installed to your browser? This is what you are going to use to pin images to your board. Open up a new tab and go to Google images and find something interesting in the niche of your board. Once you open up an image, click on the browser Pinterest button and add it to the board you just created.
Tip: Filling out these boards is incredibly easy if you repin images that are already on Pinterest! To be able to do this, go to the top search board and search for keywords in your niche.



Next, find an image that you want to include on your board. You will see a pin/save button in the upper right hand corner of the image. You will want to click on that.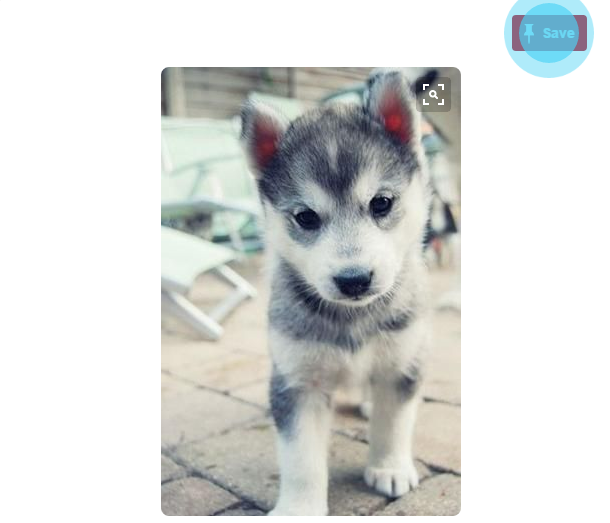 The next screen will ask you what board you want to save this image to. Save it to the board you just created and then go back to your profile. You should see that image is now in one of your Pinterest boards!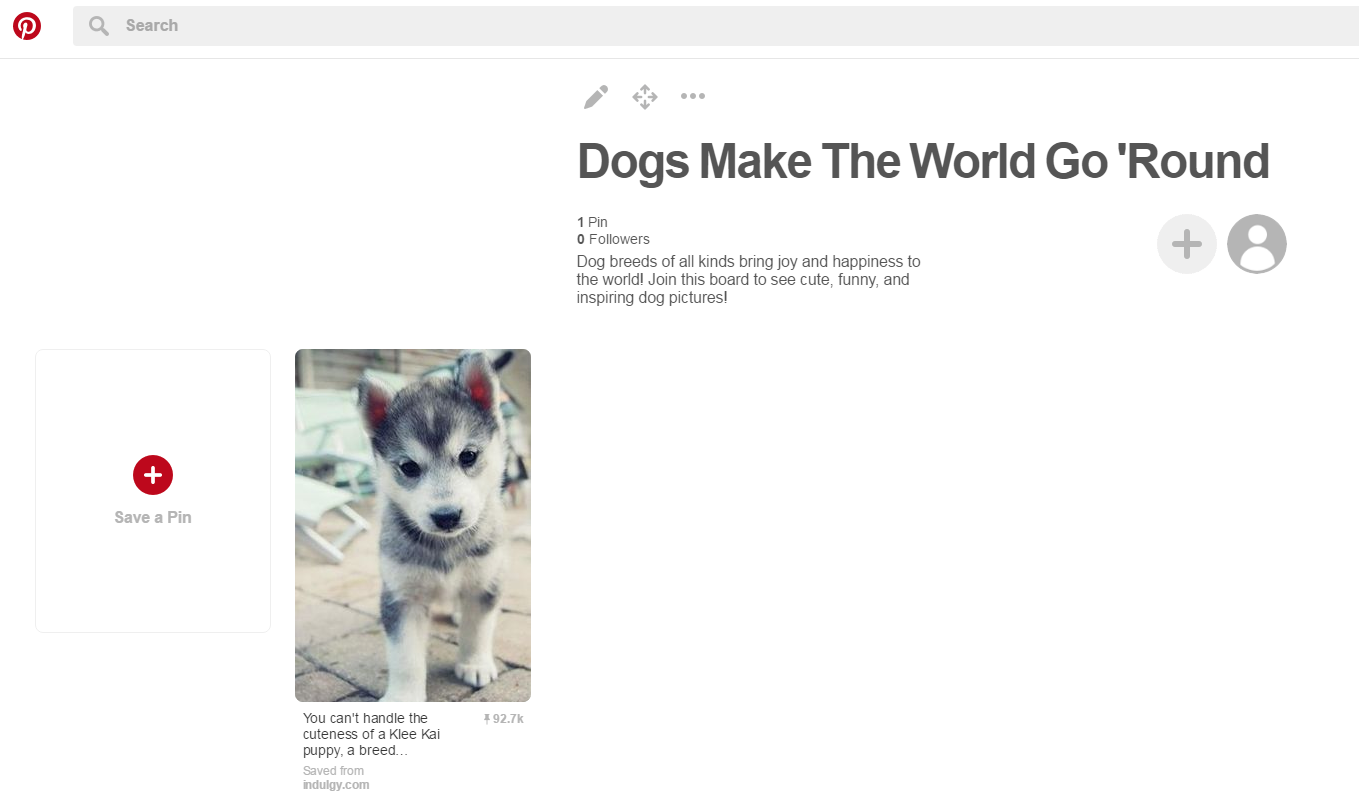 Congratulations, you have added your first image. Now is when the work comes in to play. Start by adding 30-50 images per board. Remember each board is a niche that you have created designs in.
Now pay attention here. You need to look like a real person who has real interests and hobbies for this entire marketing strategy to work for you. This means that you will need to create a lot of boards. Think 20-30 boards! Each of those boards having 30-50 images is best. This might seem like a lot of hard work. The fact of the matter is that it just will not work if you only have 5 boards with a few images. Do not JUST link your shirts on Pinterest. This is marketing. Create something worthwhile and provide value to the potential customer first.
Once you have all the boards up and images in each one of them, you are now ready to go on to the next step and open up the traffic floodgates.
Step 3: Gaining followers
Pinterest is all about followers. The people who follow you are the ones who will see each image you upload in their feed. Familiar to the above sections right? What this means for you is that when you have enough followers each time you post an image or a t-shirt that you created on Merch by Amazon, your followers will see it in their feed. If they see something they like, they will go and click on the link bringing them over to Amazon and hopefully purchase it from you. The more followers you have the more traffic you will get. The more traffic you get, the more sales you make.
Not only will followers possibly click through, they just might repin the image on their own boards. This is why Pinterest is so powerful. You can have 1 image online, and people keep repinning it on their own boards, who then get repins from their followers, and the image gets circulated constantly driving traffic.
If you follow the suggestions I am about to go over, then you can achieve a pretty large following in a short amount of time. This is an account I have been working on a bit but have never advertised any of my shirts on. When I do, it will really open up the flood gates.



If you notice that I am following more people than are following me back, there is a reason for that. The reason is that the technique to gain followers is to follow other people. If you follow someone, that person will get a notification that you have followed them. They will then likely click over to your profile and look at you boards. If they see something they like or something interesting they will probably follow you back! Very simple and effective.
So how do you know who you should follow? Well, remember when I talked above about repinning images that are already on Pinterest? Each one of those photos was more than likely liked or commented on. These are people that are interested in that type of content! Go back and find those images and see who commented/liked. Click through each one of them and start following these people. They are already engaged with the content in your niche which makes them the perfect target audience to sell to! Since they are actually engaging with the content, this probably means that they are active Pinterest users and will see the notification that you followed them. Think of each follow as a potential customer in the future.
Follow Limits
I need to make a side note here because this is an issue you are very likely to have when you first start your account. When you start off and do not have any followers there is going to be a limit of the amount of people that you can follow before Pinterest tells you to slow down. This is generally because you do not have enough people following you back or that you are following people too fast. If this happens to you, simply wait an hour and start following again. If after a few days you still have the limit being imposed on you, go back through your followed list and unfollow the people who did not follow you back. This will improve your ratio and let you keep going. Remember that if someone does not follow you back they will never see your content or your shirts that you are going to be putting up. If they do not see your content they will never buy from you so simply unfollow them.
Gaining Followers Quickly
If you want to build very fast, my favorite technique is to simply repin images that have been shared or liked a lot of times. One of my niches has a bunch of motivation quotes overlaid on images. These are shared a ridiculous amount of times. The more shares you get, the bigger your account's reach. For this reason I will likely put up a lot of these images on my boards. The reason this works so well is that when your pins are shared, people can see the original source of the image and will come check you out. After you start gaining followers who are interesting with your content, your account just grows and grows with traffic pouring in forever. Your old images will continue getting the traffic from day 1.
Posting Merch by Amazon Tees to Pinterest
When you first start building your account I really recommend that you do not just start posting and pinning all your merch shirts straight away. The goal is to come off like a regular person with interests and hobbies. Do you think a regular person would start pushing products in front of your face as soon as they sign up for a social network? The answer is no way!
When I build my accounts I will wait until I have a decent size audience to promote to. Generally this is around 5k followers but each one of you will need to make your own decision on what is best for your brand. Around this point is when you can start pinning your Merch tees to the boards you have them up. Mix up your pins with other content as well. If you start just simply spamming people with t shirts, they might unfollow you. If they do like your content and especially like your shirts, they might purchase from you and then repin that image on their own boards so their audience can have a chance to buy from you as well. I would recommend posting 1 merch shirt for every 10-15 regular pins you do.

Step 4: Join Group Boards
This is a more advanced method that not everyone will be able to do right away. When you are building your account you may have run across something that looked interesting called group boards. These are pin boards that multiple people can post to at the same time. Some of the popular boards are absolutely massive and if you manage to get a pin up on one of them, you will open your product up to a LOT of eyeballs who may purchase your products!
If you just follow all the instructions I have given you in this section you will building your account and people will eventually start contacting you to post in their group boards. At this point, I probably get around 20 of these every month. When I get them, I go and see if the boards are in my niche and if they have a lot of followers. If they are in my niche and have a good amount of followers I will join them and post some images. If not, just skip it!
I personally wait for people to come to me, but you can also contact the person who runs the group board and request an invite. If you do not have a good following yourself you will more than likely be ignored. This is why I suggest that you build your account up a little bit before going with this strategy.
4. Facebook Groups/Pages
Facebook groups are some of the best possible places to promote if you can get an admin on board to help push your designs to their audience. Not only do Facebook groups work well but the same goes for Pages. Both of these are a targeted audience that is involved in their niche. I would say groups are a bit more involved because generally the groups are free to post in to start conversion with each other. Let's walk through on how to find these groups/pages and how you should approach the situation.
Step 1: Search
The very first step is of course to look for what kind of groups and or pages exist in your niche. To do this, you must be logged in on facebook. At the very top you will see a search bar. Enter in your niche topic and hit go.
At first this will bring up pages and photos sorted by "top". Right below the search bar you will see the different categories you can choose from. For this example we are looking at both Pages and Groups.



Go through both the groups and the pages for relevant pages that you think could do well with some of the Merch you created. I tend to look for groups and pages that have at least 1,000 likes, or at least 1,000 group members.
Here is a group I came across in the niche. These are fans of VCU Basketball.



What you should do at this point is come up with maybe 10-20 different groups that you want to approach. Add them to a list or a spreadsheet for the next step.'
Step 2: Contact the admin(s)
Once you have your list of Facebook groups and pages, you will want to click over to them and check out the page. The first thing I will do is join them to have a look around and see what kind of information they are discussing. Are the members involved in discussion? Your best bet is to approach groups and pages that have a lot of interaction. Another thing you will want to look at is who the admins are.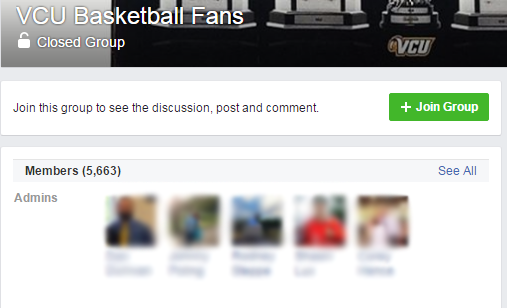 As you can see from the above picture, this group has a couple of admins. You will want to either add them as a friend (once you are actually part of the group), or send them a message.
NOTE: The vast majority of people who run groups will not promote your Merch for free. Why would they? They went through the hard work of building the group in one way or another and would want to be compensated for advertising your Merch shirts. Typically you should think about offering them a higher percentage than you take yourself so they feel like they are getting a good deal out of it. This does not always work which is why you added more than 1 group/page to your list!
Once you have come to a deal with the admins, it is time to give them the link to promote! To do this and to keep track of exactly how much it makes, I would highly suggest giving them one of the sample direct links only. This way you will not get any sales from organic traffic so you will be able to split the profits without any guess work.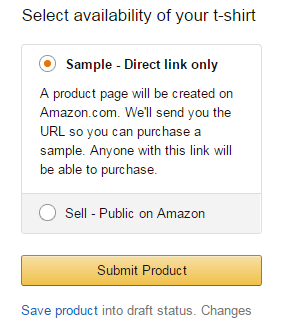 Step 3: Get involved in the comments
When the admins do post your shirt, you want to come off as a real person who is behind the designs (because you are!). This means that when it is posted and people start commenting and tagging their friends, you should be there answering their questions.
People are much more likely to buy from you when they can put a face to the brand.
Step 4: Keep trying!
Not every admin you contact will agree to your terms or even give you the time of day. In fact, if I am completely honest with you, the VAST majority of admins will just tell you off. Some might even decide they like your design and mimic it through another POD platform. I can certainly attest to the fact that when you are doing something right, your competitors start mimicking you.
This is not the end of the world. If you go into this entire method with the mindset that you are going to be rejected and be rejected often, you can easily get past it. It is a numbers game! Just keep contacting people until you get someone to promote your Merch for a cut of the profits. If all else fails, you can run Facebook ads to their audience anyways, but that is a topic for another day.
5. Church Groups – Out of the box thinking
When selling things online, Merch shirts included, we often forget that real people are behind the numbers that show up in our dashboard. Not only are real people buying our designs, but sometimes they can be groups and organizations that buy a tee for everyone in the group.
I am willing to bet that most of you at some point have been to a church or may currently be part of a church of some type. To me, these groups check all the right boxes to sell to. They are very passionate about their niche (religion), and they are extremely giving for a good cause.
The first thing I thought of was contacting the local confirmation group at the local church. People in confirmation are often doing activities together and this is the perfect group to approach. Want to get out of the 25 tier as fast as possible? Offer to make them t-shirts and sell them at cost! Easy peasy.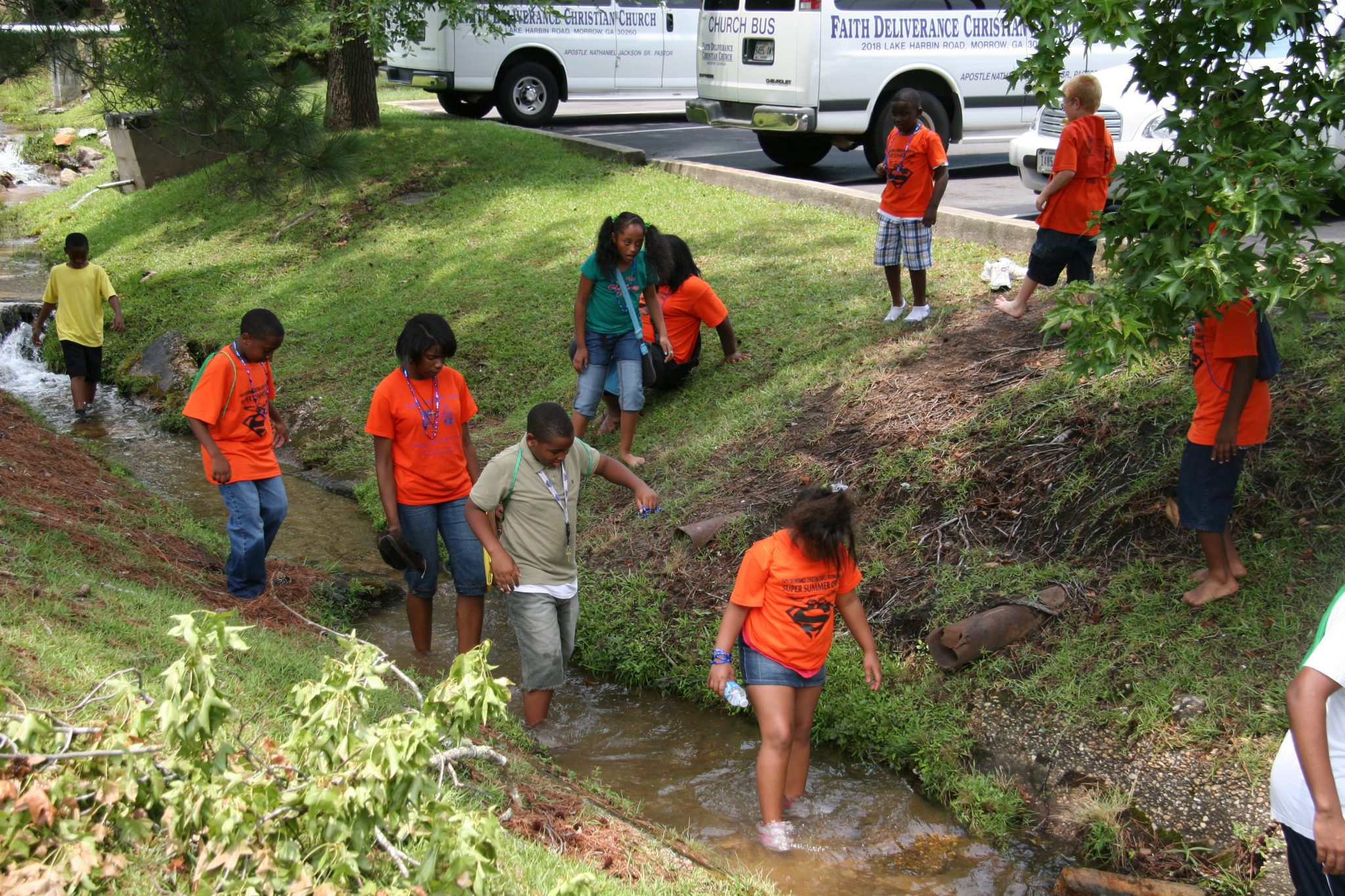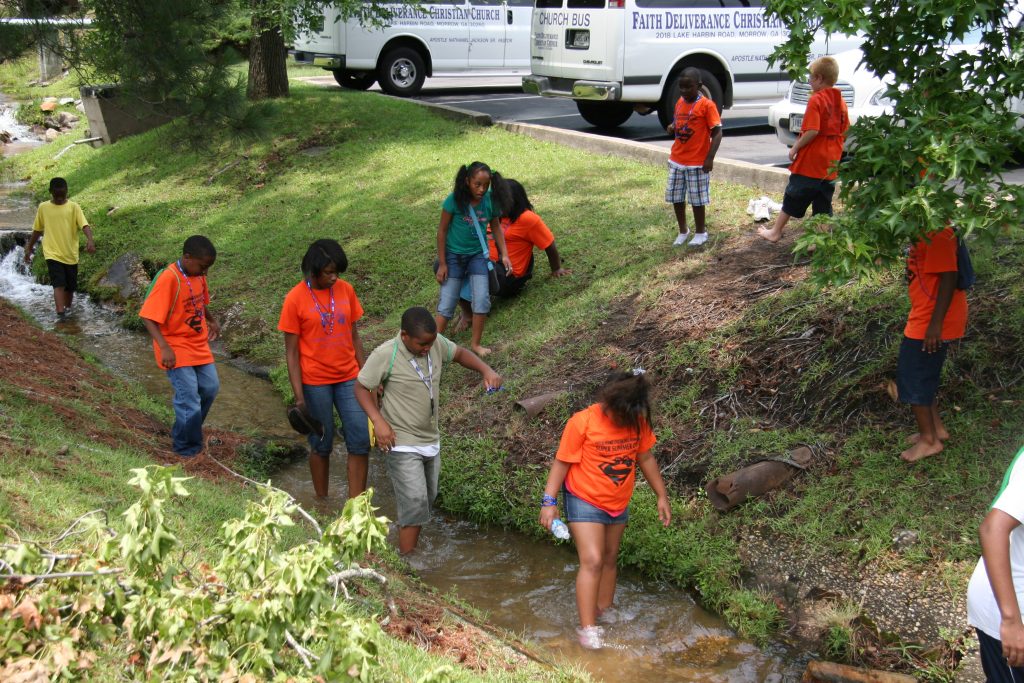 Want to take it a step further? What about making designs for church groups, selling them the t-shirts at normal cost, and then donating the profits? After all, church groups are all about giving and helping those in need. They buy from you, but the profits go right back to someone who needs it.
Now when you are thinking about doing this, remember that you cannot actually state on your product page that you are going to give the profits to a charity. That is strictly against the rules. That being said, there is absolutely nothing against telling close members of a group you are part of that you will be donating the profits and then actually doing it!
When thinking about this method, do not JUST think about church groups. A lot of you have kids of your own. Think about what type of organizations they are part of. Here is just a small list to get you thinking.
Sports teams
School groups
After school programs
Old persons home
5k runs
Concert organizers
Volunteer teams
You might be sitting there and thinking, "wow, that sounds like a lot of work!". Well, while you are sitting there thinking about it, someone else is out there taking action. In fact, I know someone who just pulled a 1,000 shirt order in 1 swoop. How many shirts are you selling a month? There is opportunity right in front of you, just go grab it!
Wrapping It Up
You do not need to be idle on the sidelines and patiently wait to sell shirts. After all, if you want to make it on the internet, you need to learn marketing. I have laid out the 5 easiest ways to go out and actually sell your products. This can really be used for any industry, but works perfectly on clothing. Everyone wears clothes and probably always will. Go out and sell to the masses. You can pick a single method listed above and really hit it hard, or you may decide to try your hand at all of them. Either way, put your efforts into something instead of falling behind as an observer while others forge ahead. Best of luck out there!
[mc4wp_form id="7″]