Merch by Amazon Success: Interview with Hektor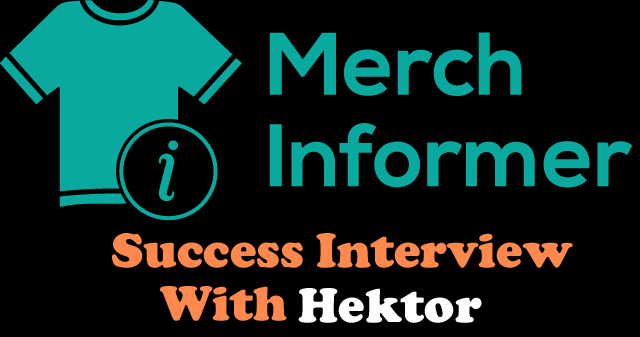 Making a full time living online is amazing but my personal favorite aspect is the amount of diverse and interesting people you meet through networking.
Today I got to sit down with Hektor who I have personally known for about 3 years now and we even got to work together on an affiliate project a few years ago (cashed out near 6 figures which I can imagine was a HUGE amount to a 16 year old at the time). I wanted to make sure I got to tell his story as I think a lot of people that read the Merch Informer blog can probably relate. If you have felt like giving up on Merch or if you decided to take a "break", this interview is for you!
You may not know this, but I can almost guarantee you have all seen at least one of Hektor's shirts on Merch by Amazon. I will let him take it from here.
---
Tell us a little about who you are and a general ballpark of how much per month you are doing with Print on Demand?
My name is Hektor. I am 18 years old. I've been interested in making money online since new years eve 2014 (everyone else was out partying and celebrating the new year, meanwhile I sat by my computer learning about ways to make money online), when I was 15 years old.
How long have you been a member of the Merch by Amazon Platform?
I joined early, like really early, must have heard about it the first time just a day or two after the launch (well, it was a really silent launch). I quickly signed up, back then Merch by Amazon wasn't invite-only so I suggested quite some people to join.
How did you first find out about the platform and what were your initial thoughts?
At first I felt overwhelmed, I didn't know anything about making t-shirts, let alone selling on Amazon. I however knew that this is something with a big potential, since I knew that Amazon have a conversion rate unlike any other e-commerce site in the world, and that I could get infront of millions of customers without any upfront costs (except the designing cost).
What was your "AHA!" moment when you realized the potential from selling Merch online?
It wasn't until recently, I'd say 2 months ago, when I realized that my sales went down drastically from when I started almost 2 years ago. My friends that kept doing MBA made a lot of money through it, and I only used it as a fund for my other projects, which, haven't turned the same ROI MBA have done for me. I calculated how much I had made during my 20 (now 22) months on Merch, and realized that the ROI was absolutely insane. I quickly started the process of hiring a full-time designer to get back into the game.

Did you have to wait for approval? Any tips for those submitting applications today?
I did not need to wait, since I joined so early. But my tip for those just waiting to get that golden letter is to research shirts and start designing yourself. Your designs will be really ugly in the beginning, but after awhile you'll improve. Being able to do a lot of designs yourself will help you get the initial funds you want to be able to comfortably invest more into it. Also, imagine getting approved and already having designs to upload, with bulletpoints and titles written! That'll get you ahead of all the others getting approved at the same time.
What tier are you at and how many designs do you currently have live?
I am at tier 8000 and I have a whooping 536 shirts live. As I said, I abandoned MBA for a while and just now started to upload way more. I am planning to hire another designer soon enough after my first one have been trained up properly.
Do you outsource your design work or do you do it yourself?
I outsource my designs. However, when I research design ideas and find basic text-based shirts I occasionally make some myself since it takes about 1 minute per design and all the money from those shirts are 100% profit. Those can actually perform very well, and in my opinion, my designers' time is rather spent on making cool looking designs rather than making simple text- based ones I can make in a minute.
Any tips on the process?
I hire people through Upwork. I've done a bit of testing between price per design. At first I paid $10 per design, and it for sure paid off. I got some good designs, but I only ordered 20-ish. I later heard about how Neil did it, and copied his exact way of hiring designers at $5/design (or lower). The first designer I had did about 200 shirts for me, until I noticed he copied clipart's from different sources (make sure to google things like "Panda clip art" to make sure your designer haven't stolen the graphics from someone). I had to fire him and remove most of his designs.
I've now finally found a good designer that makes the designs himself. In the beginning we do a lot of feedback sessions in order to just get on the same page on what I want in my designs. I have told him my "vision", which helped him understand exactly what he should do. I saw a great improvement in his designs overnight when he understood what we were going for and working towards. Be clear on your vision with your employees, even if they are just freelancers in your eyes.
Either way, the different in design quality between $5/design and $10/design is non-existent in my experience, and I rather pay as little as possible.
Do you do any outside marketing at all or are you strictly focused on the organic traffic from on page optimization?
It's strictly organic traffic. I tried to do some influencer marketing in the beginning by contacting a bunch of big accounts on Instagram and teaming up with them in making niche-based designs for their accounts. We got a few thousand clicks but ZERO sales, I dropped that idea.
When it comes to your experience what is the most important factor in getting your shirt ranked in Amazon?
I've just now started to optimize my shirts. I had a little case study going on where I took some decent-sellers and optimized them properly but I rather saw a decrease in sales (probably because of throttling), so I am not quite sure yet. But I like to include keywords in my brand, in the title (of course) and the bullet points. I based my optimization on the Amazon SEO case study Neil did on MerchInformer.
Do you Use Any Tools For Your Research Process? If so, what aspects do you like best?
I use MerchInformer to research shirt ideas. I find it to be the best tool out there (is it the only tool out there nowadays?). Either way, I simply put in random phrases I come to think of.
Sometimes I google for "most popular hobby in US", "most popular sport in US" to find niche ideas. I don't know all the different sports and hobbies you have (you apparently have something called belt sander racing? You are weird as hell.). Either way, that's a good source to get ideas of sports/hobbies you can make shirts for. I can put the sport/hobby into the 'Product search' on MerchInformer and see if there is anyone buying such shirts, and get ideas for the designs themselves.
Merch Informer Note: Belt sander racing looks like the best niche ever!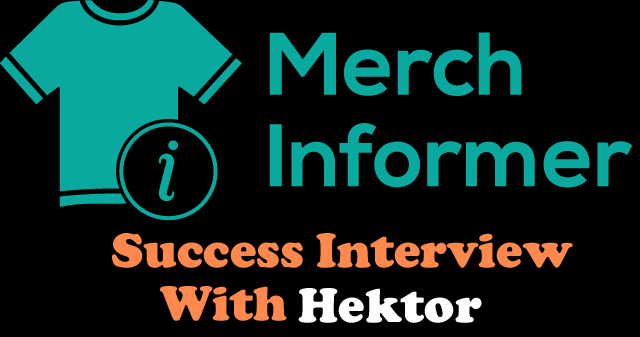 When it comes to your keywords, how are you approaching them?
I feel like the competition on a shirt is important, of course, but sometimes when there is a big demand it doesn't matter as much. I have a shirt that I uploaded when there already was thousands of the same designs uploaded, and with that shirt I am making $150 per month with and have done so for almost two years (that's $3600 from a shirt I got made for $5). Technically that's a possible route to take. The lower competition shirts usually have less potential of sales, but it's easier to get the sales. You pick your route, I will probably do a little bit of both in the future.
What about your pricing? Do you experiment with your prices or are you listing all your designs at the industry standard of $19.99?
I price my shirts based on the competition. What does the bestseller put their price at? Are they the bestseller because of the design or because of the price? I am currently trying to start track my shirts; how much they sell per month each? If their sales are steady I will increase the price slightly to increase my profit per shirt sold and see if I make more money with a higher price or not. For example, I rather have sold 10 shirts with a profit of $5 each ($50 total profit), than have sold 100 shirts at a profit of $0.39 each ($39 total profit). It's important to find the right balance there, to really maximize your income.
Have you expanded into other platforms or are you taking advantage of any of the integrations to list on Amazon (Shopify/Printful/ Printaura/Teespring)?
Nope, nothing else really interest me at all. I think my designs suit the Amazon customer the best. In the future I might put up my shirts on all the other POD's out there, but not yet since I don't think that will be worth my time right now.
If there is one thing to avoid when learning the MBA business, what would you say that is?
To sit all day and worry about copycats. I get frustrated when I see posts about that. It's not worth your time to look for and report third-party websites that have "stolen" your design. You're on Amazon, the worlds next largest online retailer in the world. You are on a platform whose market share is about 43% of ALL US online retail sales. Don't worry about what others are doing, I promise you, you'll be wasting your time.
What is the end goal for your MBA business?
The end goal is to sell the business. Before selling it however I want to maximize the monthly earnings. This I will do by tracking the shirts and finding the perfect price point for my shirts (they will all have different perfect price points probably, so this will take quite some time) as well as filling my account up with more and more designs.
Any plans for all the money you have made from Merch?
I reinvest it into other projects on the side, as my Merch business is easy to manage (I just find shirts and upload them once they are done) as well as investing directly into my Merch business to get a bigger cashflow (and thus being able to invest in other ventures). I could go all in on Merch and do 100% reinvestment on there, but I have a lot of fun ventures on the side I want to do as well.
If there is one piece of advice you would give to someone who is starting to use Merch by Amazon for the first time and wants to get ahead, what would it be?
Don't think too much, just do it™.