Ultimate AMS (Amazon Marketing Services) Guide to Marketing Your Merch

[toc] When Merch by Amazon began, the program was targeted at app developers. Once the news was out about this program that would allow you to sell products on Amazon and produce a royalty without dealing with customers or inventory, people absolutely flooded the Merch by Amazon signup page, and they became invite only.
Since then competition has grown and so have the amount of people selling merch through MBA. Some people say it has gotten harder to sell shirts, some think it is still easy as ever. The one thing that everyone has been missing though is the ability to run ads to their Merch by Amazon shirts if they were not app developers. There was no option to run cost per click ads to shirts like there is in seller central for people doing FBA. You either had to rely on paid traffic from outside sources, build up your free traffic through social media, or rely on Amazon organic traffic.
That all changed with the introduction of Amazon Marketing Services (AMS). Amazon Marketing Services allows more shoppers to discover and purchase your products based on pay per click ads. This allows you to run ads on Amazon specifically to the audience that is shopping in your niche!
Why Is This Important?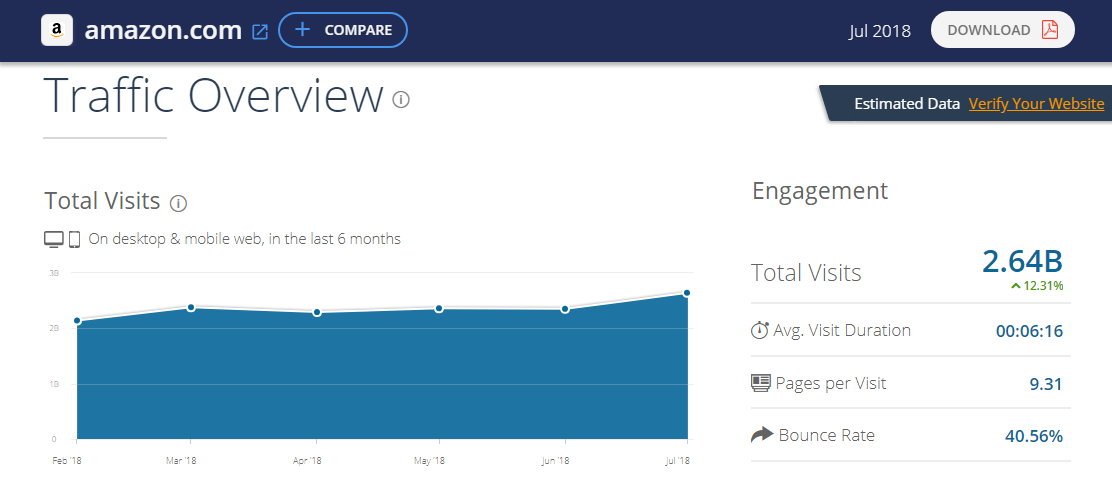 This is important because Amazon has all the traffic and shoppers already. If they are on Amazon, you KNOW they are shopping and in the buyers mindset. You know they have money that they want to spend. No one goes to Amazon for their daily news like they do Reddit or CNN. No one goes to Amazon for their daily laughs or social networking… No, they go to Amazon to purchase products. With AMS, you can advertise to people who are ready to give you their money without the need to qualify them in the first place.

When Should You Use AMS?
If you have been reading the Merch Informer blog for a while, you might know that we use a strategy around here to target really low competition keywords that not many other people are going for. This has proven to be a really easy money making strategy and is one I recommend everyone go with.
What if you are doing research and come across a niche that looks extremely promising. A niche where there are more than 1 big player getting sales with awesome designs. When you stumble across a niche that you want to tackle and they have a ton of competition, some might shy away and keep going after the low hanging fruit. For most, this is probably a good idea. If you have a lot of slots though, there is nothing to lose for going after those niches.
People ask me all the time if I leave the competitive niches alone. My answer usually has to do with the amount of slots you have and if you have the time/money to invest in getting those designs done. I personally go after everything, because I am not afraid of a little competition.
Competition also means big sales!
Getting ahead though, that is the hard part that a lot of people struggle with. You need to start off making sure your Merch SEO is solid. Once you have made sure the SEO on your page is solid, you will want to run traffic to get sales. There are a ton of articles on how to run free traffic on the Merch Informer Blog but none of them are going to be as targeted and qualified as running ads to people who are already on Amazon shopping.
Niche Research Example
To give you an example of what kind of niche I would likely run AMS ads to (and what we are going to use as an example throughout this entire process), we first need to find a competitive niche.
Let's say that you are doing some research and you come across the Autism niche. Now usually we target niches 100k and above. This is a sweet spot for selling 1 a day to a few a week. We saw when we went to the product finder module though, that this was a HOT niche!




This shirt is far below the 100k BSR we usually target and is getting almost 40 sales a month.
Scrolling down the results, we can see lots of other shirts in this niche are selling more than 20 a month. If you have more than 10 shirts selling over 20 shirts a month each, you know there is demand in that niche.
To see how much demand, we head over to the advanced competition checker and first check the Merch by Amazon shirt category.




We see right away that there are a lot of results. Over 6000 other shirts out there for that phrase.
For the sake of getting a full picture, we run that same keyword through the advanced competition checker in the t-shirt category. This category is going to grab all the premium shirts as well as every other type of seller not in the MBA program.




Whoa, over 37 THOUSAND results!
This niche is doing really well, but it is incredibly crowded. There is so much competition that it is very likely that if you do not really nail down your keywords, you might get lost in the sea of results.
We know the demand is there, we know that the niche is selling like hot cakes, and we know that there are a combined 40 thousand other products we are competing against.
Let's do it! Get a product out there, follow along and fire up some Amazon paid ads!
Time to set up Amazon Marketing Services (2018 version)
Merch by Amazon is finally bringing Amazon Marketing Services or AMS for short to everyone on a rolling basis. Before we get into this guide it is VERY IMPORTANT that you follow the directions that Merch gives you. The issue with all of this and why it has taken so long to get to this point is there are just so many accounts out there all connected to many different Amazon services.
If you get stuck at any time, do not clog up the support team at Merch. Instead, take the 5 minutes to read the instructions again as everything in their FAQ is laid out and actually answers all the questions you may have.
You can read the FAQ for Amazon Marketing Services inside of Merch here: https://merch.amazon.com/resource/44PDVU75CHA2M4M
Now that we have that out of the way, lets get into how to set this up and use it to actually make some money.
Step 1: Log In
The first step is to simply log into Merch by Amazon. At first, you may not notice anything different.
Scroll to the bottom of your screen. If your account has been enabled (meaning you are eligible to sign up to AMS), you will see this message:



You will see your code as well as instructions.
This code is UNIQUE to your account and should not be shared.
Step 2: Read The Instructions
Again, you will want to read the instructions before you do anything: https://merch.amazon.com/resource/44PDVU75CHA2M4M.
*NOTE: If you have a seller central account or a KDP account, then you MUST read the instructions as they will be different. There is a link the above guide, or you can simply click here: https://merch.amazon.com/resource/L9F6TT98VNR3HHN.
You will notice right off the bat that you will need your special code in order to get approved. Otherwise it simply will not work.
Step 3: Follow The Instructions
Grab your unique code at the bottom of your screen like the instructions state, and head over to ams.amazon.com.
Click on the big orange "start advertising" button:



Click on the 3rd radio button that states "I want to request an invitation to represent a vendor".
You are clicking on this to register to represent Merch here. Afterall, you are essentially licensing your products to Amazon, which is why you need to apply with your Merch code to represent them.


At this point it may ask you to sign in to Merch by Amazon. Go ahead and do that but if you are already signed it, it will then bring you to the next step where you will want to fill out your information.
Complete this request form EXACTLY like the details appear under "My Account" inside of your Merch by Amazon account.
If you do not follow these instructions, you might not get into the AMS portal. This is incredibly important. Merch even put this in the instructions: Please note that Company and Brand details should be the same and match the exact Business name listed in "My Account" (If you don't have an established Brand name, use your full name).
After you fill all the information out, make sure to grab your Merch vendor code from your MBA page and enter that:



Submit the form.
Once the form is submitted, you will get a screen that looks similar to this: 


You are not done!!
Step 4: Verify Yourself
Now that you have gone ahead and signed up, you will get 2 emails:



These are legit emails and you must click on both of them and verify both your email, and that you submitted the request. Click on the links in the email.



Now that everything is verified, you simply need to wait for the Amazon Marketing Services team to approve your request:



Once you get full approval, skip down to the Amazon Marketing Services tutorial below where we are going to go over the ad types and exactly what all the confusing ad terms mean.
Steps To Take If Not Living In The United States (No Longer Needed)
Before we get started with the entire workaround process of running ads to your Merch shirts, as we mentioned, this really works like a charm for those living in the USA. If you are NOT living in the USA, there are a few things you need before you can get started. These are a USA address, a USA bank account, and a Tax ID or Social Security Number
Step 1: Get A U.S. Address
Getting an address in the USA is actually very simple. A lot friends live over in the USA and often need to purchase something in the USA that does not ship overseas. What they do, is get an address at a frieght forwarder. This allows them to have their orders shipped to that address, and then they are shipped overseas. It is a 2 step process that allows people to take advantage of online shopping in the USA from anywhere in the world.
The service that many of them use is called Viabox. There are also a few other services you could check out including USAOpen and Borderlinx.
Step 2: Get a U.S. Bank Account
Getting a bank account in the USA is also very easy. Instead of calling a bank or figuring out how to go through a bunch of complicated steps, all you will need to do is sign up for Payoneer. These guys are very similar to Paypal and allows anyone from outside the US to get access to a US bank account. Funny enough, lots of people use this service to get their Merch payments each and every month.
Sign up for Payoneer here: https://www.payoneer.com/en/
Step 3: Get A Tax ID
If you are from outside the USA, what you will want to get is called an EIN or employer identification number. If you are super lazy and have more money than you know what to do with, you might want to just pay a service to do this.
If you want to do it correctly and not pay as much, go and speak with an accountant in your country. They will help you with this process which countless friends from other countries have done.
If you are more of a do it yourself person, then read on.
The first step in getting an EIN if you are not a citizen of the USA is to get a U.S mailing address. You already did that in the first step, so you can move on to the second.
You will want to fill out a form from the IRS (Internal Revenue Service) called the SS-4. This form can be found right here: https://www.irs.gov/pub/irs-pdf/fss4.pdf. This might look really scary for you if you have never seen any of our tax documents before. It might even look scary if you HAVE. Read the instructions from the IRS on how to fill out the form here: https://www.irs.gov/pub/irs-pdf/iss4.pdf. Fill it out but do not do anything with it. You simply need the information for the next step.
Once you have the SS-4 form filled out, the next step is to call the IRS. This will take a fair bit of time, so be warned. Call up+1 267-941-1099 and make sure you are calling during office hours of 6am to 11pm Easter Standard Time. Office hours are Monday through Friday.
When you call, you will want to follow the instructions. You will need to press 1 for a foreign EIN and then hold for what will probably seem forever (the IRS is very slow). When someone finally answers, they will ask you a bunch of questions that should have been filled out on the SS-4. After oyu answer all the questions, you will get your EIN that you can use right away. You will need this when signing up for the vendor express account.
Just like that, you have all the options without TOO much headache and can move on to actually setting this entire thing up.
Grab Yourself A Free Vendor Express Account (No Longer Needed)
The first step in this process is to head over to Vendor Express and sign up for an account. Now, typically, Amazon Vendor Express is used to sell your items to Amazon and then Amazon will distribute your products for you. The entire thing sounds absolutely great from an FBA perspective (no dealing with customers like Merch!), but that is not the reason we want to sign up.
We want to sign up to Amazon Vendor Express because this is the gateway to AMS or Amazon Marketing Services. AMS is what we are trying to get access to so that we can run advertisements to our merch tees.
Head over to this link here (https://vendorexpress.amazon.com/) or simply Google it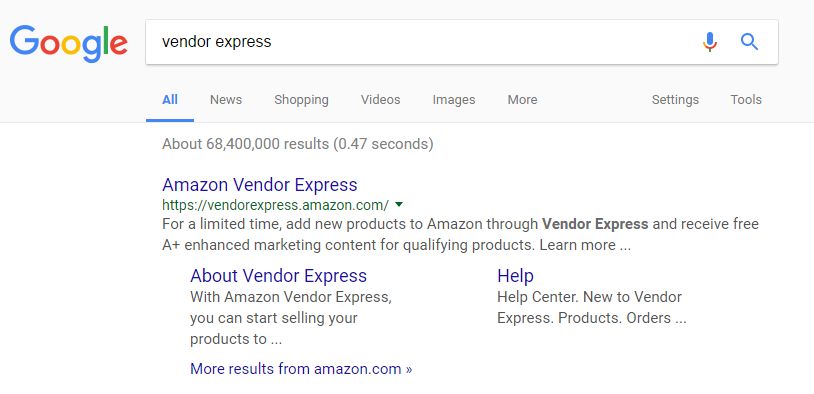 When you get to the homepage, you can take a look around, but you will need to click on the sign up button at the very top.



After you click on signup, you are going to be asked to create your Vendor account.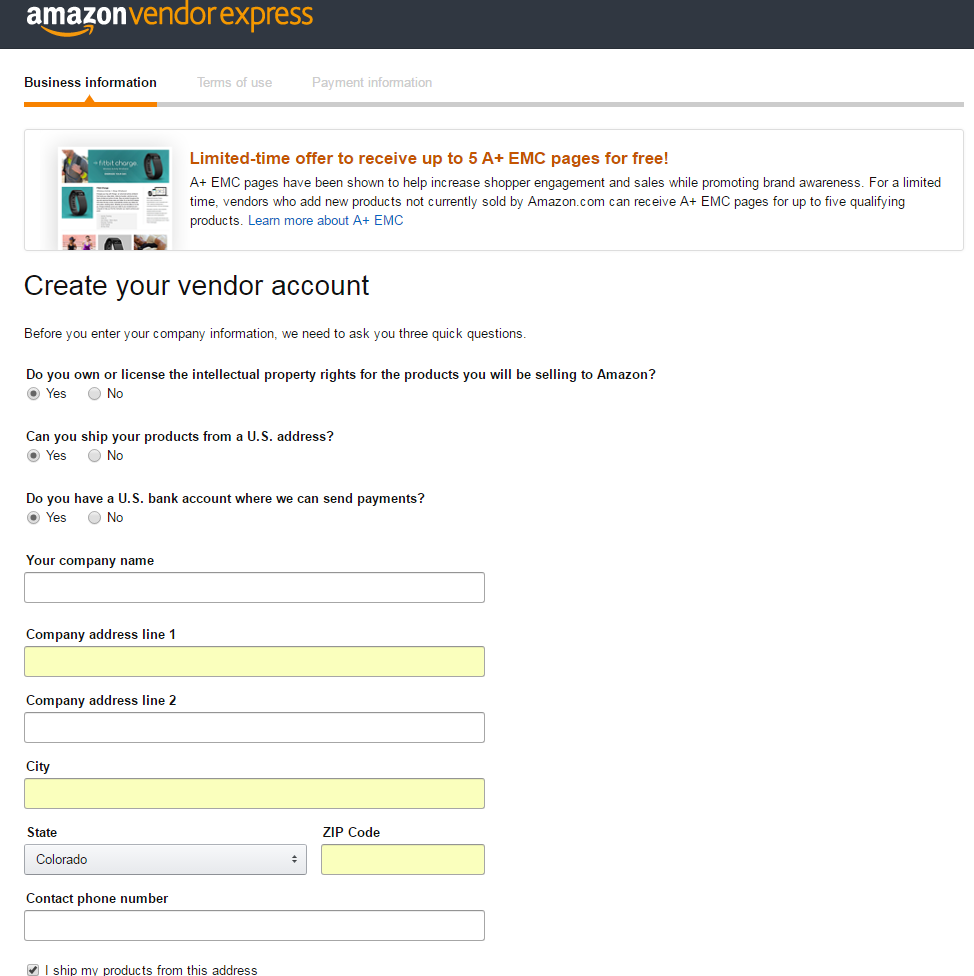 They are going to ask you a few questions in the bullet points. You want to answer every single one of these with "YES". Now, it really does not matter if you can or cannot ship your products from a US address because you will not be shipping anything, but you still must select yes. After you have answered those, quickly fill out your information below with your name and address. You can simply put your company name as your full name if you do not have a company.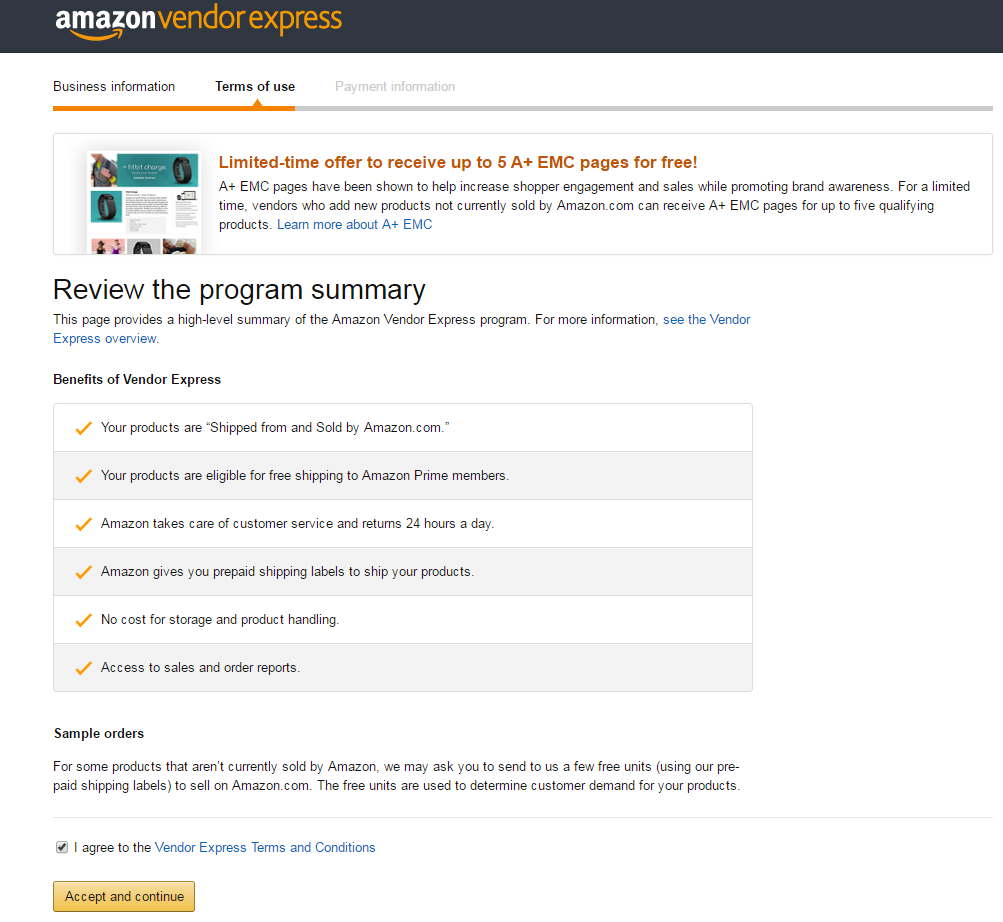 The next page simply gives you a review of the program and how great it is. Again, this is really of no concern to us because we are using this Vendor Express account to run ads and not for the intended purpose. This is simply a work around so agree to the terms and conditions and accept and continue.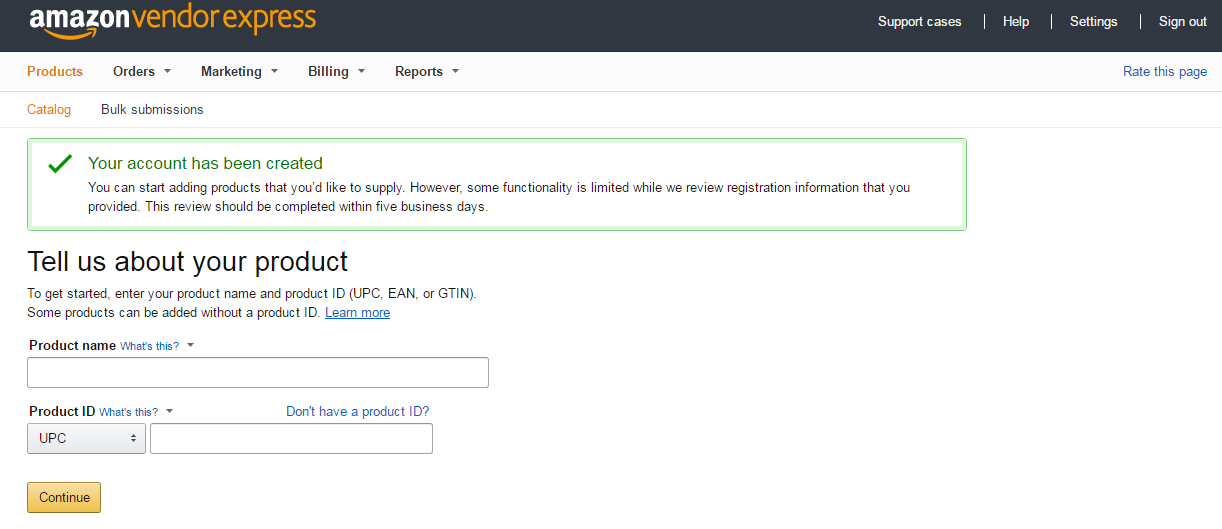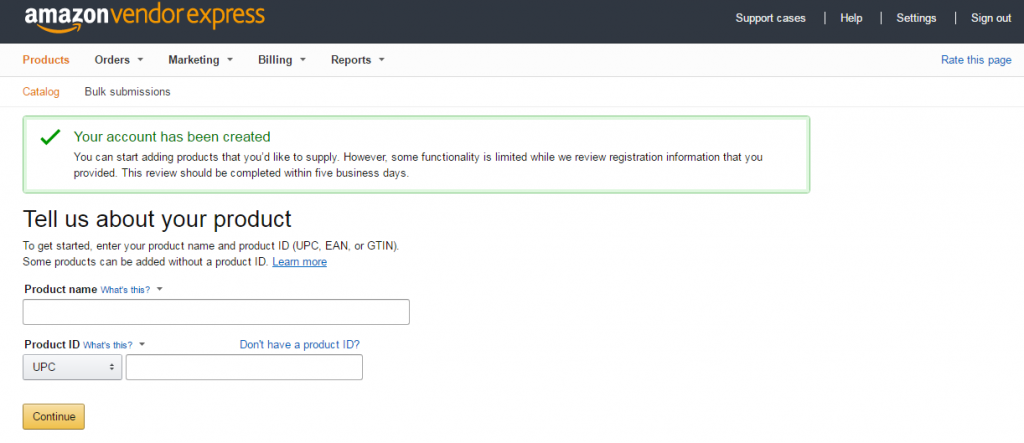 This is what the page will look like after you have hit accept and continue. Now, Amazon is going to ask about your product.
STOP!
You do not need to continue past this step. As you can see from the green text, your account has been created. Congratulations, you have just set up the work around to get to Amazon Marketing Services. If you click on the Amazon Vendor Express logo near the top, you will be taken to the home page that looks a little something like this: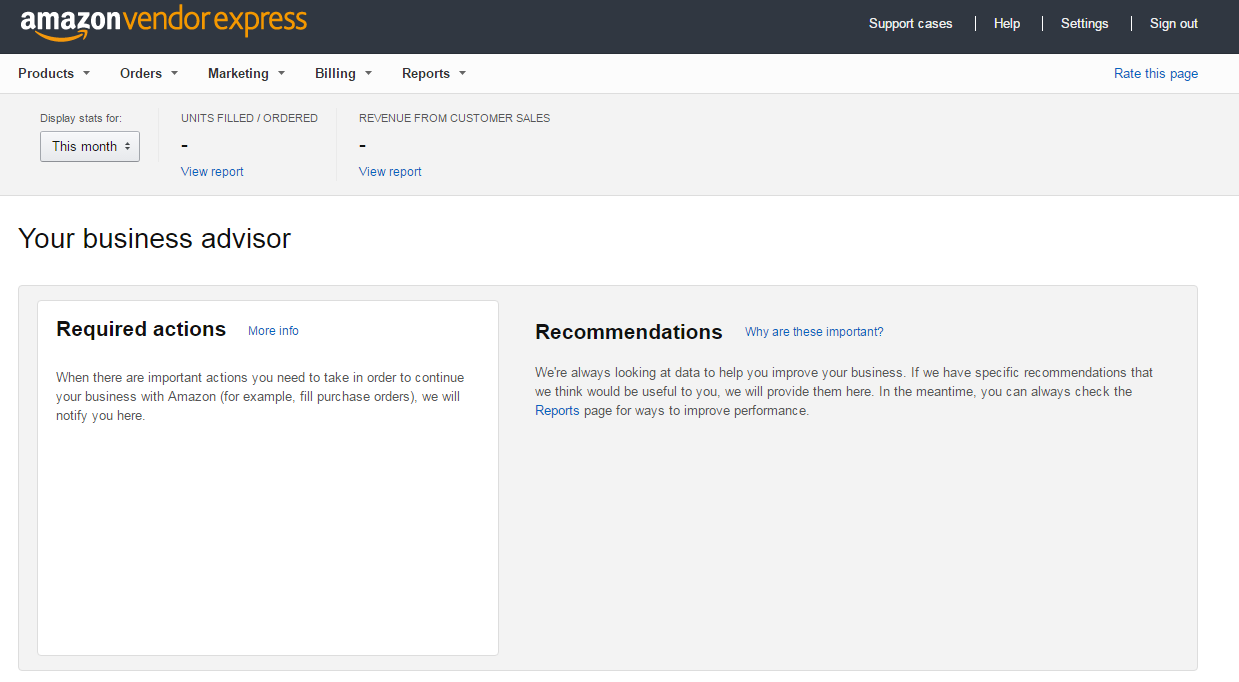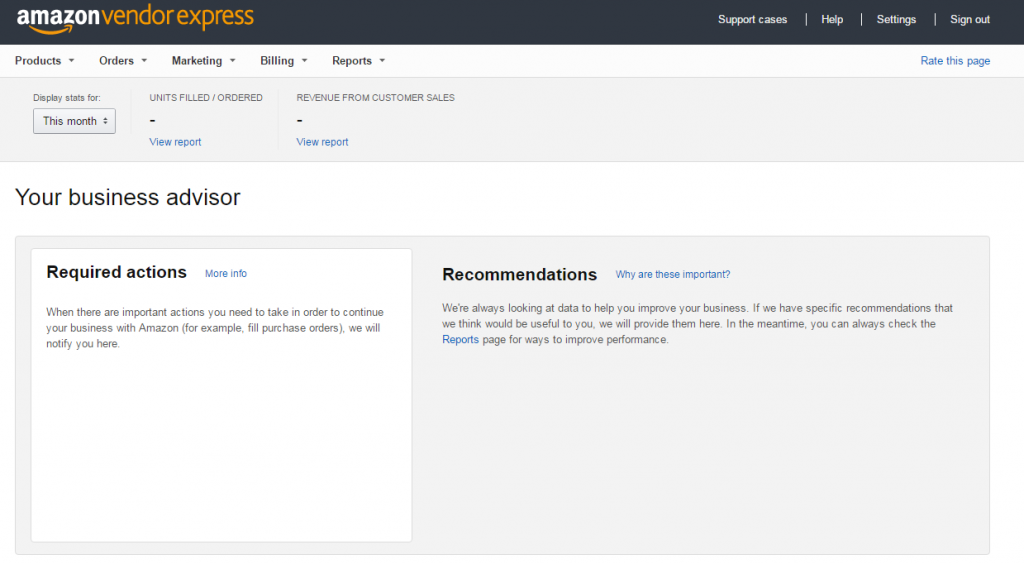 See up near the top where it says Marketing? That is what you want to click on. It will have a drop down, but simply click on marketing and it will bring up a Vendor Express page that allows you to create different marketing campaigns.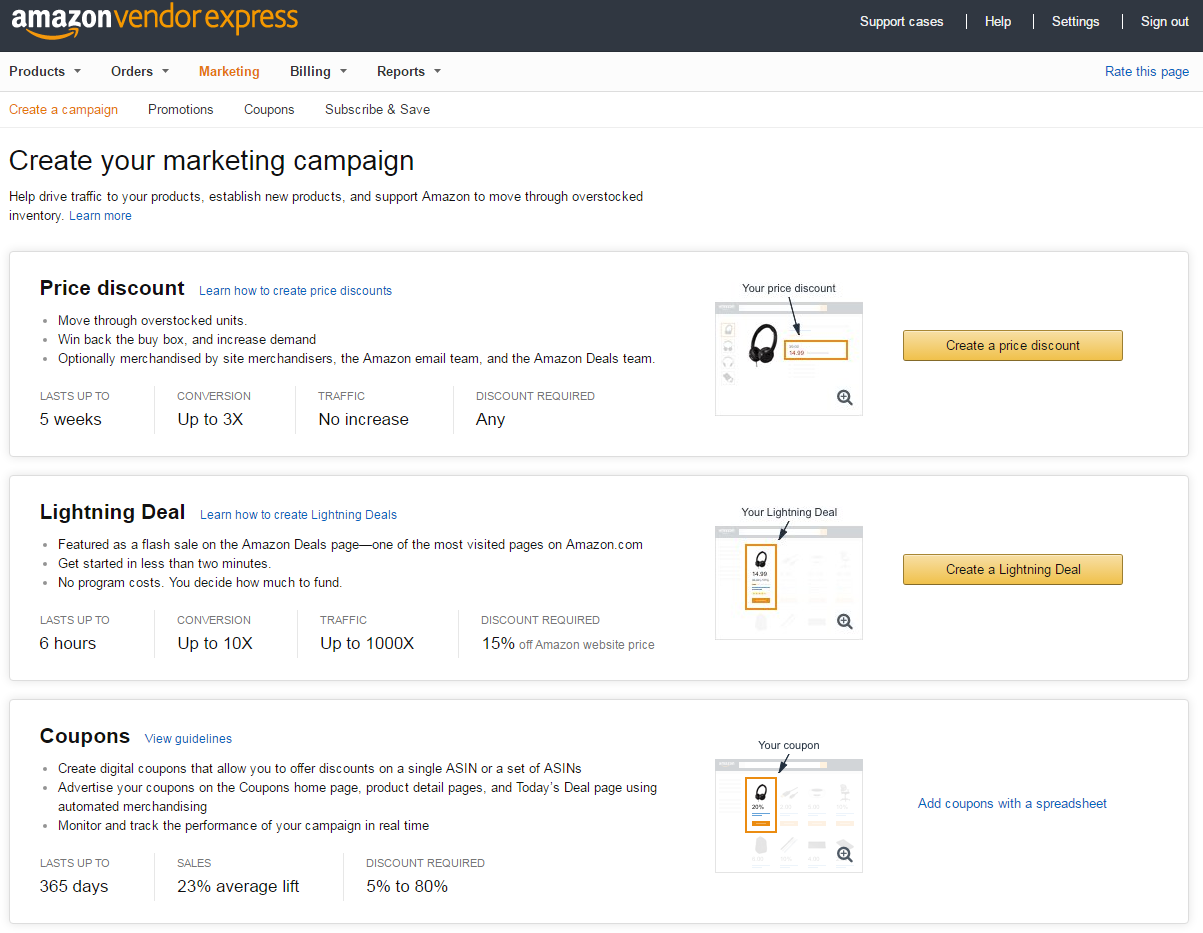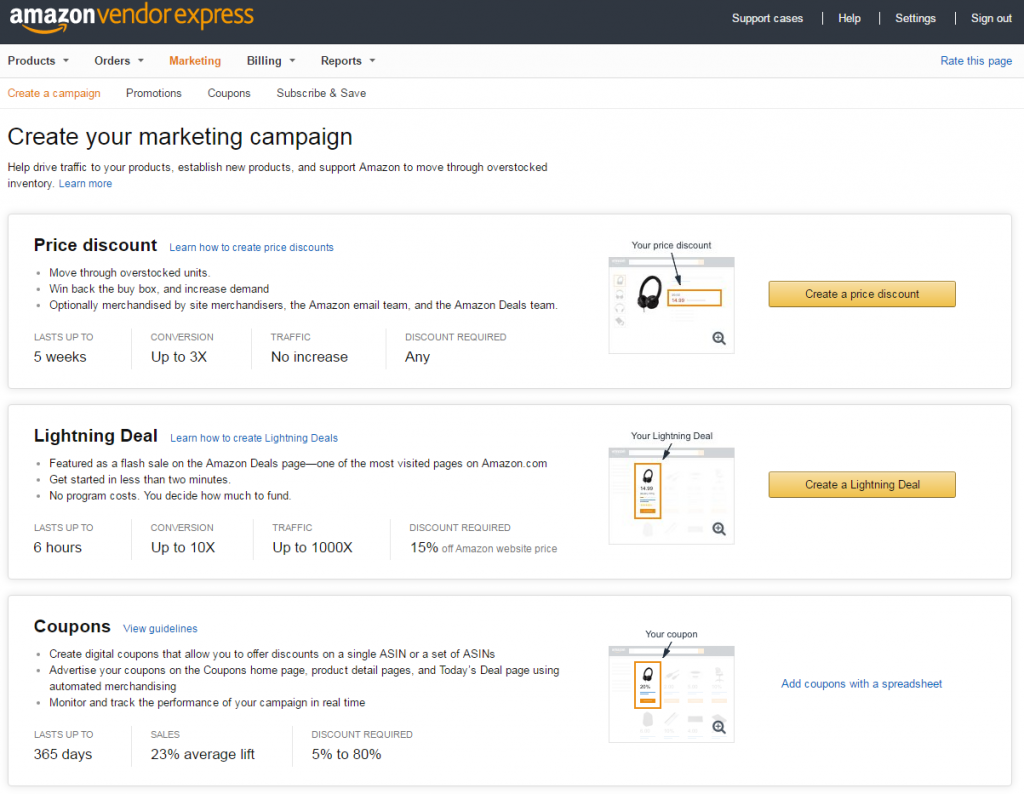 Amazon Marketing Services – The Merch by Amazon Magic Bullet
There is actually a lot of really cool things you can do with these marketing campaigns, but what we are looking for is Amazon Marketing Services or AMS. This allows us to run pay per click advertisements ON Amazon. These are extremely powerful because you can essentially show advertisements on your competitor's pages.




Click on Accept and continue and it will bring you over to Amazon Marketing Services. This is where you are going to blow up your Merch by Amazon earnings!



As you can see from this screenshot, you now have 3 different type of ad campaigns you can run.
Sponsored Products: These tend to work really well for specific keywords that you have for your shirts as well as Amazon recommending different keywords you can add to your campaigns. These will show up under the search results when a customer does a keyword search in Amazon. There are two ways to run these (manual and autotarget).
Headline Search: These are probably my favorite feature right now but they tend to be a bit more expensive and you need to have at least 3 shirts in the same niche to run these. These will appear when the customer searches for a keyword in the Amazon search but they will appear AT THE TOP right near the search. It is literally the first thing that the customers will see. If you are familiar with internet marketing at all, this is generally called "above the fold" and is one of the hottest ad spots you can hold.
Product Display: These are used to show your ads on the product that a competitor has. You know that one shirt that has more reviews than you and you cannot seem to beat in organic search? Why not steal his customers away from him with product display ads!
Today I am going to be stepping through both Sponsored Products and Headline Search.
Running A Sponsored Products Campaign
There are two ways to run these sponsored products campaigns and both are fairly easy to set up.
Before we get started with running ads though, make sure that you go up to the top of AMS, click on your name or business, and select payment settings. This will give you the option to put in a credit card and get that all set up so you can afford to run these ads!



Now that the payments are set up the first step is to simply select the sponsored products box from the list of 3 different types of ads. This will highlight the result and ask you to pick a product to advertise.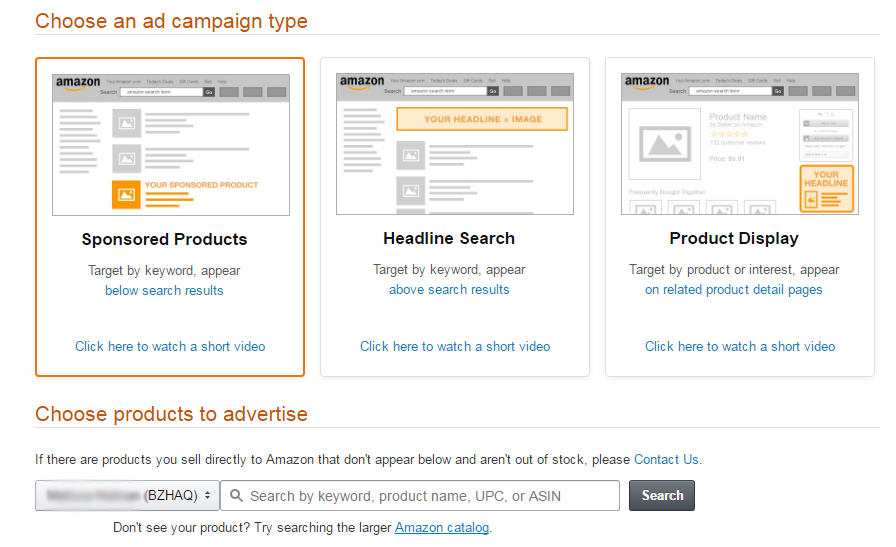 The first thing probably will go do is run over to Merch by Amazon, open up the shirt you want to use, and put the ASIN directly into that box. Makes sense right? Not exactly.



You see, each Merch by Amazon product has a parent ASIN or Amazon Standard Identification Number. Each and every single variation of your shirts (size, color, sex) has a different ASIN associated with it called a child ASIN. If you do not pick a child ASIN, you will see a page that looks similar to the above. It will be Ineligible and you will not be able to add that ASIN to the campaign you want to run.
In order to find that child ASIN, open up your shirt on Amazon, and pick a color size and size combination.
You might notice that each and every time you pick a new combination, the URL of the product itself in your browser is changing. What you are looking for is the numbers right after Amazon.com/dp/ and then the next /. The combination between these two is the child ASIN you are looking for.



It looks just like the image above. Copy and paste that over to Amazon Marketing Services.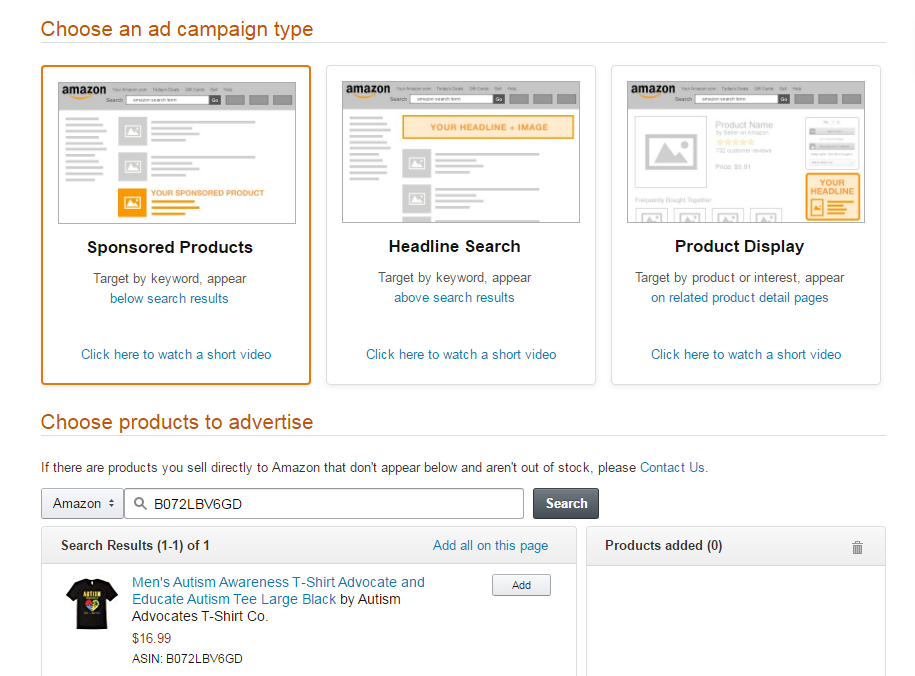 As you can see, the child ASIN brings up the correct product and you are able to add it to the campaign. Simply click on "add" which will bring your product to the right hand side and give you some options to pick campaign settings.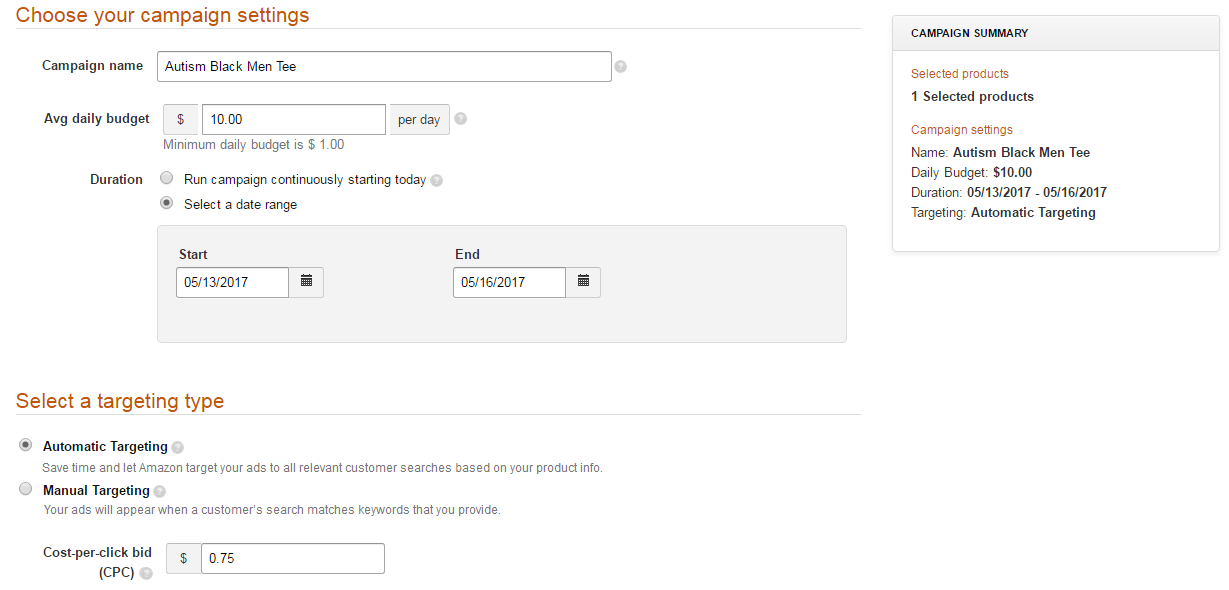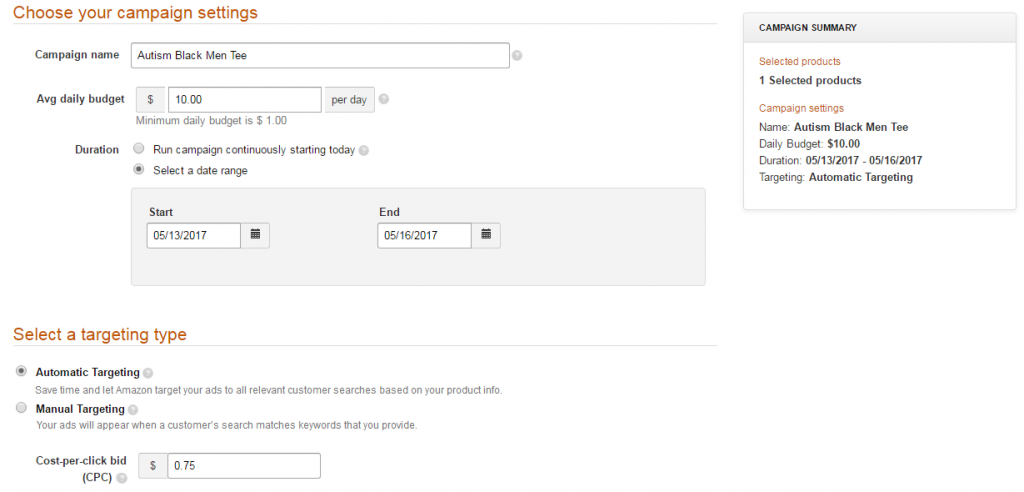 Campaign Settings
This is your campaign settings. There are a few things you might want to change on this page.
Campaign Name: Make sure you are naming your campaign so that you can figure out what campaign is being run from the list of campaigns that will display in AMS. This is NOT going to be seen by anyone but you so name it anything you want. You just want to be able to identify this campaign easily if you are running more than 1 at a time.
Average Daily Budget: This is going to be your ad spend or how much money you pay per day. This needs to be at least $1.00 but I generally set all my campaigns to start off with at $5-$10 a day. Since this is a new platform and we are not completely sure what kind of CPC (cost per click) this niche is going to cost us, I decided to run this test for $10 per day.
NOTE: If you do not have money to burn, you should not be running paid ads. People will tell you in Facebook groups how bulletproof AMS or paid ads are. They are more interested in selling their courses. Paid traffic requires LOTS of testing to get it right. Once you have it right though, you can easily scale up and bring home the bacon. Only put as much money into a campaign that you are willing to kiss goodbye.
Duration: You have two options. You can run this campaign continuously starting today, or you can select a date range. Do NOT pick the first one unless you know you have a winning campaign that has proven itself. Since we really only are interested in testing this out, I have selected the campaign to run for 3 days. Since we have an Average daily budget of $10 per day, and I am running the campaign for 3 days, this should be a total expense of $30.
Targeting: You have two options here. Automatic targeting is pretty great when you have properly optimized your listings and you are already getting some sales on your shirts. This will let Amazon decide who they target with the ad based on your product information. If you were lazy and did not really fill in your product info much or simply skimped out on doing the proper Merch by Amazon SEO, you should not be picking this. That being said, if you have read the article we wrote on that topic, then this might be a good place to start.
There is also the option to do manual targetting and we will go over that in just one second here. For now though, pick automatic targeting and launch your first ad!




Just like that you have your first ad running on Amazon Marketing Services.
Remember though, the goal of paid ads is always "test, test test". Then test some more!
In that spirit, I immediately went back and set up the SAME campaign for the SAME shirt, but this time I decided to try out the manual targeting option.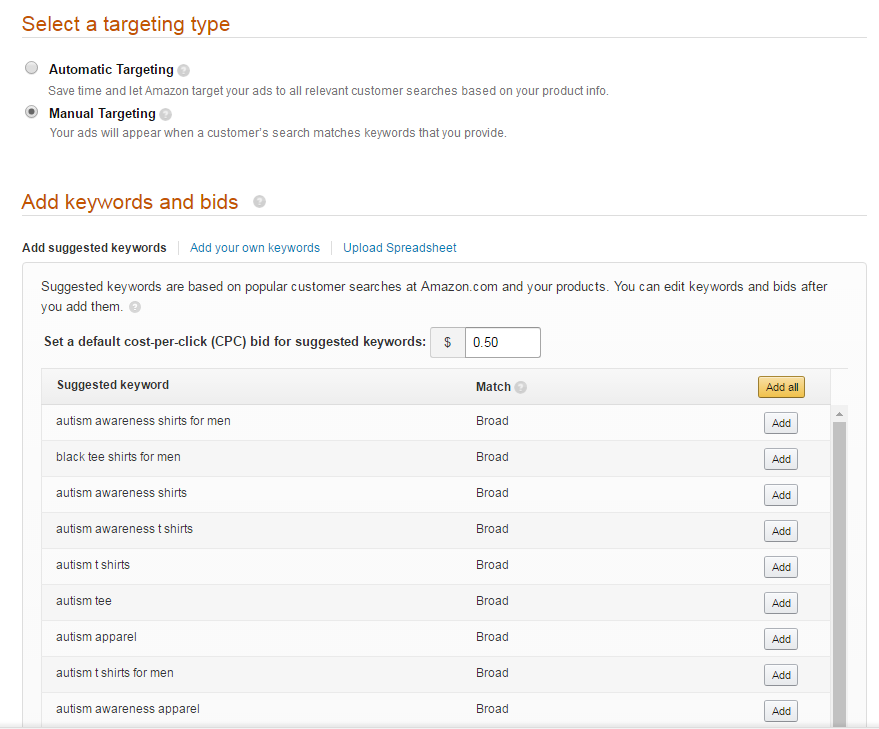 As you can see from the above, the first thing you see are a bunch of keywords that Amazon has suggested might make sense in your campaign. My suggestion to you is to go through all of these and pick out the ones that have to do with your shirt. Since this is an Autism shirt, I went through and simply selected all the keywords that had anything to do with Autism and clothing.
You might notice that the second term is "black tee shirts for men". That is a terrible keyword for a campaign as it is not targeted or relevant to our shirt, so we skip that. Add all the relevant terms.
You will notice that there is a default CPC or cost per click bid for each keyword. Amazon will auto populate this, but you might want to push it up a bit. The bids on Amazon for CPC work as an auction. Whoever has the highest bid, gets their ad displayed if two people are going after the same term.
Next, move over to the "add your own keywords" tab on the same page.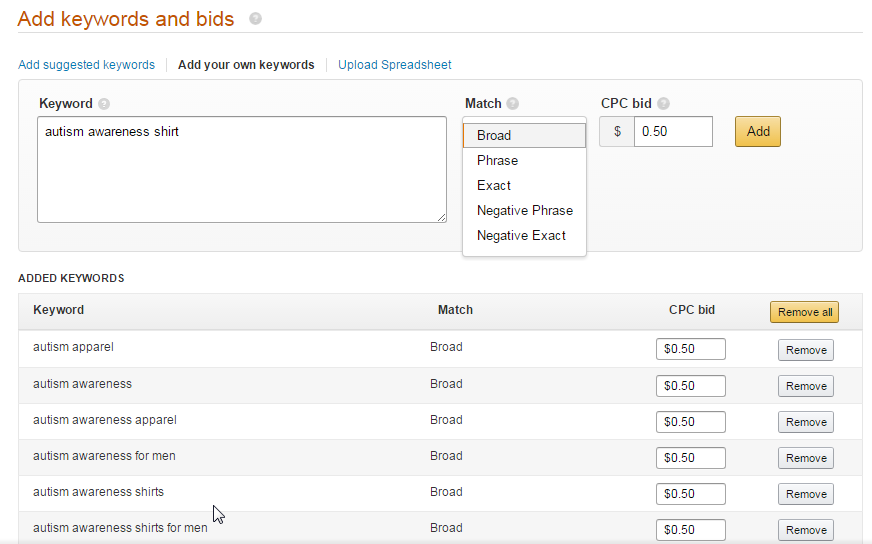 From this page, we can add keywords that might not have shown up in the list. You can also pick what CPC bids you want to enter.
You might also notice, that there is a match option. You have a few choices here. I have described them below.
Broad Match: This setting will allow someone to see your ad if a customer searches for that specific keyword as well as a variation of it. A good example of this is we have the keyword "autism apparel" added but if a customer typed in "buy autism apparel" the ad would still show up.
Phrase Match: This is a very similar modifier to broad match where they will show the ad based on the searches that directly match the phrase or are very close variations of a phrase. It also allows addition words before or after.
Exact Match: These ads are going to be shown for searches that are EXACTLY the keyword you added as well as very close variations (such as a reordering of words but the meaning stays the same). These are great if you know exactly what you want your ad to show up for but when testing, you will want to stick with broad match.
Negative Phrase: This is an advanced technique that I may go over at the end of this article. Essentially, if you put in a negative phrase, ads will show on searches without this term.
Negative Exact: This is an advanced technique that I may go over at the end of this article. Essentially, if you put in a negative exact keyword, ads will show on searches without this term. This is VERY powerful stuff if you understand the impact these can have on your campaign.
When testing, the best thing you can do is usually just to keep them all broad and see what happens. Expect to possibly lose some money before you land on the winners and can trim down your campaign to only the keywords that are performing well.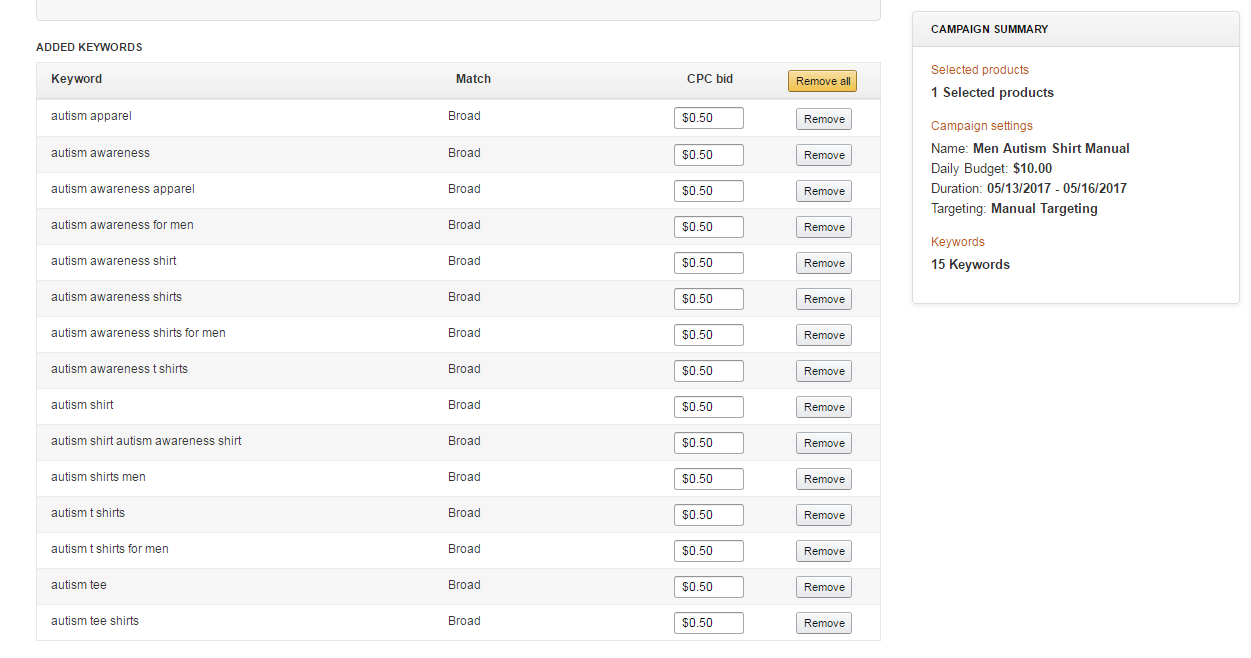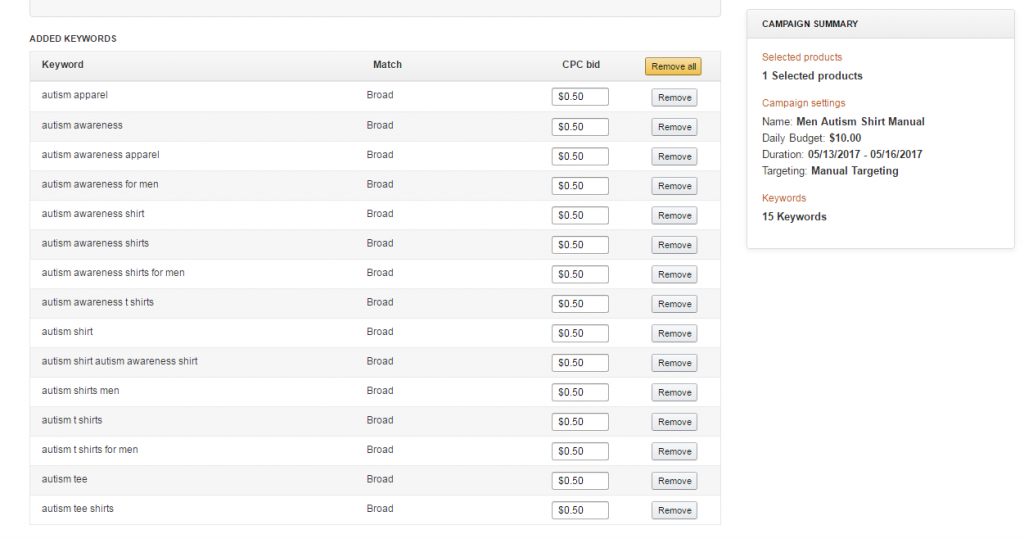 As you can see from this screenshot, we have added all our keywords. There is an option to add keywords based on a spreadsheet, but for 99% of the Merch by Amazon audience, this will not apply to them.
When you are happy with the keywords you have chose for the campaign, simply kick it off and get it running!




And just like that, you have 2 campaigns running for sponsored products. These are different in the sense that one of them is with the keywords you have picked, and the first one we did Amazon is picking what keywords and customers to display the ad to. Testing is essential to this process and I cannot stress enough how often you need to be testing if you are jumping into the world of paid traffic.
Running A Headline Search Ad
The sponsored product ads we just set up are targeted by keywords and appear under the search results. What we are going to set up now is one of the most powerful ads out there, called the headline search. These are ads that we target by keywords and the appear ABOVE the search results. These are going to appear above the fold meaning that a user does not need to scroll at all to see them. In fact, these type of ads are going to be the first thing that a user sees after they complete a search.
Since these are so powerful, there are three things to keep in mind.
The first thing you need to know is that while the previous ads were auto approve, these are going to have a review process to them.
The second thing you need to know, is that there is a part of the process that is going to give you a broad view of how much traffic a keyword gets.
Finally, in order to run these, you will need to have 3 shirts in the same niche.
Going back to the Autism example we are using, head back over to the advertising tab in Amazon Marketing Services that will bring up your advertising campaigns that are currently running. Click on New Campaign.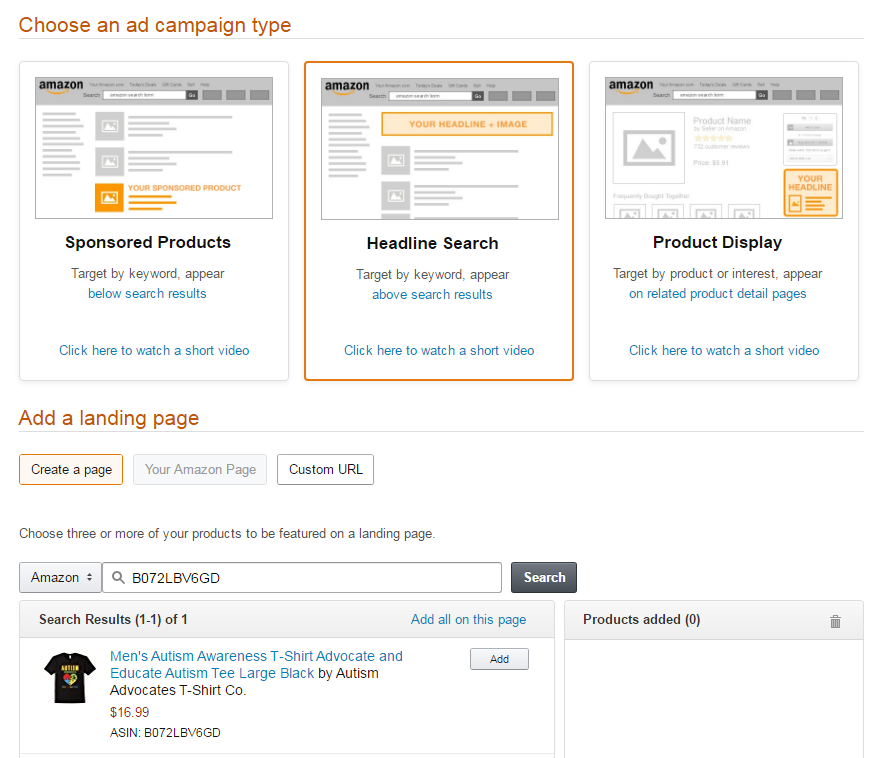 In small print there, it says "Choose three or more of your products to be featured on a landing page". It would be great if we could run these with only a single product, but currently, you will need to have 3 shirts in the same niche. Go ahead and add the ASINs for 3 different variations from 3 different shirts. What this is doing is grouping them all together on a very simplistic landing page.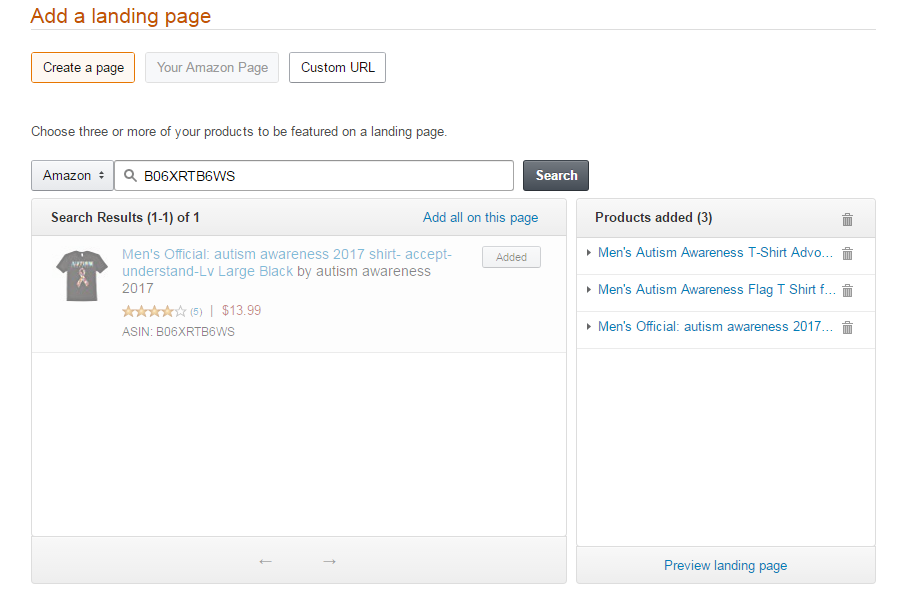 As you can see, we have added 3 different products to this headline ad. From here, we want to click on the little "preview landing page" text in the right hand corner. This will show you a very simplistic landing page.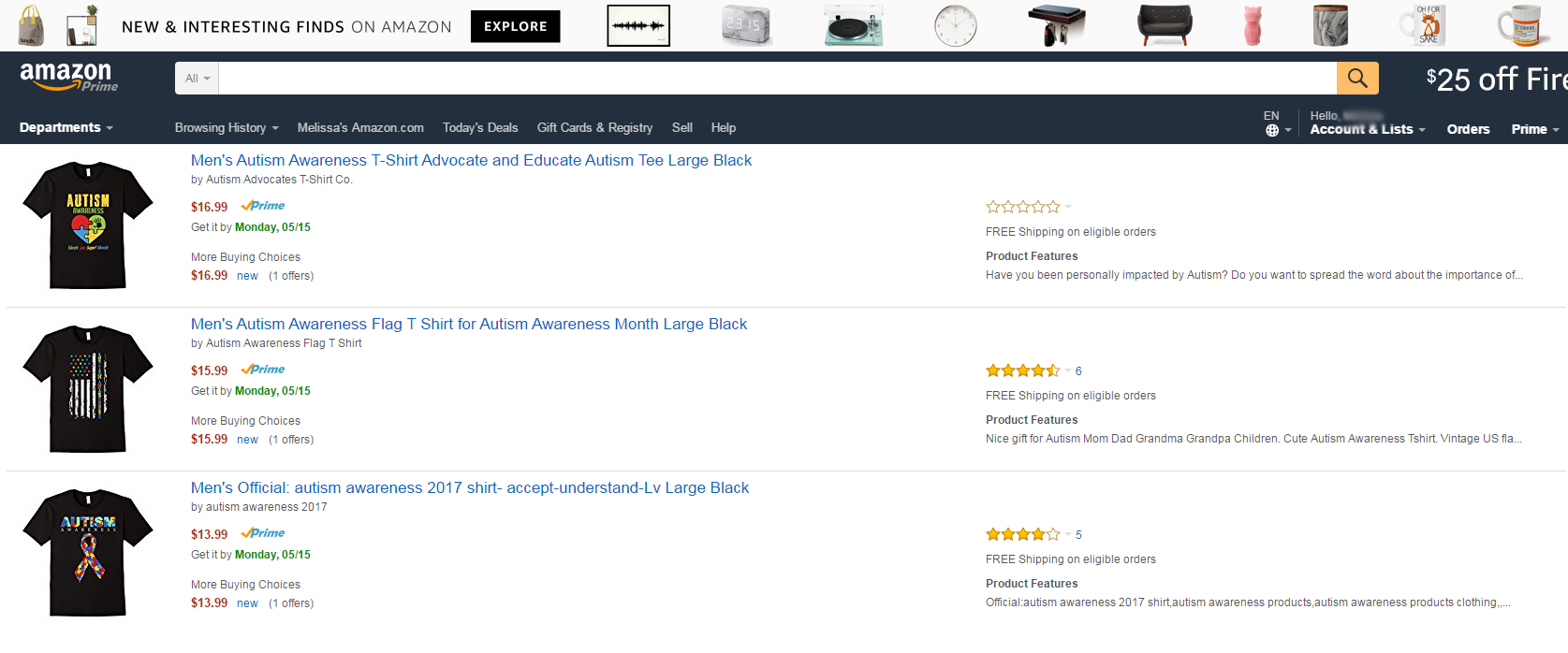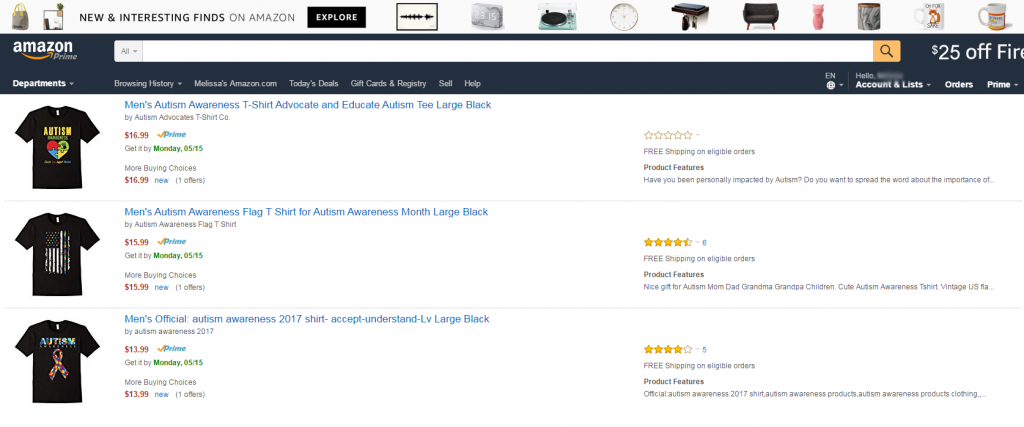 After a customer clicks on your ad, they will be brought to this page. If you notice, there are NO competitors here. There are zero other shirts except for the ones you want to run spend to. Simply put, customers that click on this ad will not have any of the other "noise" that might draw them away from your products. It should be mentioned that some of these shirts are random designs and not owned by anyone we know.
One you are happy with the way it looks, time to add some campaign settings.
Headline Search Campaign Settings
These are going to be pretty similar to the other ads we set up with one major difference. The keyword selection is going to give us a bit more information.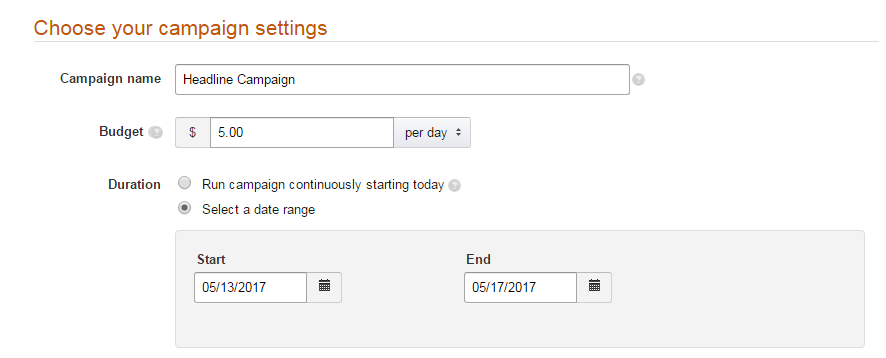 Campaign Name: Make this something that is going to stick out in your list of active campaigns. You want to be able to know that this specific ad is different than the others. For sake of simplicity, I just named it "headline campaign".
Budget: I am going to assume these are more expensive to run simply based on where they are displayed. Since I want to test first, I put a $5 budget per day.
Duration: Remember that we only want to select a date range here as we are testing and do not have a hit campaign yet. Only select to run the campaign continuously if you have a campaign you know works over a long duration of time. Otherwise, it will keep spending money and you might not remember to turn it off.
After you pick the days you want to run the ad campaign for, scroll down a bit and…
Amazon Marketing Services Keyword Tool
This is where you get to add your keywords and bids with a bit of a twist. As you are about to see, you can add suggested keywords and add your own keywords JUST like when setting up the other ad type.
Add your suggested keywords just as we did before. Going through and adding the ones that are relevant to our designs and skipping the ones that are irrelevant.
Then, navigate over to the "add your own keywords" tab.
Start typing your main keyword. In this example, the main keyword would be "autism". Type SLOWLY, and watch the suggested keywords come back with a traffic estimate!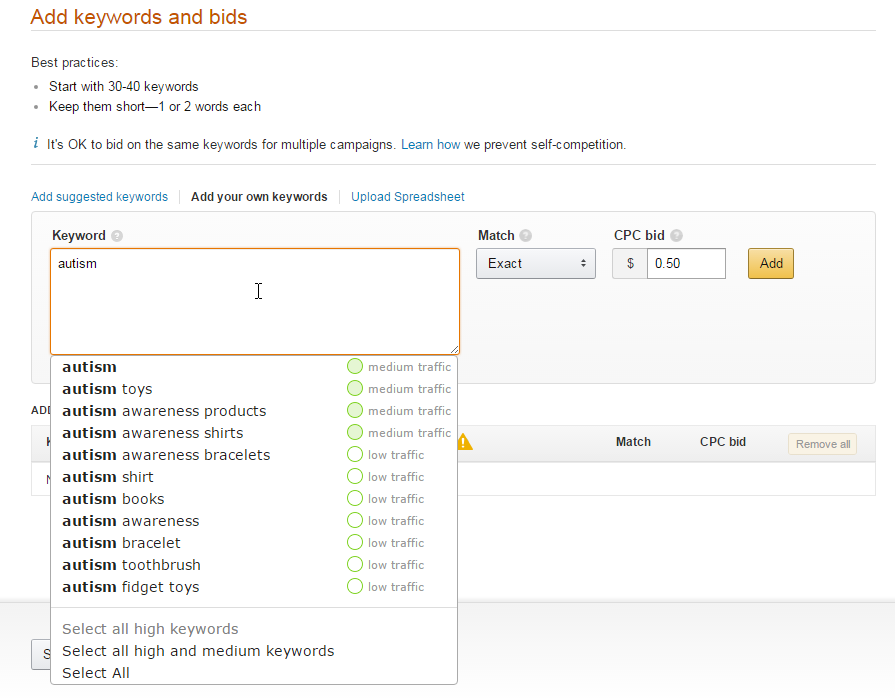 As you can see, there are different auto suggest keywords that make sense and those that do not make sense. Add the ones that make sense.
This is also a great way to look at the keywords that are being suggested and get some sort of idea about how much traffic they get.
That being said, even though we know that the keyword "autism awareness shirts" has medium traffic, we still do not know what medium traffic means. Does that mean 10,000 people a month? Does it mean 10 people per day? We simply do not know. All we can assume is that those keywords get more traffic than those labeled low traffic.
Note: This can allow you to see some of the keywords you might want to go back and add to your keywords when writing your product bullet points in Merch. You could also take a look at our Listing Optimizer which is sure to boost your sales: Merch Informer Listing Optimizer.
Merch Informer also brings back all these auto suggest keywords with our keyword tool so go ahead and sign up for a 3 day free trial to give it a shot!
Finish up the keywords and bids here. This is all the same process that we have already gone over.
Now, you are ready to see what your ad will look like.
Scroll down just a bit and you will see the Create your ad section.



At this point, all you need to do is enter in your brand name and your headline that will display on the ad. You can see the mockup of what it will look like live on Amazon on the right hand side.
Remember to have a relevant brand name here. The biggest thing you need to focus on is your headline. This is just like a billboard. SELL the potential customer. You only have a few seconds to grab their attention before they scroll down, so make sure you pick good designs and the headline captures their attention.
You can also pick an image to be the featured image if you would like. If not, AMS will use the first shirt you added to the campaign as the featured image. After everything is looking great click on submit your campaign.



Just like that, you have another campaign successfully created.



Even though the campaign was successfully created, you will need to wait a while for it to be reviewed by the Amazon staff. It will look similar to this: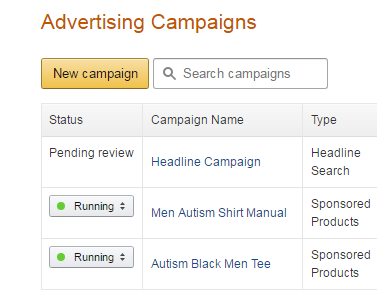 After it passes the pending review status, it will change to the green "running" button to let you know that the ad is live!
These are the two basic ad structures that you will want to play around with and learn. They are pretty straight forward to get set up and running, but they are powerful if used correctly. Remember, you MUST TEST everything you can in order to get the biggest spike in your Merch by Amazon tees.
Tips and Tricks
Headline Ad Brands
Headline campaigns can take a while to get approved. They are generally approved with 24 hours but you MIGHT have to wait up to 3 days.
If you come back and notice that your campaign has been rejected, you might need to go back in and add the brand that you are using on your shirts on Amazon to your AMS account.
To do this, click on your name at the top of the AMS page, and select add or remove brands. It will bring up a page that looks like this:



Click on add brands and make sure you are copy and pasting the EXACT brand name you used on your product on Amazon to add to your account here. After this has been done, confirm through the email they sent you, and then resubmit your headline ad.
Single Product Headline Ads
when setting up a headline ad, they require you to have 3 seperate products to run these. Generally, you would want to have 3 different shirts in the same niche.
If you only have a single shirt in the niche and want to run ads to that single shirt, is that possible? It sure is!
All you need to do is set up a headline ad but use 3 different child ASINs from that same product. For this particular ad example, I have picked women's small, medium, and large on the same product to add to the campaign.


You will also notice at the bottom there is a different budget than we went over above. You have a drop down under the budget that lets you select "for entire campaign" where you can put up a budget and then select a pacing. I always pick to run a campaign as quickly as possible so we can get some data right away. This is something you might want to test.
Just to prove that this does work, here is the single product ad live on Amazon.



Negative Keywords
This is a more advanced technique that most of you will probably not run, but I did mention that I would be going over it.
The first thing you need to understand when adding negative keywords to your campaign is that they are keywords that you do NOT want your ad to show for. Why is this important? Well, if you do this right, you can increase click through rate, and convert a lot higher while spending less money on your campaigns.
This can actually be applied to any kind of pay per click marketing, not just AMS. The example that has always stuck in my head has revolved around calendars.
If you are a company that sells calendars, one of your customers might be searching for "calendar" or "yearly calendar", something along those lines right? If this is what you sell, perfect! You are getting targeted leads to see your products, and hopefully purchase them.
On the flip side though, you do not want your customers coming in and searching for "online calendar" and seeing your ad. If you are selling physical product and a potential customer sees your ad and clicks it. You just paid money for an absolutely untargeted lead. This is why you would want to add that specific keyword as a negative keyword to your campaign.
Simply put, negative keywords tell the platform which keywords are not relevant to your product.
If you are running an automatic campaign, every week I would go through the list of keywords that got impressions and pick out the ones that should not be in the list. You can then add these as negative keywords to the campaign and keep testing.
You might keep hearing the word test being written here, and that is because that is the secret to running ads. TEST! Adding negative keywords to campaigns can save you an incredible amount of money in the long run.
The Secret People Are Charging For
You might have noticed courses have been released in the hundreds as well as thousands of dollars range lately. They all claim to allow you to steal your competitor's traffic from Amazon and do it for pretty cheap. I want to quickly go over how to do that before we wrap up this guide.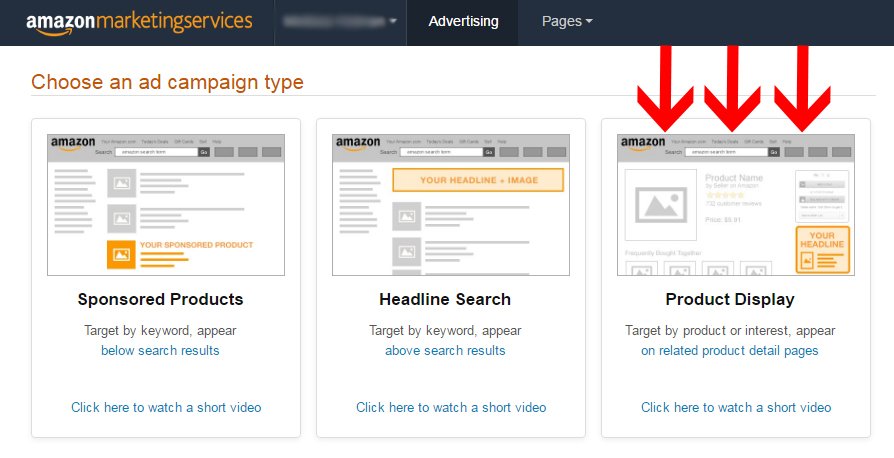 Remember back when we were picking out what ads we would like to run? Over there on the right are product display ads.
These let you run ads directly on your competitor's Amazon money pages!
Now I am not sure if this works for advertising your Merch by Amazon shirts on another Merch by Amazon shirt page, but I do know you can run your own Merch by Amazon shirt on the page of someone selling clothing via FBA.
The best part of all of this is that they appear RIGHT under this area in Amazon: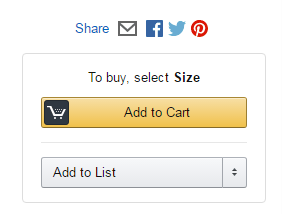 Yep, that's right. As soon as the customer is about to add a product to their cart to purchase it, you get in the way with your ad and take the sale instead!
This is powerful stuff that hardly anyone is talking about and those that are, are charging an arm and a leg for it. You heard it here at Merch Informer for free, so go TEST it!
Findings
This entire guide has been me setting up and running a brand new ad set on a new account. I have been running these type of ads for a little over 2 months now, and the findings are a bit interesting.
The first thing to be noticed is that these ads DO work and they work pretty well. Even on the new account that I set up via this guide, the very same day of setup, we made the first Merch sale for the account:




It should be noted that on my personal account that has been running these for a while, I am generally able to break even (lost some on the first campaigns), and even turn a small profit on some of the campaigns which I have kept running. The above screenshot turned a small profit, but it is the first sale. We will need to run the ad longer to see if that trend keeps up as this is not enough data to make a hard decision on.
This is important to note because even if you are not turning a profit (you might lose money), as long as you are still able to force some sales, this will spike the Amazon BSR and place you at a better position to get the organic traffic and sales. A small loss now can turn into a big win down the line. I really hammer home that concept when I talked about Facebook marketing.
The second thing to point out is that the CPCs or cost per click for the AMS ads seems to be a little bit less than the CPC from seller central (for all your FBA readers out there). No, you might be able to find cheaper CPCs, but here is the very first screenshot I grabbed: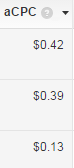 See that 13 cent CPC there? That is a headline ad!
We might do an AMS case study in the future as well as a bit about how to optimize the ads once they are running but for now, this guide is getting a bit long.
Wrapping It Up
Amazon Marketing Services is fairly new and represents a pretty big opportunity if you are willing to jump in and test everything. Some people know about it, but most of the people in the Merch world have no idea how to get started and might be intimidated to get everything set up. The entire process is pretty easy to set up so you can start running traffic directly on Amazon to your Merch shirts. The cost per click seems pretty reasonable so remember, the goal here is to simply boost up your products in competitive niches so they get more organic eyeballs. Turning a profit is great, but as always approach a campaign to try and break even FIRST. Optimization comes later.
Good luck out there! Any questions, drop them below in the comments.