How to Value and Sell a Merch by Amazon Business, by the Man Who's Sold Hundreds Of Millions in Online Businesses
As many of you may know, before we started Merch Informer I was big into the affiliate marketing scene building large scale websites and eventually selling them. This is a great business model (it can even be used to sell more merch shirts!) and you meet a lot of really great people in the business along the way. This is how I met Thomas and the team over at FE International.
Throughout the years I have known him, he has always been an excellent source of information and advice. Since I have sold a few Merch by Amazon businesses in the past that has caused a lot of controversy, I thought I would get up a post about how exactly the process works, why you might want to consider it, and how to get top dollar for an asset you worked so hard to build.
I will let Thomas take it away from here!
---
Merch by Amazon businesses can be sold–if you set them up correctly. There is a common myth in Merch by Amazon circles that they cannot – this is not true.
With over 500 businesses sold and hundreds of millions in sales at FE International, we have developed a formulaic understanding of how to value, increase the valuation and eventually sell a business. Indeed, we have helped countless online entrepreneurs prepare their business for sale in order to achieve a profitable exit. We've taken this expertise and applied it to this "How to Value a Merch by Amazon (MBA) Business" post, where we walk you through how a MBA business is valued, how you can build a smoothly operating–and profitable–MBA business, and how you can increase the value of your MBA business to ensure that you will be on the high end of the valuation spectrum when it comes time to sell. As the leading M&A advisory firm for everything SaaS, e-commerce and content related, we offer this guide in the hope that it provides indispensable insight as you scale your MBA into a successful–and saleable–business.
---
As I work towards demonstrating what makes for a highly valued Merch by Amazon business, I will first teach you how to get started and how to drive growth. We will look at the key steps you must take in order to position your company as an attractive potential acquisition for buyer, as well as what components we take into account when putting together a valuation of your business.
MBA has proven to be an incredibly popular platform for designers to generate income from the sale of printed T-shirts. No upfront costs, no order fulfillment, and no need to deal with customers directly. The model certainly appeals to creatives looking to make a relatively passive income.
Given the overwhelming success of the Amazon Marketplace (40 million units were sold on Prime Day in July of 2017, up a whopping 20 million from the year before), there is clearly enormous potential for MBA businesses to capitalize on the already existing Amazon client base. Amazon's net revenue growth speaks for itself: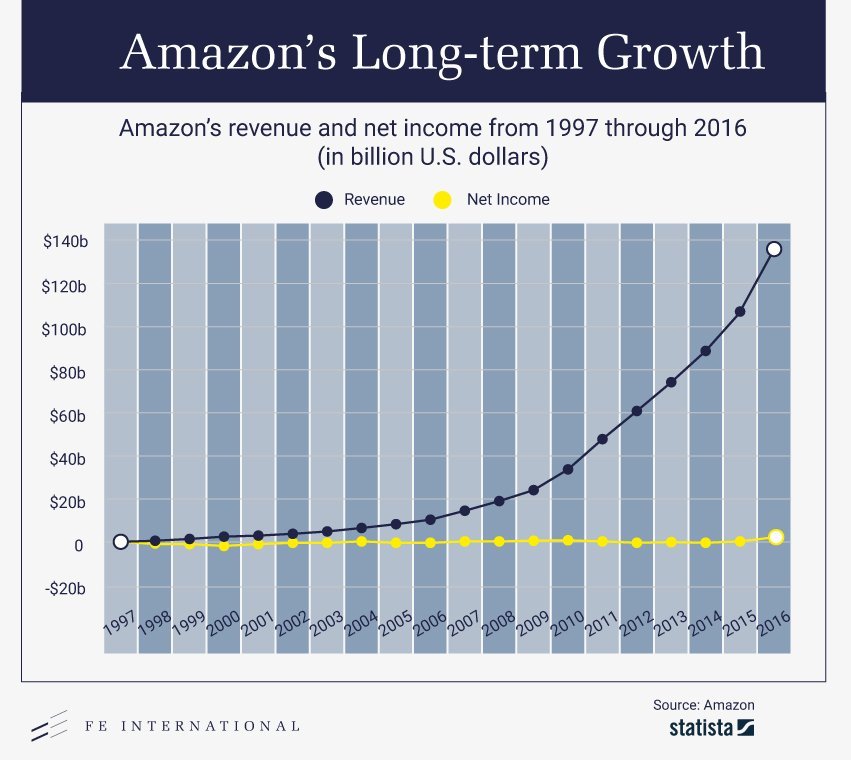 Amazon's comparatively recent forays into the fashion business have been similarly impressive: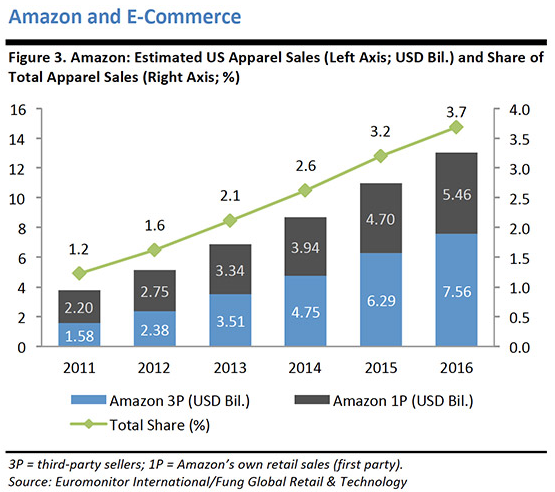 Source: Fung Global Retail & Tech
Growth curves like this make it easy to imagine how an MBA-based business could be a lucrative sideline or even earn you a comfortable living. But where is the opportunity to scale? Is it possible to build a successful, sought-after MBA business you can one day exit and sell at a profit? To help the aspiring successful MBA owner answer these important questions, we have put together a comprehensive assessment of what it takes to develop a profitable, smoothly running, sellable MBA business.
First, let's take a look at the opportunities and challenges this platform offers.
Merch by Amazon's Growing Popularity
Launched in 2015, MBA is a royalty-based platform where designers can upload their t-shirt designs for Amazon to print and distribute. There are no initial costs to the designer, or any MBA account holder. Amazon only takes money when you actually sell the shirts.
Amazon has made the platform customizable for designers, who can pick from a selection of colors and materials, as well as double or single sided prints. Placement and size of a print are also customizable, within set parameters. This makes for a healthy balance between flexibility for the designer and an efficient production process for the e-commerce giant.
MBA began as an open platform that anyone could join. However, after a surge in the number of merchants, Amazon decided to make it invitation-only and required interested designers to demonstrate their work before being accepted onto the platform. There is currently a waiting period of several months for applicants to find out whether or not they pass the quality control test. While the wait can be frustrating, it reinforces Amazon's credibility as a go-to source for top-notch t-shirt designs that customers want to buy. If you've got the chops to meet the vetting criteria, MBA's seller selection ultimately works to your benefit. A lower volume of worthy merchants means Amazon is filtering out the signal from the noise–and messy competition for you in the long run. It reduces the number of unworthy sellers vying for customer attention (and dollars) while creating a better foundation for the savvy entrepreneur to build a business on. While you're waiting patiently to make your MBA debut, you can take valuable steps toward future success, outlined in more detail below.
Building a Successful MBA Business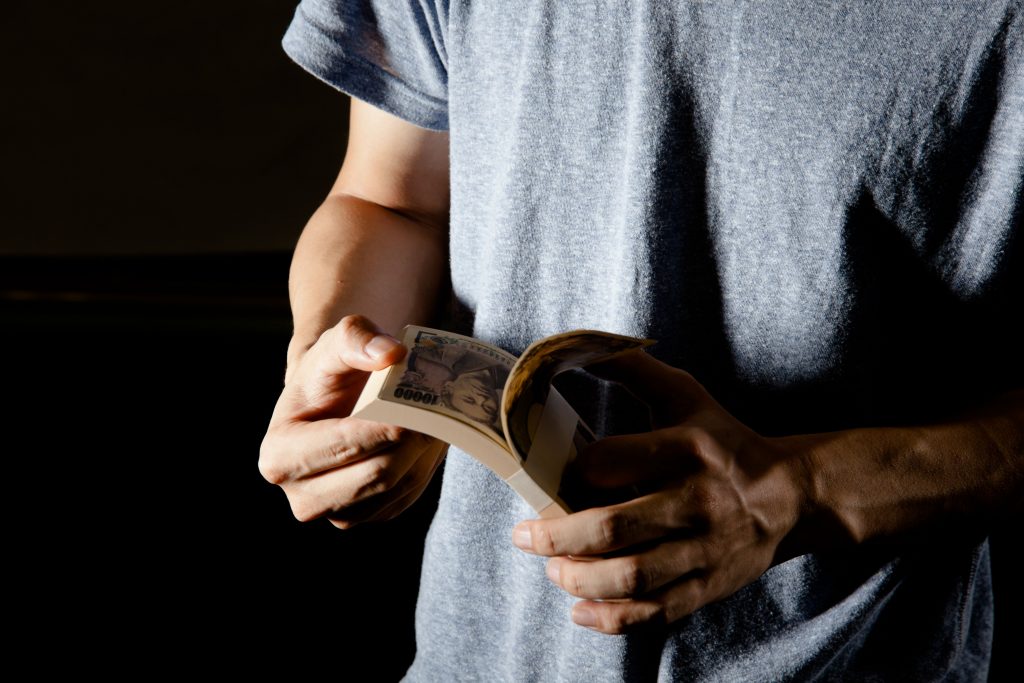 MBA's appeal to designers is obvious. They can focus completely on creating designs while Amazon takes care of overhead and the time-consuming hassle of manufacturing, logistics and customer service.
Here's the process in more detail:

Production and Manufacturing:

Traditionally, for you to launch a printed t-shirt business, you would have to either manufacture or buy blank shirts for embellishing. You would need to purchase them in all the size and color combinations that you wished to offer to your potential customers. Then you would have to

decide between using an old-school screen printer, an online t-shirt printing service

or buying an expensive, dedicated, direct-to-garment printer at the

cost of up to $15,000 or above.

All t

hat investment of time and money comes before you sell even a single t-shirt. MBA eliminates the need to fret about any of these issues, all without asking for a single penny up front.

Logistics:

As mentioned earlier, MBA eliminates the need to buy, maintain, track and store inventory. Perhaps even more crucially, it handles customer order fulfillment and returns. You get to tap directly into the supply chain management system that has taken Amazon years to perfect.

Customer Service:

Again, Amazon will take care of this for you.

They're very good at it.

You simply provide the designs and take the royalties when your t-shirts sell.

Ready-Made Market:

Amazon has a user base that is ready to buy, with over

2 billion potential customers

visiting each month. People go to Amazon because they are looking to make a purchase. This built-in customer base saves you having to spend up to

12% of your revenue on marketing

and hours of customer base development right as you start your business.
If you are looking for a low-cost, efficient way of starting a creative enterprise, then MBA is an approachable solution. The hassle-free nature of MBA allows you to focus purely on design and your mastery of Photoshop (or whichever program you use to create awesome t-shirts).
So, what's in it for Amazon? Good question. The e-commerce giant made a revenue of $136 billion in 2016 alone. The set-up and operating costs are a small price to pay for the market share of creatives and designers this program helps them capture. Plus, this is a relatively low-risk, high-reward business for Amazon given that the designers – i.e. you – only get paid if your t-shirt sells.
Challenges of MBA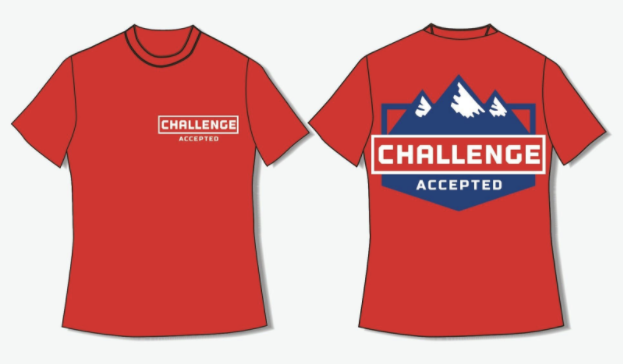 Promises of such operational ease can make the MBA model seem painless. However, while the 'bad' sides to MBA may be considered relatively manageable compared to some other business models out there, challenges do remain.
High Level of Competition: With thousands of sellers offering a similar product on the same platform, you need to think hard about how you are going to make your t-shirts stand out.
Solution:

Obviously, creating mind-blowing graphics will help in terms of popularity, but be sure to do your research on the niches and designs. The crew at

Merch Informer

produced

a great video

on how to identify keywords that strike the balance between supply and demand, as well as showing you how you can use the sales data on existing MBA products to help inform your design decision making process
Copyright Laws: There are countless people and companies selling embellished merchandise, which in turn means there are many potential claims to trademark ownership of a design or its underlying elements. You need to make sure your own graphics are not infringing upon third-party trademarks. If you get caught out once or twice, your design will be taken down coupled with a warning from Amazon. Any more than that, and you are liable to be blocked from the platform altogether.
Solution:

Be very careful, especially with outsourced design work. If you choose to outsource, ensure that you fully brief your designers on the importance of adherence to trademark regulations and check the designs yourself on sites such as

Trademarkia.

Merch Informer also offers a great

trademark tracking tool

as part of their package.
Copycats: Knock-offs are strictly against MBA policy, and when caught, Amazon comes down hard on the culprits. Despite the dire consequences, "pixel for pixel" copycatting still happens on a regular basis. This is when a competitor steals your design outright and attempts to sell it on MBA or other platforms. Even if a potential pirate only "borrows" individual elements of your original artwork to produce a similar product, you may still have remedies at your disposal.
Solution:

Be vigilant. At the very least, you should regularly perform a keyword search on Amazon (and other popular platforms) to find listings similar to yours. Better still, check out some of the

amazing tools

geared specifically towards sniffing out potential facsimiles. If you do find any designs that are too close for comfort, you can submit them through the

report infringement

form on Amazon. Some merchants may take a relaxed approach to this process but in order to drive up the value of your business, you should try to retain as much control of your intellectual property and brand as possible. While

there is nothing you can do

to prevent rivals from taking "inspiration" from your successful graphics, it pays to always keep a watchful eye. Even if you have no viable recourse through MBA policies or trademark protection, take some comfort in the fact that you must be  doing something right. Imitation is the sincerest form of flattery. Use it to fuel your desire to outshine the competition and never stop innovating.
Scaling Your MBA Business
In theory, you could simply bang out a few designs and maintain a healthy side income with MBA. It's a tempting idea–after all, that's part of the pitch. But for those willing to devote the necessary time, effort and ability, there are already some compelling success stories emerging from the platform. Merchants out there are generating upwards of five-figures per month using MBA. Though this is certainly not the norm, taking the right steps will set you up for a profitable business with the potential for growth.
So the question is, how do they do it?
Research
There various Amazon keyword tools keyword tools that you can use to see what people are searching for on Amazon and how much competition there is for those keywords. A good strategy is to go for keywords with low competition that have reasonable search volume. Obviously, it takes time to find those words and build your design portfolio around them, but it is definitely worth doing.
As you already know, Merch Informer is a fantastic resource. The posts from other successful MBA account holders are jam-packed with hints and tips that newcomers can learn from. Check out the Resources tab to find tools that can help with anything from keyword research to image search and trademarks.
Combining keyword research with looking at the Best Sellers Rank (BSR) on Amazon gives you a good indication of how popular a certain product is. The lower the number is, the better that product is selling. For instance, if a product is number one, it is the best selling product on Amazon. When it comes to MBA, anything under 300,000 is considered to be good.
Due to recent changes on Amazon, the BSR is no longer easily visible on the site itself, but it is still accessible via the Merch Informer software. This link also offers a detailed explanation on one of the more misunderstood parts of the MBA platform.
If you would like to understand this more thoroughly, here's more information on how BSR works on Amazon.



Though it may sound daunting, don't be frightened by competition as a whole. After all, if other people are selling those items, it clearly means there is a demand for them.
Matt Carlett, a prolific MBA business owner, and Merch Informer contributor explains the value of high-quality research: "I spent 100's of hours on research in the first year of this business to master it. I can go into any niche and make money. Even saturated niches. Those hours I spent learning how to research niches and what is selling has paid for itself hundreds of times over."
Never underestimate the importance of R&D. Any business that invests time and resources into researching relevant keywords, popular niches, and trending designs, will find that utilizing the latest strategies puts them ahead of the competition. One of the key ways to increase the value of a business is to diversify the product. Rather than rely on one extremely popular design, buyers will want to know that revenue is spread across multiple products with strong sales. E-commerce businesses whose revenue is kept to under 15% for any given product typically receive a premium valuation, as this demonstrates the shop has multiple avenues for revenue growth rather than rely on one design to carry the profit.
Hit the Ground Running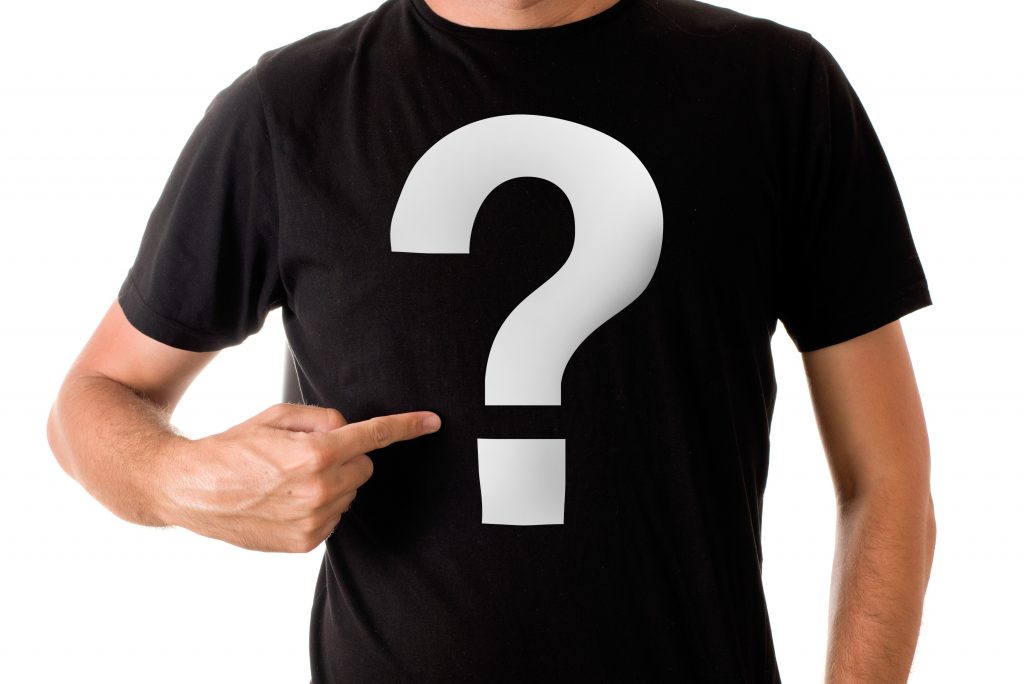 During the few months you are waiting to be accepted by MBA, create a portfolio of designs and be ready to roll straight away upon approval. With any business, time is money, so build up a bank of designs to help you hit the ground running.
Look at listings on similar sites that do not require approval, like Redbubble. You will also be able to figure out what sells well and what doesn't. That's the best kind of market research.
The smart way of viewing your designs is to think of them as your assets. Get them selling as soon as you can and make your way up the tier system at MBA by filling in design slots.
Paid Advertising
Amazon is taking care of most of your upfront costs, so if budget allows, I recommend seriously exploring the possibility of paid advertising online. Facebook is one platform where you can narrowly target your market by tailoring the campaigns to a specific group of people. This post on how to run Facebook ads explains how to get the most out of Facebook advertising, including a unique idea to aim at non-English speaking countries for the best value campaigns.
Another avenue to consider is paid advertising on Amazon. When competing with a multitude of other merchants it can help to give yourself an edge with clever advertising targeting the audience for your specific product or niche.
You have the power to be more efficient and targeted with ads than ever before – utilize it!
Do What You Do Well
With any business, you should always focus on delivering a product that meets the expectations of your customers. The same applies to MBA. The saying "quality sells" has stood the test of time because it is true.
In the first few months with MBA, you should, at the very least, oversee everything that is going on with your design and selection of keywords. It's even better if you can do it yourself, so you familiarize yourself with the process, your products, and build your brand.
In the end, quality has a habit of floating to the top of rankings, whether it is on Google or Amazon. So focus first and foremost on creating brilliant, sellable designs. MBA eliminates a huge part of the burden of selling a quality product by taking manufacturing and shipping out of the equation. Put that extra time and energy into R&D.
Where Next?
After the first few months on MBA and, if you're clever, similar sites like Teespring and Society6, you will have mastered the processes and hopefully be creating designs that sell. So where do you go next? How do you scale your business or start automating the processes?
Treat It Like a Business From Day One
To move forward, we need to go back to the beginning. It is important to treat your enterprise as a business from the very first day. It may be tempting to be casual about record-keeping in the first few weeks and months, but it will save you headaches and valuable time in the long run if you document and log each standard operating procedure for everyday tasks like customer support, and each transaction you complete. As your business develops, you will need to keep all of this information for your tax returns anyway. Keeping a paper trail has additional benefits, which we will get to shortly. You should also be sure to document the tried and true processes of your business. How do you go about finding a contractor? Designer? Once you find what works, write it down.
In brief, it pays to log your transactions, document your designs and record any significant correspondence.
Diversify From MBA
We touched on this a little earlier. Look at selling on other sites or platforms. Diversifying from Amazon and generating consistent revenue from other sources will increase the value of your business.
This helps validate your brand, provides additional revenue streams for your business, and is added proof that the market is responsive to your product. Additionally, it helps ameliorate one of the inherent weaknesses of the MBA platform: Amazon's retention of all your existing customer data.
If you have proven to be successful on MBA, you should consider investing in your own website or platform to sell printed t-shirts or other products. This is not to say you should leave MBA, but instead think of it as a foundation upon which to grow your business. Notice I keep coming back to the point made in the first paragraph: a strong foundation helps minimize the risk for buyers, and therefore increases the value of your business.
Many MBA businesses utilize Shopify, an e–commerce platform, to help run processes more efficiently. The easy-to-use platform enables merchants to focus on growing their business and to offer a wider range of printed products from beach towels to blankets, shower curtains to stickers. A separate site leads to more diverse and potentially lucrative revenue streams.
Outsource
If you are successful on MBA, you will very likely need to start outsourcing work. Though not without its pitfalls, this is a lot easier than it used to be. Platforms such as Upwork or Freelancer provide access to thousands of potential subcontractors in design, administration and other relevant fields from all over the world.
Intermediate level designers are a good place to start. At this level, an ideal candidates' rate expectations should not be prohibitively high ($4 a design is the market rate – but you can pay up to $20) but they should know what they are doing. Ensure they understand the importance of copyright and are good at following direction.
You may have teething problems as you try to align your new freelancers with your processes and vision. You might have to go through a few designers, for example, to find one that you can build a good relationship with, and who understands your concept and style.  
Despite its inherent challenges, it is absolutely worth exploring outsourcing if your orders are building and there is more work coming in than you can handle. This should free you to focus on running and growing your business while maintaining the quality of design that got people buying your t-shirts in the first place.
As this post from Merch Informer founder Neil Lassen explains, work on your business, not in your business.
Business Process Automation
Once you have your team in place and have mastered the various processes, you should take steps to streamline your business. One way to do this is through business process automation or BPA. The overarching goal is to try to make yourself dispensable. Don't take it personally: being able to go away for two weeks and come back to a business that is functioning as well as before you left is a sign of a healthy company. Being able to exit completely, leaving the new owner with a blueprint for future success, is a hallmark of a business you can sell.
One key to achieving this is to train your team up to the standards you expect. With any employee or freelancer, this will take time. It is imperative to come up with a well-defined guide and mission statement that your team can adhere to. Develop and elucidate a clear vision for your brand by compiling both a brand style guide and an internal press kit and ensure your communication channels are efficient.
Every successful, $10,000 plus per month MBA business has an active inventory of designs listed on MBA often numbering in the thousands. These are unquestionably a vital business asset and generate sales with little additional investment or effort required on the part of the owner.  
Instead of waiting for inspiration to strike your designers, consider the value of a keyword-centric approach. Come up with a strategy, document it and make it easy to follow. Use this to simplify and accelerate your design process, increase your number of SKUs and supercharge your time to market.
Make no mistake, MBA is a creative platform. "Automation" in this instance doesn't mean eliminating the human element altogether. Concentrate focus on the design process by conserving energy spent on administrative tasks. Your business should run like clockwork, time and time again. The goal is to build a sustainable business, requiring minimal involvement from its owner. With well-defined, scaleable strategies embedded and sleek processes in place you will have succeeded in creating an MBA business with great potential for finding a potential buyer.
Consistency
Consistency in sales may seem dull in comparison to one-hit wonders or products going viral (though that is always a bonus!) but it is may be more lucrative in the long run. Buyers are far more interested in a strong business that is not dependent on spikes but has a history and forecast of steady growth. It's a good balance between low risk and genuine potential.
Consistent performance is also a sign of a healthy, well-managed company with good systems in place.
Obviously, this doesn't mean you can simply kick back and let the business look after itself. You should always be reviewing your business and analyzing the industry to identify weak points and implementing improvements accordingly.
Neil came up with a good model to work with by focusing on niches in the 100k-300k BSR range:
5 Shirts/Day at $19.99 with royalties of $7.19

1 Shirt Sale Every 4.8 Hours

1 Shirt Sale Every 288 Minutes
You can work on scaling this model, increasing 2x, 4x, 5x and so on. By following a successful design process with your team, there is no reason why you cannot achieve high and consistent returns within the first year of business.
This same model suggests selling 38 shirts a day will generate revenue of $100,000 a year. It takes hard work to begin, but some MBA businesses are comfortably exceeding this, so it is clearly within reach.
You're probably thinking "yeah yeah, but show me the money." How exactly do we measure whether a Merch business is attractive to buyers? Let's dive in.  
How to Value a Merch by Amazon Business
Now that we have unpacked what it takes to build a well-oiled MBA business, it's natural to wonder if these factors align with how an MBA business is valued. The short answer: yes, for the most part. Though there are many factors that play into a strong valuation for any online business (since no two are quite the same), there are certain aspects that we at FE International look for. From our experience, online businesses that perform well in the long term and are scaleable have most or all of the following qualities:
An outsourced team

in place so that a new owner can take over seamlessly. Most buyers aren't looking to take over as a full-time owner, and for MBA this means that an outsourced designer, marketing, distribution and research team are part and parcel of the sale. Low owner involvement is one of the key attractive points for buyers.

Evergreen designs

that do not rely on overly trendy ideas and are not overwhelmingly seasonal. Most e-commerce businesses see an uptick in sales during the holiday season, and while this is generally fine, the steadier the business, the higher the valuation. A buyer will want to know that he is making a sound investment for reliable income throughout the year, so hopefully the majority of your revenue comes from designs that are popular year-round.

Having multiple designs

that are selling well will give buyers peace of mind that if one design carrying 90% of sales goes obsolete, they won't lose the revenue. The more diverse your product range, the better.

Putting a sustainable market strategy

in place will signal to buyers that you have a distribution plan for the continued success of your business. This might mean a prominent Instagram following, a strong Pinterest presence, or a successful, well-documented and replicable keyword strategy that they can come back to repeatedly.

Anything over a year old

is more likely to receive a premium multiple, as long as you can prove consistent growth over the lifetime of the business. Young businesses are a risk to buyers because there hasn't been enough time to prove that its revenue is consistent (and even better, growing) over many months, which means it's hard to sell a future revenue stream based on no empirical evidence, at a premium.

Selling across multiple platforms

can grant bonus points to any successful MBA business. Sites like

Redbubble

and

Society6

are great places for designers to passively sell products.

Teespring

even

offers integration with Amazon.

 Success on these platforms means the product is resonating with a larger crowd.    
The bottom line is that an e-commerce business generally sells for between 2x – 4x of its annual profits. For example, if the profits from your MBA business are around $150,000 per annum, you would expect to achieve a valuation of between $300,000 – $600,000. That's a big range, but the valuation spectrum charts below provides a good basis for explaining some important factors that will likely apply when valuing your MBA business: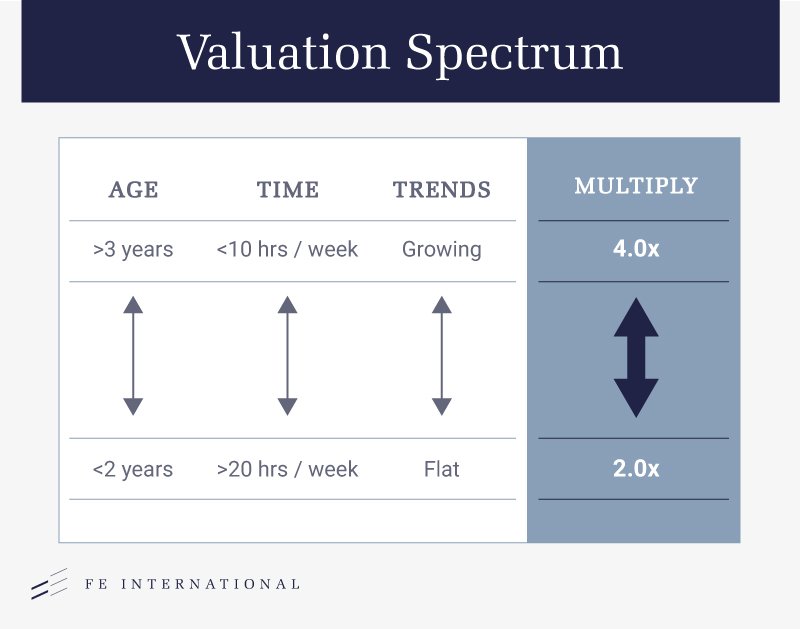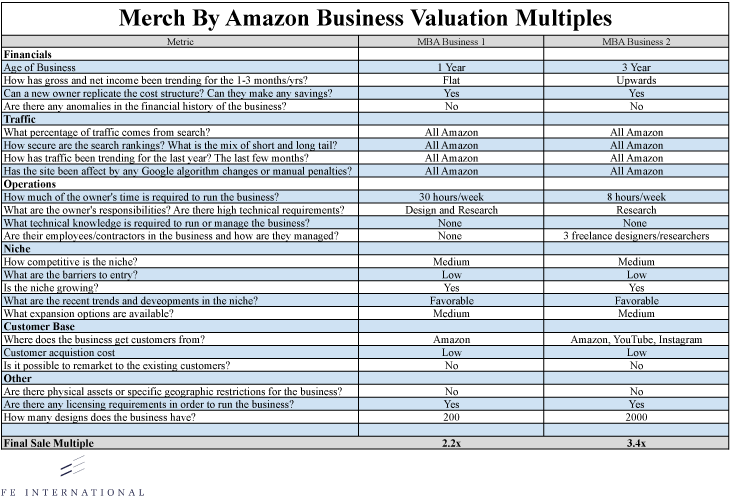 While this may be a useful starting point, it is important to recognize that each MBA business has its own unique benefits and drawbacks. Only a deeper study by an online business valuation expert or M&A advisor can assess the true worth of any individual company.
Nonetheless, focusing on improving the above valuation factors used to assess your business will certainly help to increase its worth. We are often approached by entrepreneurs interested in selling, but who aren't sure what to do to build their business into one worthy of a premium valuation. Our answer is always some variation of the above advice, depending on what each business needs.
Selling Your Business
By now, you should have the steps and tools necessary to build a sellable business that someone may be interested in buying. As a recap of what business owners are working towards when developing business operations, I'll remind you that a sought after MBA business would have the following:
A team of designers, administrators and systems in place

so that you (the owner) are dispensable.

Representation on a number of platforms,

or even your own website, so you have both a brand and customer data.

Generating consistent revenue

of at least $1,000+ a month, projected to keep growing for the next few years

A thorough set of accounts and records

so investors can carry out due diligence. While financial record-keeping is important, this also applies to operations. Are your processes for finding a designer, contractor, research expert, etc. all written down? This is why it is so important to treat it like a real business from day one.

Sell while it is still growing –

easier said than done. Many entrepreneurs struggle with selling their business at the right time but it is critical to sell when it's showing encouraging growth. No-one wants to buy a stagnant business. Try to remove emotion from this equation to analyze the best timing objectively.
The key things to keep in mind with an MBA are:
Use the platform as a low-cost way of upscaling your business and diversify away from it when you are ready.

Don't be afraid to focus on a few niches.

Develop your brand identity and deliver high-quality designs.
The Wrap-Up
The secret to building a successful, sellable MBA business is to approach it with the drive, discipline and determination you would bring to any other industry or company. Sure, there are some unusual benefits and challenges within MBA, but as any founder or CEO will tell you, their given industry or business model has unique features as well. At FE International we can help you navigate these challenges, take the necessary steps to make your MBA business marketable, and connect you with the right buyers when it is time to sell.
If you want to learn how much your business is worth, please complete this short form and one of the team will be in touch.
[About the Author]
Thomas is a serial online business entrepreneur and expert. Early in his career, he began building and selling small online companies. This turned into one of his ventures when he founded FE International (FE) in 2010, growing the business with zero funds from ground up and consistently doubling annual revenue, as well as the average deal size. FE has several subsidiaries, including MageMail, MRR Media and GrooveJar. Thomas specializes in advising in the M&A of SaaS, e-commerce, affiliate and content businesses. He has consulted thousands of internet entrepreneurs on exit strategy, growth and business development.